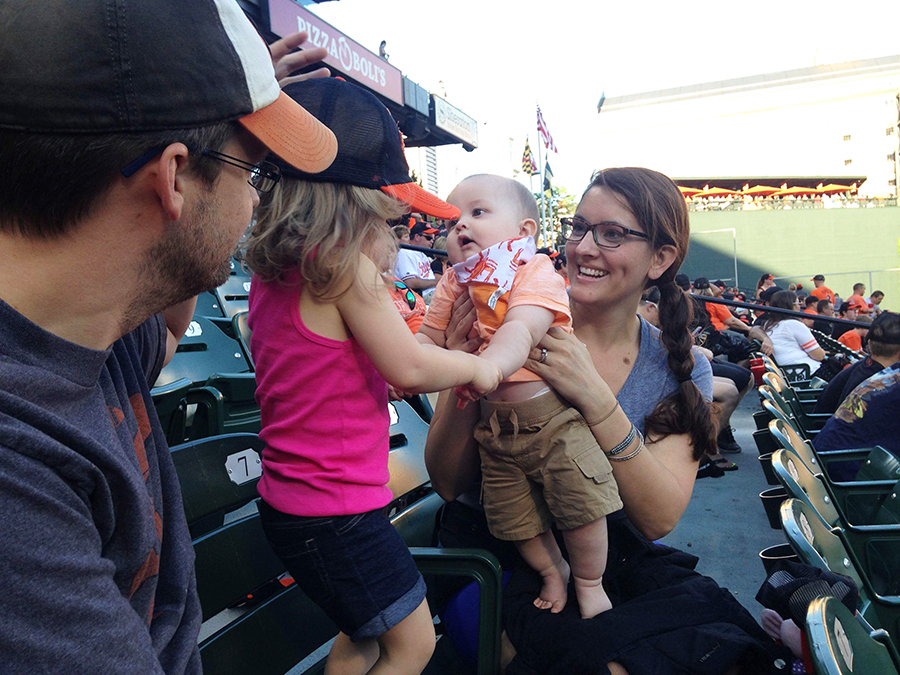 Attending a baseball game with little kids is no easy feat—there is packing up the stroller and diaper bag, shelling out copious amount of money for tickets and snacks, and trying (to no avail) to command their attention for all nine innings.
Now the Orioles have now made at least one of those things a whole lot easier. In an unprecedented initiative for Major League Baseball, the Baltimore Orioles created the Kids Cheer Free initiative, in which all kids ages 9 and younger can attend an Orioles game for free this upcoming season.
"The Orioles are committed to sustaining the access for families from all walks of life to our great game," says Orioles executive vice president John Angelos. "[Our] mission is to cast a broad community outreach and that effort starts with thoughtfully expanding our initiatives benefiting kids and families."
With the exception of opening day, every adult who purchases a regularly priced individual game ticket in the upper deck will be invited to bring up to two children, 9 and under, to the ballpark compliments of the Orioles.
"We try to go to at least five games a year, but we'll be able to go to a whole lot more now," says Ebony Lloyd, of Cherry Hill, who has two 11-year-old twins and a 5-year-old daughter. "Someone like me, who was multiple children, won't have to worry about picking and choosing weekends because we don't have the funds."
 
Another boost for the organization is simply getting butts in the seats. Attendance at Camden Yards last season (2,028,424) was the lowest it has been since 2011, before the team was in playoff contention.
"For us, money is always a huge consideration for an outing with the whole family, especially if we can only stay for part of the game," says Dan McGrain, of Glendale, who has kids ages 4, 3, and 1. "Plus, as a baseball fan, I love anything that will fill up the stadium more."
The Orioles also announced some new kid-friendly perks inside Camden Yards this year, including a new interactive jungle gym at the playground outside Gate C, additional food and drink specials, and enhanced video entertainment.
"We have always loved all the family-friendly options at the park, like running the bases," Lloyd says. "Orioles games feels more catered to families, where a Ravens game is more for adults. I try to get all my nieces, nephews, and godkids to experience a game at least once."
While the Orioles offer special days throughout the year for families, like Kids Opening Day, those specified games tend to get a little crowded, so parents are happier that Kids Cheer Free can spread out the family crowds throughout the year.
"We love going to those special days, bu when we go to the bounce house or pitching area, those things are way too crowded," says Robin Lien, who lives in Bel Air with her three kids, ages, 9, 6, and 2. "This sounds a lot nicer because there won't be a zillion people waiting to go down the slide."
Bringing more kids into the stadium is a smart long-term goal for the Orioles, who are creating life-long fans at a young age.  
"I have so many memories of going to Orioles games as a kid," McGrain says. "Getting those memories into smaller fans will be invaluable later."
Lien agrees, saying that it was great that her when her kids were babies and could get in for free, but they didn't really understand or fully appreciate the game at that young of an age.
"My son has started playing baseball now and wears his Orioles shirt to school," she says. "What's neat is seeing the evolution of my kids as fans, and this will make things easier. I already want to get the schedule out and put some dates on my calendar."