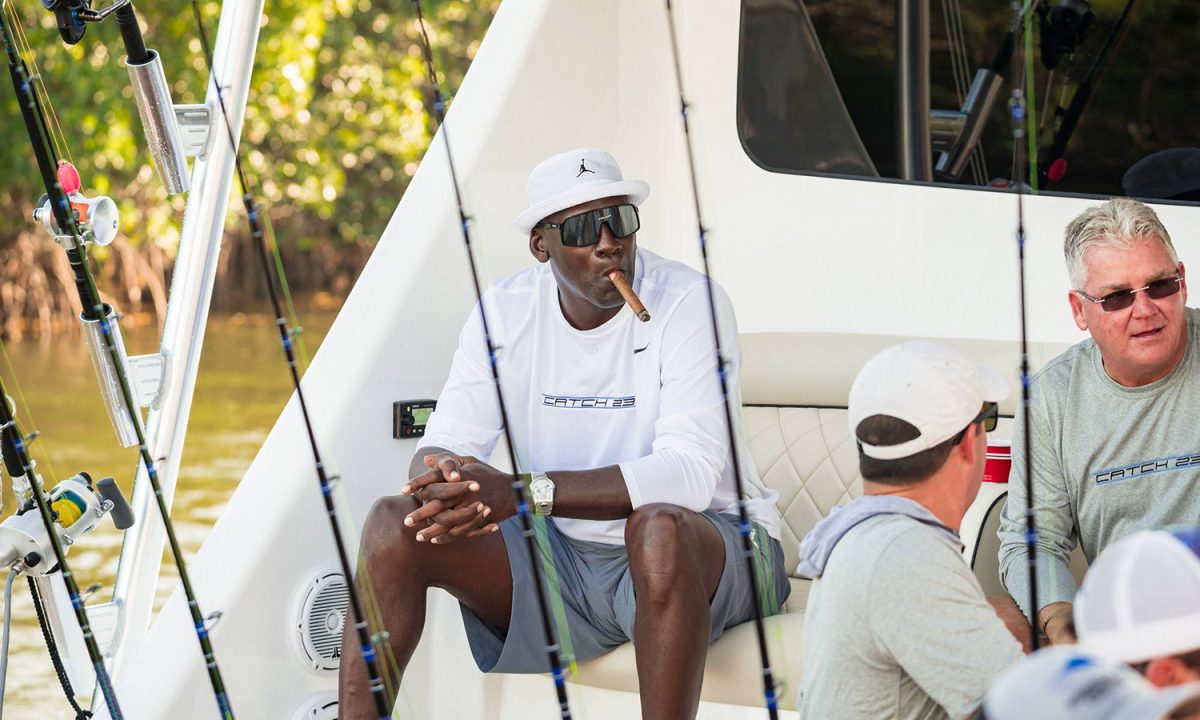 Jimmy Johnson's Fishing Championship
As August fast approaches, Ocean City residents and visitors are lured to the White Marlin Open, the world's "Biggest and Richest Billfish Tournament" that boasts a gargantuan $6 million purse. This weekend, boats will dock at marinas between Rudee Inlet, VA and Barnegat Light Inlet, NJ, while novice and veteran anglers prepare to take on a legendary celebrity newcomer.
For its 46th year, Michael Jordan is making his first appearance at the tournament, sporting his 80-foot Viking yacht, Catch 23. But will the six-time NBA champion be a victor at the docks? It's safe to say that if his sportfishing game compares to his basketball skills, as well as his golf stories, we are set to see a Catch 23-winning fish at the scales. Also, as fate would have it, Jordan's boat is the 123rd reservation, so luck just might be on his side.
The prize money is divided into a multitude of categories and will be awarded to the heaviest hooked white marlin, blue marlin, tuna, wahoo, shark, and recently added, dolphin. Currently, 138 boats are registered, and anglers will have the option to fish three of five days between Sunday, August 4 and Friday, August 9.
For first-time spectators, here's how it works: Weigh-ins are held at Harbour Island Marina on 14th Street in Ocean City and are open to all. Crews have from 4- 9:15 p.m. each of these days to make it to the scales for weigh-in or they forfeit that day.
Compared to years past, we can predict hundreds of contestants and thousands of attendees to attend this highly anticipated competition, bringing in millions of dollars of revenue to Ocean City and its surrounding areas. The Open's fan base seems to grow every year, with this year being no exception, especially with such an illustrious participant such as Jordan slated to pick up a rod.
Baltimore native Rob Gothier of the BAR South Fishing team, will be participating in this year's tournament for the seventh time on his boat, BAR South. He happened to fish against Michael Jordan in The Jimmy Johnson Fishing Championship in March, taking home third place and beating Jordan whose catches didn't place. Needless to say, he is ready to take on the all-star athlete for the second time.
A White Marlin Open expert who won Top Point Boat and Top Release Boat in 2017, Gothier explains that the Open is unique in that it awards heaviest fish rather than quantity, which typically dictates the winner in most other tournaments. "At any time one fish can win it all," says Gothier, who has a piece of advice for Jordan in their second competition together: "Have fun and don't stress."
Thirty-year White Marlin Open veteran, Capt. Gary Stamm of Buckshot, is also excited fish in the same waters as Jordan. "Spectators are jacked up for it," he says. "These boats aren't cheap, and you see a lot of celebrities in the marinas. It's creating a lot of buzz for the sport, which is great."
One of the White Marlin Open's most buzzworthy moments came in 2016, when the Open winner failed the tournament's mandatory polygraph test and the team was found guilty of violating fishing times—costing them the $2.82 million prize. Another noteworthy year followed in 2018 when the $5 million-plus purse was a record breaker, and there was a never-before-seen tie in the tournament's most notable category.
The two anglers would've split the $2.6 million prize over their 83-pound white marlins, but one contestant didn't use a gaff, forfeiting his earnings. This year with the ever-competitive Michael Jordan on deck, we can expect as much entertainment and a few show-stopping performances as anglers cast out for big catches and even bigger payouts.
When asked if he could give Jordan any pointers, Stamm shared, "Keep it fun. So much money is on the line and there have been some relationships ruined over it. Just treat it like another day fishing."