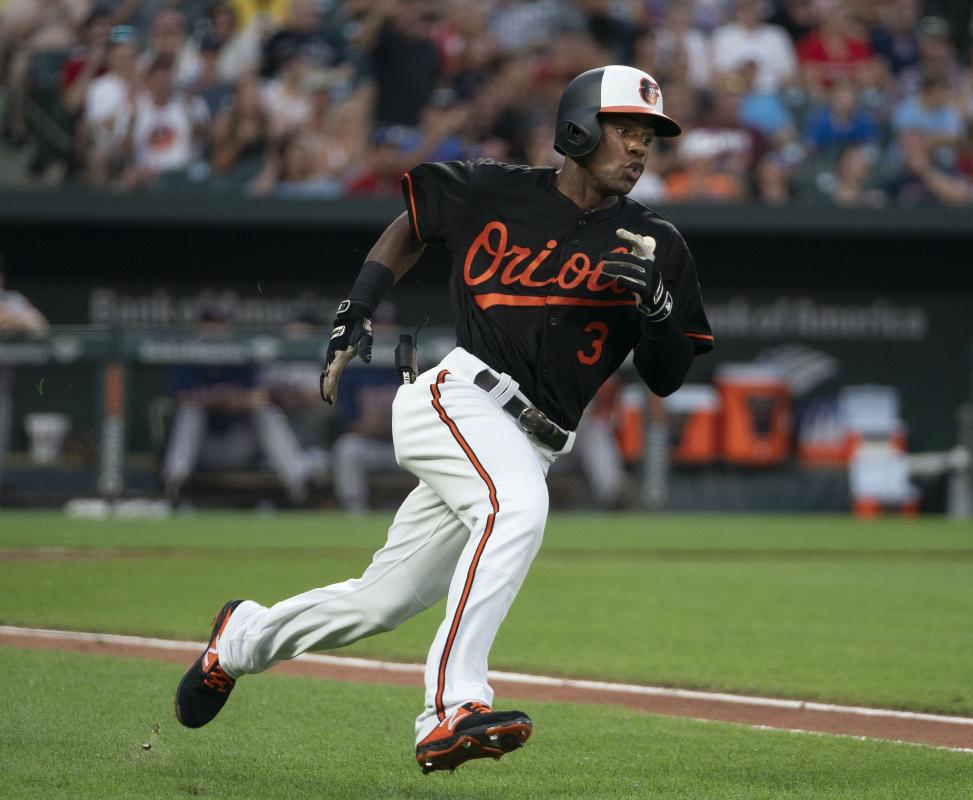 This season, Cedric Mullins became the first player in franchise history to hit 30 home runs and steal 30 bases in the same season. —Courtesy of Wikimedia Commons
If there's been a better season of bad Orioles baseball, I don't remember it.
The year started with the horrifying possibility that there wouldn't even be a full season, and there certainly was no guarantee that we'd be allowed to witness it in person. But on Opening Day, a springtime rite of passage I once foolishly took for granted, the O's took the field in front of fans at Camden Yards for the first time in 564 days. That the Birds lost to Boston was neither surprising nor upsetting. Just being in the stands with my friends felt like a terrible thirst was being quenched (or maybe that was the Miller Lite.)
As the season unfolded, the losses predictably piled up—but so did the good times. Of course rooting for a winning team is more fun than backing a losing one, but one of baseball's endearing charms is that a great night at the ballpark is not dependent on the result on the field. After a year away, I made sure to breathe in every whiff of peppers and onions simmering with sausages on the grill; to revel in each victory by mustard in the hot dog race; and to belt out every word of "Thank God I'm A Country Boy" during the seventh-inning stretch. If your happiness is tied to whether your team wins or loses, you're missing the forest for the Louisville Sluggers.
Apparently, not everyone feels that way. Attendance at Camden Yards became a national storyline, to which I offer a yawning, "Who cares?" The list of advantages to attending a game with 10,000 fans as opposed to 40,000 is longer than the line at Boog's during a sellout. Want to sit with your buddies who have tickets in a different section? No problem, come on down. There are plenty of open seats available and the ushers couldn't care less. Parking is a breeze. I miss a lot about the stretch from 2012–2017 when the O's were the winningest team in the A.L. East, but waiting 25 minutes for a urinal is not one of them.
Even in the midst of unrelenting losing, brilliance often shined from the diamond. It started in that home opener, when Ryan Mountcastle went deep in the bottom of the first to tie the game. That was the first of his 33 long balls, which broke Cal Ripken's team rookie record. 
The blast scored Trey Mancini, whose mere presence on the field after battling colon cancer was miraculous. That he played in 142 games, hitting 21 homers and driving in 71, is a testament to his grit and will. His march to the final of the Home Run Derby before the All-Star game in Denver captured the hearts of baseball fans everywhere.
But the most valuable Oriole in 2021 was not up for debate. Cedric Mullins became the first player in franchise history to hit 30 home runs and steal 30 bases in the same season. Equally impressive was his defense in centerfield, where he routinely made spectacular plays like this one look effortless.
In baseball, even when your team is terrible, there's a more-than-decent shot that on any given day they can win. (Go ask a Jets fan if they feel the same way.)
When Los Angeles Angels' superstar Shohei Ohtani's traveling Babe Ruth sideshow pulled into Camden Yards in August, most of the mammoth-for-Baltimore crowd of 15,867 just wanted to witness a history-making player. But Mullins hit Ohtani's first pitch over the wall, and O's pitchers struck out the Japanese star three times in a 10-6 Orioles victory. From the "O!" during the National Anthem until the final out was recorded and the Orioles had snapped a brutal 19-game losing streak, the atmosphere in the ballpark was electric.
The same can't be said for the first seven-and-a-half innings of a sleepy September game against the Royals. Baltimore bungled its way to a 5-0 deficit before 4,965 fans, the smallest non-restricted crowd in Camden Yards' history. But those who stayed to watch the O's post a cool nine runs in the wacky bottom of the eighth, which featured a Little League-like botched fly ball by Kansas City, were cheering as if the team had just won the World Series.   
A week later, the fans who sat through a meaningless game against the Yankees in a consistent dreary drizzle were rewarded with an extra-inning walk-off win, followed by a spectacular Avett Brothers concert. Their penultimate song? A searing rendition of "Country Boy," of course.
I attended all of those games. While I'm cherry picking my memories (I've conveniently left out any reference to a 10-1 loss to Tampa Bay, a day game in May played in humidity that would make a Floridian melt), I enjoyed the wins this year as much as any victories I've been to during the O's various runs of futility.
Even when the team was on the road, taking in a game was a treat. This was the best lineup of broadcasters the O's trotted out in years. Kevin Brown's enthusiasm is infectious—you can tell he loves the game as much as we do. Jim Palmer and Ben McDonald (whose work during John Means' no hitter—the first one by a single Oriole pitcher in 52 years—was brilliant) know more about pitching—and crucially, about how to relate that knowledge to the viewer—than any other color commentating duo in the big leagues.
On the radio, Geoff Arnold, Brett Hollander, and Melanie Newman all paint a vivid picture with their judiciously chosen words. Every time I looked up this year, Newman was shattering another glass ceiling. She's a rising star. Before we know it we'll be saying, "We knew her when…"
Down on the farm the future is bright—the Orioles have baseball's No. 2 ranked minor league system, according to Baseball America. I believe in general manager Mike Elias' vision, and have confidence that wins will flow at Camden Yards again. But losses will always be mixed in. 
That's baseball. 
Hopefully, sooner rather than later, we'll see more of the former than the latter, but either way, you'll find me in Section 14 with a cold beer in my hand, a smile on my face, and hope in my heart.