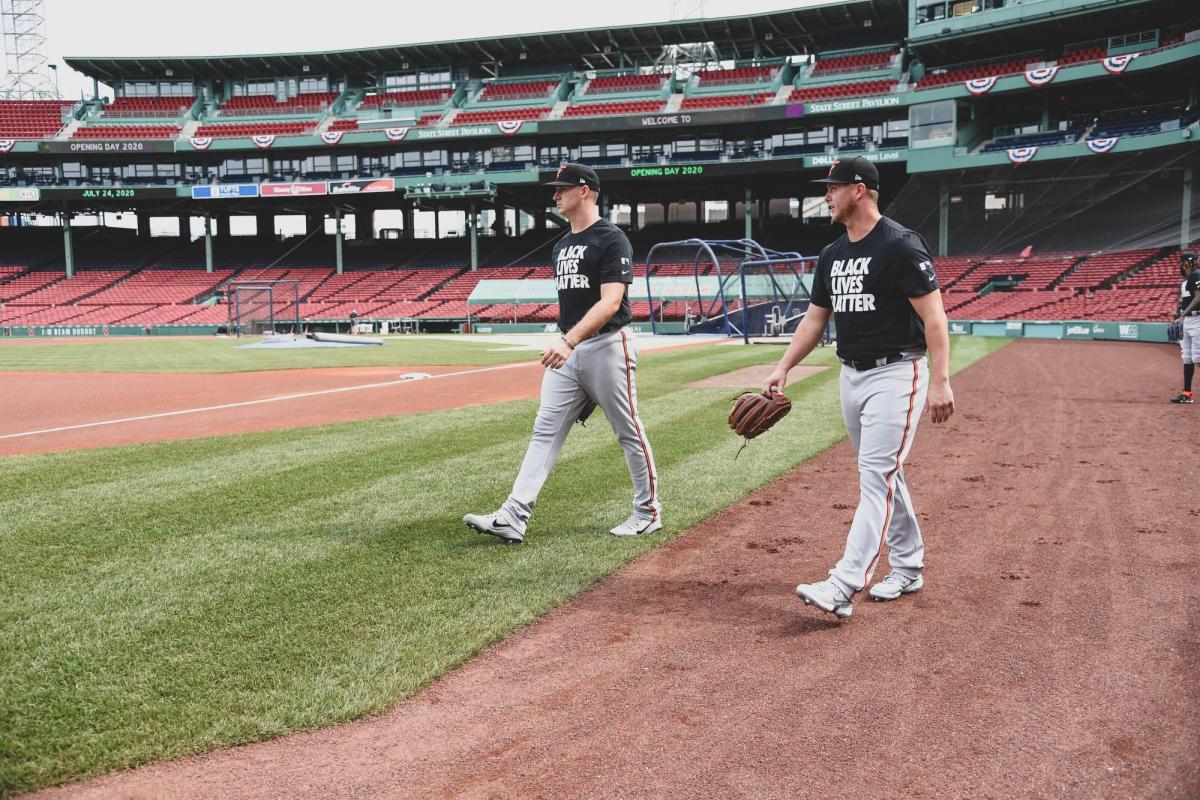 Baltimore Orioles
Orioles pitcher Alex Cobb gets it. So does Dillon Tate.
Speaking to reporters last night, after the O's decided not to play in Tampa against the Rays in a sign of unity, if not a stand for social justice, both pitchers shared perspective on the tragic conversations happening today in pro locker rooms, and a lot of other places.
A viral video last weekend showed it again, a white cop shooting, and reportedly paralyzing, a Black man in Wisconsin. Then, horrifically, a few days later, a white teenager shot and killed two people protesting the initial incident.
Cobb, who is white, has an older brother that is a police officer (and an Iraq war veteran). And the 32-year-old Boston native is, of course, teammates with several Black players on the Orioles, like the 26-year-old Tate, who grew up in Los Angeles and trained at the Major League Baseball Urban Youth Academy in the notoriously violent neighborhood of Compton, California.
Knowing even just that little, it would be easy to paint both (who are likely unfamiliar names to the casual fan) with broad strokes. It's simple to ask them a leading question, eliciting an answer from the Black, inner-city perspective or white, family-of-police point of view, as if they represented only those groups. But, honestly, that might be precisely a show of the problems at the core of the unrest today. Things, as always, aren't as black and white as they seem.
"I'm learning to not look at it through those lenses anymore," said Cobb, who is in his third season with the O's, following his first two injury-filled years with the team. "In the beginning, you had to be one side of the other. You had to be for our police, or for our inner-city communities, and I just don't think that was the right way to look at things. I will always respect every single person that puts on a uniform and goes out to protect us. But I also have had too many moments where I looked into my teammates' eyes or my friends' eyes and I can see that they're dealing with some real struggles and they're hearts are heavy. We need to find a way to start the conversation of mending the two sides, rather than picking a side."
That's the message Tate, who arrived in Baltimore in 2018 via the trade of former closer Zach Britton to the New York Yankees, said the Orioles' 26 players and their coaching staff wanted to send by not playing on Thursday night.
"I think what our team wants people to know on the outside is that we all bleed the same blood," Tate said. "We are all one and we're all the same. We're all just trying to come together right now."
"I think what our team wants people to know on the outside is that we all bleed the same blood. We are all one and we are all the same. We are all just trying to come together right now."

Dillion Tate on tonight's postponed game: pic.twitter.com/tljKfMjL9q

— Baltimore Orioles 😷 (@Orioles) August 28, 2020
Sports can be a distraction from real life, but also a platform to make real change. This year, it's often been both, with games providing entertainment during a pandemic and athletes with microphones and cameras in front of them speaking out on social justice issues more and more.
The NBA's Milwaukee Bucks, who refused to take the court for a playoff game on Wednesday night in Florida in response to what's happened back in their home state, sparked a new wave of protests and boycotts.
"Enough is enough," is how the Ravens put it collectively in a detailed statement yesterday, repeating the language the Bucks used when making their announcement earlier this week. The Ravens called for the arrest of the officers involved in the shootings of Jacob Blake and Breonna Taylor, and they suggested various reforms on policing and legislation.
Ravens coach John Harbaugh said players held a roughly two-hour meeting on Thursday before the team put out the statement, following a morning of various conversations around the team's training facility in Owings Mills.
"There were a range of emotions and feelings that have been taking place about what's been going on in our country," Harbaugh said during a press conference Friday. "Not everyone is going to agree with every point in that statement. Not everyone on our team is probably going to agree with every aspect… [But] bottom line, let's come together."
The dynamic was similar with the Orioles, who have been on the road in Tampa for a series against the Rays. Last night, around 7 p.m., not long after he told his team that he was totally fine with their decision not to play, Orioles second-year manager Brandon Hyde sat down in front of a computer at the Rays' home stadium to once again speak to the media.
Less than two hours earlier, he told reporters that it was unanimous in a team meeting—the O's wanted to play last night's game. But as he was speaking those words, some players were having new conversations out on the field during batting practice.
The group meeting in the clubhouse sparked more intimate talks in the open air of the stadium. Shortly after batting practice was over, the team had a players-only meeting where they spoke as a group again before Hyde—who wore a T-shirt acknowledging the Negro Leagues earlier in the day—entered the room.
"Our guys expressed more of their thoughts on the situation," Hyde said last night during a Zoom interview, which ended when he got choked up talking about the emotion of the day and how he's been challenged as a leader this year, "and I think there was a lot of people hurting. You could see in their faces there was a ton of emotion the room."
Hyde and players declined to share details of what they've talked about, but the O's have many minority players, and Hyde says some of the stories he's heard this week have been "difficult to listen to."
"We all have our thoughts in other places at times," he said about what's been going on in the country. The social unrest. Yet another report of a racially-charged police shooting.
In sum, a few players felt uncomfortable playing the game last night. And that was enough.
"It's something that's evolving each day, what we're seeing in our communities and now with our athletes," Cobb said. "I pray that we're able to find a way for everybody to love everybody."