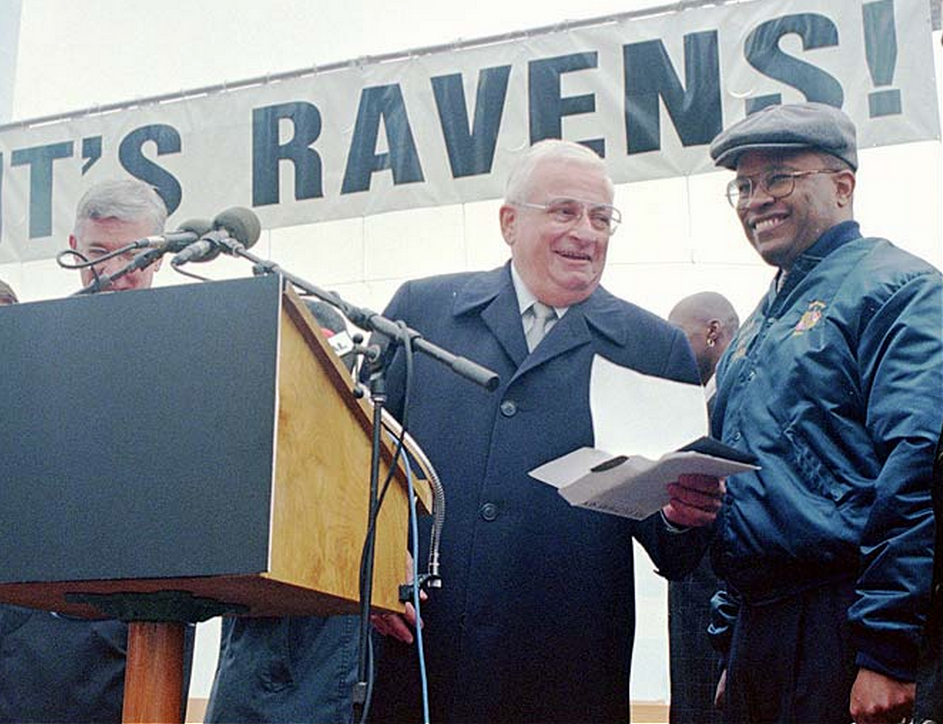 BaltimoreSportsandLife.com
Hard to believe, but this upcoming football season marks the Ravens' 20th year in Baltimore. Every Wednesday, we will be counting down the 20 best moments in Ravens history, on the field and off, to commemorate the team's nearly two decades in this city. To see even more Ravens 20th anniversary love, pick up a copy of our September issue, on newsstands now. And, of course, stay tuned until the end of the regular season when we reveal our No. 1 moment in Ravens history.
#20: Naming the Team
March 29, 1996
How it happened: Long before hashtags and retweets gauged popularity, the Ravens name was decided the old-school way: focus groups and telephone calls. The process began in earnest in February 1996 after owner Art Modell made the team's move from Cleveland to Baltimore official. (He tried reasoning with Indianapolis to get the "Colts" name back, but no dice.)
For nearly two months, Modell's son David met with NFL Properties to whittle the list down from several hundred to 17. From there, a research firm organized focus groups of Maryland citizens (ages 25-35 and 35-45) to answer a questionnaire, listen to play-by-play tapes, and rank their top fives picks. They were asked questions such as, "If Baltimore were a car, what kind would it be?" and "What person would you say most represents the community?" Popular picks were a Jeep and Cal Ripken Jr.
The Modells also partnered with The Baltimore Sun to get more voters and host one last poll. On March 28, readers were asked to call into Sundial (a then-popular telephone poll feature of the newspaper) to pick between five choices: Ravens, Americans, Marauders, Mustangs, and Railers. The next day, Mayor Kurt Schmoke, Governor Parris Glendening, and team officials gathered in the Inner Harbor to announce the name. Ravens won by a landslide.
"It's a strong nickname that is not common to teams at any level, and it means something historically to this community," said David Modell, of course referring to Baltimore's ties with poet Edgar Allan Poe, who famously wrote "The Raven." In fact, the team continues the legacy of the macabre poet, who lived and died in Baltimore, with its three jubilant mascots: Edgar, Allan, and Poe.