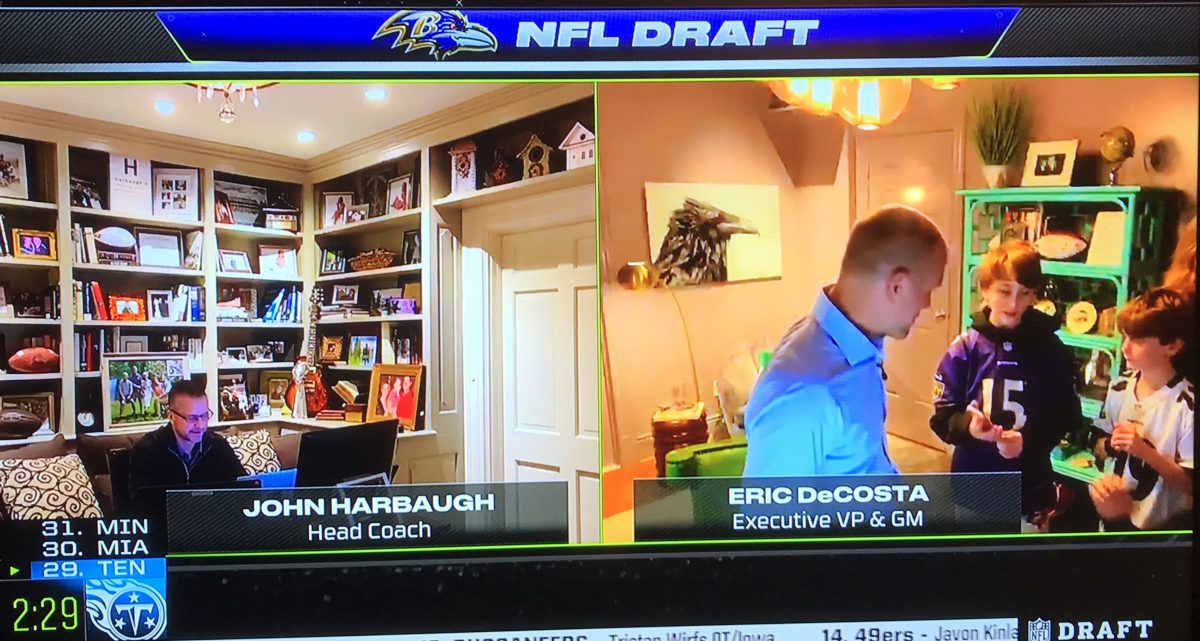 "With the 28th overall selection, the Baltimore Ravens select Patrick Queen, linebacker, Louisiana State University," NFL commissioner Roger Goodell said, live from his basement.
Around 11:45 p.m. Thursday, with the pick finally in, Ravens coach John Harbaugh air high-fived in the direction of the computer screen on his home office desk.
It was late. "A long, long day," said Ravens general manager Eric DeCosta, who was on the receiving end of Harbaugh's video congratulations. And the nearly five previous hours were different from all of the other communal draft nights the Ravens' braintrust has known. "We were together, sort of," DeCosta said.
The Ravens and all NFL teams, popular as they are, are not immune pandemic-generated social-distancing rules, either. And so for the first-time ever, the league's college draft—normally an in-person primetime spectacle held at some place like Radio City Music Hall and attended by thousands of passionate fans—went entirely virtual.
In essence, the traditional conference-style War Room at Ravens' headquarters in Owings Mills was replaced by a home-office-themed internet-based Zoom Room. We saw Harbaugh sitting at his desk amid bright book-lined shelves, and DeCosta celebrating with his three children in his pink-ish wall-colored workspace.
It felt and looked like a fantasy football draft—where John Doe's around the country analyze and choose players from their couches for fake teams and a little money—except this remote draft was real and the lifeblood of a billion-dollar pro football business.
Young twenty-somethings hearing their names called, like Charm City's new (Patrick) Queen, have the potential to become household names and new millionaires. All the while, front-office guys such as DeCosta wore collared shirts and jackets, and ate good food (Jimmy's Seafood, in his case) rather than gorging on cheap pizza and beer, while trusting encrypted league-mandated Microsoft Teams channels and their own custom team IT setups.
Thankfully, it all went off without a visible glitch—from the technology setup to the Ravens' draft choice itself. DeCosta manned the Ravens' battlestation from his cozy office, where a half dozen computer monitors displayed information, like the team's draft board of names, arranged as if they were meetings on a Google calendar.
One by one, the blocks disappeared as the 27 other picks were made. But by the time it was the Ravens' turn, they still nabbed one of their preferred targets. Queen, a 20-year-old, 6-foot, 230-pound quick and versatile linebacker—who's a good tackler, blitzer, and pass coverage option—was defensive MVP of LSU's national championship-winning team in January.
"He plays like a Raven," DeCosta said. "When you watch the tape, you notice him. He's a great fit for our defense and a great fit for Baltimore. He was a need, but also the very best player on the board for us. When that happens it's a great win for the organization."
Quarterback Lamar Jackson commented from his place on Instagram shortly after the selection and took the analysis further, saying simply, "Ray Lewis, Jr." Harbaugh noted Queen's potential after starting just one year at LSU: "His best football is in front of him."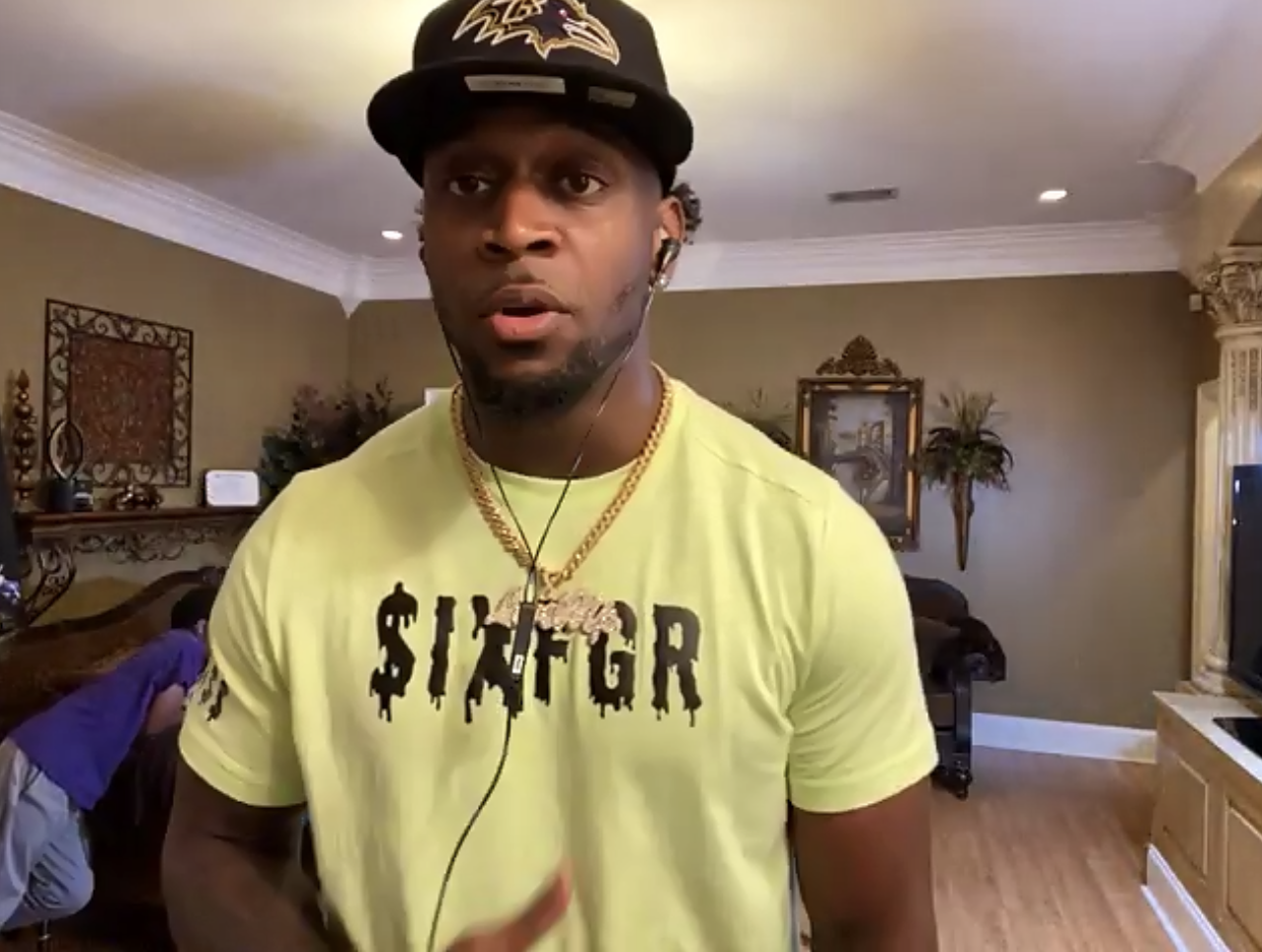 It was even later, close to 1 a.m., when Queen joined reporters live in a video chat from his family's living room in the small town of Ventress, Louisiana, where his family was celebrating (his dad, Dwayne, is a former college football player) and a dog barked.
"It was a long, long, long, long night," Queen said to start, one upping DeCosta's claim by a few "longs." And as a few people offered congratulations to the new Raven before asking a question, he responded with a sincere "Thank you," before answering each query.
On the inevitable comparison to Ray Lewis, a linebacker who the Ravens also selected at the end of the first round back in the day, Queen smiled. "The bar is set high," he said.
On critics who might say he's undersized for the rough world of the NFL, he said, "I'm so tired of hearing that," and added that he's proven people wrong everywhere from his small Louisiana high school to the big-time world of college football at LSU. "The tape shows."
On what fans can expect from him, he said, "Ya'll going to get the most energetic player from this draft, the most passionate, the most dominant, the most studious person that you can get. I bring a lot to the table."
Those are more than enough reasons for an air high-five.
For instance, Queen is the first player from LSU the Ravens have ever drafted, perhaps because longtime Ravens GM Ozzie Newsome—who was also part of the Zoom Room—played at the University of Alabama, one of LSU's rivals.
"He kept saying something, but we muted him," DeCosta said sarcastically of Newsome before the pick was made. "He kept waving his hands then his video went out. That's the thing with technology sometimes, it can be manipulated. Maybe it was the Russians, I don't really know."
To that point, the GM indicated he would have preferred that ESPN didn't have a camera in his office recording everything he did, one of more than 100 live video feeds coordinated for the broadcast. "It's a bit unsettling," DeCosta said.
But, for one night, the whole mere occurrence—from Queen's authentic answers and apparent skills, to the awkward musings of Goodell from his basement as he announced picks, to the office backgrounds of Harbaugh and DeCosta, and light-hearted jokes—was a welcome respite for pandemic life.
Yet hopefully it's not needed in the long run. "I don't think I'll ever experience another draft like this," DeCosta said, noting he had tell his kids to be quiet at times. "But I'll never forget it."