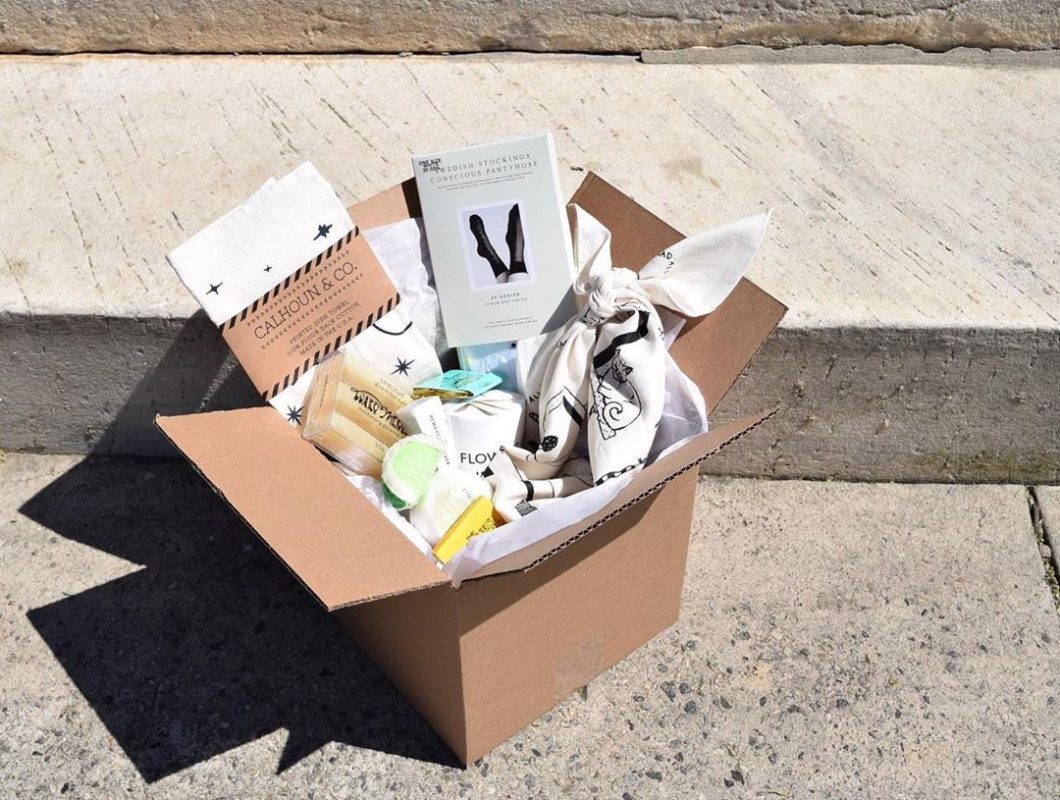 As shops around the city remain closed, many have struggled to sustain business in the interim, causing them to shift their models. Some have created full-fledged online stores, while others have developed curbside delivery options. And the shoppers? Well, chances are you're one of them. We all miss our regular hangouts, getting brunch with friends, and maybe checking the latest inventory at our favorite shops on the way home.
Among the creative solutions that local boutiques have come up with are care packages. (Or self-care packages depending on who you're shopping for.) Whether ordering a box of hair supplies or a basket of home décor treasures, here are a few options to support Baltimore's small shops while keeping calm at home.
A sweet mix of stuck-at-home goodies, the "limelight" package from Hunting Ground is a box packed with all of your self-care needs. They're free to ship and the contents bundle price of $88 comes to 20 percent-off retail costs.
Just because your salon is closed, doesn't mean you have to forgo regular upkeep. Thanks to Ash & Oak salon, hair care kits are being made to help you keep your locks at bay in the meantime. Smaller kits range from $56-$75, while larger "quarantine kits" have been offered for limited times.
The horrors of broken nails, chipped gel, and overgrown manicured polish are no joke. If you're missing your manicurist, fear not—Melly Mani is delivering gel/dip removal kits. You'll receive a box of all the necessary tools, as well as some polish to maintain your nails from home.
Isolating at home gets old. To keep yourself occupied, or cheer yourself up, check out the "quarantine kit" items at Brightside Boutique. Various items include home organization, greeting cards, and cocktail mixes. Whatever you're needing to get you through these lonely times, they've got you covered.
Show some love to Baltimore makers with the help of The Codex Club. Stock up on candles by Knit Soy Metal or refresh your home with some handmade wood pieces by Jon's Design Company. If you're interested in building your own kit, just reach out to the shop through social media.
Canton gift shop Best Day Ever is offering an assortment of items for all the special people in your life. Send a friend a birthday care package, or one to your child's favorite teacher. They're simple gestures to tell those you miss that you're thinking of them.