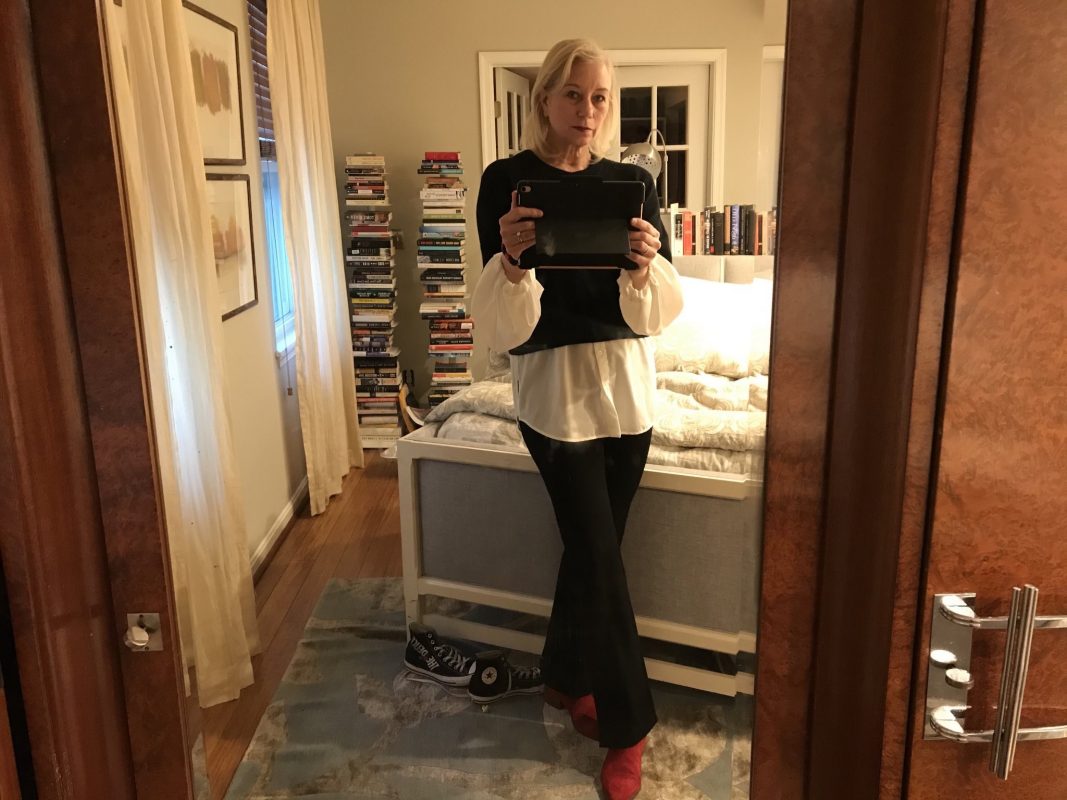 The first time Baltimore-based novelist Laura Lippman got dressed up for Twitter, she didn't know it would turn into a regular thing.
The Twitter hashtag #DistanceButMakeItFashion was conceived by journalist (and connoisseur of all things glamorous) Rachel Syme. Fashion had been one of the first things to go by the wayside during the pandemic, so Syme thought it would be nice for people to occasionally get out of their yoga pants and into something a little fabulous. She proposed doing it every Sunday.
"And I was like, sure, I'll do that," Lippman says with a chuckle. "It just seemed funny and silly…I did it and it felt fantastic, like weirdly wonderful. I posted a photo of me that evening in this very fancy nightgown and robe that I literally wore on the Orient Express."
A couple of days passed and Lippman decided to do it again.
"I reached into my closet and pulled out these over-the-knee red suede boots and paired them with a plaid dress and I put up a photo and wrote, 'Oh Rachel what have you wrought?'"
From there, more outfits came—a coat dress with velvet applique tights and knee-high gray suede boots. A leopard-print coat with giant red sunglasses. An outfit—pink pants and a black top—styled by Georgia Ray, Lippman's daughter with writer/producer David Simon.
"There are these really nice memories in my closet. I've been enjoying them," Lippman says. (It doesn't hurt that she's more or less been the same dress size for 25 years.)
At one point, Lippman started telling the story behind the outfits—a dress she wore to the Emmys, another dress she wore to the premiere of The Sopranos at Radio City Music Hall—and she thinks she'll continue with that practice.
"They're almost like little writing prompts," she says.
The response to the outfits has been very positive—although Lippman says she has filters set up on Twitter to minimize the appearance of bots or trolls.
"I'm sure there are some people who think it's obnoxious," she laughs. "There's always someone who hates you online—that's just a given!"
Lippman has really appreciated the ritual of creating the outfits, but she also wants to make it clear that she's "achingly aware" how "lucky" she is.
"Knock wood, no one in my house is sick and no one close to us is sick," she says. "For now, we don't have to worry about our pay checks. I don't know how to be luckier than that right now."
So does Lippman recommend that everyone get in on the #DistanceButMakeItFashion phenomenon?
"I recommend that people do whatever makes them feel good right now," she says.