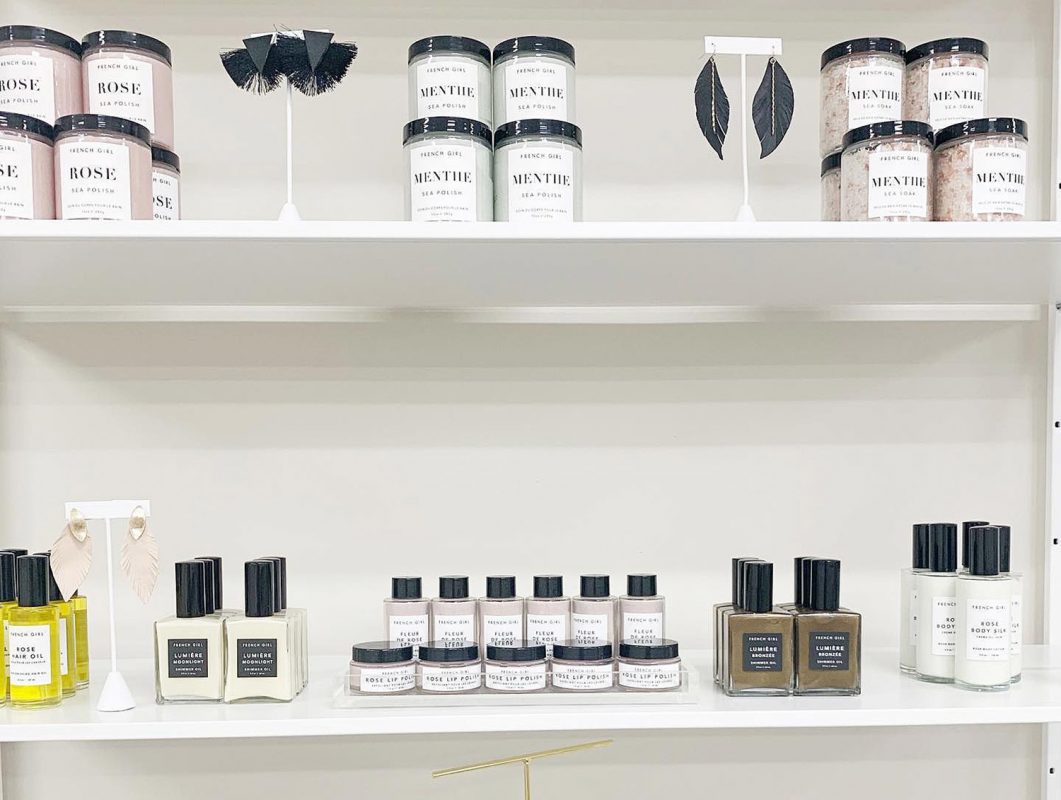 Mint + Major
OPEN
Mint+Major: At long last, online beauty and accessories shop Mint+Major has settled down (temporarily) among several other Baltimore favorites in The Shops at Kenilworth. Owner Melissa Bona announced the big news after an unfortunate turn of events transpired with her planned location in Fells Point. But, boy, are we glad Kenilworth came to the rescue. Bona's experience in retail buying led her to open her own boutique, stocking on-trend and affordable merchandise from the best of the best in jewelry and beauty. So, if you're looking for some new fall bling—or desperately need a moisturizing face mask—check out Mint+Major's new digs. Be sure to save the date: Mint + Major's Kenilworth launch party on September 12th from 5:30 to 8:30 p.m. will celebrate with a signature cocktail and new fall arrivals.
Knockout Fitness Towson: Baltimore County residents, rejoice! Federal Hill's Knockout Fitness comes to Towson this September. "We noticed there was a lack of specialty gyms in Baltimore County, so we have had our eye on Towson for a while," co-owner Chris Nissley said in a press release. Specializing in boxing, this studio is also a hub for group fitness classes, boot camp programs, and personal training. After almost seven years in Federal Hill, this seems like a welcome expansion for Baltimore's fitness community.
Floral Fêtes Green Spring Station: Big news! Owings Mills' own Victoria Clausen Floral Events has planted roots in Green Spring Station with the opening of its sister shop, Floral Fêtes. Nooked in the corner of the courtyard, the spot features an abundance of elegant floral arrangements scattered about. But, that's not all this shop is bringing. Expect to find lovely gifts and treasures made by Baltimore artists—the perfect complement to a fresh bouquet.
Match Made: If Hampden's 36th Street is your shopping destination, it's likely you're already aware of Match Made Stores. However, for fashion-lovers outside of the city hub, prepare your wallets. For all things ultra-trendy and fashion-forward, Match Made is a go-to shop and now they're headed for a new storefront within The Shops at Kenilworth. Join the store for a warm welcome on September 5 from 6-9 p.m., where you can sip drinks, shop new trends, and get a free manicure by MellyMani.
Codex Club: The Shops at Kenilworth isn't the only growing shopping destination. Remington is a close second—especially now that Codex Club is bringing its one-stop shop to Baltimore. Owner Andrea Chen's background in graphic design lends her a creative eye for all things stationary and gifting. But, that's not all Codex Club offers: classic wardrobe pieces such as denim jackets and layered necklaces are aplenty. Stop by the new location on Remington Avenue—the winner of the recent Remington Storefront Challenge—on September 7th from 10 to 11 a.m. to celebrate opening with eats from neighborhood favorites. (Think treats like delicious cupcakes from Charm City Cakes and gourmet ice cream cones from Little Baby's Ice Cream.)
FALL FASHION EVENTS
9/1: The River Oshun 1st Anniversary
Last year, Oshun Afrique opened her holistic natural salon in Mt. Vernon. Since then, The River Oshun has been a hot spot for styling beautiful locs and natural hair. Gather with the team of stylists as they celebrate their first anniversary with small bites, drinks, and local music by DJ Ducky Dynamo.
9/13: Green Spring Station Fall Fête
New renovations, new stores, and new fall merchandise—what's not to celebrate? Green Spring Station throws Fall Fête 3 this September. At the annual event you won't want to miss, enjoy a runway fashion show featuring the latest from the Green Spring boutiques and yummy eats from its restaurants.
SHUT
Hello Addie: Goodbyes are never easy. After a year in Federal Hill, Hello Addie announced its closing. Quickly becoming a neighborhood favorite, owner Alex Dekowski had set out on a mission to create a fashion boutique that appealed to all women, and she sure did deliver. But, as all good things must, Hello Addie's time has come to an end as Dekowski takes her creative spirit to a new adventure.
Punch!: Federal Hill also will also bid farewell to Punch! Boutique this fall. Known for flirty skirts and sparkling jewels, Punch made itself a go-to destination for all things feminine and fun. Luckily, it's not the complete end for this vibrant shop. Closing their Fed Hill spot just means a new venture in Washington, DC. To make this bitter news a little sweeter, owner Cydney Vigliotti announced that Punch will be returning for pop-up events in Baltimore, and that she is launching her own line of clothing. So, after four years, we'd say it was a good run in Fed Hill—but we're excited to see what's next.