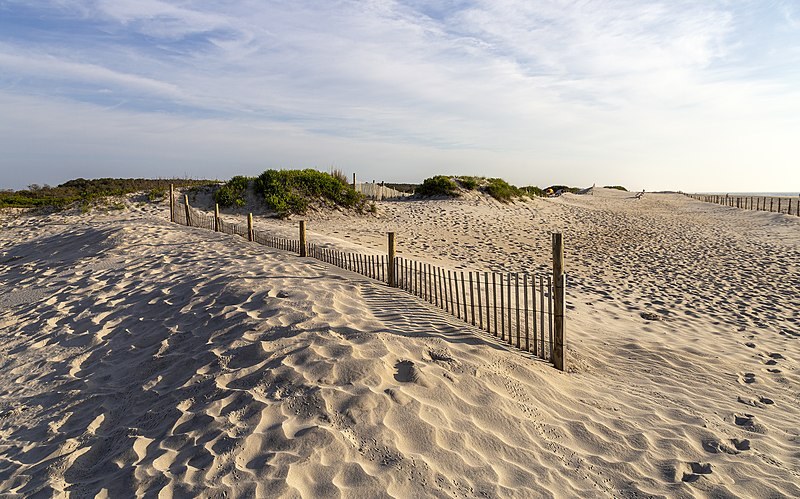 Creative Commons
This spring, one saving grace during the spread of the coronavirus across the state has been access to Maryland's great outdoors. And now with Governor Hogan's eased restrictions on many outdoor activities, as well as the stay-home order lifted for non-Baltimoreans, there are plenty of ways to safely get some more fresh air. Here's the latest on getting outside during the continuing times of COVID-19. One key takeaway: not all has returned to normal.
---
PARKS
Maryland's dozens of state parks offer a great escape during the times of a global health crisis. From the mountains of Western Maryland to the shores of the Atlantic Ocean, most have remained open throughout the coronavirus pandemic, but several previously closed locations will now reopen as well, including Sandy Point outside of Annapolis, Assateague on the Eastern Shore, and Swallows Falls in Western Maryland.
Plan ahead for potential filled-to-capacity closures at the likes of Patapsco Valley, North Point, and Gunpowder's Hammerman Area, as well as continued closed portions, such as the Houck Area of Cunningham Falls in Thurmont, certain trails at Elk Neck in Cecil County, and the Harriet Tubman Underground Railroad State Park in Cambridge. All visitor's centers, administrative buildings, nature centers, and most concessions also remain close, while playgrounds have reopened for kids and families. All visitors are encouraged to social distance, as well as provide their own soap or hand sanitizer, stay home if sick, and visit parks close to their homes.
Meanwhile, all Baltimore City and County parks are still open to the public, as they also have been throughout the pandemic, with social distancing and face coverings encouraged, though the use of playgrounds and exercise equipment continues to be prohibited. The Canton, Latrobe, and Howard Street dog parks are limited to a maximum of five visitors at a time, while the Patterson Park dog park is limited to 10.
CAMPING

If one thing is certain in these uncertain times, there's never been a better one to sleep under the stars. With the wide-scale reopening of state parks, several state-owned campgrounds, which typically make up some 2,000 campsites, will also begin reopening on a gradual basis for tent and RV camping, though cabin rentals currently remain closed as locations consider reopening strategies. All campers must be with immediate family members or people with whom they reside, in groups of no more than 10, and abiding by social distancing guidelines. For reservations, visit the Department of Natural Resources's website.
BEACHES
With the announcement of the lifting of the state's stay-home order, we could almost feel the traffic begin to build at the Bay Bridge. Though previously closed in their entirety, all state-owned beaches, including Hammerman Beach at Gunpowder Falls, as well as Hart-Miller Island, Calvert Cliffs, and Assateague have now reopened, though do note that the latter's National Seashore is still off-limits. Under social distancing guidelines, most forms of outdoor exercise can resume, such as walking, running, swimming, and fishing. But leave the seating home, as chairs, blankets, and picnics are still prohibited.
Meanwhile, Ocean City has reopened to the general public with social distancing and gathering limitations in place. It's largely business as usual, besides beachcombers being encouraged to remain at least six feet apart and in groups no larger than 10. Lifeguards are on duty for swimming, boardwalk restaurants are open for carryout, and lodgings have since reopened to visiting guests. Up the road, however, out-of-state visitors are still prohibited from the likes of Dewey, Rehoboth, and Bethany beaches until at least May 31 under Delaware's stay-home order, which remains in place. Many restrictions apply to locals, as well, such as bans on sunbathing, swimming, and surfing.
BOATING
After weeks of pressure on Governor Hogan, recreational boating is back on the Chesapeake Bay and its surrounding waterways. In addition to personal watercraft like kayaks and canoes, the use of both motor and sail boats is once again permitted after a brief hiatus during the recent stay-home order.
All boaters must be with immediate family members or those with whom they reside and in accordance of social distancing guidelines. Regardless of vessel size, parties larger than 10 are prohibited, as are gatherings on the likes of piers, boat ramps, beaches, or via raft-ups, in addition to docking at waterfront restaurants. Many marinas have already reopened, though they may do so at their own discretion, so be sure to call ahead. Be it on water or land, recreational fishing has reopened, too, where standard rules and regulations still apply.
GOLF
If there was ever an ideal sport for social distancing in the great outdoors, golf would be it, and sod is once again soaring across the state, with Maryland courses now permitted to reopen at their own discretion. Open greens in the Baltimore area include Bulle Rock in Havre De Grace, Rocky Point in Essex, Greystone in White Hall, and Fox Hollow in Timonium, as well as all Classic Five courses, with tee times reserved online and all high-touch items removed from clubhouses, cars, and ranges. Restrictions and safety measures vary from location to location, though all golf carts are limited to two players from the same household.