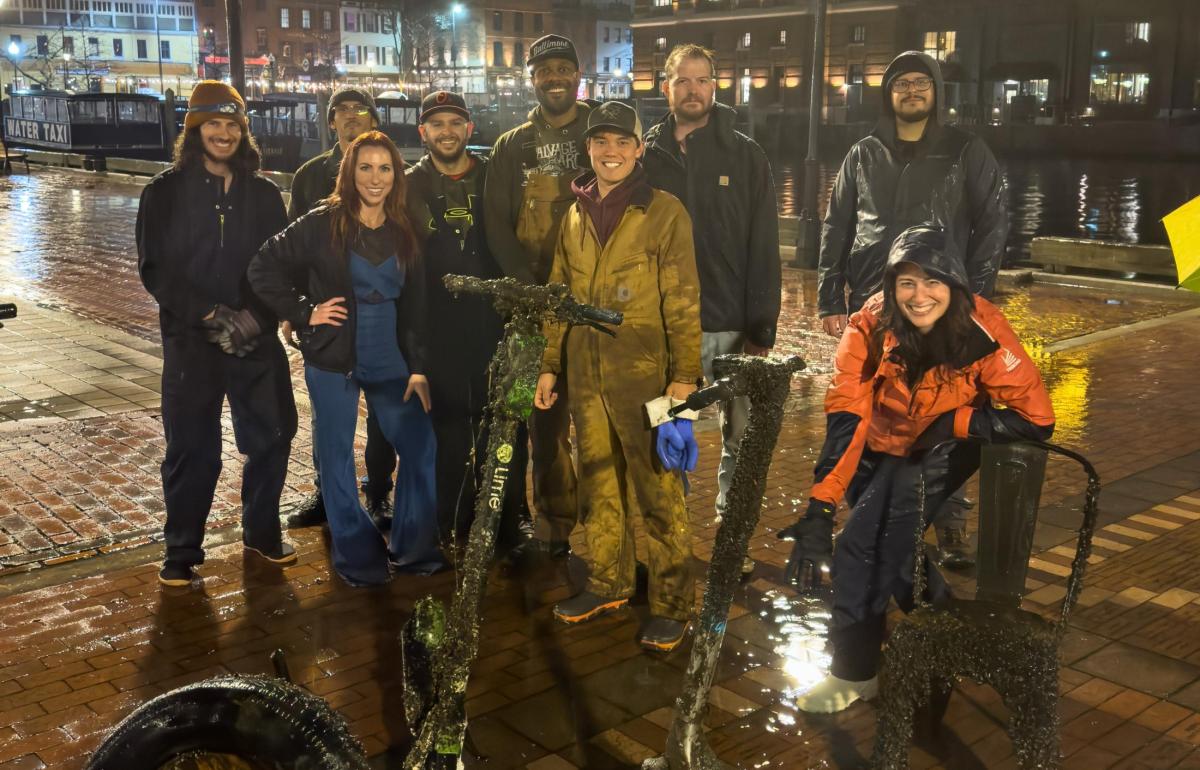 —Courtesy of Evan Woodard, pictured back row: third from right.
As the excavator, photographer, and historian behind Salvage Arc, Evan Woodard is used to unearthing relics by land. And recently, he's taken his expertise to the Inner Harbor. 
In January, the Patterson Park resident founded the Maryland Magnet Fishing Club—which meets at Bond Street Pier in Fells Point on Thursday nights from 6-8 p.m. to hunt for forgotten metal objects in the water using ropes and special neodymium magnets. 
Magnet fishing is said to have taken off in Europe in the late '70s, when boaters were determined to pull fallen keys from the bottom of ponds. It saw a resurgence throughout the U.S. during the pandemic, and more recently became a social media phenomenon. 
Woodard was first introduced to the hobby on YouTube, and, given his passion for uncovering local artifacts, he was eager to see what he could find, while also doing his part to clean up the Harbor. 
"I noticed there was no one really doing it here," explains Woodard, 35, who works as a cybersecurity manager by day. "We have so much waterfront property here, and a lot of it is public." 
During Woodard's first magnet fishing experience the day after Christmas last year, he and his friend, Nicholas Fischer, pulled six electronic scooters out of the water.
"It was a rush," Fischer says. "You could tell that the scooters had been underwater a long time, with all the growth on them."
A photo that Woodard took with one of the scooters that day went viral on Reddit. Since then, the group has grown to include nearly 40 participants, some of whom travel from the Eastern Shore. Together, they have collected everything from shipping hooks to outdoor patio furniture to metal trash cans.  
"I've met so many people from all walks of life who are trying to do the same thing—make a difference in Baltimore," says Woodard, referring to the environmental outcomes of magnet fishing. "We have kids who come out with their parents. It's such a cool thing."
So what are some of the group's favorite objects that they've discovered to date? They've found at least 35 scooters (an eel was even hiding inside one of them recently) plus what Woodard believes to be a 19th-century pushcart wheel. "It's fully greased up—and it spins," he adds. 
Fischer says that, no matter what the group finds, there's always a sense of excitement before they reel an object in. 
"Even if it's junk, or just a piece of just rusty metal, it doesn't matter," he says. "It's really cool to see everyone's excitement."
Moving forward—and especially as temperatures begin to rise—Woodard hopes membership will continue to increase. Some participants even want to branch out beyond the Fells Point pier. Overall, he's glad to be able to introduce (or reintroduce) the practice to Baltimoreans. 
"I'm not reinventing the wheel when it comes to magnet fishing," he says. "This is a skill that I'm trying to preserve and share for future generations."