Berlin, Maryland, Might Just Be The Coolest Small Town in America
There are few better fresh-air respites in the state than the tiny town just a stone's throw from the Atlantic Ocean.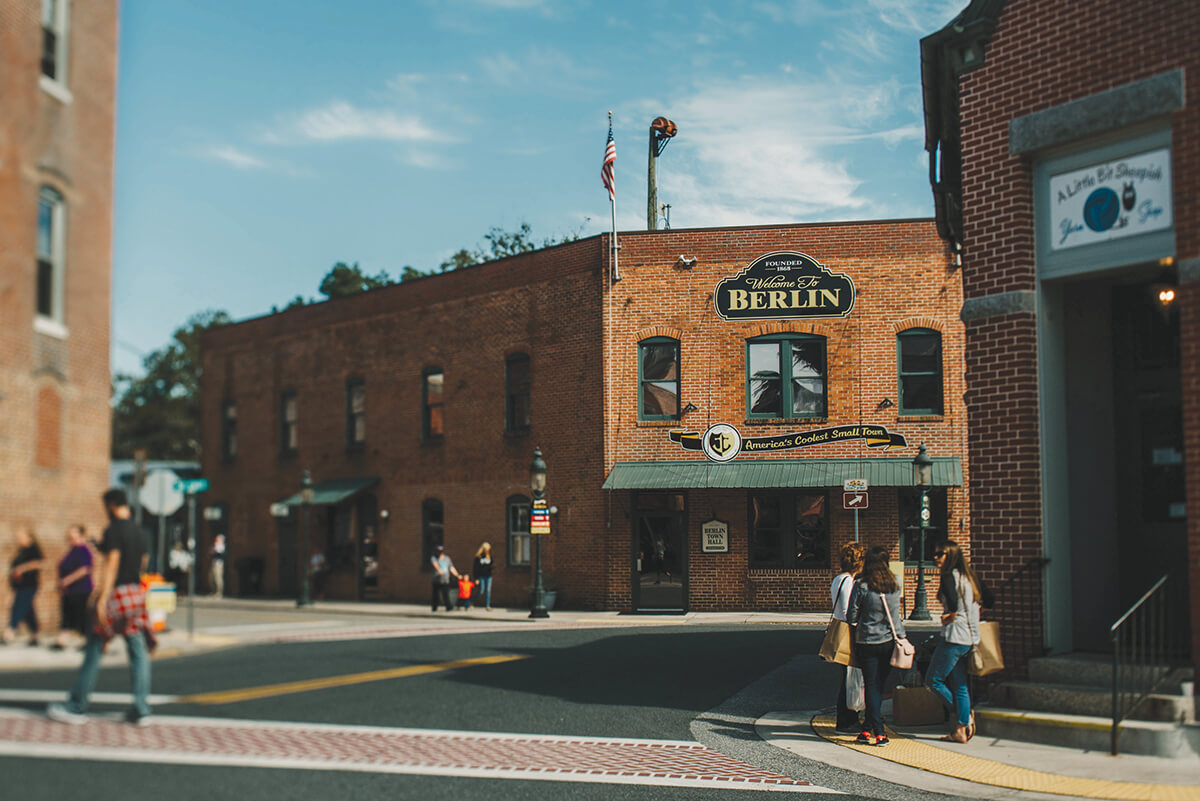 When the dogwood trees begin to bloom, and the blue crabs start their migration up the Chesapeake Bay, it's time to head east, out of the city and onward to the Eastern Shore, then further, toward the ocean—stopping just short of those salty Atlantic waves. Take our word for it: Come May, there are few better fresh-air respites in the state of Maryland than the tiny town of Berlin.
Only a 10-mile drive from the Ocean City boardwalk, this hidden gem is a destination all its own, where visitors can revel in the slow pace, Main Street charm, and easy access to our favorite strand—the Assateague Island National Seashore—without the typical hordes or hub-bub of the beach.
We love it for its leafy, treelined streets, well-preserved Victorian architecture, and laid-back seaside vibes, thanks in part to a handful of young people who live here for its proximity to solid surfing. There's also a vibrant seasonal farmers' market, a coterie of cute shops, and an all-new museum dedicated to mermaids, making it worthwhile for a dreamy daytrip or entire weekend.
Whether you're headed downy ocean, or just need a bucolic getaway, hop right off Route 50 and get to know Berlin, which everyone from Oprah to Esquire has named one of the best small towns in America. We can't help but agree.
→ BLAST FROM THE PAST
Like many towns on the Eastern Shore, Berlin has a complicated history. Before European settlers colonized this region, what is now the town's Main Street served as part of the migratory path for Native American tribes who traveled to Assateague to fish, hunt, and live during the warm-weather months.
By 1677, it would be gobbled up by the 300-acre Burley Plantation, where eventually the two-word name of a Colonial tavern, the Burleigh Inn, would be slurred together to create the town's new name, as legend has it. By the 1790s, a village had formed with a livery stable and coach stop, though it wouldn't be officially incorporated until 1868, after the end of the Civil War. Around this time, Berlin grew into a center of Shore commerce and a popular stop for tourists, located on a main road to Philadelphia and boasting more hotels than its neighboring Ocean City—then still just a quiet fishing town until a rail line connected it to the mainland in 1881.
. . . EVENTUALLY THE TWO-WORD NAME OF A COLONIAL TAVERN, THE BURLEIGH INN, WOULD BE SLURRED TOGETHER TO CREATE THE TOWN'S NEW NAME . . .
Not long after, three devastating fires leveled much of downtown Berlin, where its resurgent Victorian architecture remains meticulously maintained. Other styles abound as well, such as Georgian, Federal, and both Greek and Gothic Revival, garnering the town a National Register Historic District designation, with some 47 structures spanning two centuries of construction on its list of Historic Places. History buffs should plan to stay at the antique-chic Atlantic Hotel circa 1895, located in the heart of downtown with rooms and suites that harken back to its 19th-century heyday, such as four-poster wooden beds, vin- tage wallpaper, velvet chairs, and marble-top dressing tables.
Alternately, The Inn Berlin bed-and- breakfast offers a touch more modern amenities and Town & Country aesthetics. Located in a Victorian former farmhouse, circa 1898, it boasts organic cotton linens, claw-foot tubs, and flatscreen smart TVs, with fantastically fashionable pops of color and patterns throughout.
→ EPICUREAN ALLURE
When we think of food on the Eastern Shore, we tend to envision brown-paper crab feasts and pastoral farm stands peddling peak sweet corn and summer tomatoes. But Berlin has become a bit of a gourmet hot spot here, for those who know where to look.
It can probably be said that the Burley Oak Brewing Company put this whistle-stop—population 4,600—on the map when it opened its brewery in 2011. Started as a homebrewing hobby by Essex native Bryan Brushmiller, the tasting room has grown into a craft-beer mecca for suds lovers across the Mid-Atlantic, deemed some of the best beer in the state of Maryland for its outside-the-box brews made with local grains. You might have heard of its fan-favorite Sorry Chicky, a cheek-puckering sour in a neon-colored can. Grab a growler to go or stay for a flight in their outdoor biergarten.
But Burley isn't the only booze game in town. Launched at the beginning of the COVID-19 pandemic, The Buzz Meadery uses local honey, fruit, and even vegetables to handcraft high-quality meads and ciders with refreshingly dry finishes and a naturally gluten-free recipe, quickly becoming a local staple. These new-kids-on-the-block are nothing if not innovators. As last summer, they also opened the successful Berlin Commons, a community greenspace with pop-up markets throughout the year, where their products are sold.
At this point, don't worry—there are some awesome options for soaking up your sips as well. Our first stop is always Gilbert's Provisions, a hip charcuterie shop hawking artisan meats and cheeses, housemade pickles and fermented foods, and, if you're lucky, a daily lunch special. Sometimes owner Toby Gilbert closes on short notice due to stellar surfing conditions at the nearby beaches, but when he's around, expect elevated street fare like duck confit tacos and peach-braised pulled pork sandwiches. Just don't leave without taking something home from the fridge: We recommend the fresh kimchi, weekly fish dip, and fermented garlic ranch dressing.
Down the street, the chef-owned Blacksmith offers gastropub dinner options for heftier fare, with an emphasis on local sourcing, wide-ranging culinary inspirations, and a full vegetarian and vegan menu. This time of year, order the soft-shell crabs, hauled in by local watermen, any way they make 'em.
A 10-minute drive will also take you to the locals-only best-kept-secret: Braddah Barney's. Located in a West Ocean City strip mall, this hole-in-the-wall hangout touts perhaps the best Asian fusion this side of the Chesapeake, exuding the same easygoing, beach-bum ambience of Berlin, even with every seat in the house taken. Expect a short wait, but the chicken katsu sandwich is well worth it, with a juicy fried thigh, tangy bread-and-butter pickles, shredded lettuce, and spicy mayo on a locally made brioche bun. Their poke bowls are also a must, featuring fresh-daily, number-one-grade tuna with scallions and avocado. Picky eaters in the family? A kids menu features cheeseburgers we'd gladly eat.
If you're craving a sweet-tooth fix, the Chez LoLo Pâtisserie would make Julia Child proud with its made-to-order French classics, from buttery croissants and decadent pain au chocolat to heavenly kouig-amann, available by pre-order for Saturday pick-up.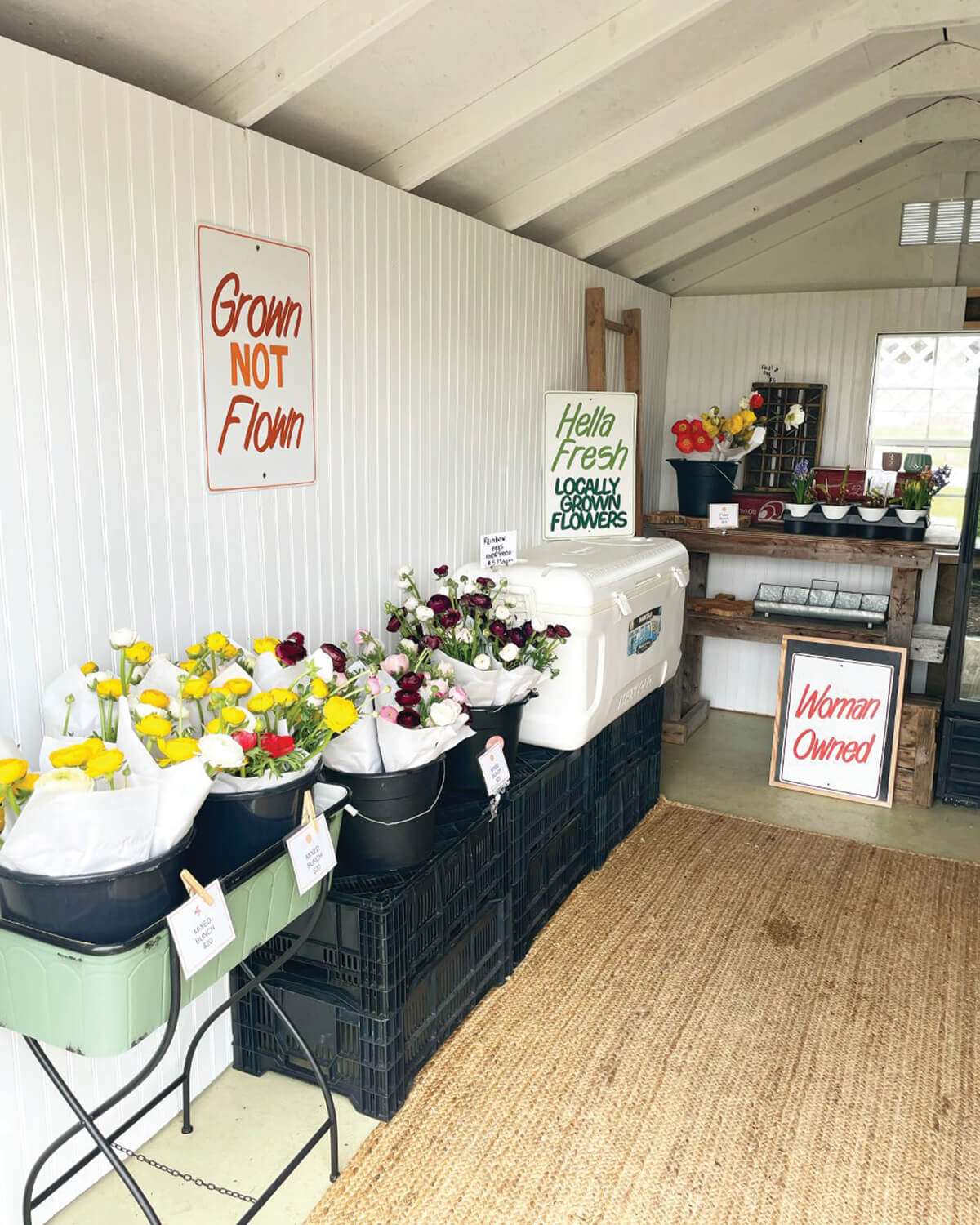 → FUN AND GAMES
If there is one event to plan your visit around, it's the weekly Berlin Farmers Market. From May through September, the lively Sunday morning ritual is a highlight of this convivial community, which includes a growing group of sustainably minded farmers and makers. It draws locals and tourists alike for its vetted vendors who fill the downtown streets with some of the Shore's best products. Scoop a small-batch bottle of St. Michaels-distilled Lyon Rum. Savor a scratch-made slice from Mandala Pies of Vienna. Snag Certified Naturally Grown veggies from Splendid Earth Farm, out of Berlin, then stash away a hand-poured soy candle from Honey Water, which just opened its own adorable shop just down the street.
Want to keep the farm theme going? Just outside of town, take a tiny detour on your way home to purchase Worcester County-grown bouquets at Masterpiece Flower Farm, a woman-owned operation with a daily market stand featuring fabulous fresh-cut blooms.
Meanwhile, two new attractions beck- on visitors back to town. Open since last March, the all-new Mermaid Museum bottles the essence of its quaint and quirky Berlin: pint-sized, water-loving, and wonderfully whimsical. An interactive treasure trove of artifacts, oddities, and folklore, it's an ode to those mythical half-human, half-fish creatures that have mesmerized us since childhood—and as a species, for eons. Learn about their ancient history and take a selfie in the Splash-esque bathtub.
For more theatrics, head around the corner to The Globe, the newly renovated gastro-theater from the folks at Burley Oak. Come for the barbecue and three unique bar concepts: the indoor pub-like main bar, the outside tiki cocktail patio, and the upstairs old-fashioned "library." But truly, you're here for the music, with a steady lineup of live concerts that bring the historic theater hall, circa 1917, back to its original glory. Expect up-and-coming national acts, as well as Maryland and Mid-Atlantic favorites, such as Annapolis' indie-folk Pressing Strings and Baltimore's bluegrass The Dirty Grass Players.
In true small-town fashion, Berlin also hosts a handful of annual Americana traditions to partake in. Be sure to plan a trip to coincide with the beloved Bathtub Race, now in its 32nd year, happening on June 10. Think of it like Hampden's Toilet Bowl Races, with an evening parade followed by a different kind of porcelain flying down Main Street for the coveted Rubber Duck Cup. On August 6, the Peach Festival turns the town all afuzz, with thousands of visitors arriving for fresh peaches, peach preserves, peach ice cream, pie-eating contests, pie-baking contests, and all the businesses in on the fun with fruit- themed offerings throughout the day.
After bopping around downtown, from vinyl stores (Sound Storm Records) and indie bookshops (The Greyhound) to clothing boutiques (Fathom & Co.) and children's toy emporiums (World of Toys), soak up the early days of spring by ambling around the picturesque neighborhoods and ogling their impressive magnolia, sycamore, and tulip poplar trees. After all, this is where 1999's Runaway Bride was filmed, with Richard Gere and Julia Roberts.
AFTER ALL, THIS IS WHERE 1999'S RUNAWAY BRIDE WAS FILMED, WITH RICHARD GERE AND JULIA ROBERTS.
Soon enough, there will also be a new mural or statue of note to take in downtown, dedicated to another celebrity—this time a local one. Born in 1851, Berlin's most famous son, Reverend Charles Albert Tindley, would go on to become one of the founding fathers of gospel music, credited with composing the iconic Civil Rights anthem "We Shall Overcome." Approved this past August, the artwork's exact medium and location are still in the planning stages.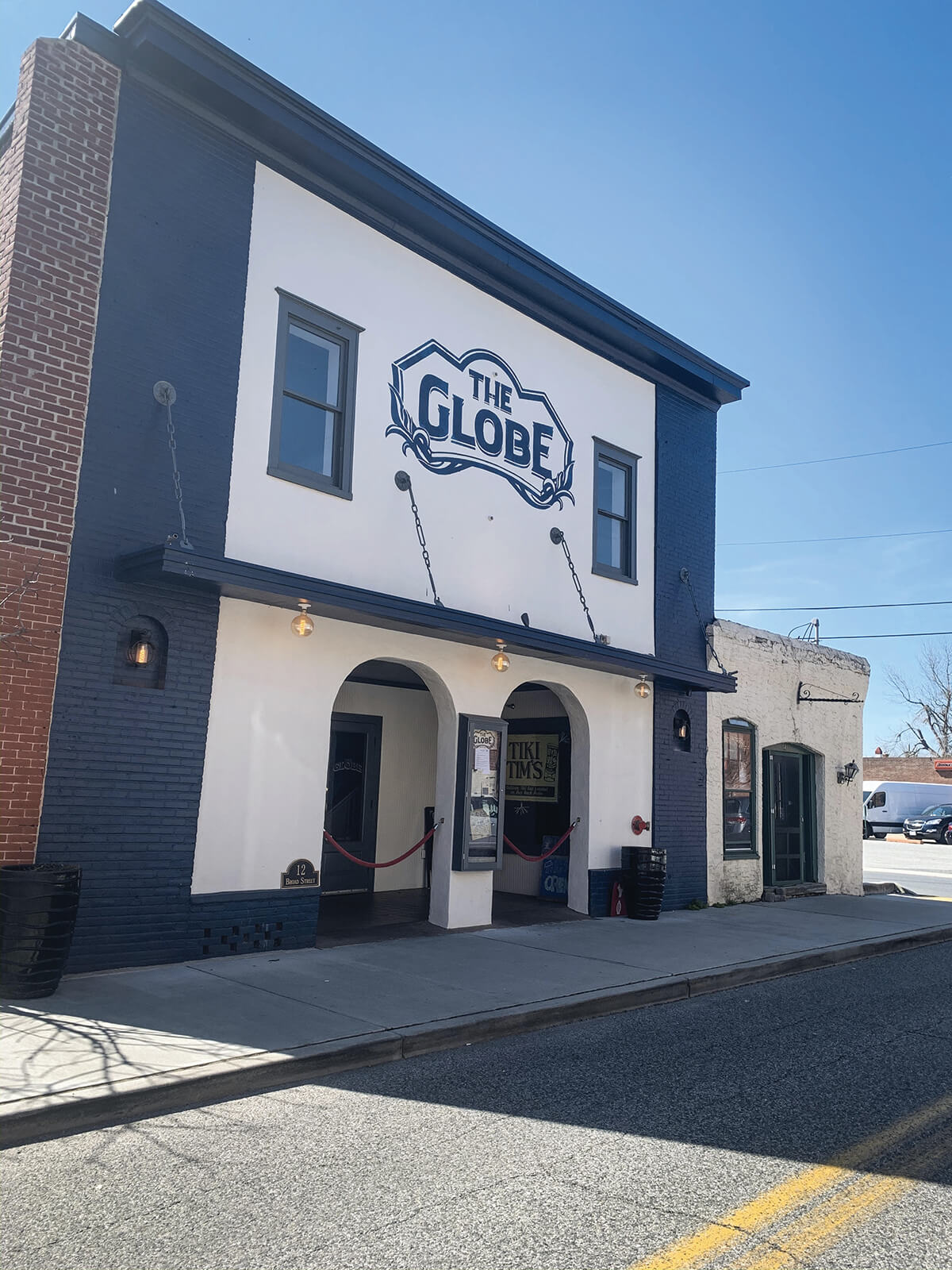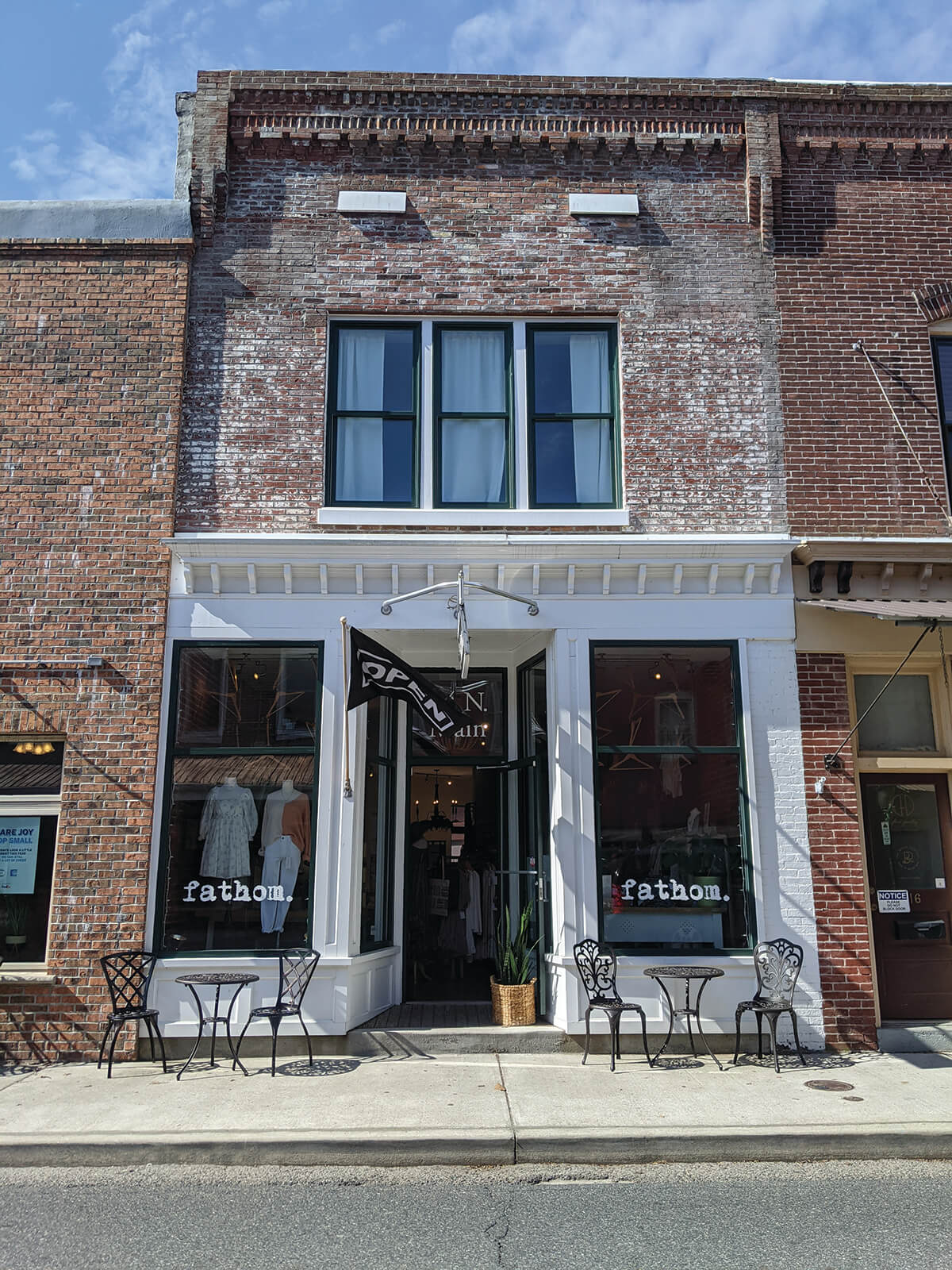 → TO THE BEACH
While there's plenty of allure to Berlin being a salt-breeze getaway without the beach hassle during the off-season—aka before Memorial Day and after Labor Day, though those lines have blurred a bit thanks to COVID—there's no reason to not take a quick jaunt and dip your toes in the Atlantic Ocean.
Of course, Baltimore knows Ocean City, and Berlin is directly due southwest of the love-it-or-hate-it resort town, which, during its summer peak, becomes the second largest city in the state of Maryland. Following Route 50 across Assawoman Bay, it's a straight shot to the beginning of the boardwalk, where you can stock up on Fisher's Popcorn and Dolle's saltwater taffy, sate your sodium intake at Thrasher's French Fries, and try your hand at the Skee-Ball lanes and claw machines of Fun City Arcade.
For our druthers, we head slightly southwest to Assateague, also located just 20 minutes from Berlin. A pedestrian-friendly bridge brings you to this magical barrier island, whose white sand dunes and seaside wildflowers feel like a world away from the Land of Pleasant Living.
Home to both an oceanfront state park and National Parks Service-run seashore, its protected terrain is perfect for biking, beachcombing, surfing, and spotting the island's wild horses, which are said to have first arrived in the region after a Spanish shipwreck in the 1600s. Beware, they've been known to bite and break into coolers. But still, while you're all the way out there, we suggest that you bring your camping gear. Should reservations be available, this is one of the state's best places to sleep under the stars.