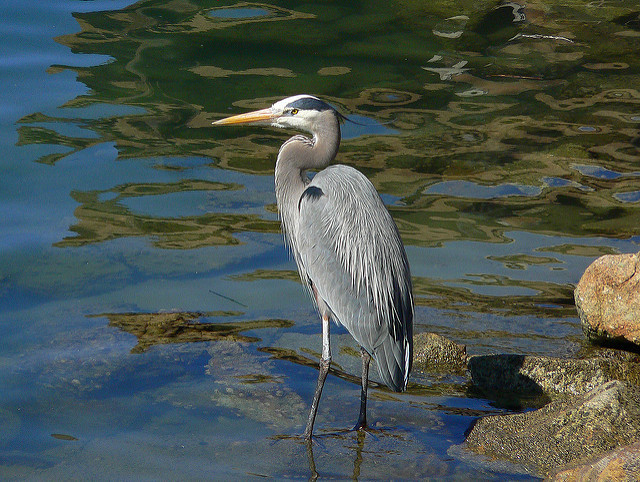 Flickr.
GRASS IS GREENER
According to a new study published in the premier Proceedings of the National Academy of Sciences, Chesapeake Bay cleanup efforts have contributed to a major influx in important underwater grasses. Between 1984 and 2014, nitrogen levels fell 23 percent while acres of submerged vegetation, long considered a key indicator of bay heath, more than tripled to nearly 100 square miles. Researchers directly correlated this resurgence with recent cleanup initiatives, such as the pollution reduction efforts that were established in 2010. High-nutrient pollution can cause algae blooms that block sunlight from or smother the grasses, which remove carbon dioxide from the water and act as habitat for other aquatic creatures. That being said, the Trump administration's 2019 budget is currently considering cuts to regional water cleanup efforts like those on the Chesapeake Bay.
HOORAY FOR THE BAY
At the beginning of the month, the Environmental Protection Agency reversed its decision to cut federal funding for the 27-year-old Chesapeake Bay Journal. Last year, the EPA abruptly announced its $325,000 cut half-way through its six-year grant with the environmental publication, inciting public outcry over the potential detriment that the Trump administration's budget could cause the restoration efforts of the Chesapeake Bay. The Bay Journal, which receives another two-thirds of its funding from other sources, sued the agency in hopes that it would disclose an explanation. Under pressure from Senator Democrats, the EPA restored the grant just shy of four months later on March 1.
GUIDING LIGHT
In early March, the Baltimore City Department of Recreation and Parks announced that a portion of the Wyman Park Dell would be rededicated the Harriet Tubman Grove in honor of the iconic, Maryland-born abolitionist and Underground Railroad conductor. The wooded area formerly included the contest the Lee Jackson Monument, which was removed by Mayor Catherine Pugh in August 2017. The Harriet Tubman Tree Fund was also announced, with a goal of planting young trees to help sustain the native canopy.
BIRD WATCHER
With spring officially sprung, Great Blue Herons are back in action, and the Chesapeake Conservancy makes it easy to watch their ways. Installed last year, the non-profit's webcam takes viewers behind the scenes of one of the water birds' Eastern Shore rookeries. The same organization that brought us peregrine falcons Boh and Barb of downtown Baltimore now brings you a treetop view of these majestic creatures, including one couple named Eddie and Rell. Any time of day, they can be found feeding, nesting, or tending to their young. Watch the live-stream via their website, and also tune into the conservancy's other cameras, including one for ospreys Tom and Audrey on Kent Island.
HIT THE GAS
In mid-March, state regulators approved a new natural gas pipeline beneath the Potomoc River. Helmed by Canadian energy company, Columbia Gas, this controversial project led to five arrests during a sit-in protest just two days earlier. While opponents vehemently oppose the pipeline, the Department of Energy claims that the project will meet a slew of precautionary environmental requirements so as to not threaten the river, or that of ground or drinking water.
APPLES TO APPLES
In late March, Civic Works' Baltimore Orchard Project announced the upcoming launch of Moveable Orchards, a new initiative that brings portable fruit trees to the city's vacant lots and community gardens in underserved neighborhoods like Sandtown-Winchester. The program hopes to provide a sustainable source of nourishment for local residents, as some 23.5% of the Baltimore's population lives in food deserts, according to a recent study by the city's planning department and Johns Hopkins University, the majority of whom are African-American. They plan to officially launch on Arbor Day on April 27, having currently raised nearly $7,000 of their raising $15,000 crowdfunding goal.
BOOK WORMS
As a veteran journalist and environmental radio host on WYPR, Tom Pelton has become a go-to source when it comes to conversations surrounding the Chesapeake Bay. His new book, The Chesapeake In Focus: Transforming The Natural World, brings together those years of experience in a rumination on ways to save our state estuary. He also celebrates other great local conservationists, like Bonnie Bick and Michael Beer. Catch a reading and book signing at the George Peabody Library on April 18.