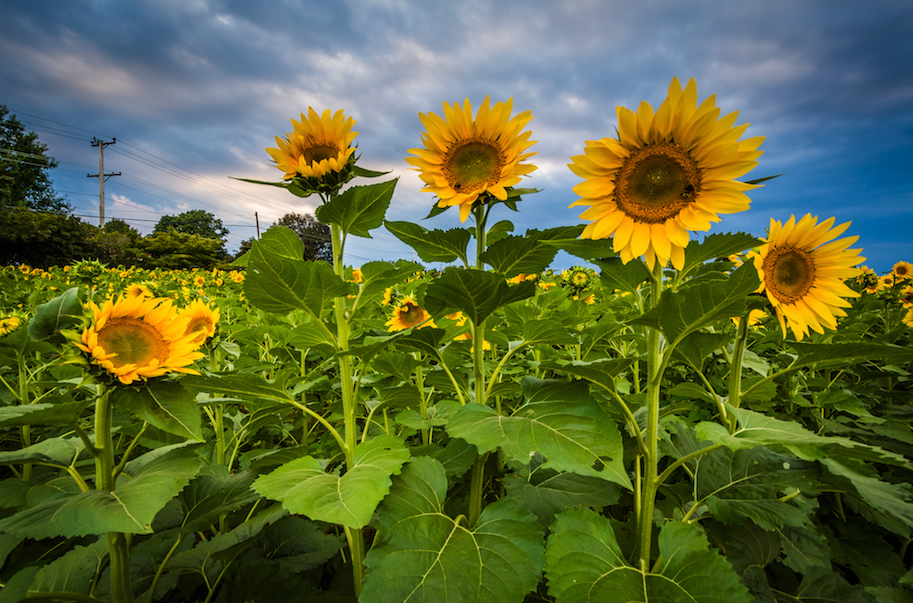 FACE OF DANGER
In mid-August, the Trump administration announced that it would make changes to the Endangered Species Act, which has been called the nation's "bedrock conservation law" and is credited with saving the grizzly bear, the American alligator, and the bald eagle from extinction since its inception in 1973. The new rules, expected to go into effect this month, would make it easier to remove species from the endangered list and weaken protections for those that are threatened. For the first time, it would also allow for economic considerations when evaluating the necessary level of protection for a given species—which opponents of the revisions believe would open up critical habitat for mining, oil and gas drilling, and other development—while also making it harder to consider climate change and its potential threats to wildlife in the process. According to the Chesapeake Bay Foundation, the Chesapeake Bay's 64,000-square-mile watershed is home to 113 animals and 46 plants currently protected by the Endangered Species Act, including Atlantic sturgeon, freshwater mussels, and the leatherback sea turtles.
SHELL UNCERTAINTY
After it was reported last winter that wild oysters had been overharvested in more than half of Maryland's public oyster beds in the 2017-2018 season, the Department of Natural Resources is now considering cutbacks to the upcoming annual oyster harvest, according to the Bay Journal. Last November, the DNR, in consultation with the University of Maryland Center for Environmental Science, released a stock assessment that found the shellfish's adult population to be half of what it was in 1999, even after periods of decline and rebound in the interim. According to the Journal, officials have told the state's Oyster Advisory Commission that they are considering a shorter harvest season—which typically runs from October 1 through March 31—as well as reductions of up to 20 percent for the daily commercial catch limit, which in recent years has been a bushel a day. They also suggested the possibility of prohibiting the harvest of certain oyster beds due to unusually low populations. New regulations will be announced in the coming weeks by public notice.
A RIVER RUNS THROUGH IT
This month, the Gunpowder Valley Conservancy, a Baltimore County nonprofit that works to preserve and restore the Gunpowder watershed, is celebrating its 30th anniversary. Founded in 1989, the organization has preserved 1,600 acres of land and hosted hundreds of tree plantings and stream cleanups throughout the region of the Gunpowder River and Falls—which runs through Baltimore, Harford, and Carroll counties before reaching the Chesapeake Bay. On Saturday, September 14, their environmental stewardship will be celebrated with an annual evening fundraiser gala at the Conrad's Ruth Villa waterfront park in Middle River.
GREEN PARTY
Also on Saturday, September 14, Blue Water Baltimore will be hosting its annual fundraiser, the Blue Water Bash, at Barcocina in Fells Point. The nine-year-old organization works to restore the quality of Baltimore's waterways with community projects, a native plant nursery, and myriad volunteer opportunities such as tree plantings and storm drain stencilings. From 1-5 p.m, there will be food, drinks, music, and a silent auction all to benefit the local environmental group.
DOWN THE DRAIN
A recent report by the Environmental Integrity Project found that a large amount of sewage pollution in the Chesapeake Bay comes not just from the continued overflows of Baltimore City, but even more so Harrisburg, Pennsylvania. Raw sewage can introduce harmful bacteria into the waterways that can be harmful to humans who come into contact with the water and affect local ecosystem. In 2018, nearly 1.4 billion gallons of sewage and stormwater flowed from the commonwealth's state capital into the Susquehanna River, aka the main source of fresh water for the upper Chesapeake, compared to Baltimore's 260 million. Last year, Harrisburg authorities released a new $315 million plan to reduce such pollution over the next two decades, but Maryland's Governor Larry Hogan has since called on Pennsylvania, whose latest cleanup plans still fail to meet nitrogen reduction goals by 2025, to increase its efforts toward bay health.
PLANNING AHEAD
Late last month, Maryland submitted to the Environmental Protection Agency the final plans for its part of the Chesapeake Bay Watershed Implementation Plan—a multi-state clean-up initiative developed to reduce pollution in the estuary by 2025. Considered an "aggressive but achievable" strategy by the Department of Natural Resources, this third phase identifies local and state-wide strategies across multiple sectors—such as upgrades to stormwater and septic systems, improved land conservation and land management in agriculture, and greenhouse gas and emissions reductions in transportation, to name a few—to meet the initiatve's goals in six years' time. For the first time, it also factors in potential impacts posed by climate change, as well as considers ways to reduce the heavy pollution of the Conowingo Dam on the headwaters of the Chesapeake Bay.
IN BLOOM
On the eve of fall, social media feeds will soon fill with a steady stream of selfies, engagement shots, and photographs of friends and families in front of the seemingly endless sunflower fields at Clear Meadow Farm on Jarrettsville Pike in Monkton. Every year, locals and tourists flock to this rural farmland in Baltimore County to watch the rolling hills turn gold as thousands upon thousands reach their peak bloom. This year, expect that moment to arrive at the end of the month, much like that of the Maryland Agricultural Resource Council in Cockeysville, where, for a small fee, visitors can pick-your-own from sunrise to sunset. Meanwhile, this weekend, giant flowers are already open at the aptly named Sunflower Garden on Manchester Road in Westminster.