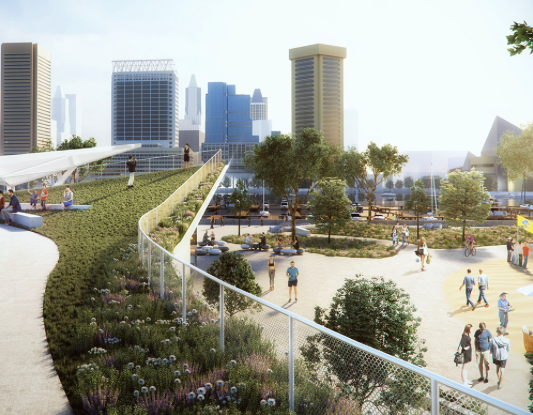 Gensler/Mahan Rykiel Associates
HARBOR REFRESH
This fall, Baltimore City approved a $17-million redevelopment of Inner Harbor's Rash Field Park between the Maryland Science Center and the Rusty Scupper restaurant. The first phase of the urban greenspace's major makeover will include the creation of a children's nature park, kinetic playground, shade lawn, a dedicated skatepark, and a pavilion with an overlook and outdoor café. Construction is set to begin in January 2020 and completed by spring 2021. Fundraising efforts are also underway for Phase II, which is slated to include an updated beach volleyball court and beach, jogging lanes, and a bird and butterfly lab. The goal is to create "a safe and central place for families city-wide," according to the Waterfront Partnership website. The nonprofit has been working on this 7.5-acre project since 2015.
NO BAGGAGE
In late November, the Baltimore City Council approved a citywide plastic-bag ban, which will prohibit single-use plastic bags at retail locations. Shoppers will now be chargeda five-cent fee per bag taken at checkout, including plastic, paper, and compostable bags, which lawmakers hope will reduce plastic bag waste and encourage the use of reusable bags. After eight prior attempts at plastic bag reduction ordinances since 2006, the current bill passed 13 to 1, and it now advances to the desk of Mayor Jack Young, who has expressed support for the initiative.
FOAM FREE
In late October, Baltimore's ban on Styrofoam containers went into effect, prohibiting the use of polystyrene foam to-go boxes, trays, bowls, cups—we're looking at you, snowballs—and more, with fines for restaurants, grocery stores, and other food providers failing to comply starting at $200. Maryland will become the first state in the country to take such measures when its statewide ban, approved in late May, goes into effect next year on July 1, 2020. Maine passed similar legislature a few weeks prior, with its bill going into effect on January 1, 2021. The moves are seen as a win for environmental advocates as the material often ends up in the Chesapeake Bay and does not break down.
UP, UP, AND AWAY?
Months after the Eastern Shore's Queen Anne's County passed a legislation that imposed a civil fine of $250 on the release of helium-filled balloons, becoming to the first county in Maryland to approve such measures, Senator Clarence Lam of Baltimore and Howard counties introduced legislation in late November that would impose similar sanctions statewide. Advocates argue that released balloons are an environmental hazard, often polluting nature and waterways, with the potential for harming wildlife if ingested. The bill will be considered during the next legislative session, beginning in January 2020.
BIRDS IN FLIGHT
Shortly after it was announced that the Trump administration is considering dramatic cuts to the Endangered Species Act of 1973, a new study published in the journal Science reported that North American bird populations have plummeted by nearly 30 percentsince 1970. That's the loss of some three billion birds over the past half century, which avian experts have called a "full-blown crisis." Myriad causes likely include habitat loss, building construction design, and use of pesticides. The Endangered Species Act is noted for helping to recover wildlife such as the bald eagle—an icon of the Chesapeake Bay whose populations had been dramatically impacted by the use of pesticide DDT. According to the study, two out of five Baltimore orioles have disappeared.
TREES OF LIFE
In late October, Blue Water Baltimore planted more than 70 trees in honor of late Baltimore native, Congressman Elijah Cummings, who passed away in October. In collaboration with the Port of Baltimore and the HeartSmiles youth program, nearly as many volunteers, including the likes of Congressman John Sarbanes, planted oak and evergreen saplings along Broening Highway. "Congressman Cummings advocated for all of Baltimore and for a greater degree of civility and compassion in all our collective work," said BWB executive director Jenn Aiosa. "Coming together for this tree planting represents his vision and what he stood for."