Relax and Let Go
Escape to these islands on the Eastern Shore for fun and sun.
Given nature's perversity, what are the odds that this summer will be a scorcher? Well, we know just the place to escape—an island. Islands are offshore cooling centers, oasises where we go for beaches and breezes, then stay for the chance to disconnect. And they're as close as the Eastern Shore.
We've picked five islands well worth visiting, each with bona-fide credentials (e.g. tiki bars, sandy beaches, native seafood, and more). We've also rated them on a "separation-from-civilization" scale, awarding an Order of the Palm Trees for remoteness, water vistas, number/size of beaches, personal space, and freedom from e-mail, with four trees denoting the top getaway.
KENT ISLAND


Nearest City:Annapolis (15 miles)Island Cred: Dock bars and tiki huts.
Our closest island, Kent, is known for the lively strip of seafood restaurants, dock bars, upscale marinas, and wholesale fish operations lining either side of its eastern channel, Kent Narrows. But in between rearview glimpses of the Bay Bridge and the Narrows's chockablock summer revelry, Chesapeake Bay's largest island also offers scenic cycling, Fido-friendly beaches, a historic hamlet, and a Joe Biden-approved sub shop.
Stay
Several hotel chains serve the Kent Narrows waterfront. Hilton Garden Inn rooms have private balconies suited for gazing at endless Bay views (hiltongardeninn3.hilton.com). Prefer greater isolation? Stay at the Historic Kent Manor Inn, an elegantly restored 1820 manor house amid 200 undeveloped acres hugging Thompson Creek. Beloved by bridal parties, the inn wows with water vistas, lush gardens, and luxury service (kentmanor.com). Island rentals: Expect to pay about $2,000-2,500 a week for a four-bedroom condominium.
Feast
Crab is king (natch), invariably served with mesmerizing water views, especially at Kent Narrows. Perennial fine-dining favorite The Narrows Restaurant earns raves for its cream-of-crab soup, jumbo-lump cakes, and lengthy wine list ( thenarrowsrestaurant.com). Frosty pitchers of beer pair best with steamed crabs at nearby Harris Crab House (harriscrabhouse.com). In a sea of crowded dock bars, seek out Big Owl Tiki Bar, a little oasis prized for its family-recipe crab cakes and Parrothead vibe (thebigowl.com). For lunch, try Capriotti's in Chester, a branch of the popular Wilmington, DE, sub shop (reportedly a fave of the Veep's). Its best seller packs Thanksgiving into a bodacious "sammich" featuring roast turkey, cranberry sauce, and stuffing (capriottis.com). And get your steamed crabs to go at Mr. B's Seafood, a family-run market in Stevensville.
Do
Begin your odyssey at the Chesapeake Exploration Center, a visitor center/nature museum near Kent Narrows. From there, bike or hike at least part of the super-scenic Cross Island Trail, a paved six-mile passage through woods and over wetlands. Benches along the way invite lingering. At the trail's west end, Terrapin Nature Park features more trails, one leading to a small public beach with spectacular views of the Chesapeake Bay and its iconic bridge. Leashed dogs are permitted to roam Terrapin's sands, but for unbridled doggy paddling, visit Matapeake State Park, where dogs have their own beach (parksnrec.org). Shopping opportunities range from the small art galleries and gift shops in historic Stevensville's Arts & Entertainment District (stevensvilleartsandentertainment.org) to major retailers at Queenstown Premium Outlets on the mainland, where Tommy Bahama and Izod stores can outfit you for the islands (premiumoutlets.com).
---
TILGHMAN ISLAND



Nearest City: Easton (23 miles)
Island Cred: Boats have the right-of-way at the drawbridge.
Minutes away, but a world apart from swanky St. Michaels, Tilghman has aged like sea glass into a burnished reflection of its vibrant past. Workboats still putter through Knapps Narrows, the busy-yet-bucolic channel separating the island from greater Talbot County, but old cottages built by farming and fishing families increasingly shelter newcomers lured by Tilghman's natural serenity.
Stay
The unpretentious Tilghman Island Inn offers deluxe rooms overlooking picturesque Knapps Narrows, special dog-friendly accommodations, and nouvelle-cuisine dining. Its tree-shaded deck/bar makes a placid perch for boat watching (tilghmanislandinn.com). Gloriously remote, Black Walnut Point Inn lies between a gated bird sanctuary and open water at Tilghman's southern tip. Comfy lodgings include riverfront cabins with kitchens, plus guestrooms in a mansion where Truman Capote once stayed (blackwalnutpointinn.com). Island rentals: A three-bedroom house goes for about $1,500 a week.
Feast
Visiting anglers dined and dreamed of seafood at lodges that were abundant during the steamboat days. Only one survives. Harrison Chesapeake House, a fourth-generation country-inn/fishing-charter empire, serves the real deal, from family-style Shore dinners (plump crab cakes, fried chicken, and local veggies) in its dining room to fresh steamed crabs at dockside picnic tables (chesapeakehouse.com). Mike & Eric's Bay Hundred Restaurant at the Tilghman Island Inn provides a fine-dining experience with dishes like grilled duck breast and seared rockfish. Don't miss the chocolate-chip pancakes at the breakfast mecca Two If by Sea Café. The retro-looking BYOB eatery also serves dinner on Fridays and Saturdays (twoifbyseacafe.com). Select a fine bottle at the Tilghman Island Country Store, where Friday evening wine tastings highlight the social calendar. Also recommended: its delicious local ice cream and house red-velvet cake (410-886-2777).
Do
View authentic Tilghman workboats and listen firsthand to their former skippers, who drop by unannounced at the must-see Tilghman Watermen's Museum. New this summer: an exhibit of carved trail boards (ornate bow embellishments) rescued from abandoned bay workboats (tilghmanmuseum.org). Continue your cultural enlightenment at another locally run nonprofit, Phillips Wharf Environmental Center, popular for its aquatic touch tanks, oystering exhibits, and environmental tours (pwec.org). See Tilghman the way islanders do—from the water. Sail into the 19th century aboard the Chesapeake's oldest skipjack, piloted by veteran waterman Capt. Wade Murphy (skipjack.org), fish with the patriarch of Harrison's charter fleet ([email protected]), book a lighthouse cruise (chesapeakelights.com), or enjoy a romantic sunset sail aboard a 1935 Bay-built ketch (ladypatty.com). To create your own Tilghman souvenir, register for a weekend landscape-painting workshop with noted artist and instructor Walt Bartman at his island studio (yellowbarnstudio.com/classes.htm).
---
SMITH ISLAND





Nearest City: Crisfield (9 miles)
Island Cred: The school bus is a boat for some local students.
There's only one way to reach the group of islands called Smith—by boat—making this Maryland's most isolated, inhabited island. Its 240 hard-working residents harvest crabs and oysters from the Chesapeake, welcome visitors but spurn automobiles and alcohol, speak with the dialect of their ancestors, and live in an achingly beautiful place slowly surrendering to the waters that surround it.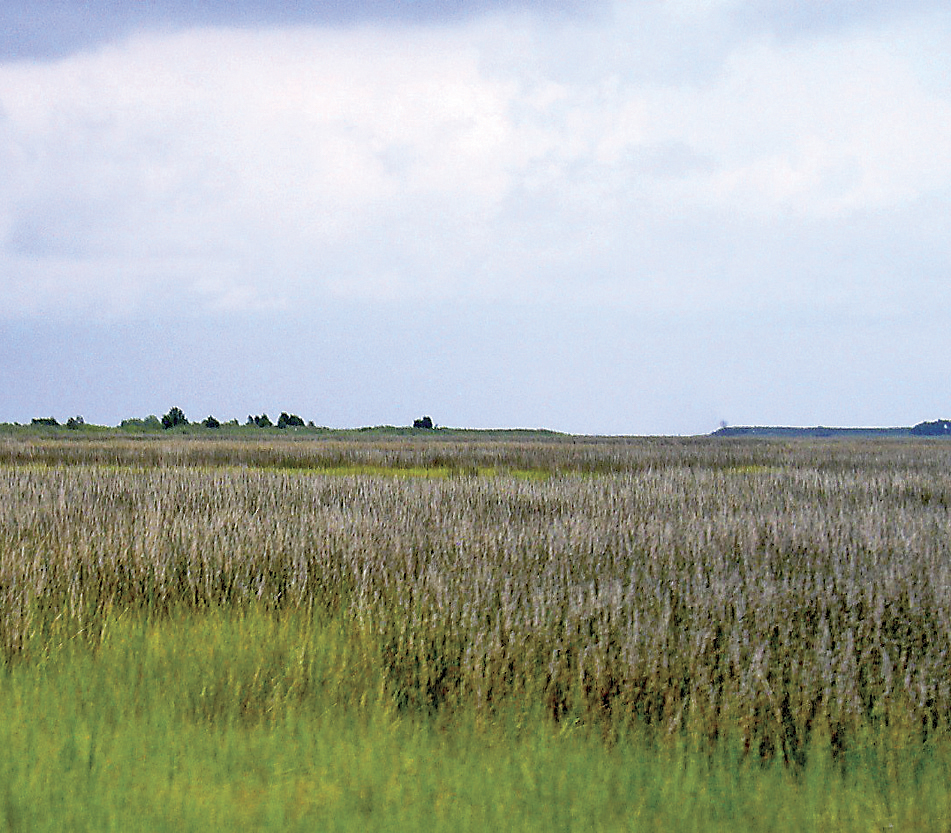 Stay
Day-trippers hop an air-conditioned cruise boat or traditional passenger/supply ferries leaving nearby Crisfield to spend several hours on the island. To enjoy an overnight getaway, take the ferry serving Tylerton, Smith's most isolated village, and unplug at the waterfront Inn of Silent Music. This edge-of-the-world B&B (a former waterman's cottage) offers gourmet breakfasts, multi-course seafood dinners, and boundless peace (innofsilentmusic.com). Island rentals: You can get a three-bedroom cottage for about $600-800 a week.
Feast
Crabmeat doesn't get any fresher than from Smith Island, where the crustaceans are caught, picked, and processed. Island dining options are somewhat limited, with only the Inn of Silent Music offering regular evening meals. You don't have to be an overnight guest, however, to enjoy the inn's three- and four-course dinners, featuring locally sourced produce and entrees such as fennel-crusted rockfish. For lunch, try Drum Point Market, a sub shop in Tylerton that serves one of the best crab cakes around (410-425-2108), or Ruke's Seafood Deck in Ewell, noted for its cream-of-crab soup, crab cakes, and frozen-in-the-1940s ambiance (410-425-2311). Top off any meal with a slice of the famous Smith Island cake, a wondrous, architecturally impressive confection of nine layers. Smith Island Baking Co. sells the cakes to go (smithislandcake.com).
Do
After disembarking at the county dock in Ewell, head for Smith Island Cultural Center, a cultural museum/visitor center. It features enlightening exhibits and a short film that examines island life (smithisland.org). And be sure to engage island residents as you explore their home territory on foot or a rented bicycle or golf cart. Chat up the local ladies picking crabs at the Crabmeat Co-op in Tylerton (410-968-1344). Hire a guide (many of whom are retired watermen) to go fishing, bird-watching, or "progging," an Eastern Shore term for foraging the shoreline for arrowheads, old coins, and other partially buried treasure. Kayakers will fall in love with the island's miles of marshy water trails. (Ferryboats will haul your kayak for a small fee.) Birders take note: Don't miss the island's offshore pelican rookery, where hundreds of the big-billed birds raise their young.
---
ASSATEAGUE ISLAND (MD)





Nearest City: Ocean City (9 miles)
Island Cred: Number of residents: 0.
Known for its sugary-white beaches and abundant wildlife, this more-than-37-mile-long barrier island spanning Maryland and Virginia has been entirely preserved as parkland. On Maryland's end of the island, compact Assateague State Park and the expansive Assateague Island National Seashore offer visitors swimming and sunbathing, fishing, hiking, camping, kayaking, and chance encounters with Assateague's shaggy celebrities, wild horses.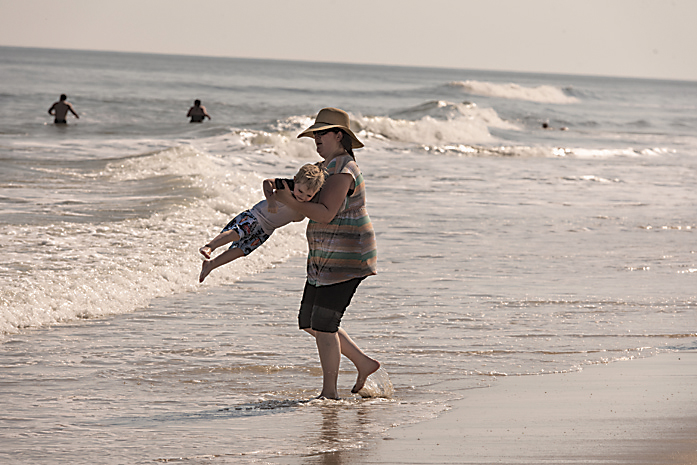 Stay
With peach-colored sunrises and waves whispering good night, camping is the best way to experience Assateague's primal beauty. Tent and vehicular ocean-side campsites in both parks are highly coveted. Reserve them early (reservations.dnr.state.md.us), (recreation.gov). Several backcountry tent sites serve backpackers and kayakers. Tent rates range from $20 to 30 a night or $40 a night for campsites with electrical hookups. If you prefer a Serta to sand, the restored Victorian-era Atlantic Hotel (atlantichotel.com) and B&Bs in nearby Berlin offer comfy snoozing.
Feast
Channel your inner hunter-gatherer: Dig for clams in Assateague's shallow coastal bays. It's fun, you don't need a license, and with minimal effort or luck, you'll have a super-fresh meal steaming away on the campfire. Ask park rangers about the best clamming spots and where to rent rakes and buckets. National park nature programs include clamming and crabbing classes.
Not into Survivor tactics for dinner? Three miles away, Assateague Crab House (assateaguecrabhouse.com) serves local delicacies like steamed crabs and clams, crab cakes, and fried chicken in a festive, family atmosphere. The Atlantic Hotel's casually elegant Drummer's Café also features fresh local seafood. Grab a table on the screened porch overlooking Main Street, prime seating for sampling the chef's flash-fried soft-shell crabs and seared scallops with local succotash.
Do
Swimmers and sun worshippers love both parks' windswept, lifeguarded beaches. They are the island's main attraction, so arrive early (before 10 a.m.) or late (after 2 p.m.) to avoid parking gridlock. Anglers can try surf-casting for bluefish, summer flounder, red drum, and other species anywhere outside the swimming beaches. If beachcombing is your thing, you're allowed to gather up to a gallon of seashells. ("Empties" only, please.) Get acquainted with local sea life in aquariums at the national park's visitor center and the state park's nature center. Pony peeping? A fence at the state line separates Assateague's wild-horse herds. Maryland's steeds roam freely. Look for them in marshes, on the beach, even in campgrounds. People once lived on Assateague, too. Tour the restored Rackliffe House, a lovely 18th-century plantation house overlooking Sinepuxent Bay (rackliffeHouse.com).
---
CHINCOTEAGUE ISLAND (VA)




Nearest City: Ocean City, MD (52 miles)
Island Cred: Walk to the beach.
Home to one of the nation's "happiest" seaside towns (says Coastal Living magazine), this marsh-lined island is the commercial portal to beautiful Chincoteague National Wildlife Refuge, Virginia's portion of Assateague Island. Visitors to the refuge's undeveloped shores will find lodging, dining, guided tours, and horse lore galore in the charming town of Chincoteague, host of July's famed wild-pony roundup.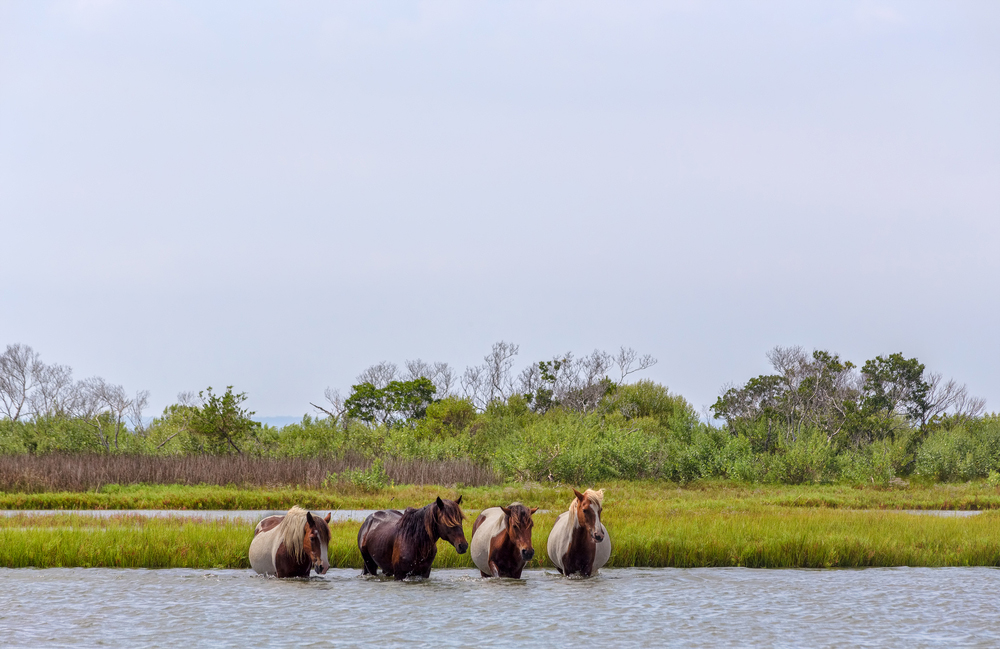 Stay
Check into Miss Molly's Inn, the lodgings where Misty of Chincoteague was written. Besides historic cachet, enjoy the B&B's porch views and British touches, like afternoon tea (missmollys-inn.com). Sheltered by woods, Refuge Inn offers modern amenities (indoor/outdoor pool, fitness center, and whirlpool suites) in a rustic setting near Assateague bridge. The hotel boasts its own herd of Chincoteague ponies (refugeinn.com). Island rentals: Weekly rates go from $1,400-2,200 a week for a four-bedroom, pet-friendly house. (Expect to pay 20 to 25 percent more during pony-penning week in July.)
Feast
Surfboards, potted palms, old workboats, and a rooftop peace symbol festoon Woody's Beach BBQ, a funky 'cue shack serving wood-smoked pulled pork, barbecue ribs, and barbecue chicken. Slather on some Memphis- or Carolina-style sauce and chow down at picnic tables amid the islandy décor (woodysbeachbbq.com). A more upscale option, AJ's on the Creek, specializes in seafood dishes such as bouillabaisse made with fresh local shellfish, crabmeat Alfredo, and oysters Rockefeller. For maximum romance, dine on the screened porch overlooking a languid creek. Mix with the locals at AJ's Lounge, which features live acoustic music (ajsonthecreek.com). Don't let the queue daunt you: The homemade ice cream and waffle cones at Island Creamery are worth any wait. Try densely chocolately Marsh Mud or the Kentucky-sweet treat Bourbon Caramel Crunch (islandcreamery.net).
Do
A short bridge separates Chincoteague from the refuge's attractions. Don't miss the still-active Assateague Lighthouse with its spectacular views (assateagueisland.com/lighthouse). The refuge has two visitor centers. Register there for guided marsh walks, photography hikes, and talks about local pirate lore. Enjoy the lifeguarded beach. Watch for ponies and other wildlife along hiking/biking trails (fws.gov/refuge/chincoteague). For even closer critter viewing, book one of the guided boat trips leaving Chincoteague. Assateague Explorer (assateagueexplorer.com) offers pony- and bird-watching trips into the refuge. Outfitter SouthEast Expeditions (southeastexpeditions.net) leads kayak tours and rents kayaks. If you miss this year's pony swim, parade, and auction (July 26-31), you can still get your pony fix anytime. See Misty-the-movie-star's hoof prints in the sidewalk outside Chincoteague's recently renovated Island Theatre, where the 1961 film premiered (islandtheatres.com). Or watch Misty's descendants at Chincoteague Pony Centre's evening horse shows (chincoteague.com/ponycentre).
---
More Islands
Three smaller Chesapeake islands are worth a visit as well.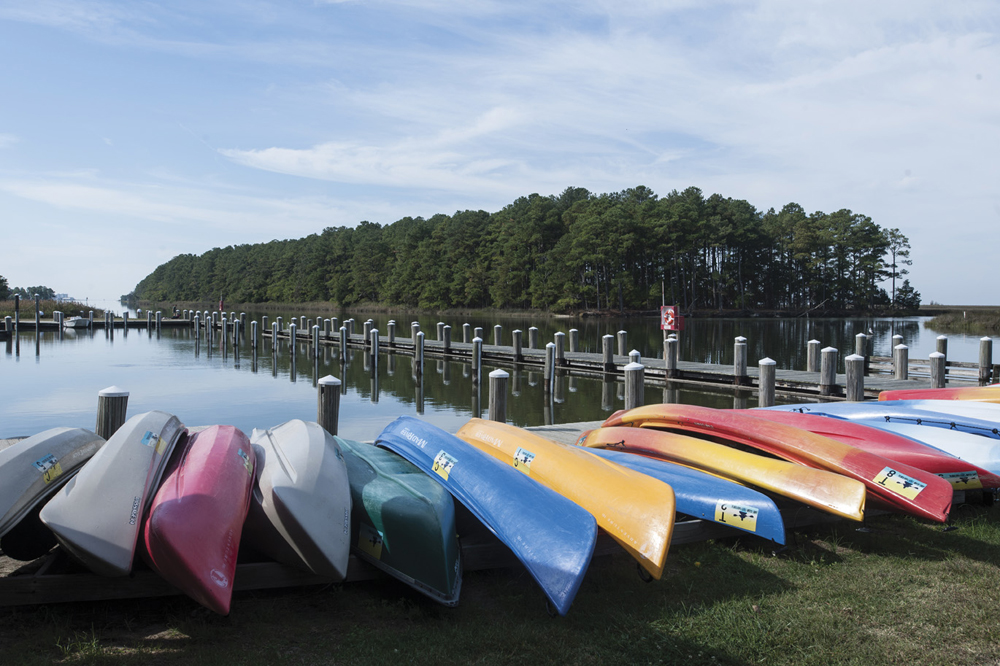 HOOPER'S



Nearest City: Cambridge (25 miles)
Island Cred: The most vital infrastructure is a seawall.
The birthplace of the Phillips seafood empire, Hooper's consists of three low-lying islands that still live and breathe fishing (Upper, Middle, and the now-uninhabited Lower Hooper's).
Feast on fresh seafood and homemade pie at Old Salty's, serving locals and tourists in Fishing Creek (oldsaltys.com). The Hooper's Island Lighthouse lies off shore, but view it and five other beacons via tour boat from Upper Hooper's (sawyercharters.com). For longer visits, rent a house for about $600 wee.
JANES





Nearest City: Crisfield (2.5 miles)
Island Cred: Main Street is a water trail.
Part of Janes Island State Park, this marshy island is laced with 30 miles of shallow-water trails, perfect for kayaking.
Paddlers can enjoy bird watching, fishing, crabbing, or swimming and sunbathing on a remote sandy beach accessible only by boat. Park lodging includes serene waterfront campsites and family-sized cabins on the mainland or three backcountry island campsites. Full-service cabins are about $88 a night or $520 for a full week. Camper cabins are about $55 a night on weekdays and $56 a night on weekends (dnr.state.md.us/publiclands/eastern/janesisland.asp)
TANGIER (VA)




Nearest City: Crisfield (13 nautical miles)
Island Cred: Its motto is "Crab City, USA."
The Crockett family and Methodists first settled this southern Chesapeake Bay fishing community reachable only by boat and airplane.
A mini Smith Island, tiny Tangier offers tranquility, island hospitality, and crabmeat everything. Hilda Crockett's Chesapeake House, a B&B/restaurant, serves family-style lunches and dinners featuring crab cakes, clam fritters, Virginia ham, and all the fixings (tangierisland-va.com/cheshouse/). You can stay the week in a three-bedroom house for about $1,000.