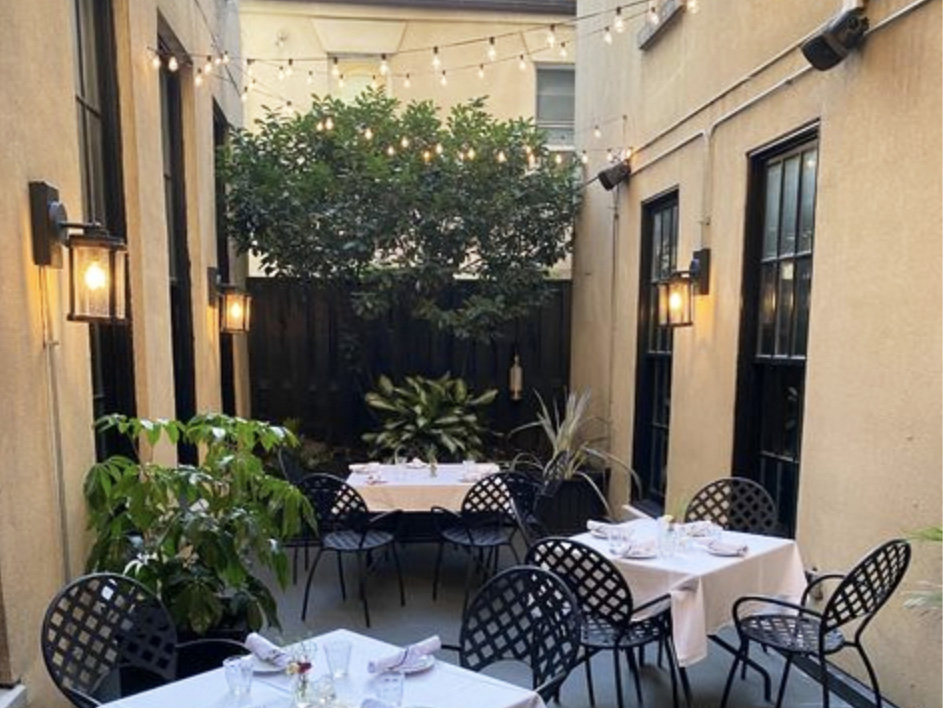 —Courtesy of Duck Duck Goose
In Mayor Brandon Scott's first official address after being sworn in on Tuesday, he cracked down on COVID-19 restrictions—including limiting capacity for retail and museums to 25 percent—and closed food service establishments for indoor and outdoor dining until further notice. 
"As I stated yesterday in my inaugural remarks, when it comes to the wellbeing of our residents, I am not afraid to do the right thing over the popular one," Scott said during his press conference. "This is about saving lives—nothing more, nothing less."
The mayor went on to explain that the Baltimore Development Corporation—which has previously awarded 235 grants totaling $2.8 million to provide relief to bars and restaurants in need—will begin awarding an additional $6.5 million in grant assistance to support more than 300 Baltimore restaurants and public markets that now face another shutdown.  
Since the start of the pandemic in mid-March, restaurants have continually reinvented themselves in an effort to stay afloat with a sometimes daily change of course. 
Even before Scott's remarks Wednesday morning, a handful of area eateries could see the writing on the wall and made the decision to close for traditional service during the height of the winter months. 
"We were hoping to get through winter with limited service on the patio," La Cuchara's co-owner and executive chef Ben Lefenfeld told us earlier this week. "We put the time and money in to weatherproof the patio so people could be comfortable, but we made this decision quickly in the past few days to shut down. With the number of cases rising, we just didn't think that it was the best decision to keep conducting service out there." 
At this point, U.S. restaurants are in economic free fall, with profit margins 91 percent lower than they were prior to COVID, according to a new report from the National Restaurant Association. In fact, according to the date, the local restaurant industry appears to be faring worse than the other parts of the country. 
"We have a more cautious population here in Maryland," notes Lefenfeld. "We are home to a lot of hospitals and healthcare workers and a lot of families that support those healthcare workers. At least here, it's becoming more taboo to be out dining, especially indoors at a restaurant—that coupled with the fact that we are on lockdown longer than a lot of areas of the country have all contributed." 
Suffice it to say, as local dining destinations—once again—shift to carryout and delivery models, they are going to need more support than ever.  
"This is like March 2020," says restaurant publicist Dave Seel, who is also the founder of the Baltimore Restaurant Relief Fund. "In some ways, we are in a better situation than we were back then—we've seen what works and done the trial and error. We need to go back and double down on making carryout dynamic, doing interesting carryout experiences, whatever that might look like for your brand. It's also time to double down on the marketing of those gift cards. We have to exhaust every revenue stream to sustain ourselves and survive."
Seel stresses that, as restaurants close for regular business, it's important for them to stay in the public eye.
"It's one thing to close your physical restaurant, but your brand is never closed," Seel says. "I'd say to any restaurant that is struggling, 'Who are your people and how are you connecting to them?' It's those people, those who foster a sense of community, listen to the needs of the market and their community, and put out good quality food, who are going to survive." 
Here are some beloved spots that are doing just that.
Aldo's Ristorante: This cherished Little Italy mainstay is planning a special menu of prepared foods for the holidays. 
Atlas Restaurant Group: Atlas is offering takeout and delivery daily from its Harbor East restaurants Italian Disco and Harbor East Deli, as well as sushi takeout Wednesday-Saturday from Azumi. The group will also be offering holiday takeout menus from its restaurants and plans to launch an online market with pantry items and prepared foods. 
Cosima: Cosima recently began a Cosima Bottega, offering kits like pastas, pizzas and more. Christmas Eve dinner will be available for takeout.  
Clavel: No need to go through burrito withdrawal just because you can't dine under twinkly lights. This James Beard Award-nominated taqueria is still offering some of the best carryout in town, including killer cocktails and taco kits. Also, check out the snazzy merch for sale on the website—from tees and totes to ceramic copitas for sipping mezcal.
Duck Duck Goose: This Fells Point favorite is going to be offering a weekly, rotating carryout menu. Heating instructions will be provided for an elevated at-home dining experience.
Foreman Wolf Restaurant Group: All downtown restaurants operated by co-owners Tony Foreman and chef Cindy Wolf—including Charleston, Cinghiale, Bar Vasquez, Petit Louis Bistro, and Cindy Lou's Fish House—will be shifting to carryout models. In addition, Johnny's in Roland Park recently launched a new ordering system that includes delivery. 
The Food Market: Daily carryout and delivery specials at this Hampden favorite will include $20 entrees on Monday night, $20 crab cake and lobster mac and cheese dinners on Thursday nights, weekend brunch, and holiday specials for Christmas and New Year's. Says owner Chad Gauss: "We are the survivor type." 
Gunther & Co: Gunther has pivoted to a Wednesday-afternoon pickup market with some of their signature dishes, as well as meals for holiday celebrations. Also enjoy a virtual New Year's Eve dinner with chef Jerry Trice. Pick up ingredients and cook along with the Culinary Institute of America-educated chef.  
La Cuchara: La Cuchara will continue to expand its online marketplace with high-quality seafood, meat, produce, and chef-prepared foods available for pick or delivery to supplement—or make up—your meal.
Lily's: Elevated pub fare is the name of the game for this new concept set inside the former The Dizz. Look for Lily's to open with carryout only in the coming weeks.
Magdalena, a Maryland Bistro: For the first time ever, this rebranded restaurant set inside The Ivy Hotel is offering takeout, along with some unique holiday gifts. 
Miss Shirley's: All locations of this fan-favorite comfort food chain are offering online ordering for pickup via contactless curbside or takeout window. Look out for family meals, as well as rotating pancake, omelet, and French toast specials. Miss Shirley's is also selling gift cards and encouraging diners to donate meals to first responders.
Mr. Nice Guy Cocktails: Here's a club we can get behind. Mr. Nice Guy has started a weekly Wednesday cocktail club that will meet on Zoom at 7 p.m. Two cocktails and ingredients to follow along at home are included for takeout or free delivery. Can't make the class? The video will be uploaded for you to watch when you can. The cocktail bar has also expanded it's 35-plus drink menu to include a larger format and custom-made cocktails. Mr. Nice Guy offers free delivery on their entire menu, including packaged goods to Canton and Fells Point
Orto: Pasta lovers rejoice. Join this Station North restaurant's weekly dry pasta and sauce club to get your fix. Add on Caesars, homemade focaccia, liquor, cocktails, and wine options to make it a meal. Orto will be serving a full carryout menu beginning this Sunday, with select delivery within five miles of the restaurant. 
True Chesapeake Oyster Co.: Though True Chesapeake will be temporarily closed for winter dining, oyster season is very much still in full swing. Pre-order oysters from the True Chesapeake farm or get them from any MOM's Organic Market location to get a taste of some of the best farm-raised oysters in Maryland.
Woodberry Kitchen: Woodberry's robust marketplace is back with plenty of pantry staples (eggs from Liberty Delight Farms, One Straw Farm popcorn, Keepwell Vinegar), plus curated gift boxes, and prepared holiday foods. (Hello, whole roasted chicken and Hanukkah latkes!) All are available for curbside pickup or delivery.
Zeke's Coffee: The cute coffee shop will offer pickup and curbside from the Harford Road cafe, as well as delivery within a three-mile radius. The cafes are offering great gift options from apparel to coffee and coffee accessories.