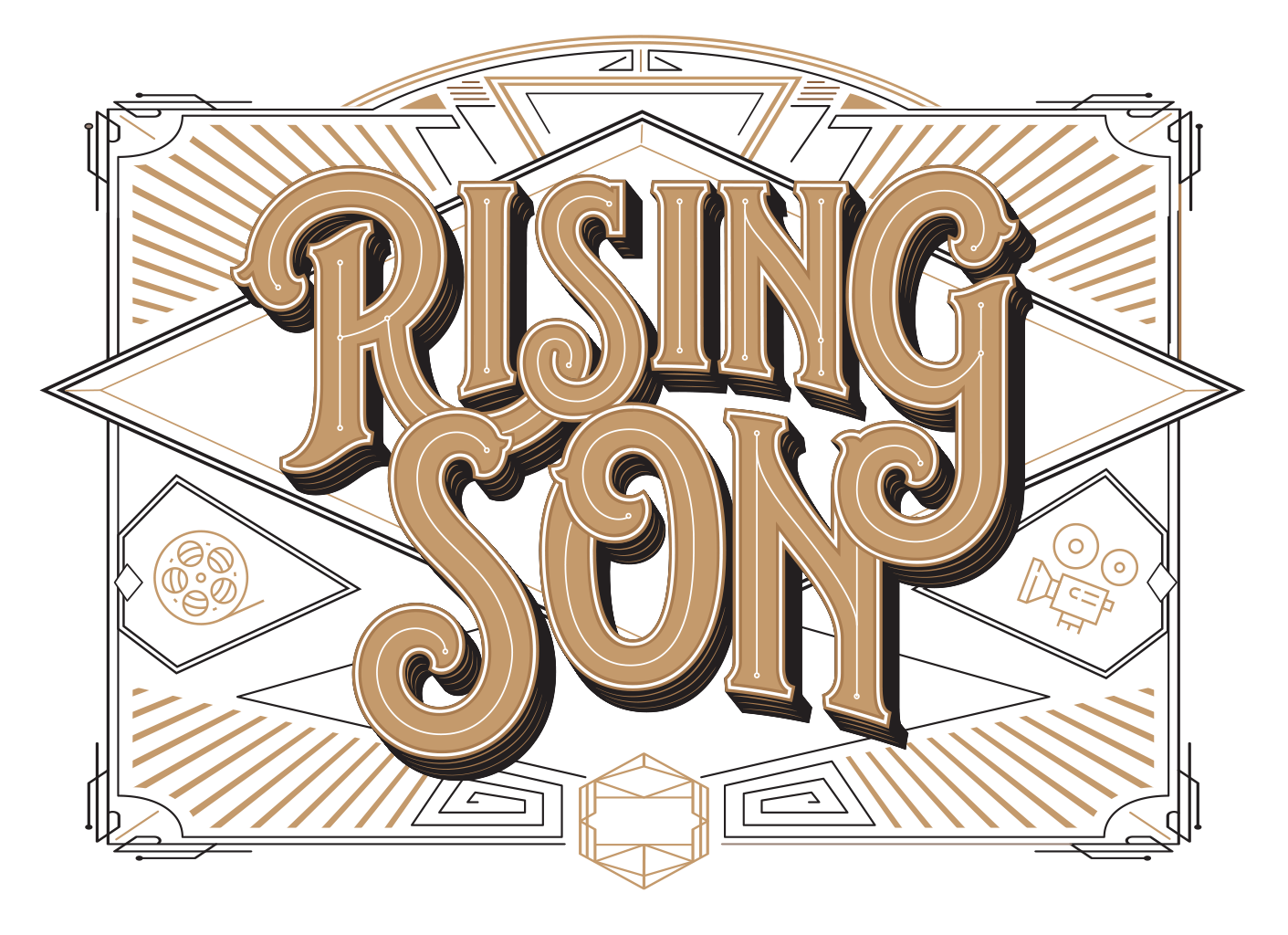 Baltimore's McCaul Lombardi is making a name for himself in Hollywood, but he'll never forget where he came from.
News & Community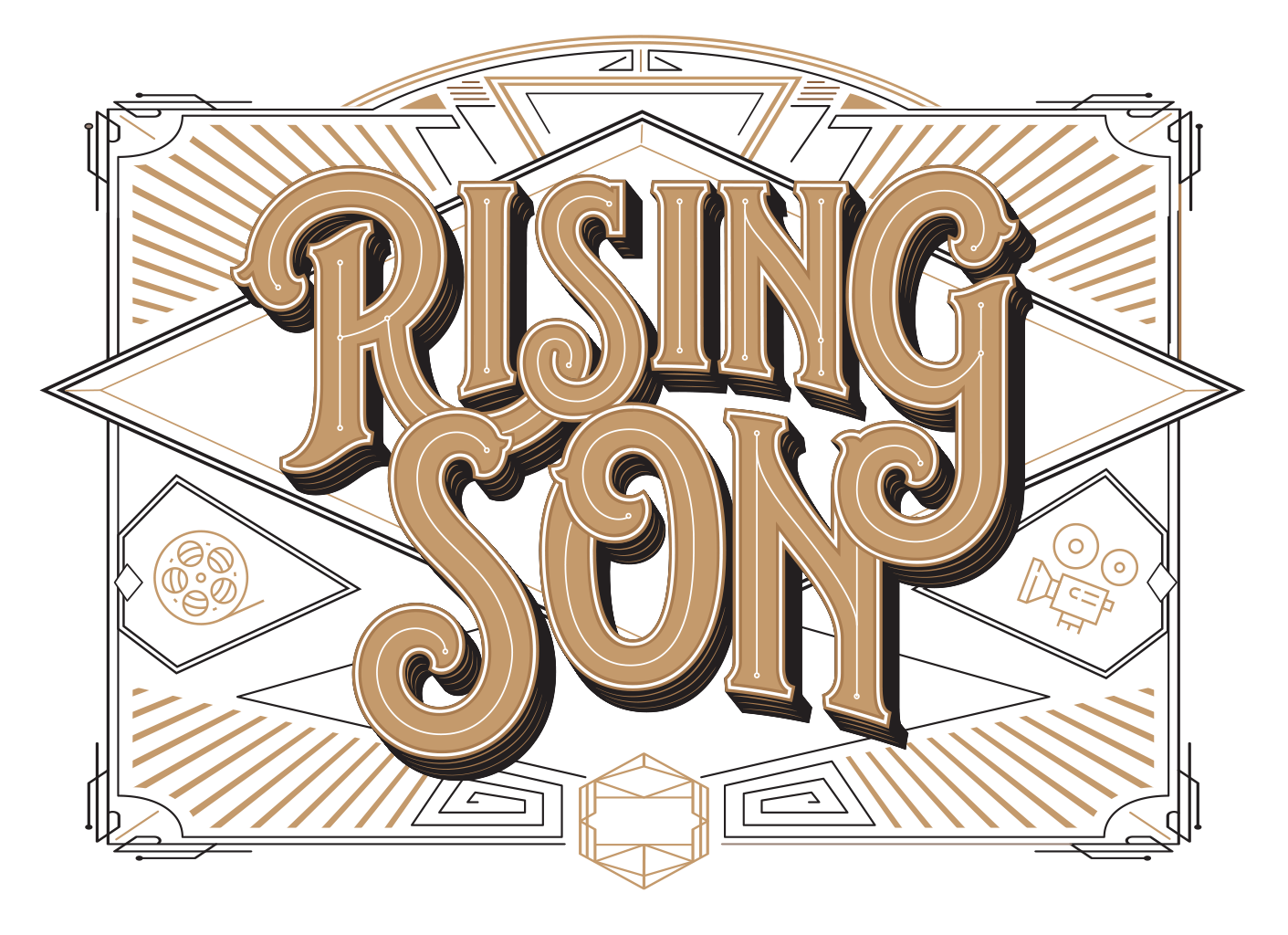 Baltimore's McCaul Lombardi is making a name for himself in Hollywood, but he'll never forget where he came from.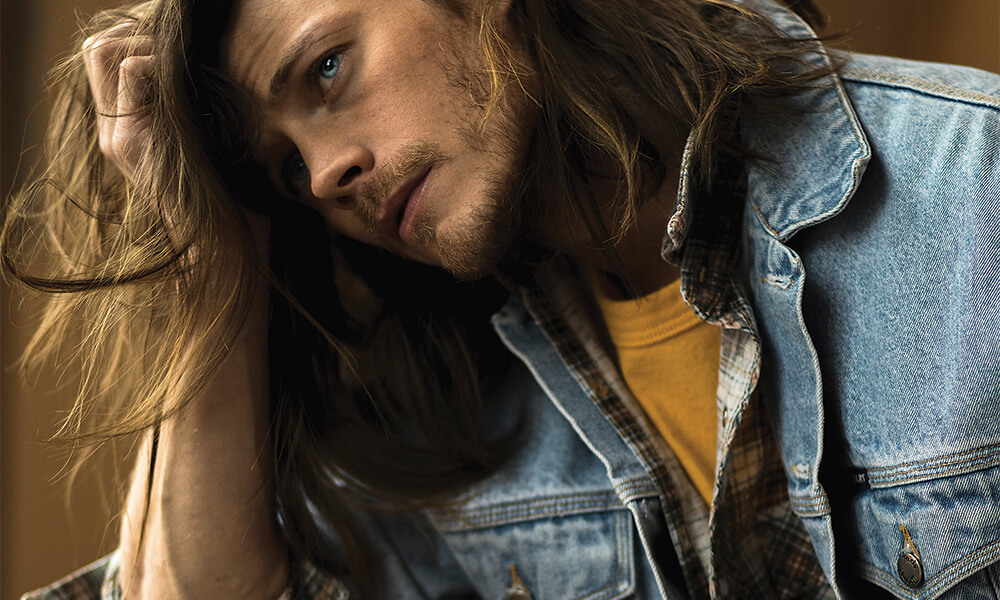 By Max Weiss
Lettering bt Luke Lucas
Photography by Sebastian Avery Styling by Rachel Hinch | Grooming by Brian Oliver | Photo Assistance by Joe Lipstein | Wardrobe Assistance by Karmen Osei | Shot On Location at The Parkway Theatre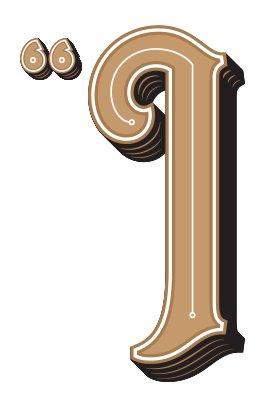 "I have goosebumps," McCaul Lombardi says. He holds out his arm to reveal the raised skin.
He's telling the story about the time he almost packed it in, and for good this time.
It was 2013. He was in Hollywood, trying to fulfill his dream of being an actor, a musician, a somebody—and times were rough. He had just broken up with a girlfriend and was living in his car, a beat-up Chevy Malibu. He kept saying to himself, "You're not homeless. You're not homeless. You're chasing a dream. You have a home, it's in Baltimore. It's just not here. This is what you're supposed to be going through."
But it was getting harder to convince himself.
He had done a little modeling and gone on a few auditions. Nothing had panned out. He was out of cash.
So he called his mother and asked her to wire him some money. Not so he could stay in Hollywood. For the gas money home.
His mother, Terry Lombardi, the director of benefits for MedStar Health, had mixed emotions. On the one hand, she was sad that her son's dream wasn't working out. On the other hand, she admits, "I was excited that he was coming home."
Lombardi got as far as Arizona when he got a phone call from a producer on a James Franco film. A few months earlier, he had auditioned for a short film Franco had written based on one of his stories. It had been a strange audition. First, he read for a minor part. Then they called him back to read for the lead. Normally this would be great news, but Lombardi was sure that he'd bombed. It was a brand new script; he was totally unprepared. "I was shaking," he admits. "I was garbage." In his mind, he had blown the audition.
The person on the phone said congrats. Not only was he cast in the film, he had gotten the lead. Lombardi immediately turned his car around and headed back to Hollywood. Goosebumps.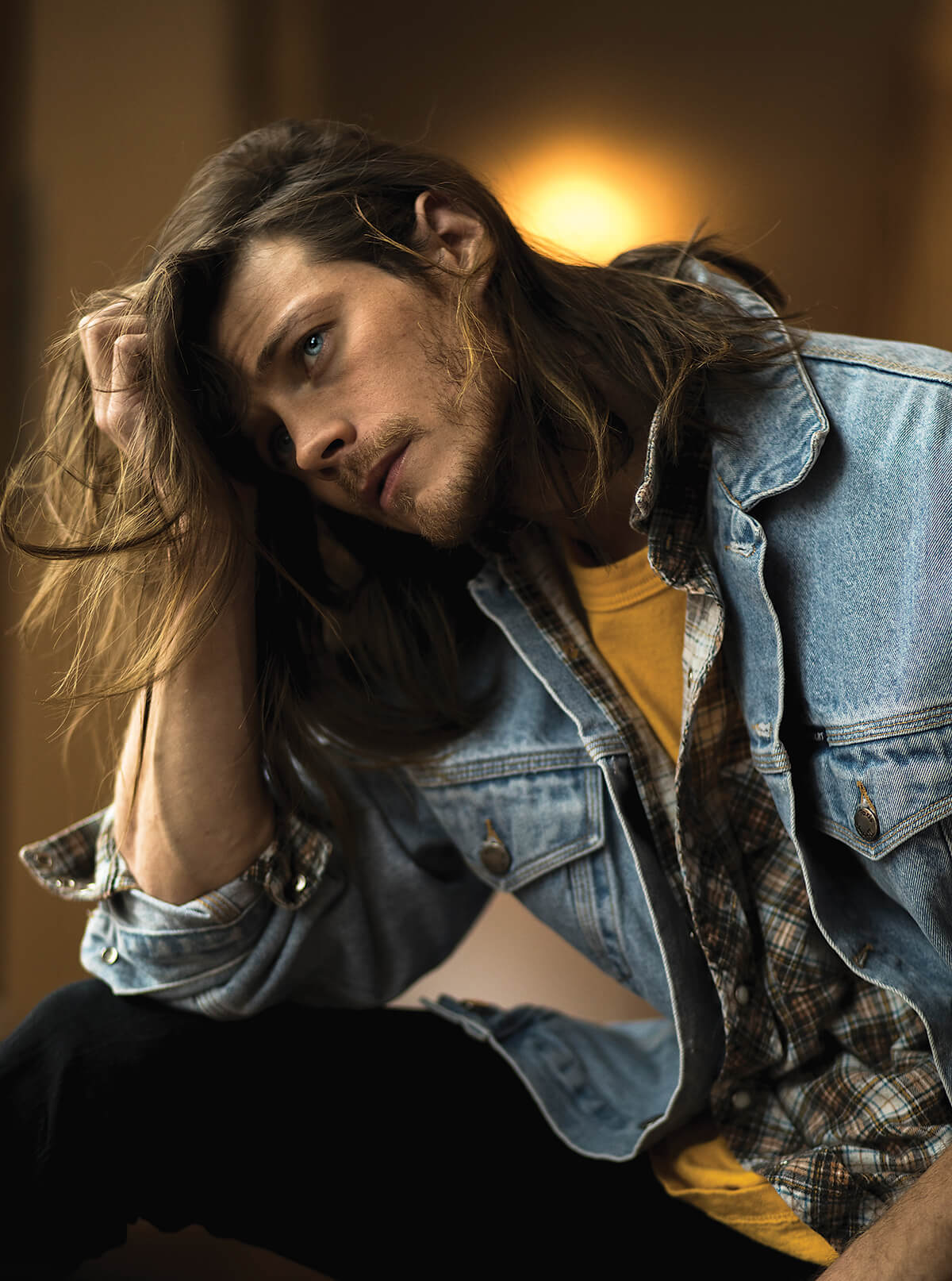 Light Denim Jacket ($42) at Hunting Ground. Vintage flannel ($40) at Sixteen Tons. '90s Champion t-shirt ($36) at Hunting Ground. Unbranded taper blue jeans ($29) at Hunting Ground.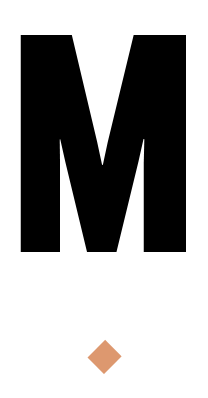 McCaul Lombardi is a man of many names. His given name is Michael McCaul Lombardi. His mother calls him Michael. The name he chose when he headed out to Hollywood is McCaul, which is what he's called in movie credits and what most people in Hollywood call him. His buddies call him Simba, thanks to that golden mane of hair of his. He happily answers to all three.
He may not be a household name—yet—but if you're a fan of indie film you already know and admire him. You might even have a little crush on him.
So what motivates a kid from Perry Hall to change his name to McCaul and drive cross country chasing a dream?
"He wants to live the role as much as possible. he's an instinctive method actor."
He says he always knew there was something great in store for him.
"One of my first memories is my mom talking about me to her boss and hearing her say, 'He's going to be something special one day.'"
Lots of kids might hear their mom boast about them that way. But he believed it.
In school, he embodied a series of contradictions. He was a star jock, the running back on the football team ("I'm hard to catch," he says). He was the kid who got suspended from Loch Raven High School for "causing mischief at homecoming." He was the kid who was named Homecoming King a couple of months later when he was reinstated at school. And, as he tells it, he was the kind of kid who spoke out when he saw injustice in class.
"No teacher ever hated me," he says. "I was always the guy who was like, 'Yo, guys. Clearly Miss Smith just said shut up. Are we going to shut up now?' I was definitely a protector."
He attributes that to his mother, whom he lived with for most of his childhood. (His parents divorced when he was in the first grade and then got back together when he was in 10th grade.)
Thanks to her, he believes, unequivocally, in respect. You give it, you get it.
Lombardi, 28, talks about respect all the time. It's his mantra, the thing he values most. It's one of the reasons why he might be the only actor in Hollywood who routinely shows up early for interviews.
"I run on Lombardi time," he says. "If you're not 15 minutes early, you're late. First day of [film] production I say: If I'm ever late, call the cops. Because something terrible has happened. I'll be early to my funeral."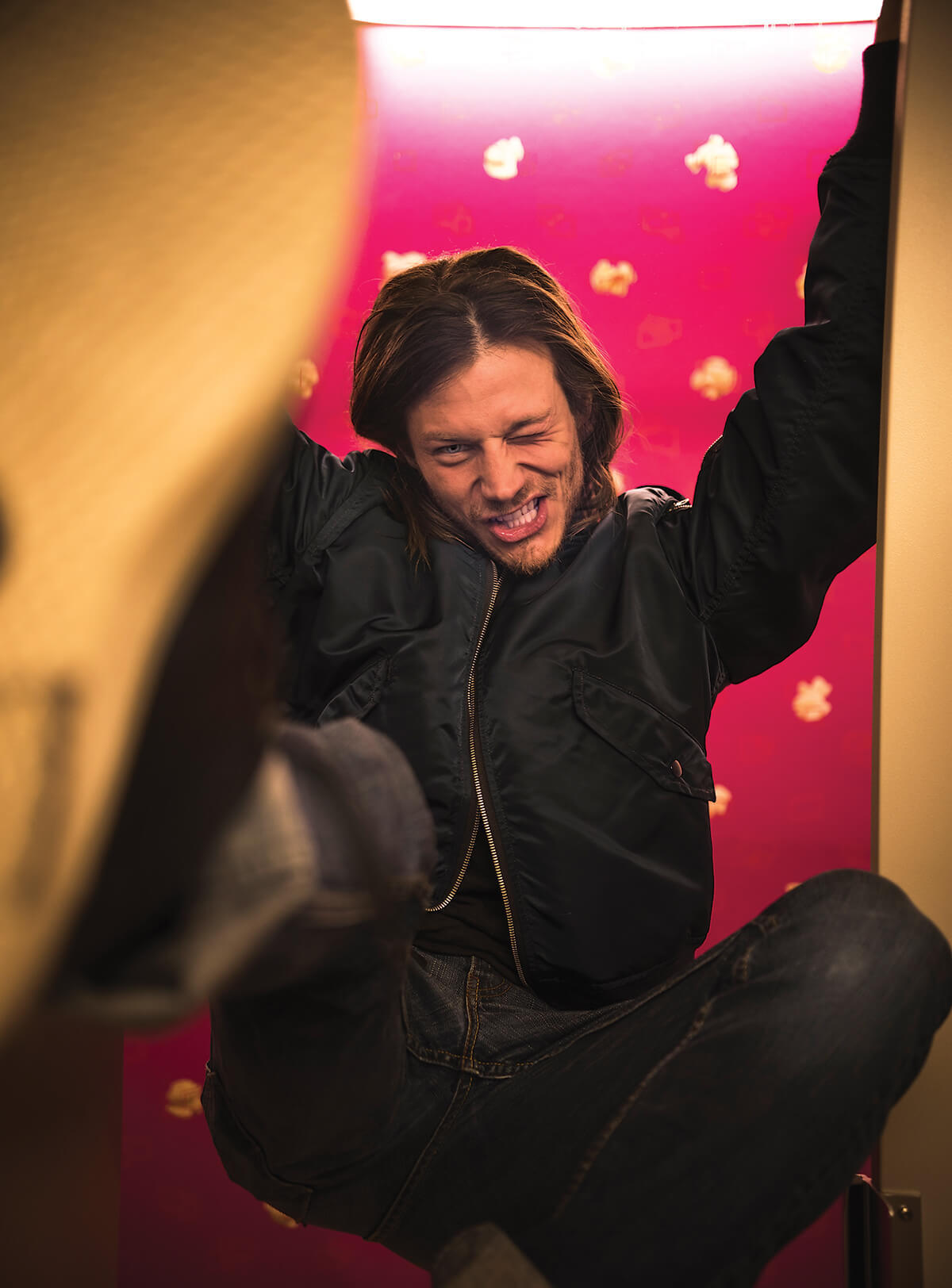 Vintage blue bomber jacket ($100) at Sixteen Tons. Jeans and shoes, Lombardi's own.
And he especially respects women. "Any fight I've really ever been in my in my whole life was protecting a girl. I was raised by my mom. I've always had women in my life. I have the utmost respect for women," he says.
He admits that he got into a couple of scraps in his day, but he was also a dreamer. He learned how to play the guitar and briefly played for a locally popular indie band called Oh, The Story! He did a little modeling. He wanted to act in school plays, but couldn't muster the nerve.
"Acting was always in the back of my mind, like, I think I can do this," he says. "But I didn't have the balls to be on stage and play football. What football player is going to be up on stage? Even if nobody was going to make fun of you, in your head you're going to be made fun of. I wish I would've had that individuality at a younger age."
Still, he looked around at his friends, some who were getting in trouble, some who were really lost, and he thought: There's something better out there for me.
"Baltimore's a hard place to thrive in if you don't have a good head on your shoulders," he says. "And I was seeing a lot of my friends die from drug overdoses and stupid shit that kids die from, and I was like, this is not my story. I need to rewrite this." He's a big believer in writing your own story.
He set a deadline for himself. January 15th in 2010, five months after he turned 18. He also believes in putting deadlines on things. To make them real.
On January 15th he packed up that Chevy Malibu and drove out to Hollywood.
It didn't all go smoothly, as we've already established. There were false starts, setbacks. A series of girlfriends (there are always girlfriends). He drove home a bunch of times. That short film he made with Franco? It played at some film festivals but never got a wide release. He says for a while he got mixed up with the wrong Hollywood crowd.
"I had some bad habits that I needed to kick—drinking too much, trying to be cool," he says. "Trying to hang out with everybody cool and living off their success. Like hanging out with a famous friend and thinking I was cool because they were famous."
A lot changed when he was approached by a manager, Matthew Hobbs, who remains his manager to this day.
Hobbs told Lombardi he'd seen the teaser for the Franco film and liked what he saw. He asked him what his goals were.
"I said I'd like to take DiCaprio's throne," Lombardi told him.
It was ambitious—cocky even—but Hobbs was impressed.
"He smiled at me and said, 'Let's do this,'" Lombardi recalls. "'We won't sign anything, and I will work for you until you book your first job. When you book your first job, we can be official.'" A few months later, Lombardi landed his first feature film, Andrea Arnold's critically acclaimed American Honey.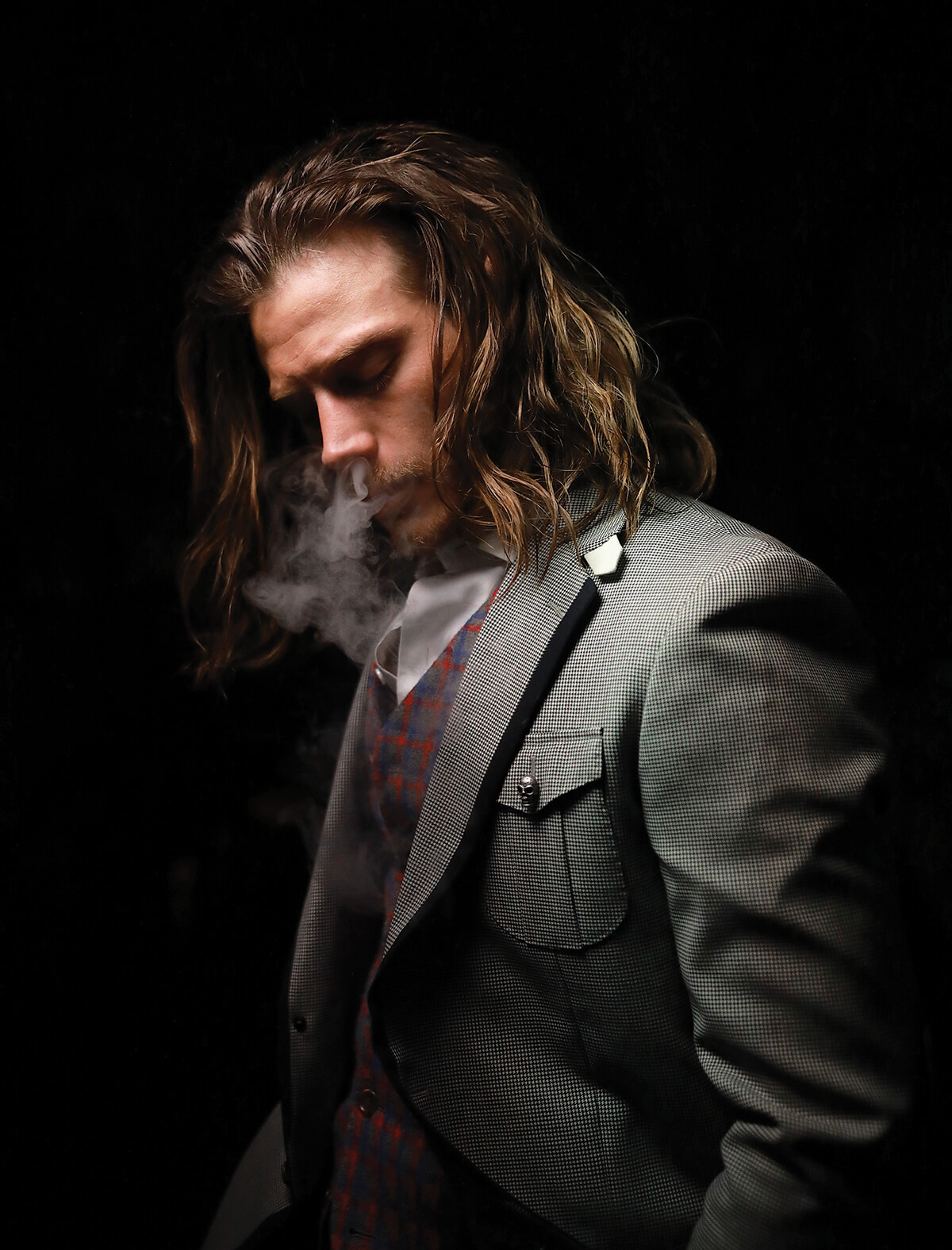 Custom Suit courtesy of Christopher Schafer Clothier.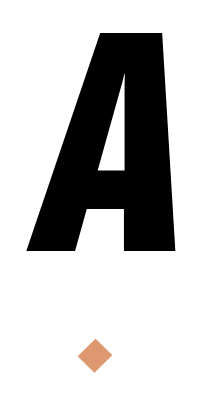 American Honey is a cinema verité-style film about a bunch of misfit kids on the road selling magazine subscriptions to make ends meet. It's a stretched out, sun-kissed film that is fueled by sex, drugs, and the energy of youth. It starred a bunch of non-actors and a few professional ones, the most famous of whom was Shia LeBeouf. LeBeouf is, rather notoriously, a hardcore method actor who can be a bit difficult on set. According to Lombardi, director Arnold needed another strong young man to balance LeBeouf's intensity. She recruited Lombardi to be a leader on the set.
"We were two kids with checkered pasts," Lombardi says of him and LeBeouf. "Two alphas trying to control the pack."
The relationship with LeBeouf was rocky, he admits. "But there's still love there."
Variety's Owen Gleiberman described the film as "an extraordinary hand-held youthquake of a road movie."
It won the Jury Prize at the Cannes Film Festival. (Shortly thereafter, Lombardi got a tattoo of the Cannes logo on his arm.)
Despite the film's critical success, American Honey seemed like something of an initiation by fire for young Lombardi. He recognizes it's a great film but wouldn't necessarily want to recreate the experience.
He had better luck, and a more fulfilling artistic experience, on his next film, Sollers Point, directed by Baltimore's Matthew Porterfield.
Sollers Point tells the story of directionless young man named Keith, just out of prison and living under house arrest with his father (Jim Belushi). Porterfield initially envisioned someone older as Keith, but one of his producers suggested he meet with this kid from Baltimore with a great look she'd been hearing good things about.
"We met at the Bel-Loc Diner—rest in peace—right around Thanksgiving," Porterfield recalls.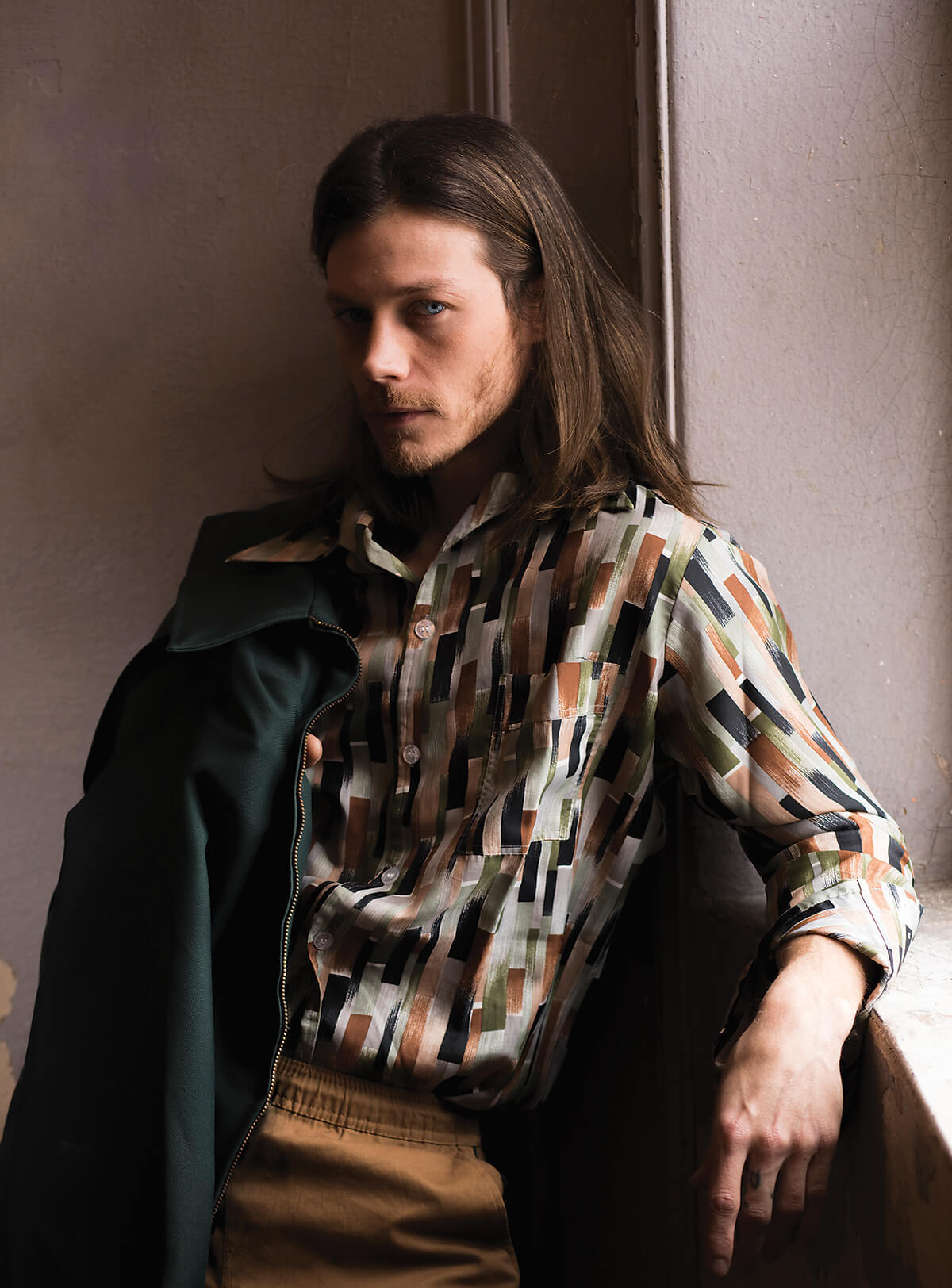 Vintage '70s button-up ($45) at Sixteen Tons. Vintage green bomber jacket ($48) at Sixteen Tons. Joggers, Lombardi's own.
"This was 2015. He was there early. We just had a great talk, and I immediately knew he was someone I could work with. He had spent a lot of time with the material, he connected with the character, he had grown up in Perry Hall. So yeah, it was easy once I met him."
To accommodate the younger actor, Porterfield made some tweaks to the script. It was well worth it. He says that Lombardi immediately took to the role: "He's very open. Generous. Kind of raw in a way that I appreciate," says Porterfield. "He's dedicated for sure. He wants to live the role as much as possible. He's an instinctive method actor."
To that end, Lombardi asked that the producers set him up in an apartment in Sollers Point, in Dundalk, where he lived for two months before filming began. He bought a crappy cell phone, because that's the kind of phone Keith would have. And most dramatically, since Keith is mourning the death of his mother in the film, he cut off ties to his own mother.
It's impossible to emphasize how close Terry and McCaul are: They communicate every day, either by phone or by text. They have virtually no secrets from each other. Lombardi cites his mother all the time, when talking about the kind of man he is. ("I think my mom started shaping me from a young age to be sort of a man that she'd want," he says.)
But Lombardi needed to do this—to feel this absence in a real way to get into character. "It was so hard," Terry admits. "Finally, on the last day of shooting he called me and said, 'Okay mom, this is the last day of shooting, do you want to come?' I said, 'Where? When?!'"
Once again, the film was critically acclaimed. In an Artforum article, John Waters selected Sollers Point as one of the best of the year and called Lombardi a "blazing star." Philadelphia Metro called Lombardi "magnetic and hypnotic."
Other roles have come: a supporting part in Sundance hit Patti Cake$, where he even got to rap, an upcoming co-starring role in the Martin Scorsese-produced Port Authority, a modeling campaign alongside no less than Robert De Niro for the high-end men's fashion label Ermenegildo Zegna.
He's got money now. Enough to buy his dream truck, a tricked-out Toyota Tacoma. Enough to live in a two-bedroom apartment in Hollywood that he says is 100 percent him: "It has snowboards on the walls. Photos I've taken across the world. Truck parts. Bikes everywhere." But he's not exactly a major star.
And that's by design.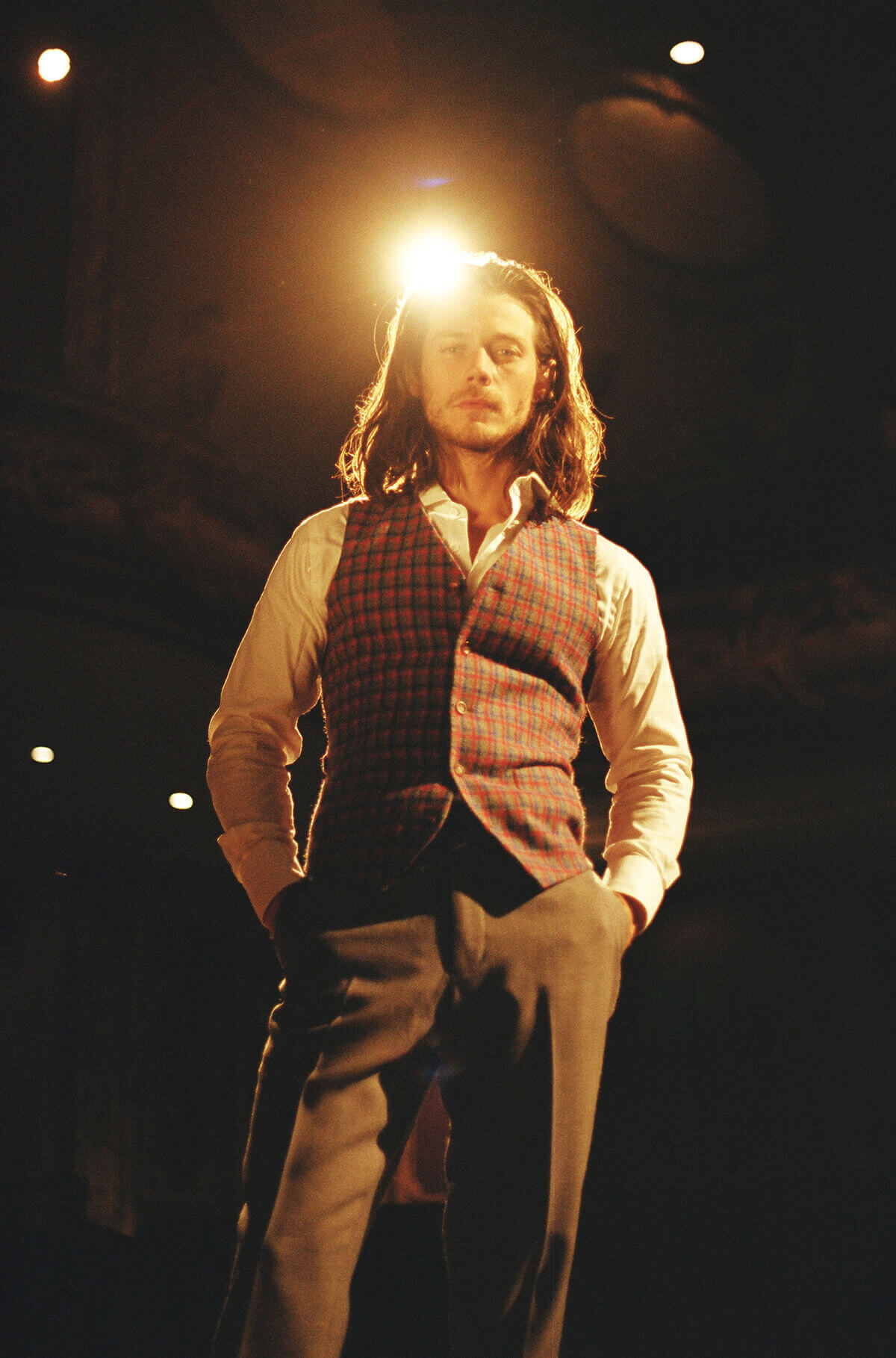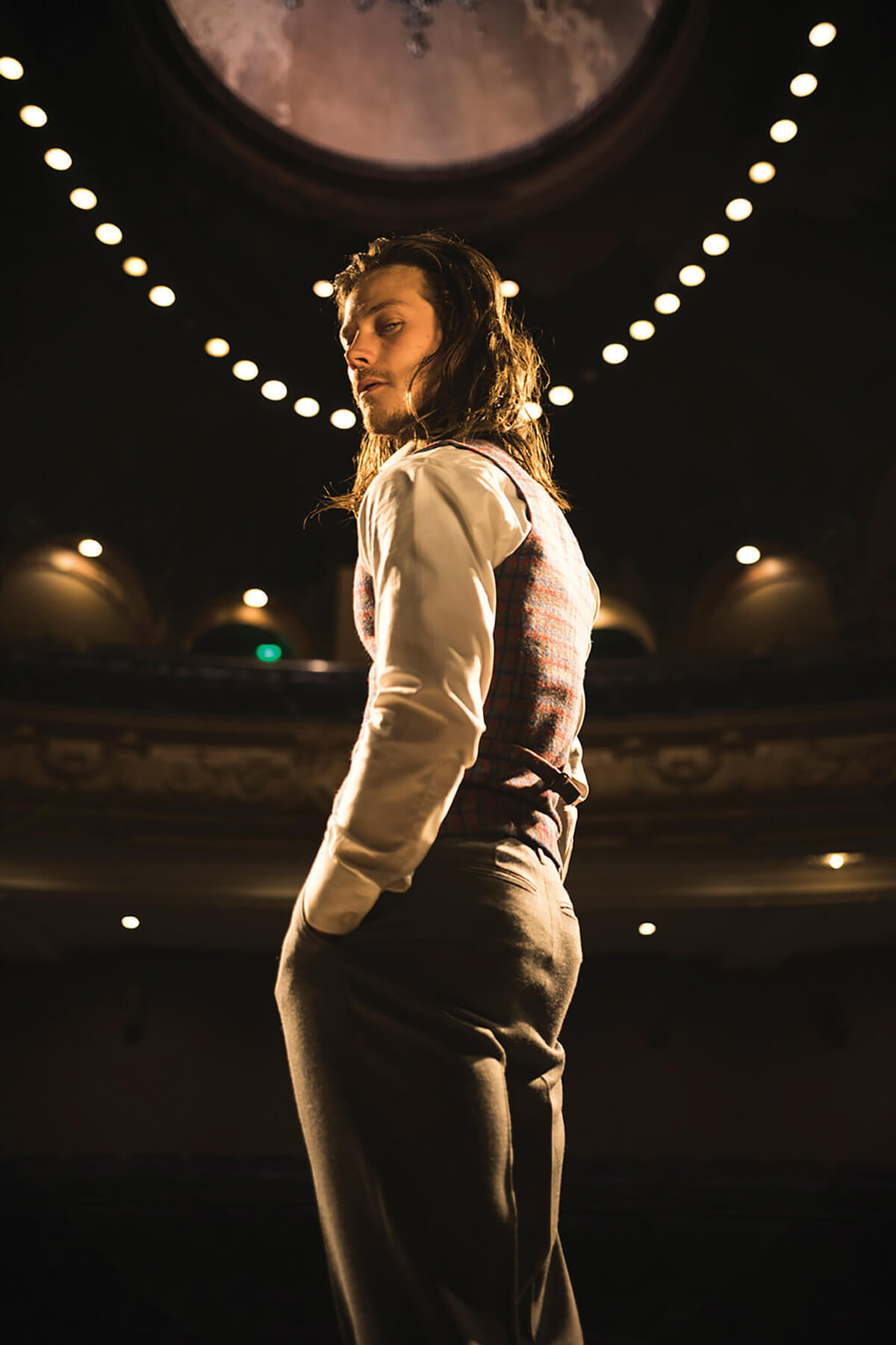 CUSTOM SUIT COURTESY OF CHRISTOPHER SCHAFER CLOTHIER.
"I've turned down more auditions than I've done," Lombardi says. He's not super into the whole Marvel Universe. It actually bugs him that young people don't even recognize what a great actor, say, Robert Downey Jr. is. They just think of him as Iron Man. Lombardi believes so much in the craft of acting, in the authenticity of the artistic experience, he says he wants to support independent film whenever he can.
"He would fit in perfectly with the grunge icons of the '90s: kurt cobain, River phoenix, johnny depp."
In that sense, Lombardi is a bit of an actor out of time. With his straggly hair, scratchy drawl, and soulful teen idol face, he would fit in perfectly with the grunge icons of the '90s: Kurt Cobain, River Phoenix, Johnny Depp. Gus Van Sant would've cast the hell out of him in My Own Private Idaho. But he's living in the here and now. In an age of tentpole films and Instagram influencers.
Matt Porterfield, no stranger to shunning mainstream Hollywood, thinks Lombardi could be a big action star if he put his mind to it. After all, the guy is both a charismatic actor and an athlete.
"But he's not going to do that, and I respect that," Porterfield says. "He has values. He has priorities. He's a thinking person. And he isn't going to do anything that doesn't feel right."
So Lombardi waits, patiently, for the films and experiences that inspire him. In the meantime, he does his thing: He goes off-roading, he travels, he hikes, he takes photographs. He snowboards when he can. He's been in Baltimore a lot lately, helping his parents renovate their house. Not paying for someone else to do the work—actually doing it himself. (He boasts that he's going to break the record for the fastest drive from Los Angeles to Baltimore. "I'll have it one day.")
He's no longer drawn to that shallow Hollywood lifestyle that briefly seduced him. It's not for him. "I'm Baltimore through and through," he explains. So no parties at Chateau Marmont. No "let's do lunch." No acting like he's a big shot because his face has been on a few billboards and his films have won some awards. Just keep grinding. Just keep doing the work.
As he puts it, "My mama didn't raise an asshole."
"No I didn't," his mother echoes. "Unacceptable."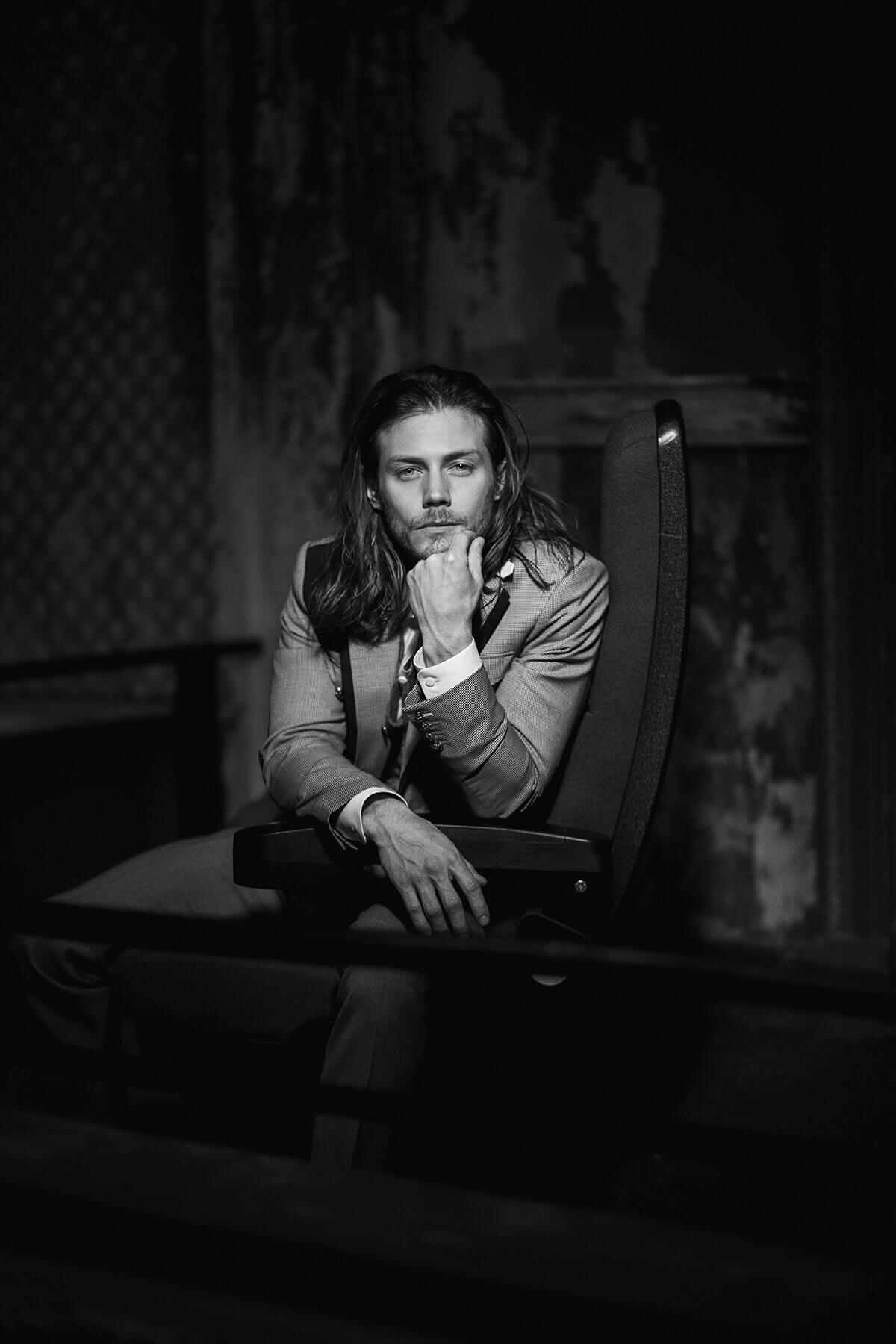 CUSTOM SUIT COURTESY OF CHRISTOPHER SCHAFER CLOTHIER.