Ballet Boys
A tuition-free program at Peabody Dance has changed the lives of the boys involved.
The audience seated in folding chairs stares curiously at the dancers in front of them. Perhaps, the performers aren't what these families and elderly couples think of when they hear the word "ballet." After all, there are no tutus or pink-ribboned shoes in sight. Instead, seven boys of varying heights, ages, and races stand before them on the carpeting, barefooted and wearing khakis and bold-colored T-shirts. Some are still prepubescently skinny, but all have strong, sinewy muscles and the awkwardness and sweetness of youth—the oldest ones experimenting with trendy hairstyles and the little ones young enough to have cowlicks and sneaky smiles that tease the corners of their lips.
"What are we in for?" the audience seems to be wondering this day in April. When the boys begin to move, it all makes sense. Their motions are controlled, graceful, and musical, and their bodies appear weightless as they fly through the air or lift high up onto their toes. Their artistry combines strength, vivacity, and masculinity, and the audience murmurs in amazement during one section as the boys lift the smallest of their troupe and hold him suspended in the air while they prance through the room. Even one of the youngest audience members, who has been fussing, stops and asks his mother, "How'd they do that?"
This unlikely performance at an unlikely place—a conference room at a library in Prince George's County—exemplifies the mission of this unique group, which is nothing less than a complete revision of what it means to be a ballet dancer.
The dancers are part of the Estelle Dennis/Peabody Dance Training Program for Boys, which gives young men ages 9 to 18 tuition-free admission to Peabody Dance, the after-school dance training program that is part of the community school affiliated with the lauded Peabody Institute. Now 101 years old, Peabody Dance is one of the oldest continuously operating dance training centers in the country and, since its inception, has developed talents that go on to some of the top dance companies in the world. In 2009, as a way to attract boys to the program, advisers and instructors decided a scholarship program could encourage families who couldn't afford training, or who otherwise might be hesitant. The small proportion of boys to girls in ballet has been noted nationally, and though statistics on the subject are hard to find, for years teachers have reported that they often only have a single boy in their classes, if any.
"There has always been this underlying thought from fathers—and mothers, too—that they didn't raise their boys to be ballet dancers. It still exists to some degree, but much less," says Barbara Weisberger, who is Peabody Dance's artistic adviser. "This program is helping to remove that stigma, because these boys are wonderful talents. They're a joy to watch."
"My teachers wouldn't let me stop, even when I wanted to. Now, I won't stop until I'm in one of the top companies in the world. that's my goal."
Last school year, 31 boys attended Peabody Dance (which can cost thousands a semester) tuition-free, breathing new energy and life into the mirrored-walled studios and bringing economic, racial, and social diversity to a world that "hasn't always been that way," says Melissa Stafford, Peabody Dance director and department chair. "I love that boys from rough neighborhoods are in class with someone whose parents are doctors, and their progress is all based on what they can do in the studio. The boys get exposed to other people and other parts of the city that they would probably never see."
In its eight years, the program has gotten results, with the students going off to dance company training programs, or getting full rides to college dance programs. The training has opened their minds, and their futures, to opportunities they didn't know were possible.
"My teachers wouldn't let me stop, even when I wanted to," says Antrel McDowell, 20, who grew up in Park Heights, danced at Peabody, and is now in a pre-professional training program. "Now, I'm dancing in Sarasota [at the Sarasota Cuban Ballet School] and I won't stop until I'm in one of the top companies in the world. That's my goal."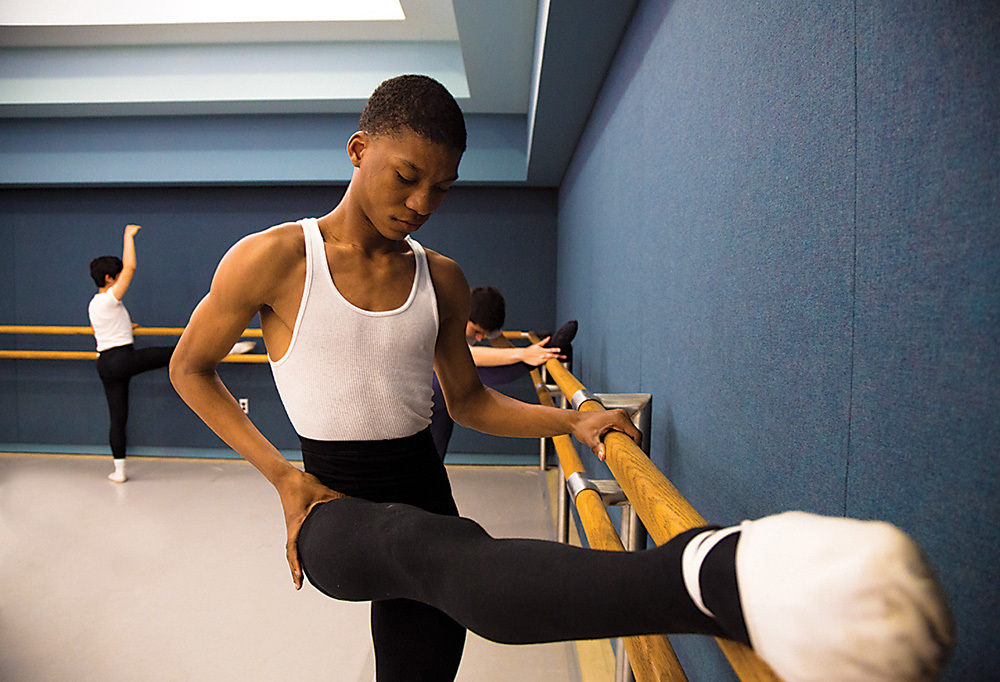 Barbara Weisberger still remembers the first auditions she oversaw for the Estelle Dennis program in May 2009. Walking into The Mount Royal School and Roland Park Elementary/Middle School that day, she drew her breath in amazement as she saw dozens of boys, 60 total, who were black and white and of all ages, waiting to show her what they could do.
Though most of them were hip-hop dancers, it didn't matter to Weisberger— their enthusiasm was contagious—and it didn't seem to matter to the boys that she was showing them a completely different style of dance. They were just excited to move. "They enjoyed themselves so much. They were so musical, they were such fun, they were so natural," Weisberger says. "We were in tears it was so wonderful."
Brought on as an adviser at Peabody in 2001, Weisberger—now 90, who has been involved with ballet since age 3, and has the distinction of being the first child student of the legendary choreographer and ballet master George Balanchine—immediately noticed what she calls the "dearth of boy dancers" at the school. She, along with then artistic director Carol Bartlett requested a change to the Estelle Dennis program—named for a Roland Park resident and leader in the 20th-century contemporary dance scene—which previously gave one scholarship to a male dancer from Maryland each year. The thinking behind the change was that "we should up the training of boys in ballet so we have more boys who are strong enough dancers to join companies," Weisberger says. "And whatever form of dance you choose to follow, you would do it better because you have ballet. It's like learning your ABCs."
She and Bartlett picked about 20 boys, ages 9 to 15, that first year based on their bodies' flexibility and coordination, as well as their musicality, but many didn't have any formal dance training—which was intentional. As Weisberger experienced that first day at auditions, once the dancing bug caught them, their bodies—and minds—were flexible enough to try different styles and types of training. Still, the requirements were strict—classes twice a week, which would increase as they got older to up to five days a week. But the boys would be together in class, and wouldn't have to worry about being the only boy amid a bunch of girls, though they would attend coed classes after the first two years of training.
The teachers saw attrition that first year, which they knew would come as some of the boys realized the focus and commitment necessary to continue. LaTanya Cherry-Lyle, whose 15-year-old son DeVonté Tasker has danced with the program for six years, remembers the adjustment her son faced as he encountered an environment different than any he'd experienced growing up in the Bel Air-Edison neighborhood—one with strict rules, rigorous classes, and high expectations. She recalls how tired he was when she would pick him up from rehearsal, sometimes as late as 9 or 10 o'clock at night. "As soon as he would sit down in the car, he was out," she says. "But now, he's more disciplined, focused, and driven. DeVonté wants to succeed and he'll practice more and more until it's good enough for him."
And, the boys were making their own mark on the school. "There's a different, masculine culture that they've brought," says Stafford, who became director and department chair in 2013 after Bartlett's death from cancer. "When you step out for a five-minute rehearsal break, you'll come back to the boys doing three pirouettes and trying to outdo each other in a friendly, competitive way. That camaraderie they have with the other guys has changed the energy of the school."
As refreshing as those new dancers were, Stafford and the other instructors soon realized that they couldn't continue to accept boys to the program who were in middle or high school unless they'd had training. "We just don't have enough time with them," Stafford says. But she's also realized that the school will have to occasionally make exceptions, as there have been boys who've surprised her.
"When I finish dance class, everything is hurting. but it pays off because when I perform, people say, 'Ooo, he's really good.'"
Take the student who, after being kicked out of his house during his senior year of high school, lived with a family friend so he could continue classes and ultimately received a full-tuition scholarship to the University of the Arts in Philadelphia. Or the 15-year-old who wrote Stafford an e-mail after he'd been rejected from the program, asking her to reconsider, writing, "I know I don't have any training—that's why I came to you." "He wrote that, not his mom," Stafford notes. She told the boy he'd have to come in the summer and take classes with the 8-year-olds, which he agreed to do. "He was eager, he asked questions, he worked hard," Stafford says. "He took the bus, and his mom only came once. He's doing this for himself." Now, he dances while attending Point Park University in Pittsburgh.
"This is their way to see something different, their way to make their own way in the world, and probably not a lot of kids they grew up with had that opportunity," Stafford says. "I think about how important it is for these boys to feel like, 'I'm good at something, I'm really good at something,' because they may not have gotten that message elsewhere. This really is changing lives."
Beyond Peabody's exquisite, museum-like façade in Mount Vernon are twisting, winding hallways that lead to the dance department, which has an atmosphere a bit like an elementary school. On any given day there, the walls echo with the chatter of girls and boys, who dash to and fro.
One afternoon this spring, the boys gather in a studio in their usual black tights and shoes and white shirts. They listen quietly and professionally as their teacher tells them the steps and positions for the class, always in French— échappé, changement, and piqué are words they hear often. When they begin, with live accompaniment on piano, the teacher walks around and gently corrects posture, straightening an arm or a leg. After work at the barre and balance exercises, it's time for stretches and pushups. Sometimes, the younger and older boys take classes together, but mostly they are separate. Sometimes, like on this particular day, alumni like Antrel McDowell stop by.
After class, McDowell joins current student Keon Wagstaff, now 12, in joking about class, talking about YouTube ballet videos, and discussing what companies they'd like to join. Antrel places an arm on Keon's shoulder and says confidently, "I'm going to the Royal Ballet [in London] and you're going to Bolshoi."
Stafford loves this kinship between the boys. "[The older boys] were once these little guys, and they know what they would have wanted to hear," Stafford says. "And that's not something you can teach them to do."
That spirit of togetherness is crucial in today's ballet world, known for its cutthroat competition, and where the color wall is just starting to come down. Last year, ballet dancer Misty Copeland (who is also an Under Armour ambassador) became the first African-American principal dancer at the American Ballet Theatre in New York City, one of the most elite dance companies in the world. And after years of discussions about increasing opportunities for people of color in classical ballet, American Ballet Theatre's Jacqueline Kennedy Onassis School and the training program at the New York City Ballet have started programs to recruit young minority dancers (though critics are concerned that professional opportunities do not await these dancers).
There's also the question of the stigma that has existed among the general public about boys who dance—mainly that they are less masculine than boys who compete in team sports, for example. In an effort to expose boys, and their parents, to dance early—when they are, perhaps, more receptive, and haven't formed opinions about ballet—boys-only classes and scholarship programs similar to Peabody's have sprung up at places like the Metropolitan Ballet Academy in Pennsylvania and, most recently, the Nashville Ballet.
Stafford has personal experience with this. Her brother, who went on to become ballet master of the New York City Ballet, didn't tell all his friends that he danced when they were growing up in central Pennsylvania. So she keeps an eye out to make sure the pressures aren't getting to her students. She is encouraged when she hears boys like Keon talk about how they overcame their own brushes with teasing.
"At first, my friends weren't happy that I was doing ballet," Keon explains. "They don't see boys dance, just girls, and they thought of me in a tutu and pointy shoes dancing around. But then, they saw me dance and they said, 'Oh, you're good.' Now, they don't see me as the boy that dances. They see me as Keon."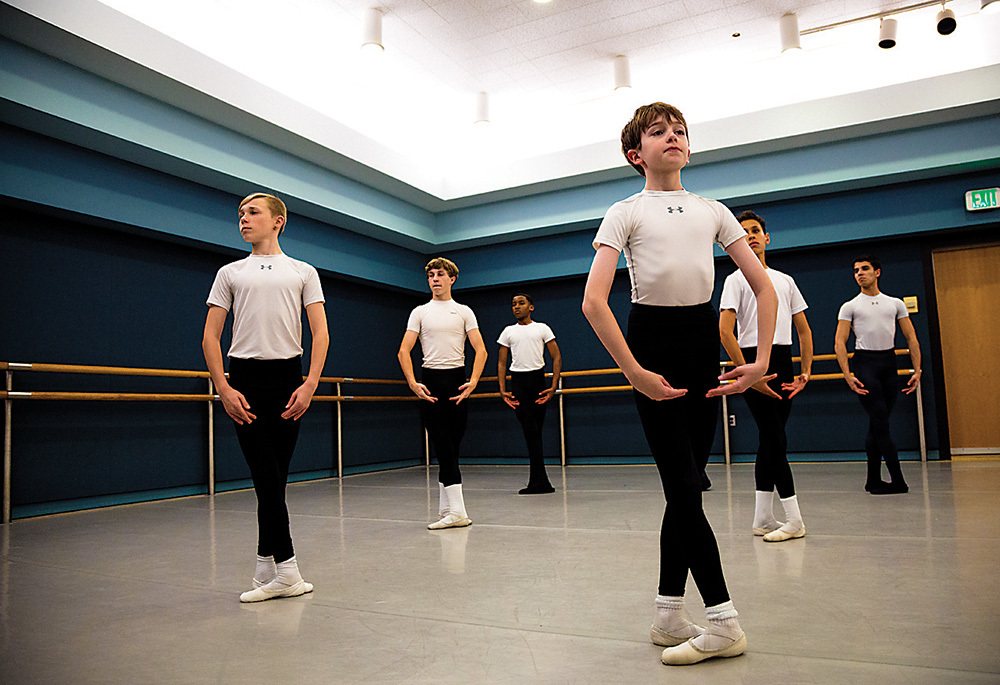 The boys finish the performance that April day in Prince George's County sweaty, breathing hard. After a rousing ovation from the audience, they take their own seats at the front of the room to answer questions.
The first few are fairly basic: "How often do you practice?" "How old are you?" Then, it gets a little more in-depth. "What motivates you?" asks one woman. "And what obstacles do you encounter and overcome?"
Noah Schwartz, a 17-year-old who lives in Guilford, takes the microphone first. "Dancing is a lot like sports," he says. "It's demanding, you have to do a lot with your body, and it takes a lot of energy. We have to dance together as one, like a team has to know what each person is doing for it to work well."
Next, it is DeVonté Tasker's turn. "Motivation-wise, you have to think, 'Is this really what I want to do for a career?' I have to try my hardest at every class, no matter how tired I am. I'm sure there's times where all of us don't want to take class, but we still have to because we want to get better. It's like math or science—practice makes perfect."
The audience murmurs in awe at the professional, focused answers, and someone else stands to ask a question, but Keon reaches for the mike. "I wanted to say something else on the motivation thing."
A few years ago, before he started the program, Peabody Dance teachers would watch Keon pirouette through the halls, and they told his mother, who works as the registrar at Peabody, "He has to be in the program." Since starting dance, his grades in school, and his focus, have improved. And now, he tells the crowd, he has discovered what he wants to do with his life.
"When I finish dance class, my legs are hurting, everything is hurting," he says. "But it pays off because when I perform, people say, 'Ooo, he's really good.' I try my hardest so I can keep doing dance and make it my career."
The audience applauds, and Keon looks around at his teachers, who are beaming. Keon himself can't keep a sneaky smile from playing at the corners of his lips.