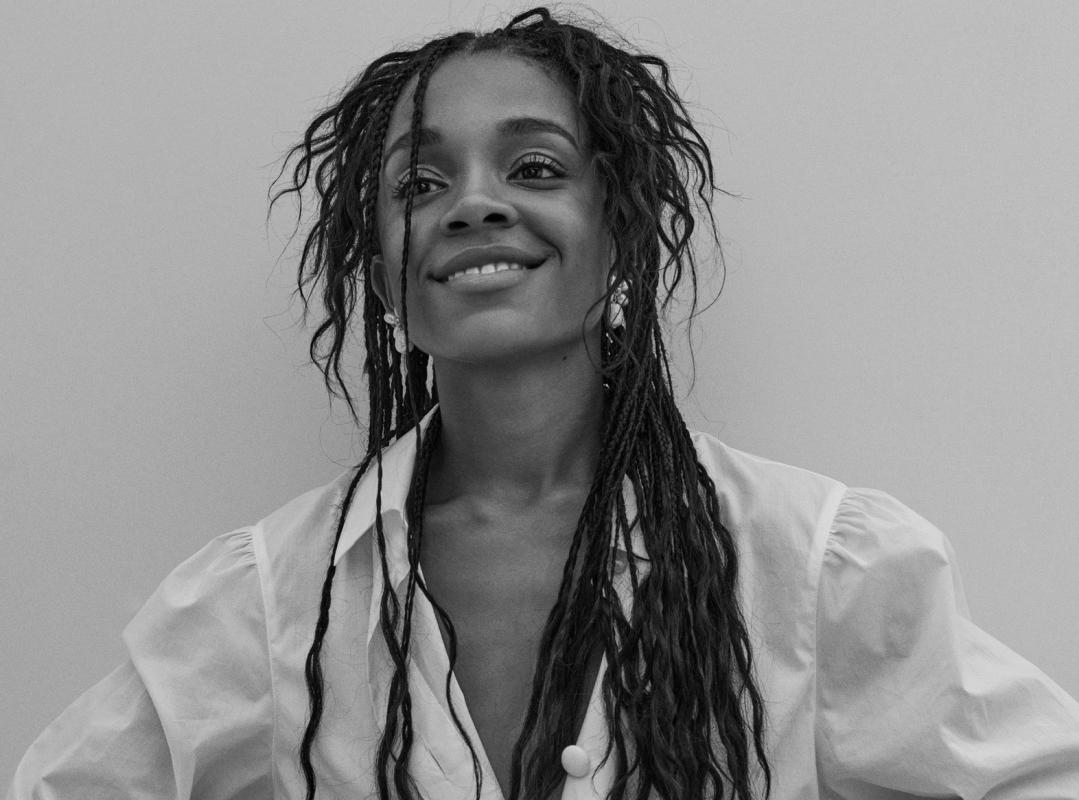 —Courtesy of Baltimore School for the Arts
Perhaps you've seen her star as Mia in the Hulu series Love Victor, or maybe you remember her as younger Beth Pearson in NBC's groundbreaking series This is Us.  Now, Baltimore-born actress Rachel Hilson has another captivating project in the works. Granted, it's not as far-reaching as a recurring role on a major television show, but it's certainly a gig that will bring Hilson full-circle with her Baltimore roots.  
This week, the Baltimore School for the Arts (BSA) alumna is heading to her alma mater to serve as the honorary chair of the Mount Vernon high school's annual Expressions gala. The fundraiser, which highlights the accomplishments of students with a series of elaborate performances in different disciplines, returns to the Schaefer Ballroom March 2, 4, and 5. On certain dates, the showcase also includes a cocktail party with drinks and light bites, as well as interactive experiences with students and staff after the show. This year's theme "Infinite Journeys," celebrates the endless possibilities within the art world, and within oneself.
Ahead of the festivities, we caught up with Hilson—Zooming from her new home of Los Angeles—to discuss her time in Baltimore, memories of BSA, and wisdom she's gained from experiences on the big screen. 
Tell us a bit about your upbringing in Baltimore.
Growing up, I moved around a little bit. The first house I lived in was in original Northwood. Then we moved to Owings Mills for a bit. And now my family lives in Southwest Baltimore. I loved going to the farmers market with my mom on Sundays. And my dad has a running group, the Baltimore Pacemakers, so we would go cheer them on in various places around the city. 
What led you to audition for Baltimore School for the Arts?
I was a dancer for most of my childhood. I didn't really get into acting or consider that as an option until about eighth grade, when I decided to audition for both dance and theater—and I got in for both. I think that's when I had to make a decision about what [path] I wanted to take. The arts were a big part of my life growing up. So when the opportunity arose to explore theater, something just kind of compelled me to try it.
"There was something about being on that big stage in the ballroom that was just exhilarating. I remember feeling like I was part of something a lot bigger than myself."
What specific coursework from BSA still sticks with you in your TV and film projects today?
Studying at BSA, I was a bit shy and definitely had some stage fright, except for when I was dancing. I think that having to use my voice and my entire body—my entire instrument—was really new. It definitely opened me up. Richard Pilcher, one of my teachers who I adore, taught us [an acting technique] where you just use the things that you come into the room with. We would do monologues, and Richard would sit us in a chair and tell us to close our eyes. He could tell if we were feeling nervous or overwhelmed with whatever was going on in our personal lives. Whatever it was that was hindering our ability to perform, he'd tell us to work with it. That's always stuck with me. I have strong memories of sitting in a chair and Richard walking us through the parallels between whatever our character was feeling and whatever we were feeling in that moment. I've definitely taken that with me in my jobs since then, and also in my real life.
This week, you're serving as the honorary chairwoman of BSA's annual Expressions gala. What does this role mean to you?
I was really honored to be asked. It's special because this is my 10-year high school anniversary, which is actually pretty absurd. Maybe because I've played a lot of high school seniors, so I haven't really left high school. [Laughs.] I'll be there to give my own testimony of sorts about what BSA has done for me, and be a mascot. But I feel like my role is definitely a bit more superficial than what you'll see from the students and faculty. They're the real heroes of this production.
"The beautiful thing about art and being an artist is that you're constantly walking through new doors and unfolding and uncovering new things."
As a BSA student, what did performing in this showcase mean to you? Are there any fond memories from galas past that come to mind?
I do remember, I think it was my junior year, performing in this trio with a couple of seniors. We sang this song called "You Could Drive a Person Crazy," and I was so nervous because I've never considered myself a singer. Nowadays, I feel like I can say I'm an actor who can sing. I'm not an actor and a singer. But I remember rehearsing and it feeling like such a rush because it was also the first time that I performed on the big stage in the ballroom. Most of the shows that I had done until that point had been in the black box theater, which was also great, but there was something about being on that big stage in the ballroom that was just exhilarating. I remember feeling like I was part of something a lot bigger than myself. I know that sounds cliche, but it was one of the only times, at least when I was at school, that you got to come together with all of your classmates of different disciplines. There's something really empowering about it. 
What does this year's theme, "Infinite Journeys," mean to you?
As an actor, I feel like this idea of Infinite Journeys is a lot of the reason why I love my work, because I get to explore a lot of versions of myself, and in that way, of other people. The beautiful thing about art and being an artist is that you're constantly walking through new doors and unfolding and uncovering new things. You're able to live outside of yourself and sort of take a walk somewhere—and bring back new ways of looking at the world, and at yourself. And nothing is ever finished with art. I am really excited by the fact that I'm not the best that I'll ever be, and even when I am at a place that's more developed than here, I still have room to learn, create, and grow. It's a really fun theme and I'm excited to see what the students do with it. 
How does it feel to work with BSA again, and to be returning to your old stomping grounds for the show?
I've been back to BSA—I was actually there briefly over the winter—but I haven't been back to see a show, so it'll be really cool to do that. I love visiting my teachers. A lot of them have retired, but it's always special to come back to a place that holds so many fundamental memories. To see teachers and speak to them from a place of sort of adulthood now—I won't say complete adulthood, but sort of adulthood—is really, really special. Recently, I had a Zoom with Mr. Ventimiglia—I still don't think that I'm one of those people who can call teachers by their first names—because he's putting together the script. He's a very cool, talented person. I remember being asked what I thought of his work, and I was like "It's great, obviously! What are you talking about? You're the teacher!" So yeah, it's fun. I'm really excited to be doing this.  
"When you're asked where you're from, say you're from Baltimore–not from Maryland, Baltimore."

We'd be remiss without asking what projects you're working on. Anything you can tease for hometown readers?
I just finished this job in the UK called Red, White and Royal Blue [also starring Uma Thurman and Sarah Shahi.] It's a book adaptation that'll be out sometime this year, which I'm really excited about. And then I'm gonna start work on this new project called Duster, which is a show that's going to be on HBO and it's produced by these really, really amazing people. One of them is probably familiar, J.J. Abrams, and the other co-creator is Latoya Morgan. I'm going to be playing this woman named Nina, who's an FBI agent in 1972. I'm thrilled to get that going. 
Any advice for aspiring talent in your hometown?
My advice would be to stay true to you. We need everybody's unique footprint. Especially in the business of art, I think it's easy to feel like you need to suppress something about yourself or conform. And be proud of where you're from. Baltimore is such a special place. We have so many talented people that come out of Baltimore and come out of BSA. Be proud of that. When you're asked where you're from, say you're from Baltimore–not from Maryland, but Baltimore. We have such a legacy and so much history to be proud of.
Also—this is for myself, too—I feel like I have these moments where I need to check in with myself and ask, "Do I still love what I'm doing? Do I still love acting? Is it still fulfilling for me?" And luckily, the answer has been yes over and over. Keep checking in with yourself and just keep trusting yourself. Even if whatever discipline you're in isn't the one that you end up in, as long as you continue to remain honest with yourself and who you are, success is gonna happen.