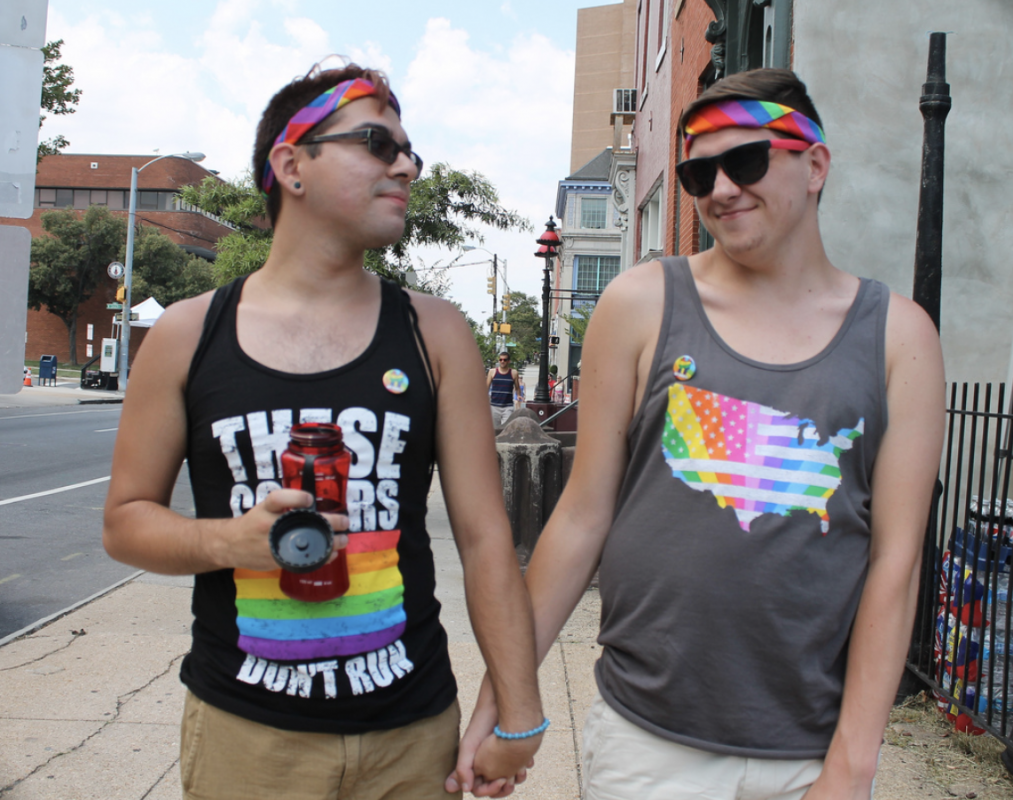 Flickr Creative Commons
Forty years ago, members of the local LGBTQ community gathered to establish the Gay Lesbian Community Center of Baltimore (GLCCB) in the basement of a building on Maryland Avenue in Station North.
The center is making it a priority to honor those roots this year, by moving the 42nd annual Baltimore Pride celebration—which returns June 17-18—from its iconic venue in Mt. Vernon to the Station North arts district.
"It's a big circle back to where everything started for us," says Mimi Demissew, current executive director of the GLCCB, which moved from Mt. Vernon to Lower Charles Village last year. "There is such a long, rich LGBTQ history represented in Baltimore that I don't think many people realize."
As in previous years, Pride weekend will kick off with a parade and block party on Saturday, followed by a festival with vendors and live entertainment in Druid Hill Park on Sunday.
Demissew says that organizers remained mindful of Pride's ties to Mt. Vernon by designing a symbolic parade route—which will step off from Chase Street and descend into the center's new home. Afterward, a block party will take place in a footprint similar to Artscape, from North Avenue to 23rd Street.
Though there are some locals who stand by the idea that Pride is meant to stay in Mt. Vernon (where it has been held for the majority of the past four decades), Station North community leaders are enthusiastic about the change of venue.
"There are a lot of people saying that the 'gayborhood' is shifting," says Ian Parrish, a local developer who recently reopened The Baltimore Eagle on North Charles Street. "But I really think that the neighborhood is nothing without its people. It's not that Mt. Vernon is losing anything, there's just a lot of new energy and revitalization in Station North. It adds to the entire community as a whole, rather than detracting from it."
Bolstering the community even more, the Maryland Film Festival (MFF), which recently unveiled the refurbished Parkway Theatre on North Avenue, is featuring a curated selection of LGBTQ films on all three screens June 16-22.
"We've essentially been in Station North all along," says Eric Hatch, director of programming for MFF, which has partnered with the Charles Theatre and the Windup Space for many years. "It feels like home, and it's a perfect fit for Pride."
Films highlighting LGBTQ content will range from international works and shorts to revivals including Cheryl Dunye's The Watermelon Woman and Sean Baker's Tangerine.
"One of the most exciting things about any art form is encountering other perspectives and embracing diversity—and historically film has not done a good job of that," Hatch says. "Film festivals have always been an opportunity to correct that, to portray more content that positively represents women, people of color, and certainly more from the LGBTQ perspective."
Inclusivity is something that the GLCCB is stressing more than ever this year. The organization asked for community feedback to brainstorm the festival's theme, and landed on "Pride: Unleashed."
"We're in the midst of this new reawakening," Demissew explains. "The change in political climate has reinvigorated everyone across the country. We want to celebrate the community unabashedly—we're not going to apologize for who we are and the rights we're demanding."
In keeping with the inclusive sentiment, the GLCCB will host specific programs for LGBTQ youth, seniors, transgender community members, and people of faith throughout Pride week.
Youth Pride will once again have its own designated area with food, activities, and live music at Saturday's block party in Station North, and the center will introduce the inaugural Elder Pride in partnership with Chase Brexton Health at Sunday's festival in Druid Hill Park.
Other highlights to look forward to include the annual High Heel Race on North Charles Street, and headliners including former Pussycat Doll Jessica Sutta, American Idol contestant (and Baltimore native) George Lovett, and New Orleans-based hip-hop star Big Freedia.  
The Baltimore Eagle, located in the epicenter of all of the festivities, has many activities planned for Pride, including art installations, drag shows, and special rainbow drink deals. 
Parrish, who faced drawn out struggles with the City Liquor Board to reopen the iconic gay club, is excited to officially celebrate the bar's first Pride since debuting in Station North.
"Our fight for equal treatment by the city strengthened my belief that equality isn't just an LGBT issue—it's a cause every Baltimorean should take to heart," he says. "We came out on top because we did it together, and that showed me that there's no wrong in our hometown that a little pride can't cure."