Baltimore School for the Arts Debuts a Student-Run Newspaper
The online 'BSA Muse' covers everything from school happenings to citywide issues and even features op-eds.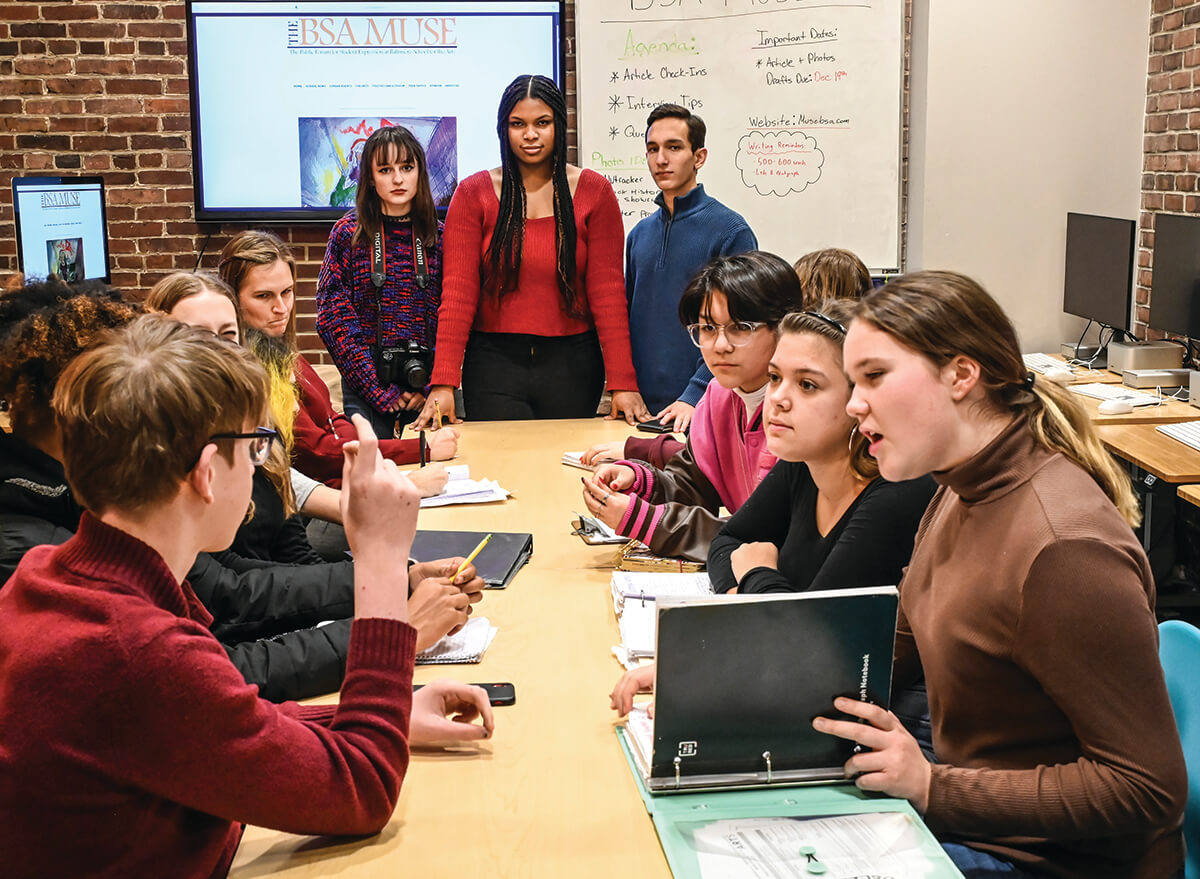 Quinn Bryant's idea to start a newspaper was born out of a moment of boredom.
Last year, the then-junior at Mt. Vernon's prestigious Baltimore School for the Arts had been trying to decide on an extracurricular activity. Then one day, while watching Gilmore Girls, she noticed that a lead character, Rory, was a student reporter at her school newspaper, and it clicked.
"I always really enjoyed writing, specifically research writing," says the senior visual arts major, pictured back center. "I enjoyed connecting sources and finding the deeper story."
So in 2021, Bryant got together with classmates Alex Taylor and Ella Haber, also then-juniors, to launch The BSA Muse, a student-run online newspaper that covers everything from school happenings to citywide issues and even features op-eds.
"[We thought] this was a really good opportunity to amplify the student voice and allow students to express their interests or concerns, or share ideas that they have," says Bryant, who is co-editor-in-chief with Taylor, pictured back right. "And we wanted students to have the opportunity to learn more about the school from our paper."
With the help of BSA faculty advisors—English instructor Joy Bacon and Baltimore contributing photographer J.M. Giordano—The Muse is run by a 16-student staff, featuring contributing writers, photographers, layout designers, and social media managers. Their paper, which the students independently curate outside of school hours, produces an issue every month and a half.
"From day one, [the editors] wanted to have a professional space," says Bacon. "I'm really impressed by their ability to avoid the temptation to use it in a way that might associate teenagers with wanting to poke fun or bring others down. They weren't interested in gossip columns or 'gotcha' journalism."
So far, stories have ranged from previews of the school's beloved production of The Nutcracker to Taylor's reporting on antisemitic graffiti found in the bathrooms. In addition to providing their classmates with important news and interesting stories, The Muse also offers an opportunity for the staffers themselves.
"I think it's important that we give students a way to share their opinions, their art, their writing—and their creativity," says Haber, a senior visual arts major who serves as the photo editor, pictured back left.
Before The Muse, "We didn't really have the voice."
Taylor plans to pursue journalism after graduation and currently freelances for The South Baltimore Peninsula Post.
"I like talking to people and learning new things—I like telling stories about different communities and shedding light on things that may not have a light on them," says the senior film major, who hopes to leave a strong foundation for future classes. "I'd like to write a BSA Muse handbook, so the next editors can know what we did, then build on it to be bigger and better."