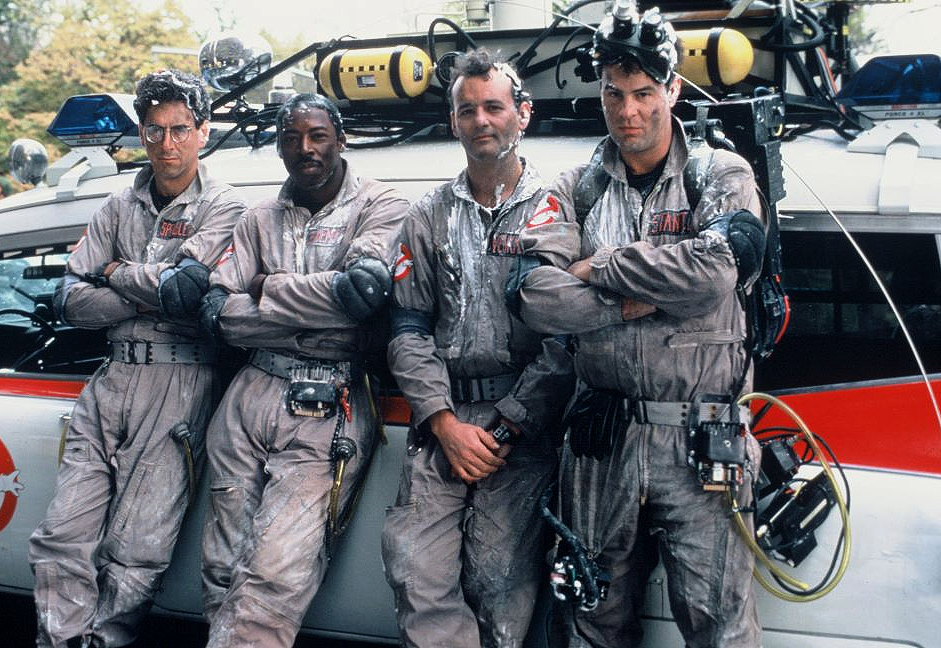 Courtesy of Columbia Pictures
If you love scary movies or just need an opportunity to snuggle into the opposite sex's arm, well (assume Stefon voice), we've got just the thing for you: zombies, ghosts, serial killers—all in a slew of Halloween horror flicks that are playing around town right now. With costume contests, pumpkin carvings, and monster trivia, there's something for everyone. Most importantly, though, there's Bill Murray and booze.
---
Oct. 23: Night of the Living Dead
Creative Alliance, 3134 Eastern Ave. 7:30 p.m. $9-12. 410-276-1651. creativealliance.org
Before there was The Walking Dead, there was George A. Romero's 1968 zombie classic, Night of the Living Dead. Hosted by Baltimore filmmaker Chris LaMartina, this special screening features monster trivia, raffle giveaways, and a costume contest.
Oct. 25: Shaun of the Dead
Enoch Pratt Library, Wheeler Auditorium, 400 Cathedral St. 2 p.m. Free. 410-396-5430. prattlibrary.org
Take 1978's Dawn of the Dead, add a hefty dose of slapstick British humor, and you've got this ridiculous zombie comedy, starring Simon Pegg (Star Trek, Paul, and Run, Fatboy, Run), whose biggest problem seems to be dealing with his ex-girlfriend.
Oct. 30: The Exorcist
The Senator Theatre, 5904 York Rd. 8 p.m. $9-11.50. 410-323-4424. thesenatortheatre.com
The historic Senator Theatre hosts this head-turning horror flick about a teenage girl who becomes possessed by an evil spirit. Fun facts: The film won two Oscars and stars a young Ellen Burstyn (later of Requiem for a Dream and FX's Louie).
Oct. 30: Psycho
Weinberg Center for the Arts, 20 W. Patrick St., Frederick. 6:30 p.m. $5-7. 301-694-7899. flyingdogbrewery.com
Ease into this Hitchcock cult classic with a Flying Dog Brewery happy hour, then hope the beer sedates you enough to not to scream at the iconic shower scene. There will be an after-party down the street at JoJo's Taphouse, too.
Oct. 30: Ghostbusters
American Visionary Art Museum, 800 Key Hwy. 4-7 p.m. Free. 410-244-1900. avam.org
Who you gonna call for some food-truck grub and an outdoor screening of this 1980s classic? AVAM, obviously. Ghostbusters, starring Billy Murray, Dan Aykroyd, and Sigourney Weaver will be screened on Federal Hill as part of the museum's Free Fall Halloween Celebration, which also includes free admission and a BYO-jar lantern-making workshop.
Oct. 30: Blood Feast
The Charles Theatre, 1711 N. Charles St. 9 p.m. $9.50. 410-727-3646. thecharles.com
Nothing screams scary movie quite like silly plots and bad acting. This twisted, 1960s drive-in flick features both of those things, plus gruesome dismemberments and a leading actress who moonlighted as a Playboy Playmate.
Oct. 30: The Rocky Horror Picture Show
Creative Alliance, 3134 Eastern Ave. 9 p.m. $9-12. 410-276-1651. creativealliance.org
Don your best Dr. Frank-N-Furter or Janet Weiss, grab some things to throw (seriously), and head to The Patterson for a wild night with the 1975 cult horror-comedy musical.