American Idyll
Leveling up at the magical Maryland Renaissance Festival.
At the scorching end of summer, a curious transformation happens at a field in Crownsville. Thousands of ordinary people arrive at the otherwise unremarkable pasture, pop their trunks, and transform into a fantastic spectrum of heroes, heroines, and supernatural creatures. This is the magic of the Maryland Renaissance Festival—every year, from August through October, you can be whoever, and whatever, you want to be.
The 41-year-old "Renn Fest" is an escape into a fleeting fantasy world of bawdiness with a heavy dollop of medieval make-believe. The 27-acre village is a self-consciousness-free zone where earnest attendees sing along, sip mugs of mead, and merrily wave their steaks-on-a-stake in the sweltering air. Starting this weekend, liberate ye inner lord or lady and revel in one of the most wonderfully weird events that Maryland has to offer.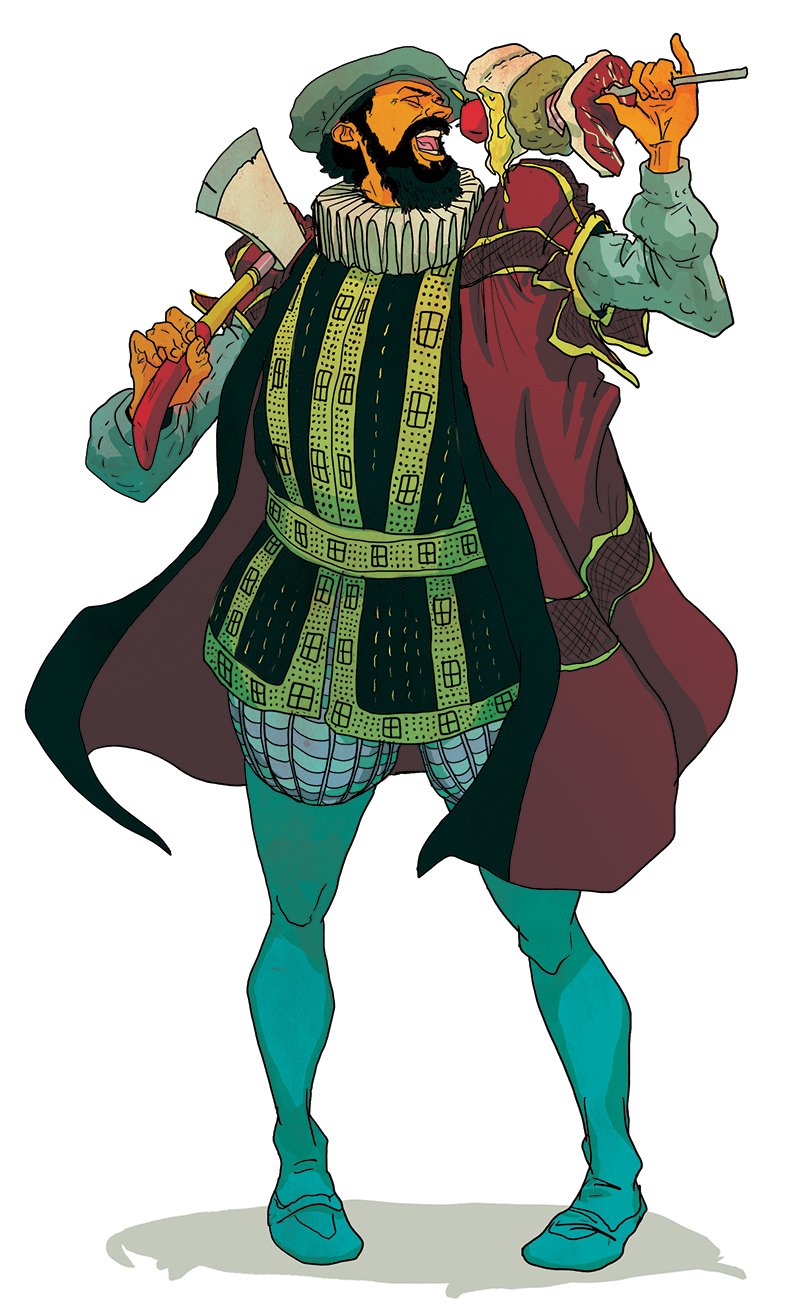 Illustration by Michael Byers
Embrace the Eccentric
Cheer for your favorite knight during the jousting competition. Observe the acrobats as they perform daring stunts at the Wheel of Death. Sigh as Romeo's Juliet dies during a Baltimore Shakespeare Factory play. Throw axes. Throw knives. Throw softballs at targets until the heckling wench falls in the drink. Get your palm read. Flirt with someone who really committed to chainmail. But most importantly, give in to the sheer absurdity of it all.
Look Past the Turkey Legs
While turkey legs might be all the rage, follow your gut to the real-deal smorgasbord of fried deliciousness at White Stag Grove, where a smattering of Scotch eggs, mac-and-cheese stakes, and funnel cake fries make a fine feast. There are also ample suds and oyster shooters at O'Shucks Pub near Valley Meade, plus craft brews, mead, and cider at the Wine Pavilion near the Royal Stage.
When in Doubt, Don't Chicken Out
Renn Fest is one of the few places where you can truly let your freak flag fly. For proper attire, hit up Etsy, your local craft store, or the festival itself. Onsite costume rentals cost $60 or less, but to truly live out your dreams of being a pirate princess or a dragon-slayer, there's plenty to buy: snag a dress from Moresca, hit up the hat selection at Tall Toad, or grab Game of Thrones-worthy leather goods at Miles Tonne.
Be In The Know
Tickets are cheaper from Aug. 25-Sept. 9 (read: hotter but less crowded): $8 for children and $19 for adults, compared to $11 and $26 from Sept. 15-Oct. 21. The parking lot usually fills up by noon, so get there early to grab a spot or wait until the crowds thin out later in the day. Check out the Renn Fest's events calendar for themed weekends such as Celtic Celebration, Romance Weekend, and Shakespeare Weekend.