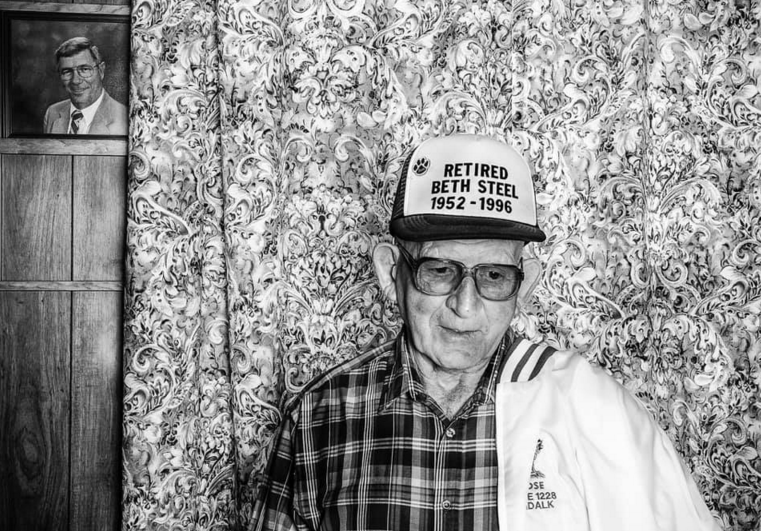 J.M. Giordano
Raised in Dundalk and the son of a retired Baltimore City police officer, award-winning photographer (and occasional Baltimore magazine contributor) Joe Giordano witnessed first hand the fall of Bethlehem Steel and its blow to the workers, families, and fabric of his hometown.
His work has been featured in The Guardian, GQ, Rolling Stone, the Washington Post, and City Paper where he served as photo editor. Giordano's "Struggle" series, his portraits of Civil Rights and Black Power-era leaders, is in the permanent collections at the Smithsonian's National Museum of African American History and Culture and the Reginald F. Lewis Museum.
Giordano's ongoing current project, Shuttered: Images from the Fall of Bethlehem Steel, opens with a preview Wednesday evening at the Baltimore Museum of Industry from 5:30-7:30 p.m. and then remains on exhibit through April 2020.
With his new show—amid renewed debates over trade and tariffs and the role of unions—we asked Giordano about the exhibition and its relevance today.
Other than growing up in the shadows of Sparrows Point, what prompted this decade and a half, continuing effort?
The pictures, I want to use as a warning. They aren't intended as political, the idea started during the George H.W. Bush steel tariffs in 2002 when I started shooting for the paper [the Dundalk Eagle]. They are harbingers of corporate ownership.
They look like images of the post-industrial America. Why did you use the word harbingers?
General Motors and Unilever are gone. The Amazon warehouses and Wal-Mart and Under Armour will be gone someday, too, and Amazon isn't going to worry about the impact on workers when they pick up and leave—not unless you get back to unions and have some representation. They just leave everybody behind.
The photographs convey a loneliness. The sense of abandonment is palpable.
Intentionally, there are no shots of molten steel, of the product being made. Everyone has seen those. These are photos of the hulking monsters (the weathered steel mills) that were left behind and the people left behind.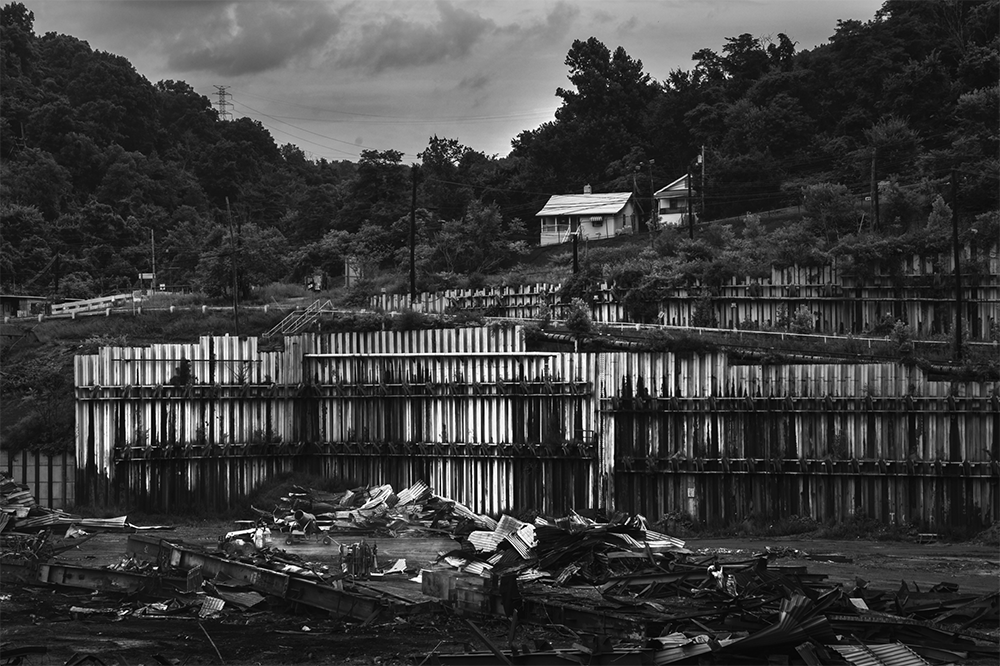 How many photographs are in the show?
About 30. I didn't count [laughs]. But the installation looks great.
A lot of interesting faces. Faces and images of small houses, American flags, and unions hall that communicate a certain pride and dignity among the retired steelworkers.
In 2010, I was at union hall for an announcement of benefit and pension cuts. Some of the shots are the reactions from a lot of elderly people who counted on those benefits and pensions.
Growing up in Dundalk, you obviously knew guys or knew guys whose father or uncle who were steelworkers.
My grandfather didn't work at Bethlehem Steel, but at Eastern Stainless in Colgate. They made some of the steel that went into the St. Louis arch. My 92-year-old grandmother still lives there.
At a time when so many fewer breadwinners are in union jobs, it's almost impossible to imagine the huge role those unions and big mills and plants played in the community.
It wasn't just working together, but working for a common good. They were not just wage employees; their lives were centered around the union. There are two union halls right next to each other on Dundalk Avenue. Obviously, they needed two. That should tell you something.
What have you learned from this project?
The importance of unions. I'm in my mid-40s and I think my generation took a lot for granted—like unions. Unions hurt themselves in the past, too, with some of their mob ties, bad investments, and poor leadership. But as the old guard fades away, I do think today that unions, like SEIU, are now are attracting younger laborers and that gives me hope and young leaders like New York Congresswoman Alexandria Ocasio-Cortez, who defends workers' rights.