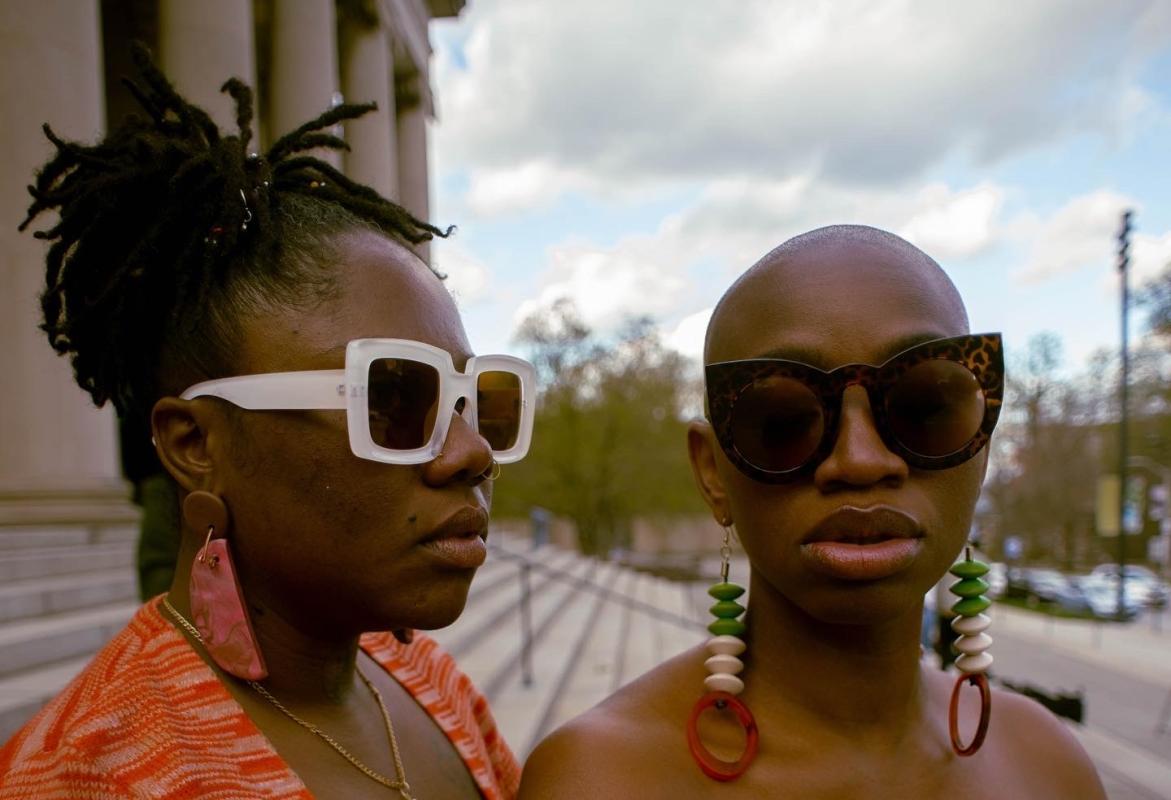 Founders Sola Ekunseitan and Bri Mobley. —Photography by Marqel Allen
When Sola Ekunseitan and Bri Mobley launched the first installment of their flea market in the spring of 2021, they had one key objective: to amplify Black-owned businesses and spread the Black joy that surrounds them.
Now in its second year, the BLK Ass Flea Market has grown into a recurring event that hosts local vendors selling everything from artwork and clothing to bodyworks and food—but that core mission has never wavered. The final market of the year is fittingly scheduled for Black Friday on Nov. 25, when more than 60 Black-owned businesses will gather at Baltimore Unity Hall in Madison Park from 12-7 p.m. The event will also offer giveaways, photo ops, a "lor kids corner," a Kwanzaa installation with Alexander Jah, and live music spun by DJs Trilla Kay, Trap, and Runningoutoflines.
The brains behind the market, Ekunseitan and Mobley—or "cousins" as they're affectionately called in their community—are both Baltimore City transplants. Mobley—a self proclaimed, "Philly Jawn"—is a mother, community builder, wellness artist, and storyteller who says it was "the abundance of Blackness and character in Baltimore" that made it easy for her to call the city home nearly 13 years ago. Throughout the last decade, her work has been rooted in restoring wholeness within the Black community through advocacy and radical joy. Hailing from the Twin Cities in Minnesota, Ekunseitan has combined her Midwestern values with a newfound East Coast flair, which she uses to empower those around her.
Together, the founders are elevating the experience and wellness of Black folks and their brands. They say BLK Ass Flea Market was born out of a need to prioritize Black buying power and business equity. (In 2021, the national buying power of Black people was $1.6 trillion, however, the lifespan of the dollar in the Black American community is only about six hours.) Their attempts to follow in the footsteps of Black ancestors, who have long used flea markets to challenge the status quo of what mainstream shopping looks like, have proven successful. In just one year, they've built an online community of nearly 10,000 and registered thousands of attendees from all backgrounds for their flea markets and other associated events.
For this dynamic duo—cousins not related by blood, but by passion and quality friendship—it's not just about the dollar. It's about the far-reaching impact, and, perhaps most importantly, the Black joy that comes from unifying the community.
Ahead of the BLK Ass Friday market, we sat down with the creators to learn more about the initiative and its effects.
As a young girl, I have fond memories of getting up early the morning after Thanksgiving to shop with my entire family at big box stores in local malls. My cousins and I would play in the racks of department stores, and my mother would speak fondly of her experience working at B. Altman and Company, a luxury department store in New York City. When my family moved to Baltimore, the experience wasn't all that different. Security Square and Owings Mills Mall were staples, especially during the holidays. Tell us about your earliest culturally Black shopping experiences. What about those experiences drove you both to want to provide this event?
Bri Mobley: Memories of myself, my mother, and my grandmother browsing the aisles of a famed department store in Philly that was founded in 1868, which doesn't exist anymore either. We were definitely hitting that big box store up for church and holiday outfits. Then when I was in high school, I remember this Black-owned bookstore my friends and I would just spend hours in, learning new things. I remember often thinking to myself that I didn't even know there was a such a thing as Black literature. It was just nice to see the representation.
Sola Ekunseitan: For me, growing up in Minneapolis, a place where for decades Black citizens were systematically denied equal rights in areas like housing and schooling, the shopping experiences weren't too welcoming. There was this feeling that you were always being racially profiled. Back home you just had to think ahead of the curve. Like, let me make sure I bring a small bag into the stores as to not raise suspicion around me being a shoplifter, just because I'm Black. In some instances, you had a store clerk check your bag before proceeding in. Or they would just follow you around the store to be sure you weren't stealing.
But it wasn't all bad back home. We held dear holidays and festivals like Juneteenth and Rondo Days, an annual festival held the third Saturday in July in Saint Paul, Minnesota that commemorates the Rondo Neighborhood—an African-American community that was split in two by the construction of Interstate 94 in the mid-1960s. Those different celebrations of Blackness stuck with me and inform the curation of my collaborative events now. I would always look forward those holidays and festivals because those would be the places that I could buy something that I actually really liked. I like unique things that aren't offered in typical mall spaces.
So, ever since I was born, my mom was someone who influenced me to shop very Black and be very intentional. She is who I credit with my earliest theories to keep the coin in our community. We didn't have a lot of options when it came to shopping, and that's one of the things I really value about Baltimore is that it's really easy to shop Black here.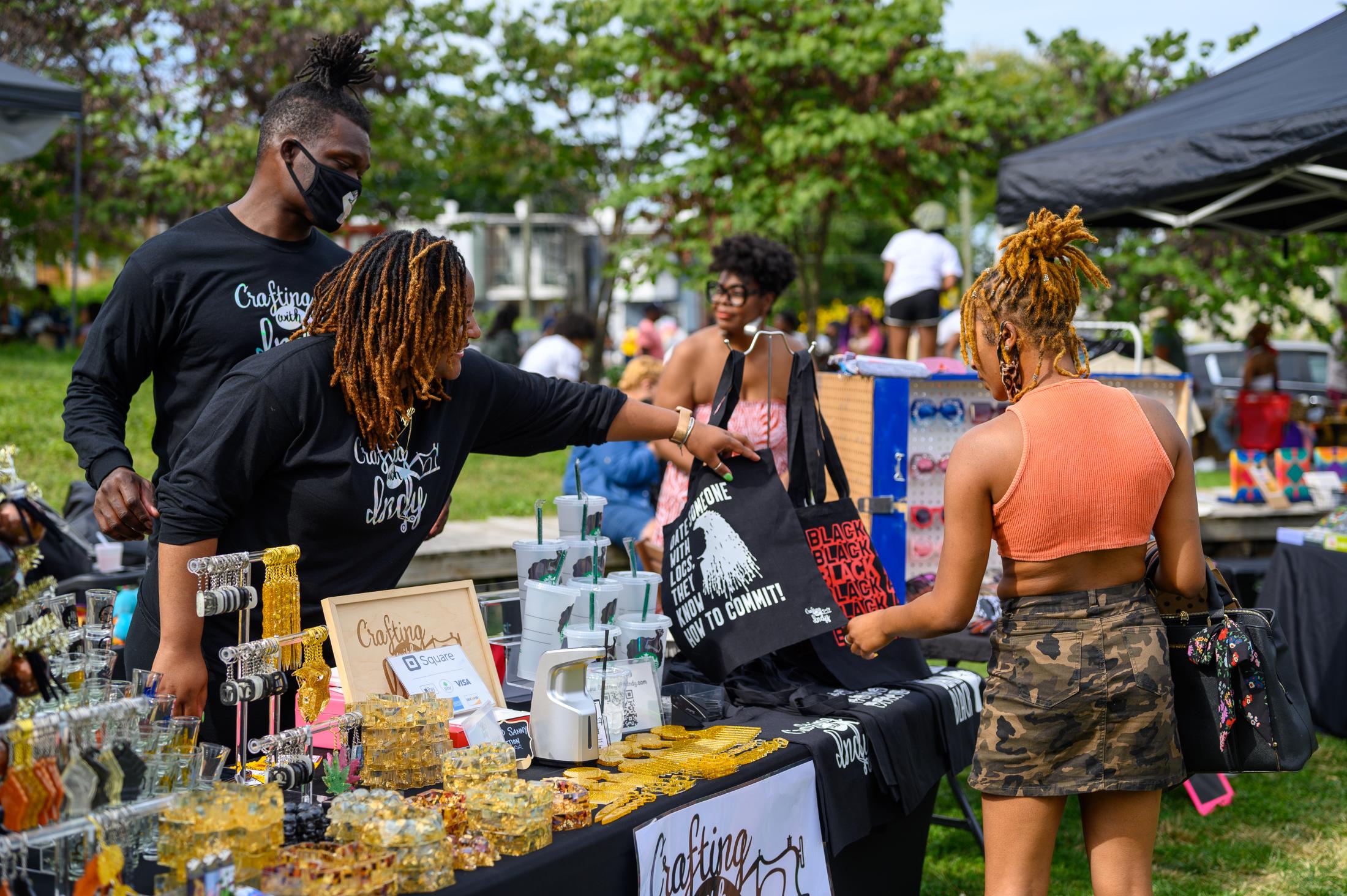 Partial disemvoweling and African-American vernacular English tie together the powerful name of your social enterprise, BLK Ass Flea Market. Why is it so important to use linguistics that feel like home?
BM: It was really important for the name to be very direct, very clear, and very radical. Baltimore is a very Black city, but it doesn't always feel like a safe place or space for Blackness. There are days when Baltimore doesn't feel as evolved from it's tense racist and segregated histories. Just as recently as 1956, the desegregation of the Baltimore City Public Schools took place after the United States Supreme Court ruled in the case of Brown v. Board of Education. That's only a mere 66 years ago. In 1955, students from my alma mater Morgan State University made the once segregated Northwood Shopping Center a site for civil rights activism with sit-ins for being denied service at Read's Drug Store.
There are still experiences here in the city where you kind of feel like you may need to turn your Blackness down, so to speak. I just really want it to be very loud about BLK Ass Flea Market. Black people, this is for you, this is home, this is the family reunion. All are welcome, but this is for our cousins. It's past time to take up space in this way.
SE: How the words look and sound are a reclamation of the spaces our cousins should've always been welcomed in. The context is familiar but the execution of BLK Ass Flea Market is different, special, and elevated, for the cousins, of course.
Who are the cousins, in the context of the BLK Ass Flea Market community?
BM: Cousins are everybody. A synonym would be "friend." Saying cousins is just so much more intimate. It's like, "Yo, we are family." It doesn't matter where you're from. It doesn't matter how long we've known you. If I just met you, it's, "Hey cousin, I want you to know that you belong. We want you to know that you belong and that you are welcome."
SE: And there are different types of cousins. You've got your favorite cousins, you've got your cousins you see once a year, once every few years. I think that's the perfect analogy, and it's really reflective of the BLK Ass Flea Market community. Sometimes you'll see familiar brands, sometimes you'll see new brands.
You both make it clear that it's not just about the dollar, but about the intimacy, the cousins, and the community of it all. How many markets has BLK Ass Flea Market had so far, and how many people have been reached?

BM: BLK Ass Friday will mark our sixth marketplace to date and, in that time, more than $250,000 in collective revenue has been earned by brands that have participated in our markets and other events developed by the team. More than 10,000 people have been reached in Baltimore and beyond via our marketplaces, partnerships, platforms, and events.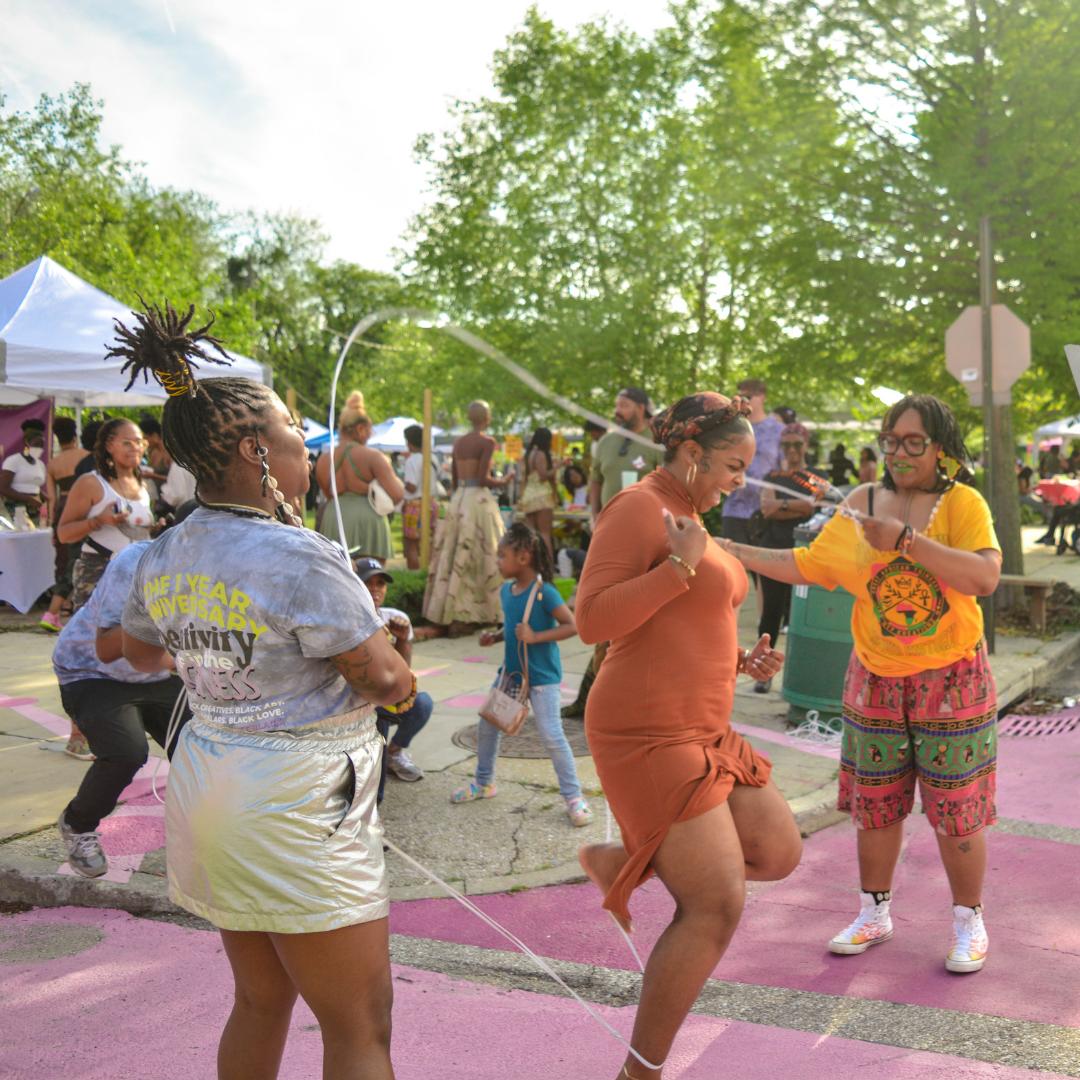 Who is BLK Ass Flea Market for? What do you hope it continues to bring to the community?
SE: The beautiful part about it is there's a little something in it for anybody who wants to be there. Our brand is for those who stand in their Blackness, whatever that means for the individual. One thing that we really try to center is being intentional about making sure the full diaspora of Blackness is present. The diversity within the African diaspora is a huge reason for why we expanded into not just doing the flea market but a full week of events. Having different types of events caters to the needs of every personality and interest type. The charge to our cousins is not for them to be at all seven events. But to come to what their heart calls them to, whether you're into theater, party life, eating good food or all of those things.
BM: We are working toward creating Black wealth. This is not your typical party-promoter situation. We are more than just a vibe. We are an events studio and marketplace empowering Black creatives, and we are creating legacy here with this project.