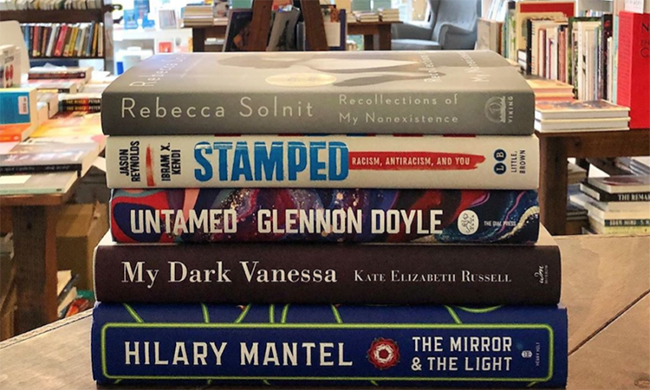 As "social distancing" continues to be encouraged and more and more workers are told to stay at home, we've suddenly found ourselves with more time to catch up on a good book. We spoke with with Ivy Bookshop owner Emma Snyder and Greedy Reads owner Julia Fleischaker about their picks for what to read while we have some time alone.
Don't forget: You can still order from your local booksellers via their websites, bookshop.org, or Libro.fm, and local libraries continue to offer digital versions of many titles. Enoch Pratt branches have even started offering a digital library card to allow those who weren't previously registered to get instant access to online materials while the physical branches are closed.
Emma Snyder's Picks
Weather by Jenny Offil: Heralded as timely and witty, Offil's newest novel takes the perspective of a university librarian, Lizzie Benson—a mother, a wife, and a caretaker of her "God-haunted" mother and brother, a recovering addict. The story picks up as Benson is tasked by an old mentor to answer emails sent to her in response to her climate change- themed podcast. The job gives Benson a sort of reality check—teaching empathy, self-worth, and perspective on a polarized world. It's certainly a read that will hit home.
Disturbance: Surviving Charlie Hebdo by Phillipe Lançon: In 2015, Paris was attacked. Terrorists claiming to be from ISIS targeted a weekly publication, Charlie Hebdo. Lançon was a contributing writer on scene who was left gravely injured. This is his story—recovering after his relationships, his writing, and his career are turned upside down. A narrative for those who want to feel inspired by resilience and transformation, Disturbance is a spring must-read.
The Resisters by Gish Jen: A dystopian novel set in a divided "AutoAmerica" run by artificial intelligence follows the story of Gwen, a girl born with a golden arm. She attracts the attention of the olympic team, playing amongst the very people her family is against. Family, values, and the disruption of normalcy, this story is another take on a future America.
The Girl With the Louding Voice by Abi Daré: In her debut novel, Daré tackles self-confidence, resilience, and perseverance as she tells the story of Adunni, a 14-year old Nigerian girl on the search for her own kind of freedom, what her mother calls her "louding voice." Though wanting to get an education, her father attempts to marry her off. She runs away, but her work in servitude for a wealthy faces her with prejudice and degradation. Readers follow a triumphant story as she finds her "louding voice," standing up for herself and the women among her.
The Brilliant Darkness by Jeff Sharlet: A writer and author himself, Sharlet has been a storyteller his whole career. Yet, after his father has a heart attack, and he himself later suffers one, he turned to photographs. First on Instagram and then beyond, Sharlet has captured images of people, forming a photojournalistic book taking on the concept of suffering and how we cope.
Julia Fleischaker's Picks:
Severance by Ling Ma: This sci-fi satire set in a world stricken by a pandemic called "Shen Fever" may seem a little on the nose for the current moment, but if you need to laugh in the face of danger, this is the book to read.
How to Do Nothing by Jenny Odell and Silence: In the Age of Noise by Erling Kagge: Both of these picks encourage us to slow down and log off. With a world that seems to be yelling about just about everything, Odell and Kagge offer a small respite and some guidance for those who want to pursue the quiet.
Suffrage: Women's Long Battle for the Vote by Ellen Carol Dubois, Hood Feminsim: Notes From The Women That A Movement Forgot by Mikki Kendall, and Wayward Lives, Beautiful Experiments by Saidiya Hartman: With the news dominated by pandemic updates, Women's History Month has been moved to the back burner for most. Take some time with these titles to remind yourself what this month was supposed to be about.
The Mirror & the Light by Hilary Mantel and My Dark Vanessa by Kate Elizabeth Russell: These two new releases are some of the most anticipated of the year and are both on sale now. Whether Mantel's tale of the fall of Thomas Cromwell or Russel's #MeToo-era novel is more your speed, they'll both give you plenty to talk about once everyone returns to their water coolers.
Stamped: Racism, Antiracism, and You by Jason Reynolds and Ibram X. Kendi: With the kids out of school and stuck at home, take some time with this educational young-adult nonfiction selection. It's full of important history and conversations dissecting how racist ideas came to be and the ways they manifest in the present.
The works of D. Watkins, Kondwani Fidel, R. Eric Thomas, Dora Malech, and Elizabeth Hazen: Both stores and local authors are feeling the effects of author talk and event cancellations. Show your local talents some love by picking up their books in the meantime.