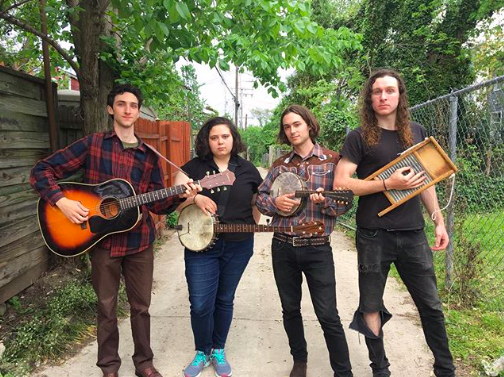 Leave it to the Creative Alliance to use these strange times to get, well, creative.
For more than 20 years, the local arts organization and venue has been a hub for artistic performances of every stripe, with its Highlandtown stage host to a diverse medley of talent from Baltimore and beyond. That is until the end of last week, when its Patterson Theater went dark as social distancing measures were put into place across the city and country, first barring groups of more than 250, followed shortly after by those of more than 50, and now 10. These restrictions had an immediate impact on artistic communities, many of which have long made their living by performing in front of crowds.
But in an effort to support local musicians, Creative Alliance has found a way to still bring live music to the local masses with its brand-new series, Sidewalk Serenades.
For a donation, these "close (but not too close)" personal concerts will offer city residents the opportunity to have a short musical performance delivered to their homes or sent as a gift to friends and family, with musicians performing several songs outside while keeping a safe distance from the sidewalk or street. Think of it as a singing telegram for these strange times.
"One of the magical things about Creative Alliance is, when we got together to figure out our messaging around closing down the building, we immediately started thinking, 'Well, what if we . . . !' How do we stay relevant as an arts organization and how we keep the artists and contractors that are really the lifeblood of this organization working?," says performance director Josh Kohn.
Beginning this weekend, concerts will start with Americana veteran Caleb Stine on Saturday, March 21, followed by Old-Time folk quartet Homestead Street Band, as well as trumpeter Brandon Woody with percussionist Allen Bernard Branch, all on Sunday, March 22, with several time slots throughout each day and more artists to be announced shortly.
Donations from each performance will be split between the artists and Creative Alliance, while gratis concerts will also be coordinated for families or organizations in need.
"We have more in the works [and] lots of interested musicians," says communications director Heather Keating. "We will continue for as long as we can—the more support, the more musicians we can include."
In an effort to keep their hourly staff employed, the organization will also be releasing a number of other creative events and activities in the coming days.
With next weekend's second annual Big Baltimore Kite Festival cancelled, families can now bring the festival home with kids' activity kits, including one kite, an arts and craft project, a dance ribbon, coloring book pages, and more, available for both indoor and outdoor use for $30 via delivery or pickup.
And with K-12 schools temporarily closed throughout the state, Creative Alliance will also present free Drag Storytime on Tuesdays and Thursdays at 1 p.m. via Facebook Live, with a live reading of family-friendly books, with both children and parents encouraged to dress up in their fanciest attire. Tips will be accepted through each drag queen's personal Venmo account.
"It's been a tough couple of days, for sure," says Josh Kohn. "We're trying to come up with fun ways that are creative and engage the community while also keeping the people we love and who are a part of our family working and employed."