Deirdre Aikin Has Artistic Designs on the Baltimore County Seat
The owner of Towson's Triple Crown Tattoo & Piercing sets her sights on beautifying the county hub with local artwork.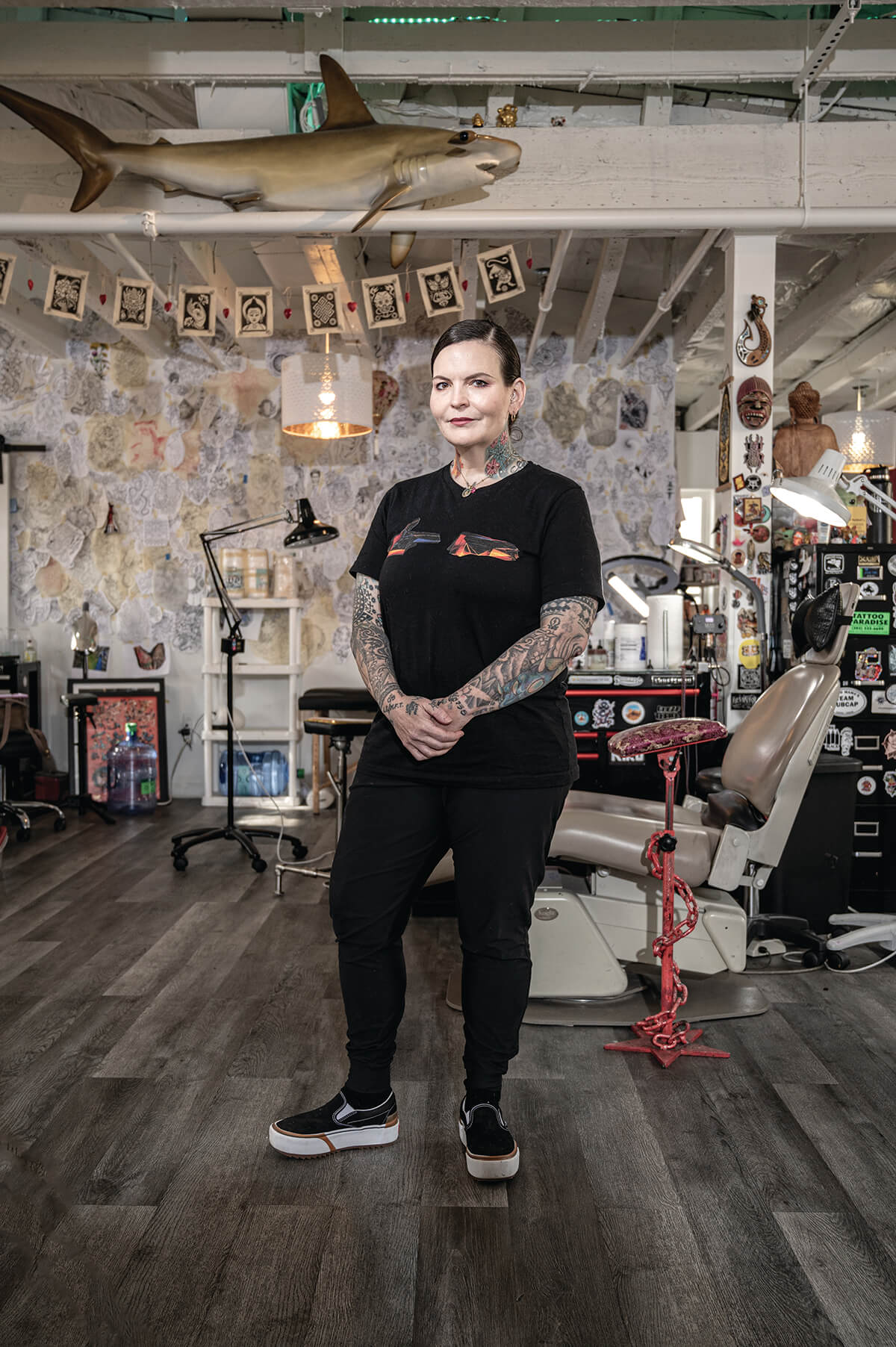 Deirdre Aikin got her first "decent" tattoo—a dragon—when she was a 13-year-old eighth grader in Washington, D.C.  "I think the teachers were a little afraid of me," she says with a laugh. That was just the beginning.
Today, a kaleidoscope of ink envelops 80 percent of Aikin's body, including painterly interpretations of autumn (a leaf and acorn) and spring (a snowflake amid cherry blossoms) encircling her neck. She's been a professional tattoo artist since the early '90s, after apprenticing with acclaimed tattoo artist Anil Gupta in New York City. Aikin has a Bachelor of Fine Arts from the Parsons School of Design in New York and a master's degree from the Maryland Institute College of Art, where she focused on sculpture.
Now, the 51-year-old mother of two sons owns Triple Crown Tattoo & Piercing in Towson—the Baltimore County seat's first such parlor—with her husband, Grant, who works in operations for the National Guard. They started the business in 2018. Aikin, who lives in the Parkville-Hamilton area, had been commuting to D.C. and wanted to be closer to home.
"Towson is where my family would go to eat at restaurants and go to the movies," she says. "I wanted us to spend more time together."
Besides Towson, Aikin also set her sights on beautifying the county hub. During February, which starts the Year of the Tiger, according to the 2022 Chinese lunar calendar, she plans to showcase tiger artwork in her studio as well as across neighboring businesses. Not only will the promotion celebrate the Chinese New Year, she says, but it will be a connection to nearby Towson University, whose mascot is a tiger. Aikin sees art as a bridge, a way to connect the business community and residents.
"If you get people talking and make it better for everyone, it will be a stronger foundation for people to stay," she says.
Aikin already has added colorful touches to downtown Towson, organizing local artists to paint sidewalk flower boxes and helping commission Maine muralist Ryan Adams to brighten the outer walls of the Towson branch of the Baltimore County Library. To achieve her goals, she co-founded the Towson Creative Partnership, part of the Towson Chamber of Commerce, which is instrumental in securing funding for the projects.
"Deirdre is amazing, she is a gift," says Nancy Hafford, the chamber's executive director. "She supports and nurtures artists."
Aikin's second-story tattoo shop on York Road houses an art gallery, as well as a waiting room for customers. "We help artists to promote themselves and learn how to do gallery work," says Aikin, who has taken TU students and other emerging artists under her wing. "Some have never had a gallery experience. They learn how to hang and install their artwork here."
And the airy space also has other purposes. "Some people come to see what's on the walls," says Aikin, proudly pointing out the statues of gods and goddesses that she hauled back from Bali and Thailand, the vintage jewelry tucked into glass cases, a Japanese pachinko machine, and a reception counter she scored from Second Chance, the South Baltimore salvage warehouse that sells salvaged furnishings. The enormous wood structure came from an old Irish bar in Federal Hill, says Aikin.
Photographer Jenee Mateer met Aikin through a friend who was planning a benefit art show at Triple Crown last spring. "Deirdre has definitely made Towson more inviting," says Mateer, the art and design chair and a professor at Towson University. "It looks better than it has in a long time."
The two women partnered on a reproduction of one of Mateer's garden photos, which adorns a wall near the Towson traffic circle. It's accompanied by the words "Uptown Where Art Blooms" and a QR code, enabling viewers to visit Mateer's website. (Towson students call the neighborhood "uptown" since they walk "up" York Road from the campus.)
"Deirdre is a force," Mateer says. "Her presence is so important. She's single-handedly been lighting a fire under people's butts."
The Chamber's Hafford agrees. "She is a unicorn—she is a special creature."