DJ Kopec Kept the Beat Alive During Lockdown—and Raised $2 Million for Charity Along the Way
Virtual dance parties helped raise funds for organizations hit hard by the pandemic.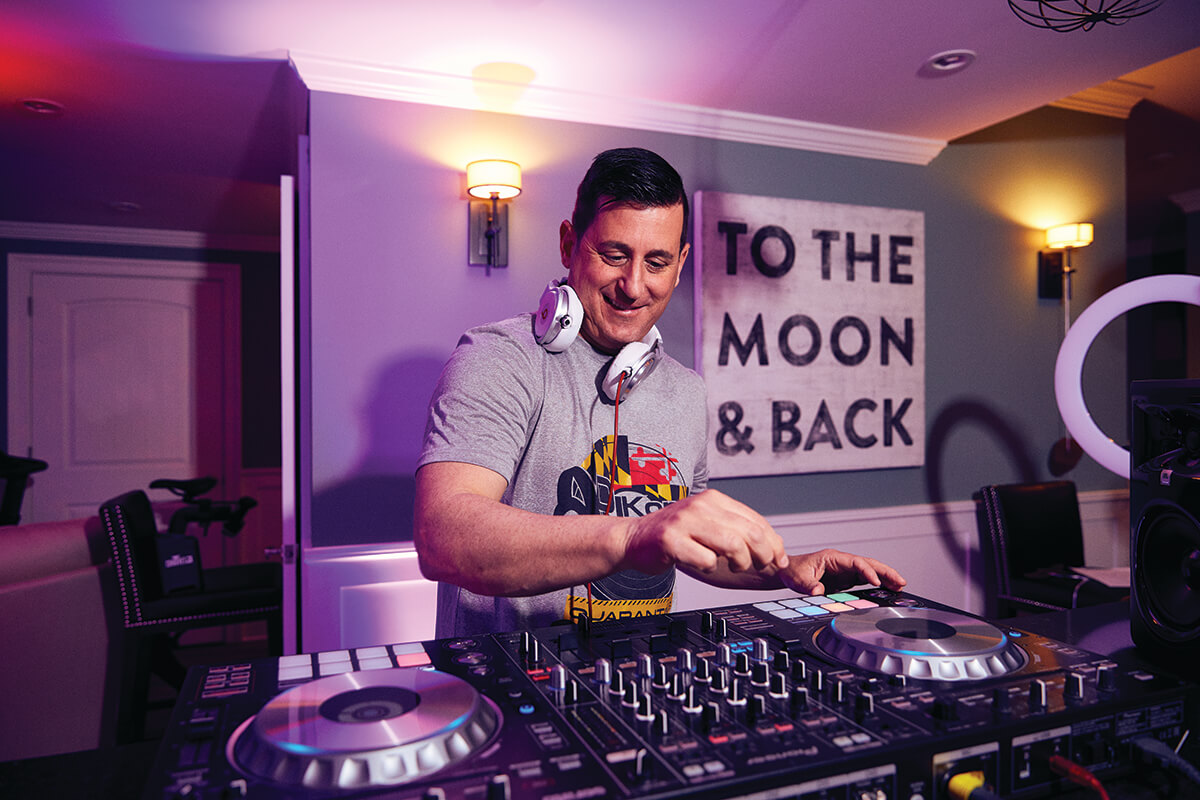 Despite all the hardships of 2020, one local man was able to put a positive spin on things—literally.
Before COVID-19, Chris Kopec was a popular DJ at corporate events and parties (including our own "Best of Baltimore" party) throughout the region, as well as the man behind the music for the Baltimore Ravens Cheerleaders. But by mid-March, with concerts canceled across the country, the Ellicott City resident turned to the internet to host dance nights for his inner circle.
"My idea was that I'd entertain my family, because my kids never got to come to my events," he says.
But his children weren't the only ones who tuned in, with his first Facebook livestream reaching over 30,000 views, an experience he calls "euphoric," as his three children showed off their own moves in the background of their basement. From there, the dance parties would become a weekly ritual, along with live workout mixes and a virtual prom for participants of all ages, which was particularly special for high school students who missed that iconic rite of passage last year.
"It felt like the community needed it, and in some ways, it was my coping mechanism, and my family's," says Kopec. "It gave us something to work for and look forward to."
That first night, he also set up a virtual tip jar to cover his $200 equipment costs, but brought in over $10,000, and from there, his charitable efforts took off. Donations so far have included 500 pizzas to Howard County first responders, and some 180,000 pounds of chicken to local food banks, after Holly Poultry CEO Zachary Fine offered to chip in a pound of meat per viewer.
The parties have also helped raise funds for organizations hit hard by the pandemic, including more than $192,000 for Feed America, nearly $65,000 for the Baltimore Child Abuse Center, and $132,000 for the Ulman Foundation. And this goodwill did not go unnoticed, catching the attention of local and national media, including CNN and the TODAY show.
He reached his $2 million milestone on March 20, the one-year anniversary of his first livestream. Again, thousands of fans, now dubbed the "DJ Kopec Fam," showed up online, but he looks forward to the day that they can gather in-person.
"The power of community coming together and staying positive can really do amazing things," Kopec says.