East Baltimore's Dorfman Museum Figures Brings Life to Museums
For more than a half century, the studio has crafted figures and scenes for museums around the world.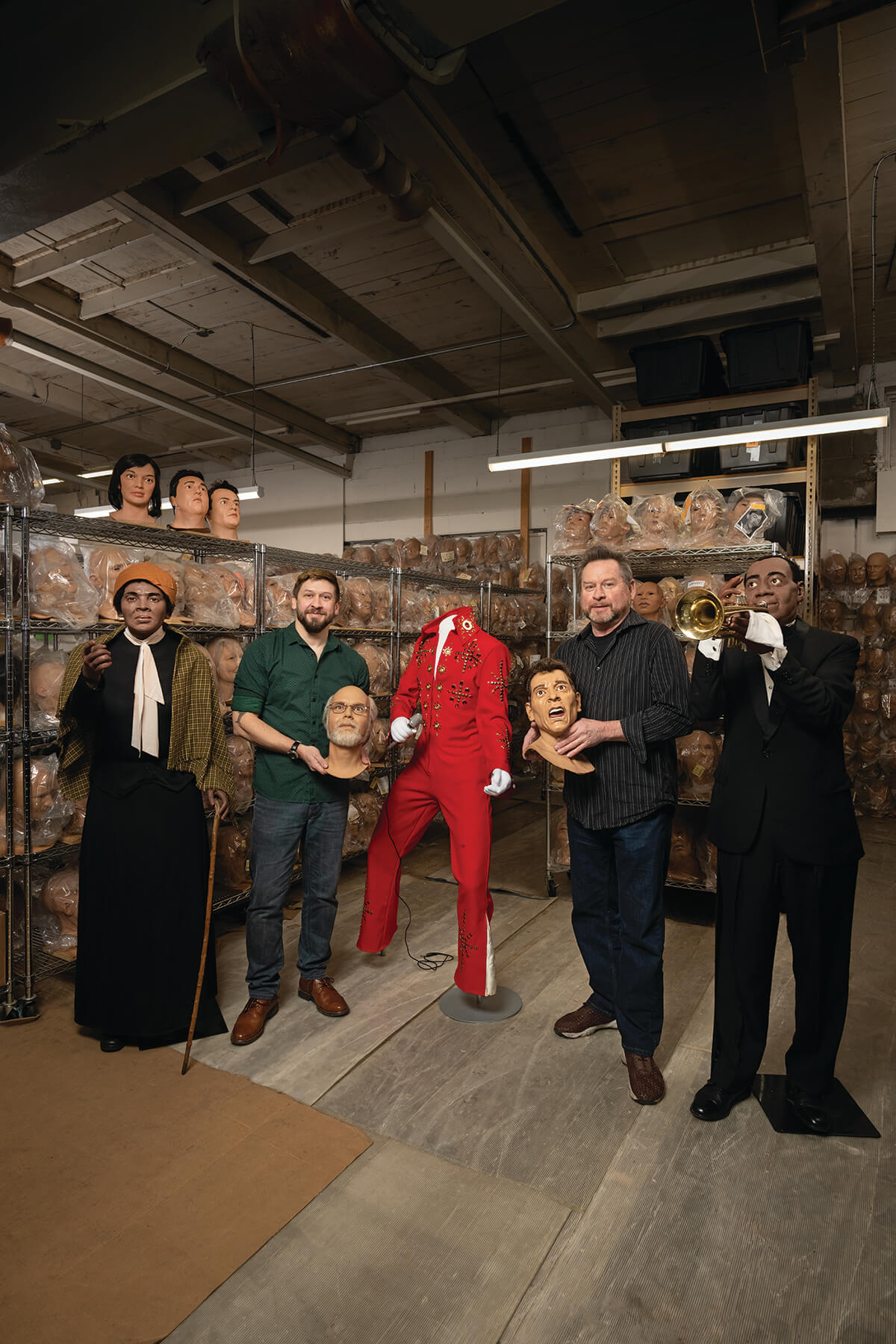 Standing next to Albert Einstein and Harriet Tubman in the front room of a nondescript white building on Holabird Avenue, Louis Armstrong is dressed in a black suit and spiffy black shoes, trumpet pressed to his lips and fingers positioned perfectly above the keys. The figures are so lifelike you're almost surprised not to hear jazz blaring from Satchmo's horn.
"We took him to New Orleans for a trade show a few years ago, and he was a big hit," says Joe Bezold, (pictured right), co-owner of Dorfman Museum Figures in East Baltimore, which for more than a half century has crafted figures and scenes for museums across the United States and around the world.
Founded by Earl Dorfman in 1957, the company began with department store window displays before transitioning to creating figures for wax museums. When Earl's son, Robert, took over in the early 1990s, they began selling them to historic homes, visitor's centers, and museums, eventually in more than 30 countries.
Bezold and his business partner, Tim Clifton, (pictured left), both longtime employees, bought the business in 2018. Since then, the majority of their sales have been conservation forms—displays made of inert Ethafoam polyethylene that are used to present dresses, uniforms, and other historic clothing without damaging them.
"A lot of museums were focusing on preservation and realizing that the materials of the [figures] themselves were important," Clifton says. "Some can give off gases that are fairly benign, but once they're in a case or sealed, it can start to deteriorate fabric over decades."
Dorfman still makes plenty of the vinyl and silicone lifelike figures as well, for places like the B&O Railroad Museum and Kentucky Derby Museum. From the time a contracted sculptor crafts a clay head of the subject to the moment that the last hair is added to its dome, the goal is to make the figure look as close to a human being as possible. The cost can range from $4,000 to $9,000.
The 10,000-square-foot Dorfman facility is a maze of fake body parts. Arms and legs hang on walls like hardware in a suburban garage. Headless, handless bodies stand at attention like soldiers lined up in formation. On the second floor, you'll find the collection of more than 800 head molds. Here, on metal shelves, skier Picabo Street sits next to former Israeli Prime Minister Menachem Begin. In another row, polio vaccine inventor Jonas Salk's head rests across the aisle from Teddy Roosevelt's.
The company's figures are displayed in a wide array of institutions, including the National World War II Museum in New Orleans and the National Museum of Civil War Medicine in Frederick. It has made close to 100 figures and scenes for the National Museum of the United States Air Force at Wright-Patterson Air Force Base outside Dayton, Ohio, and recently created soldiers for the Royal Tank Museum in the country of Jordan.
Throughout the years, Dorfman has made figures for the backgrounds of movies and TV shows, and even filled the odd request from private citizens. Once a woman commissioned a figure of her deceased husband. Another time, a big-game hunter ordered a lifelike figure of himself in shooting position, to be situated in his home next to a taxidermied polar bear.
"Any given week someone will contact us from this country or another country who wants to commemorate someone," Bezold says. "For us, every time, it's a brand-new history lesson."