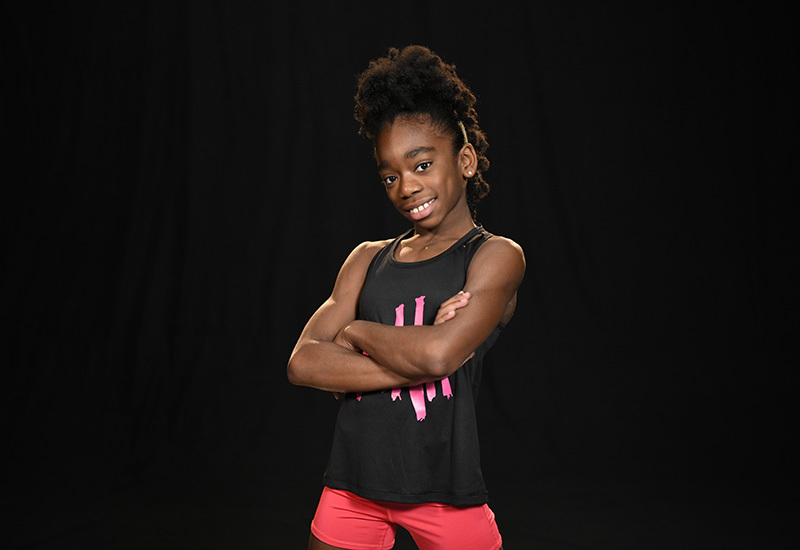 When Raeya Linton first began gymnastics classes five years ago, her instructors knew she was a natural. They immediately recognized her talent, and had her excelling on the bar within the first few tries.
It's this innate ability that Linton, an 11-year-old Ellicott City native, hoped would suit her well as she tried out for American Ninja Warrior Junior, a children's spinoff of the popular obstacle course challenge show which will premiere its second season this Saturday, February 22 at 7 p.m. on Universal Kids.
Submitting an audition tape in which she conquered obstacles and showcased her gymnastics skills, Linton, who currently trains at Universal Gymnastix in Reisterstown, was chosen out of 12,000 total applicants. In a statement, American Ninja Warrior Jr. executive producer Matt Cahoon said that casting Linton was a "no brainer." She is set to compete on the premiere episode this weekend, and should she advance into the show's later stages, she could win up to $15,000—the prize given to its champion—with lower increments for second through fourth place.
For Linton to make it to the show's finale, she would need to win one qualifying round and one quarterfinal round. The show has also introduced a wild card round, where a select few contestants will run the course again for a spot in the quarterfinals.
Linton first learned about the show by watching its first season on YouTube, and was encouraged by family friends to try out.
"I wanted to compete because I wanted to try something new," she says. "It's a way to have something different from gymnastics."
American Ninja Warrior Junior is divided into three different age groups—9-10, 11-12, and 13-14—and one winner from each age group will square off later this summer in a finale championship round. Linton says she went into the competition without much traditional ninja preparation, but that her gymnastics training translated well onto the course—which demands dexterity, balance, and upper body strength.
"There is some muscle memory," Linton says. "Everyone does ninja how I do gymnastics—I wasn't thinking and just went for it."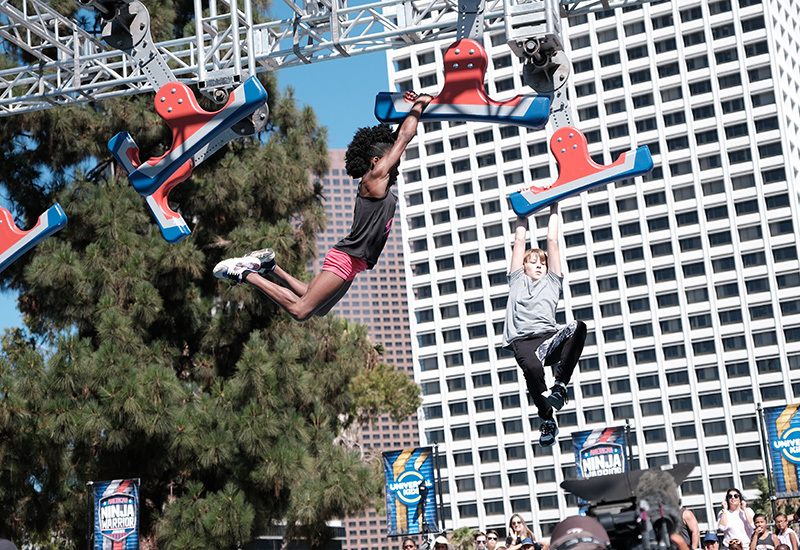 When Linton's episode airs this weekend, she'll be making a little history of her own as the first person to compete with lipodystrophy, a condition in which the body is unable to produce and maintain healthy fat tissue. For Linton, it doesn't present any physical limitations. She hopes that by appearing on TV she can show others with her condition that they can participate in anything they set their minds to.
"If they believe in me that I can do it," Linton says, "then they can believe in themselves."
After filming the show, Linton has since become more involved in the local ninja community. She has been to three different gyms, and currently trains at Kinetic Ninja Warrior in Bel Air. Regardless of how she fares, Linton is still eligible to return to American Ninja Warrior Junior for a few more years, and has every intention of doing so.
"I'm doing ninja competitions to get ready for the next season," says Linton, who can't disclose her result until after the episode airs. "I learned that you have to practice. I definitely see myself doing this long term."