Some Like it Hot
Gilded Lily Burlesque is about more than baring skin in Baltimore.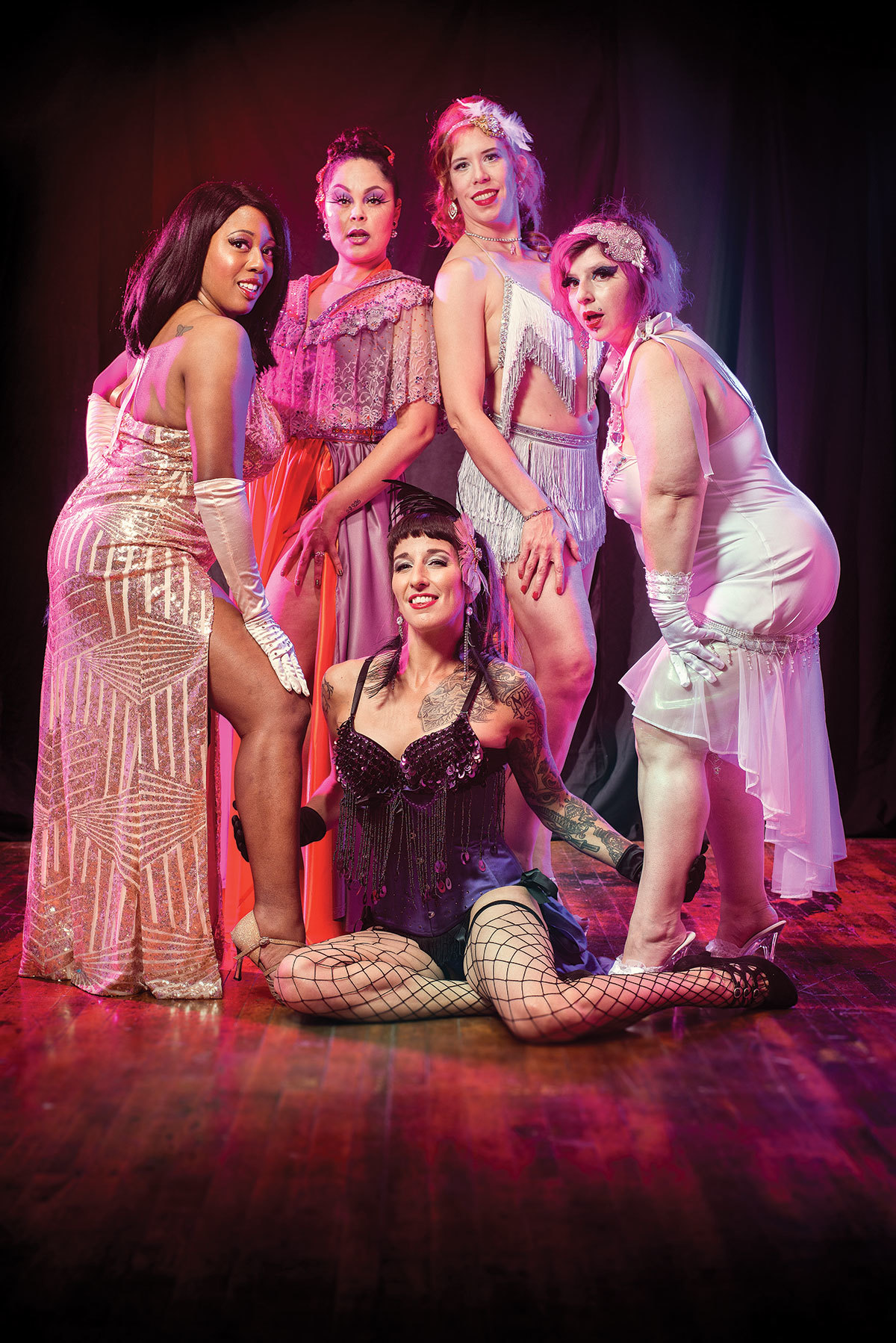 On a small, dark stage sits a lone black chair against the backdrop of a red velvet curtain. Off to the side, the bar bustles as patrons grab dirty martinis and glasses of whiskey before hustling to their tables. At a quarter past 8, the lights dim and the spotlight widens, and when the music kicks on, out walks a tall, thin woman wearing a tan trench coat and cherry-red heels. As the crowd erupts in applause, four of her friends stand in the back corner behind the bright lights, cheering her on and waiting their turns. The dances they are about to perform are stripped down and seductive, but this is not our city's infamous stretch of East Baltimore Street known as The Block. That neighborhood's glitter-infused glory days of feather boas and silken gloves lost its luster long ago, giving way to seedy strip clubs and boarded-up facades.
Instead, at The Windup Space in Station North, these women are part of the Gilded Lily Burlesque troupe, the local leader of a burgeoning movement that has blossomed across Baltimore. From Hampden to Highlandtown, the risqué revival takes the classic exotic dance form, full of fluid movements and fine lines, and transforms it into a modern-day art form—one that transcends body type and the male gaze. These femme fatales use the spotlight to take their bodies back, and with each pull of pantyhose or shake of a tasseled pasty, they embrace their own skins and expose their truest selves.
In Baltimore, this burlesque rebirth has been gracing the stages of dive bars and decorated theaters for the past 15 years, beginning with tantalizing trailblazer Trixie Little and her sidekick, Evil Hate Monkey. "At the time [in the early 2000s], I remember wanting the quaintness of a burlesque show in an intimate space," recalls Trixie, who now lives in New York. "It seemed so romantic, but you couldn't find it anywhere, so we started creating the work we wanted to see." Through their own gigs and, eventually, a host of burlesque boot camp classes, the duo birthed a new generation of local performers, including Gilded Lily's founder, Maria Bella. "I fell in love," says Maria. "It was funny and theatrical. I knew I needed to start my own troupe."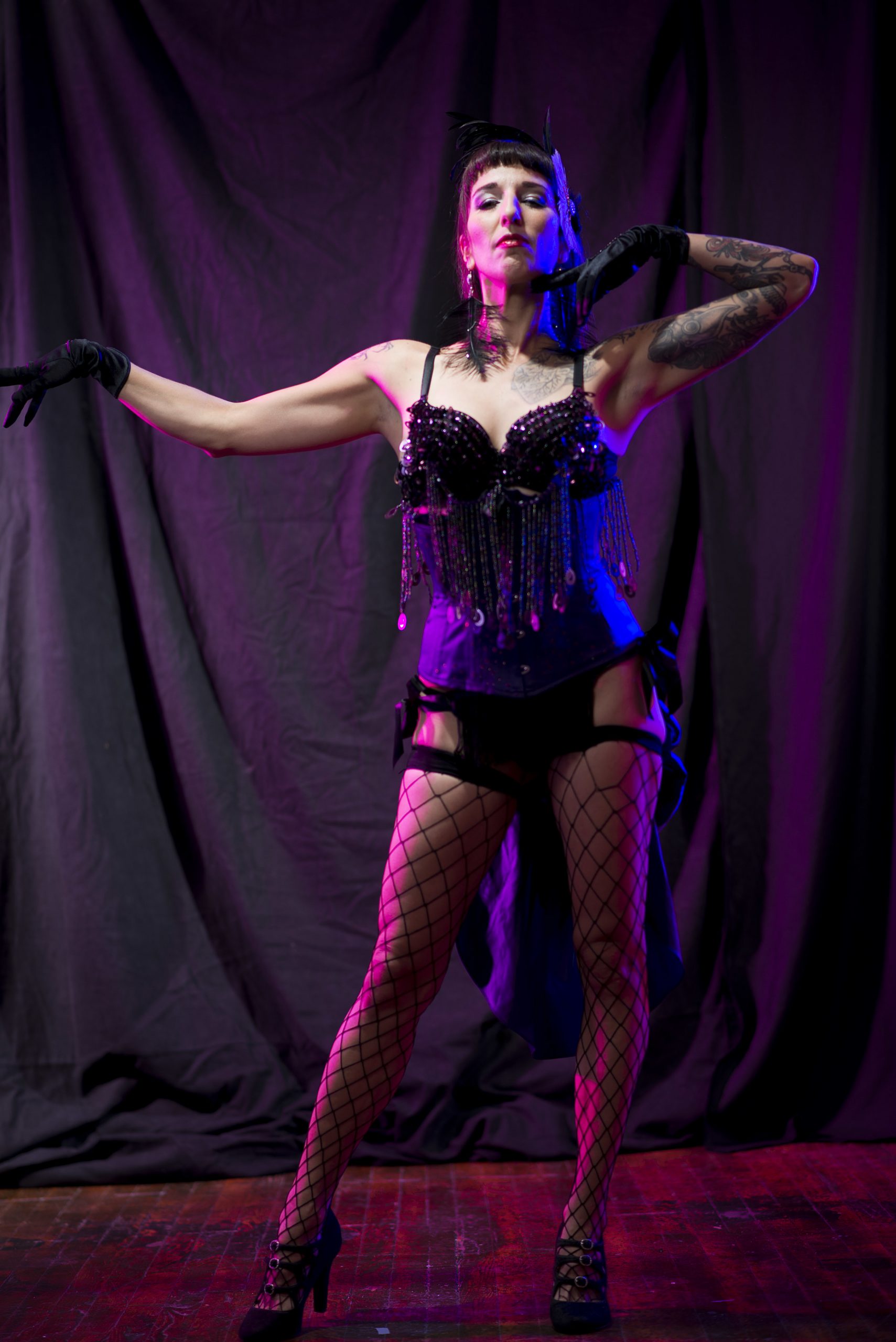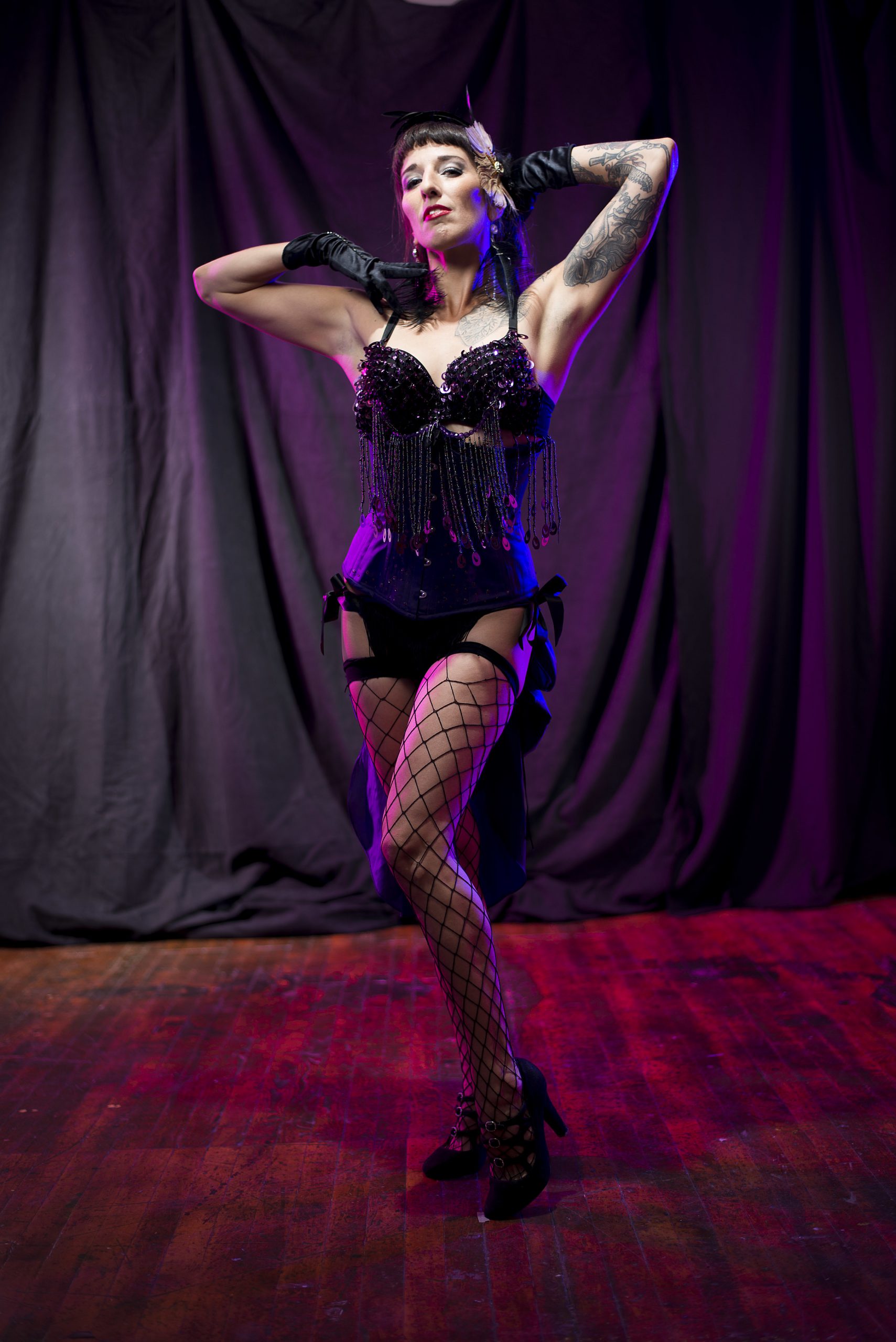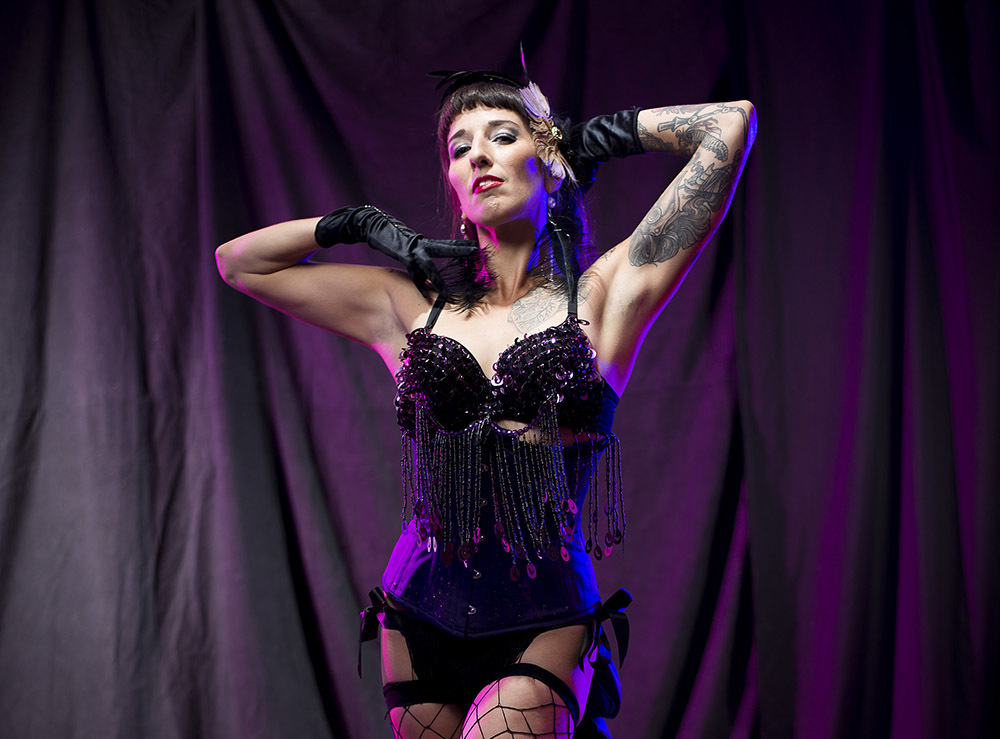 Now in its 10th year, Gilded Lily performs a wide variety of monthly shows at venues like The Windup Space and Creative Alliance. As the longest-running troupe in the city, they've witnessed the evolution of burlesque from a niche pastime to a national entertainment, as big-name performers such as Dita Von Teese pack playhouses and push the racy revue mainstream. Now known as neo-burlesque, it takes the old traditions of satin and skin and infuses them with theatrical story lines, variety show elements, and plenty of off-kilter humor.
Since its founding in 2007, Gilded Lily has undergone multiple iterations, finally finding the right formula in its current five performers (plus two honorary members who've since moved away). "Art is collaboration for us," says Maria. "We have all become friends and a real sisterhood."
Gilded Lily feels like a family, but each woman takes the stage with a unique set of styles and skills. Nona Narcisse is a classically trained dancer, while GiGi Holliday is a jazz singer. With her background in theater, Ruby Spruce, the troupe's newest member and the woman on The Windup Space stage, does a mean Carol Burnett, while Mourna Handful brings a dose of dark comedy. For her part, Maria plays the trumpet.
The troupe also comes in all colors, shapes, and sizes. Gilded Lily is at once tall and short, skinny and full-bodied, Italian and black and Irish, with a dash of Native American and Jewish. It is brunette and redheaded, with a touch of fuchsia hair. It has a smattering of tattoos, and the occasional facial piercing. It is loud and proud and extroverted, and yet modest and introspective. "Separately, we are amazing," says GiGi, "but when we come together, we are the Justice League, the A-Team—we are super heroes."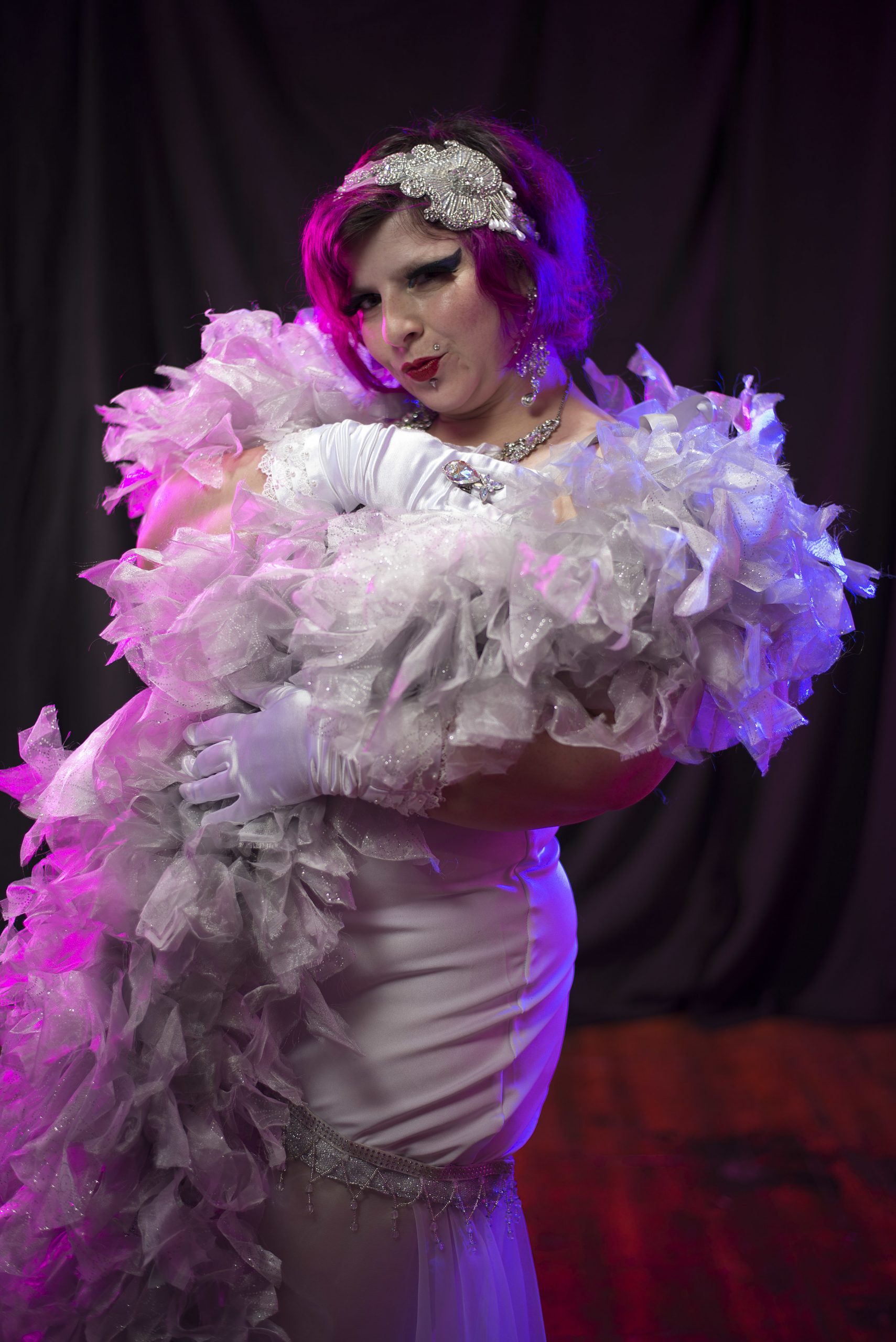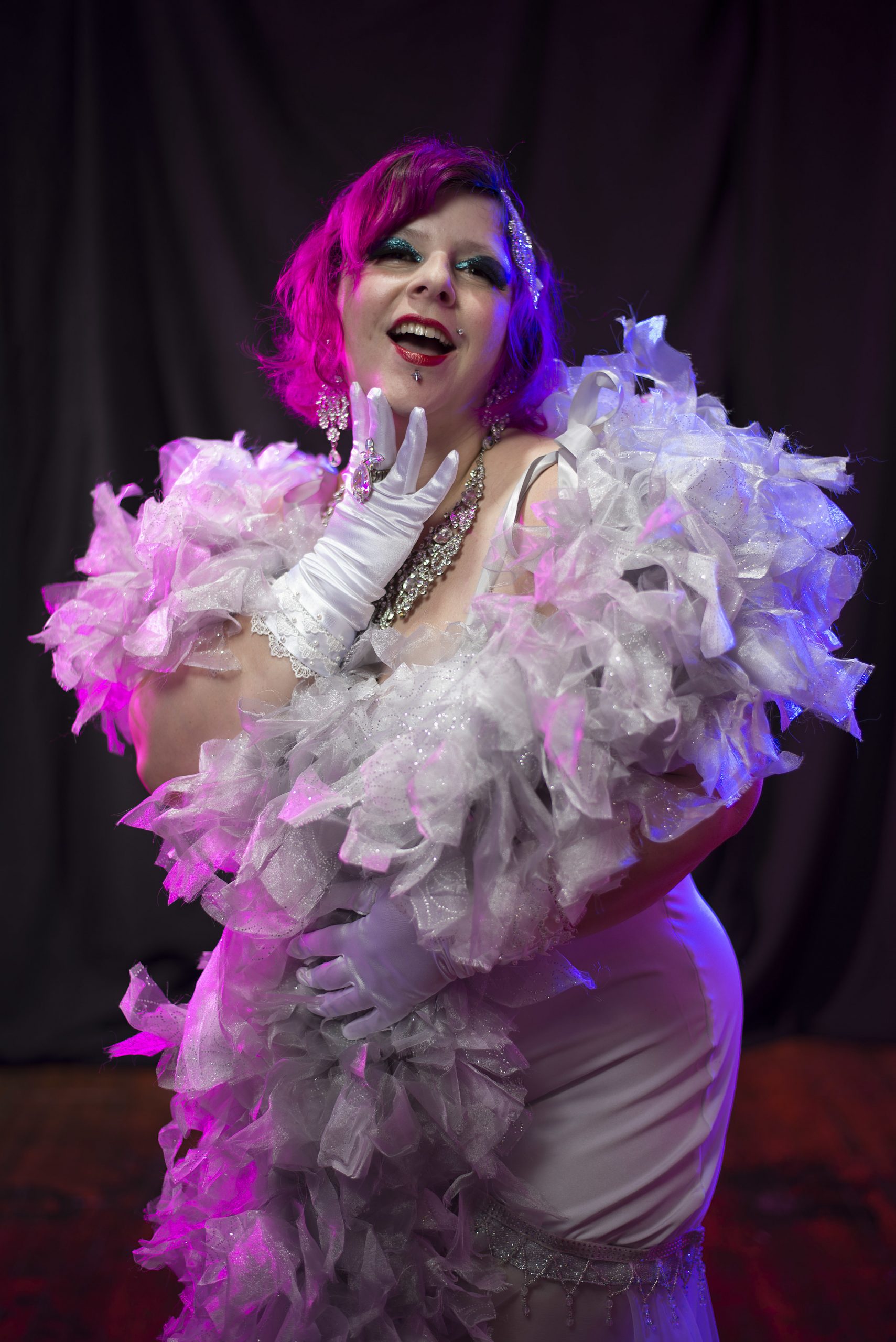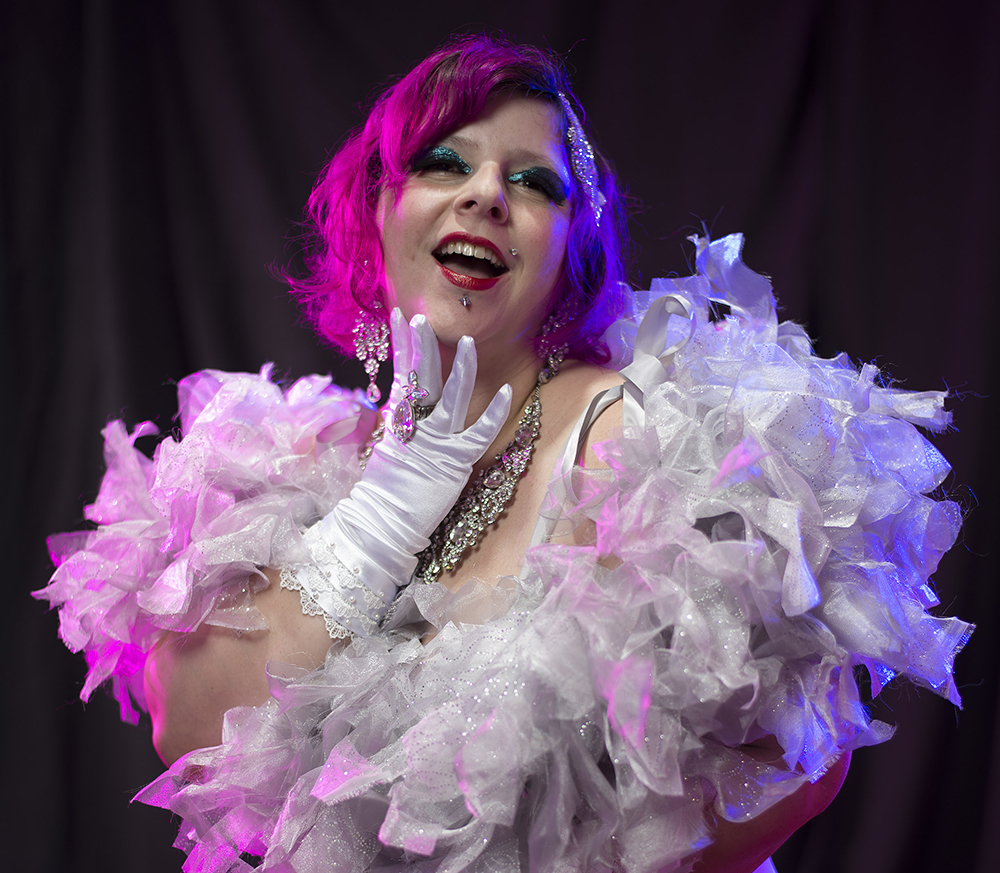 Much like superheroes, they arrive in the spotlight under the guise of pseudonyms and alter egos, which, for many, are a fun form of escapism, though for others, they serve a purpose. Some women, like Ruby and Mourna, choose to keep their passion a secret from their employers for fear of being fired.
"There are still some people who are like, 'What is it, stripping?'" mocks Maria. "First off, don't denounce stripping. Those women are strong, and the brass ovaries they have to wear are impressive and inspiring." Of course burlesque is a highly stylized art form, she explains, "but yes, we take our clothes off in bars—we are strippers—and we embrace that."
Besides, burlesque performances rarely reveal it all. There's always a pasty here or a panty there. But Gilded Lily is constantly working to break down those same-old stripper stereotypes. The audience sees a series of short sets—a song, a stocking pull, an exit shimmy—but what isn't always apparent is all the time and dedication that went into those mere five minutes, from the costly creation of costumes sewn by the performers themselves to the countless hours of choreography and collaboration.
For many performers, burlesque is less of an outward exhibition than it is an outlet for creativity. "Burlesque can really be anything you deem interesting, weird, or beautiful," says Nona, noting that acts can vary from classic striptease to avant-garde theater and dance. "It's this wonderful adult art project."
With artistic freedom comes female empowerment, and neo-burlesque has become synonymous with a sort of feminism, instilling its disciples with a unique brand of courage and confidence. "It's a powerful decision to say I decide how my body is going to be displayed, and I decide that I get to display it," says Ruby, "and it's not something that I should feel ashamed of."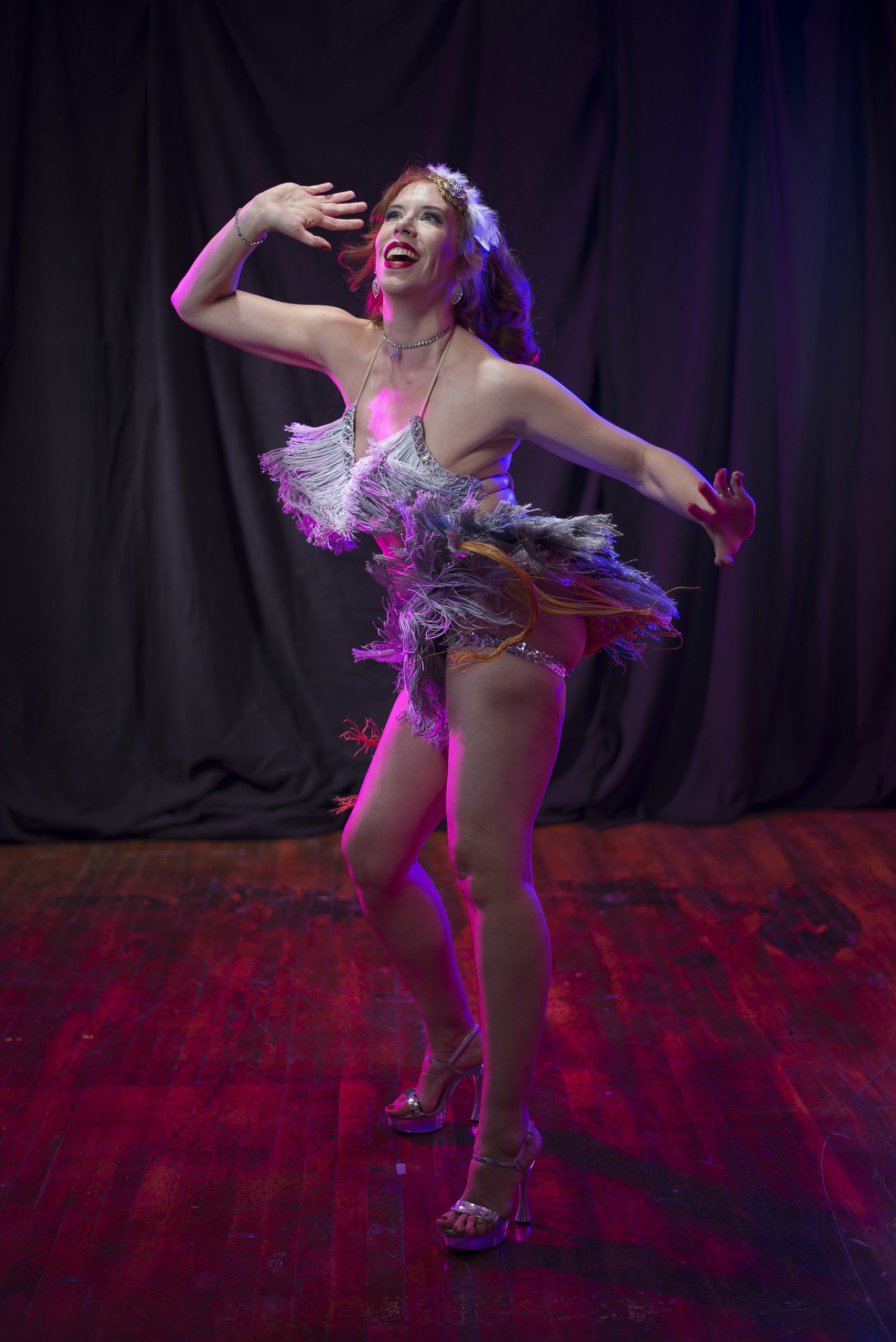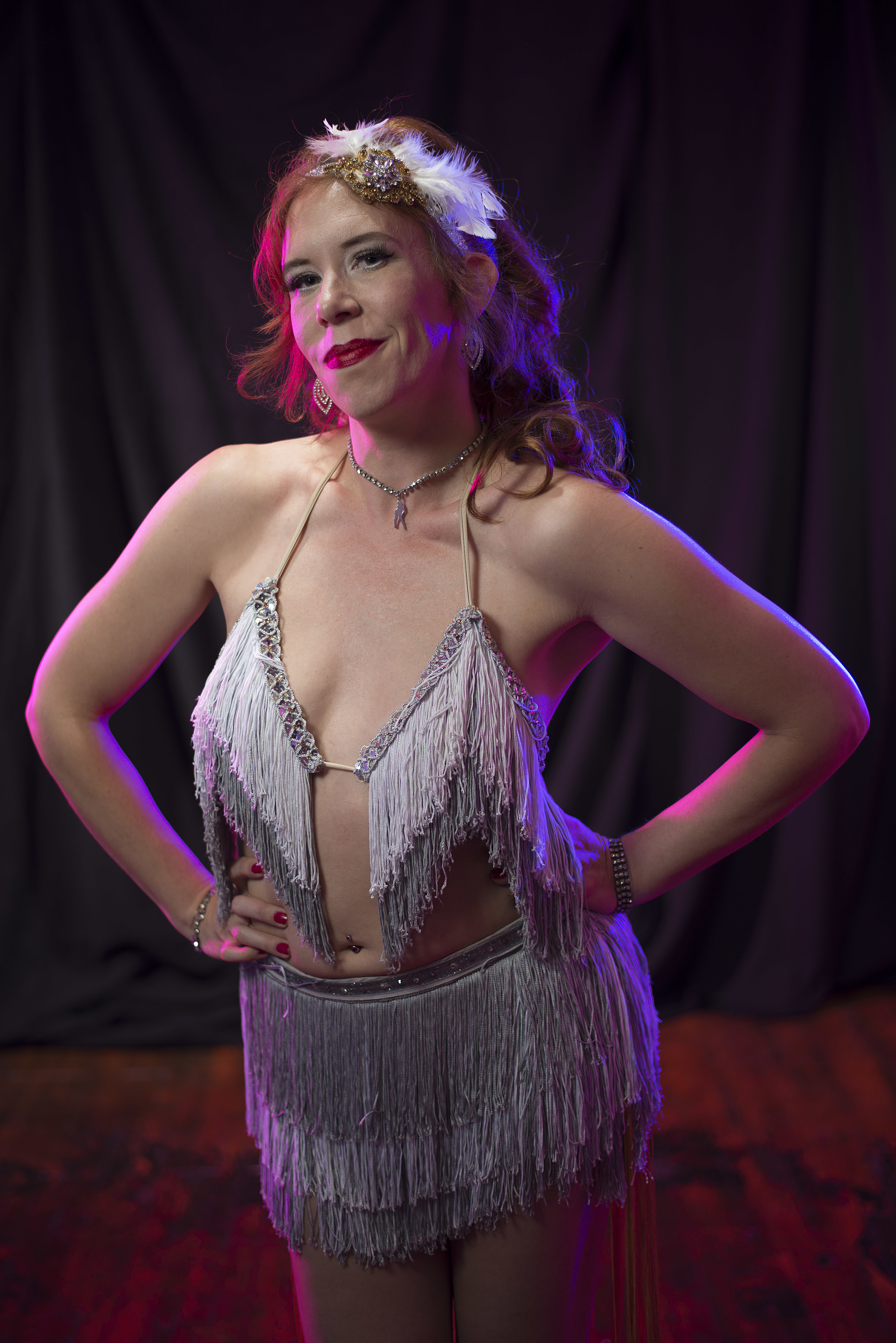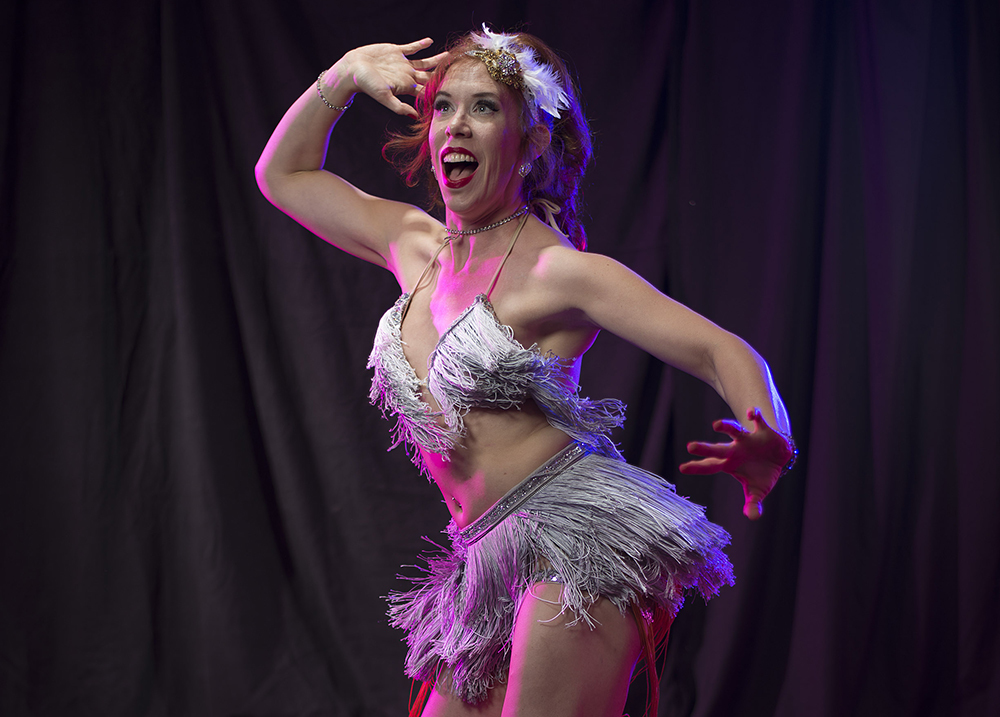 In many ways, it is also a form of catharsis. For honorary troupe member Sophia Sunday, it helped her rebuild after an abusive relationship. For GiGi, it was a reminder that she was still beautiful after a broken engagement. "It teaches you how to walk taller, and gracefully, in a way that shows you're a force to be reckoned with," says Maria. "It teaches you to be comfortable in your own sexuality and sensuality. I love seeing people come out of their shells. They look at themselves like, I can be sexy, and I don't have to look a certain way to do so. Sexy is how I feel."
At its core, burlesque has always been a form of parody—a humorous and theatrical entertainment. By definition, it is "a literary or dramatic work that seeks to ridicule by means of grotesque exaggeration or comic imitation," according to Merriam-Webster. In its early days during the Victorian era, burlesque was an outlet for the lowbrow satire of highbrow society. Even before that, it was associated with Shakespeare and ancient Greece.
Eventually, the art form evolved into the now-nostalgic "classic burlesque" of the late 19th through mid-20th centuries, with its high-glam, hyper-feminine performers draped in gorgeous costumes and decked in crystals and furs. Think of the scantily clad cabaret dancers of Folies Bergère or Moulin Rouge in Belle Époque Paris, or the big, bright-light marquees of 1950s Baltimore. But even then, famed performers such as Gypsy Rose Lee and The Block's own Blaze Starr used comedy with their corsets. "I never tried to be sexy," Starr told The Sun in 1989. "I always wore a mink coat and said, 'Phew! It's warm in here.'"
By the time the neo-burlesque scene arrived in the 1990s, classic burlesque had already devolved into neighborhoods like The Deuce in New York and the now-tattered Block in Charm City, having become almost interchangeable with striptease. Burdened by that stigma, neo-burlesque was relegated to subculture status. But in those unconventional corners, the community was able to flourish and quietly grow.
"Burlesque just means to turn things on their heads," says Maria. Sure, birthday suits play a starring role, but it's really about the tease, the build-up, the big reveal, she explains. "You can have so much fun with it. You don't even have to show your body to make it burlesque."
In many ways, it taunts the audience's most basic desires while also breaking down old clichés. "Everyone in our troupe is completely unique," says Maria, proudly declaring that no member of Gilded Lily is your typical blonde-haired, blue-eyed Barbie doll. "With us, you're going to see that your perception of what is beautiful is not necessarily the epitome of beauty. There's no body shaming here. No matter what style, size, age, race, orientation, or gender, everybody deserves a voice."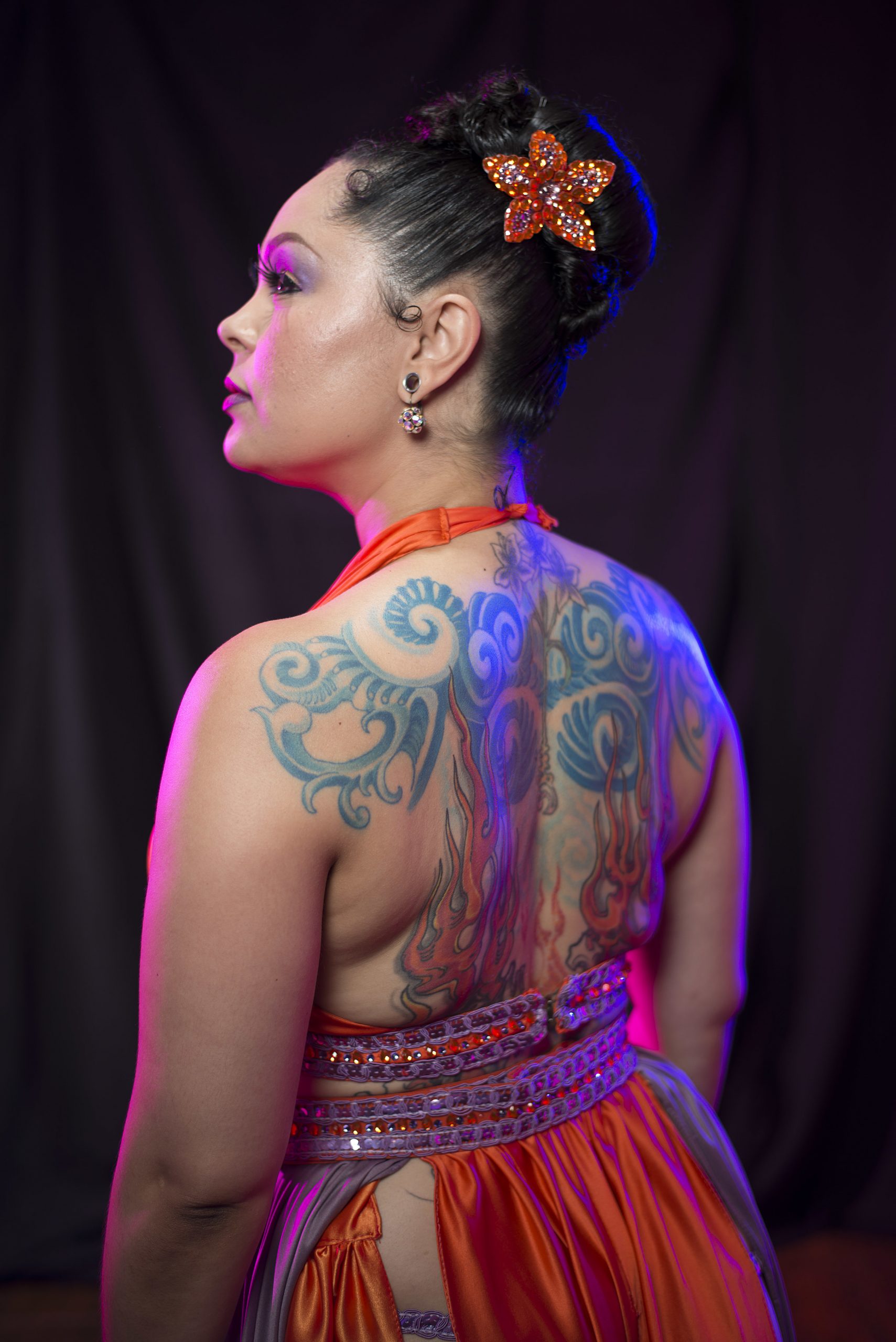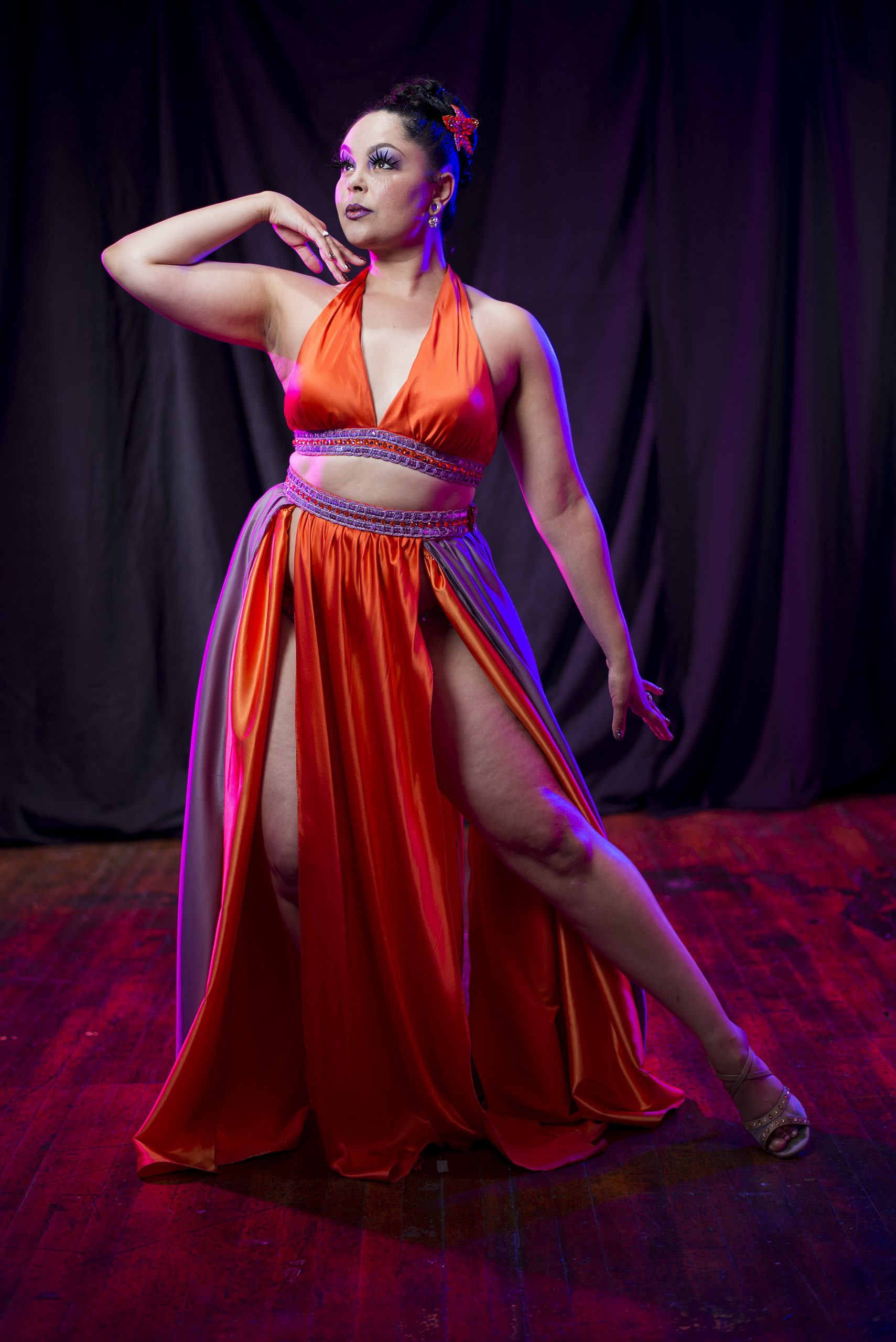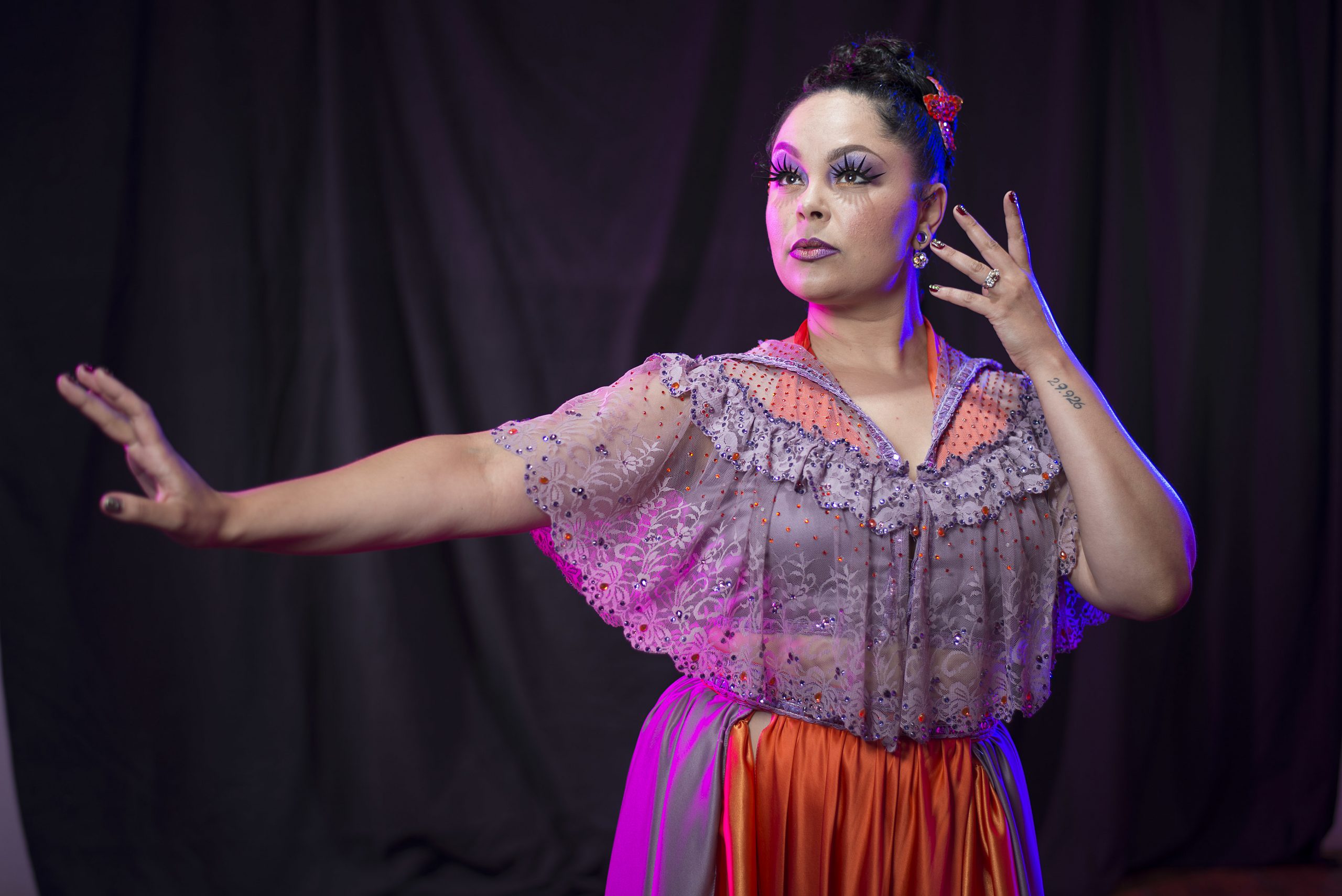 For their part, Baltimoreans have long embraced creative forms of self-expression, especially those that are underdog and DIY, which, down to every last gemstone on a bedazzled bustier, burlesque undoubtedly is. "Baltimore is always looking for the weird and the authentic," says Trixie Little. "It has always been a fantastic place to try things that are different." From John Waters to the American Visionary Art Museum to the underground arts community, "there is a lot of risk-taking that happens in Baltimore," says Josh Kohn, performance director of the Creative Alliance. "There's this understanding that artists can get a little crazy here, and we take a point of pride in that."
Burlesque audiences here are not your typical peep-show crowd, either. Attendees of both sexes range from young friends and old couples to regulars and newbies. "The highest compliment I've ever received was from a beautiful silver-haired lady who came up to me after a show and said, 'You make me proud to be a woman,'" recalls Nona. "I love hearing the laughter," adds Mourna with a smile. "That is a truly authentic emotional response, and it feels good to hear them think something is funny, too."
Several venues from the early days of the local burlesque revival have since disappeared, but many supportive stages do live on—the Creative Alliance, The Windup Space, Ottobar, Mobtown Ballroom, Church & Company—and new places, including restaurants and bars, continue to crop up.
Troupes have come and gone, but with the help of these venues, a bevy of other performers have become headlining names: Tapitha Kix, Cherie Nuit, Ruby Rockafella, and Kay Sera, to name a few. Not everyone is best friends—it is a business, after all—but the competition is welcome. "Sometimes we joke that you can't swing a cat without hitting a burlesque performer," laughs Maria. "But all of our shows are very different and we're mindful of not stepping on each other's toes."
In 2014, the Maryland Institute College of Art even celebrated the growing scene with an exhibition entitled "Workin' the Tease," featuring portraits, costumes, and an entire wall of pasties in the hallowed halls of the Lyric. "It was like A League of Their Own," brims Maria. "It was wonderful. We all cried being up on that stage for the first time."
Gilded Lily is doing its part to nurture the local community by including independent performers in their own group shows. During August's "Fight the Power" performance at the Creative Alliance, they welcomed multiple guests, including beloved drag queen Betty O'Hellno, who dressed as a mermaidian Statue of Liberty and wafted about the stage to Lana Del Rey, and relative newcomer Jacqueline Boxx, who donned peacock feathers and fishnets and rocked out to Demi Lovato from the seat of her wheelchair. "It's amazing to see these different worlds colliding and coming together," says Betty, "and learning from each other."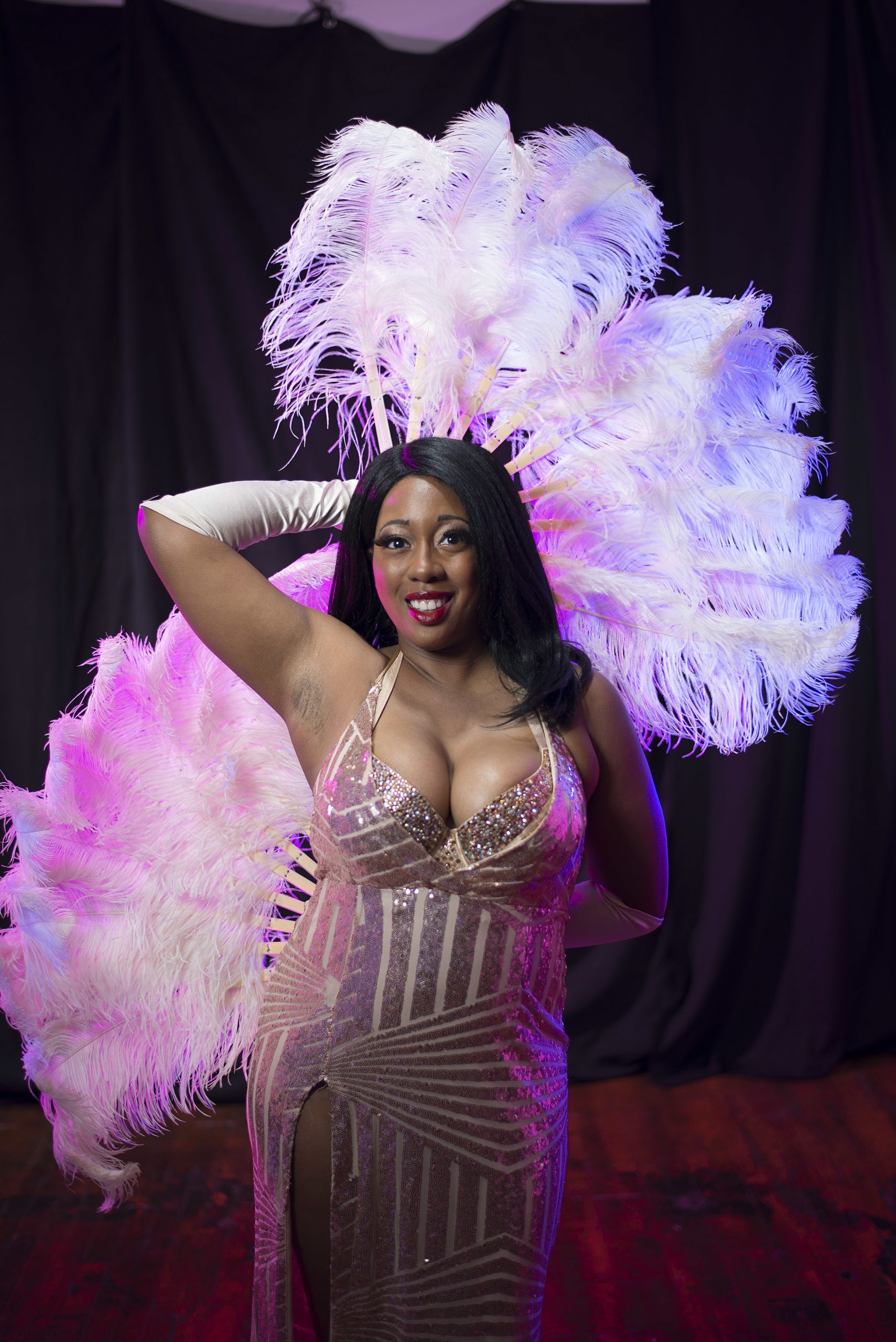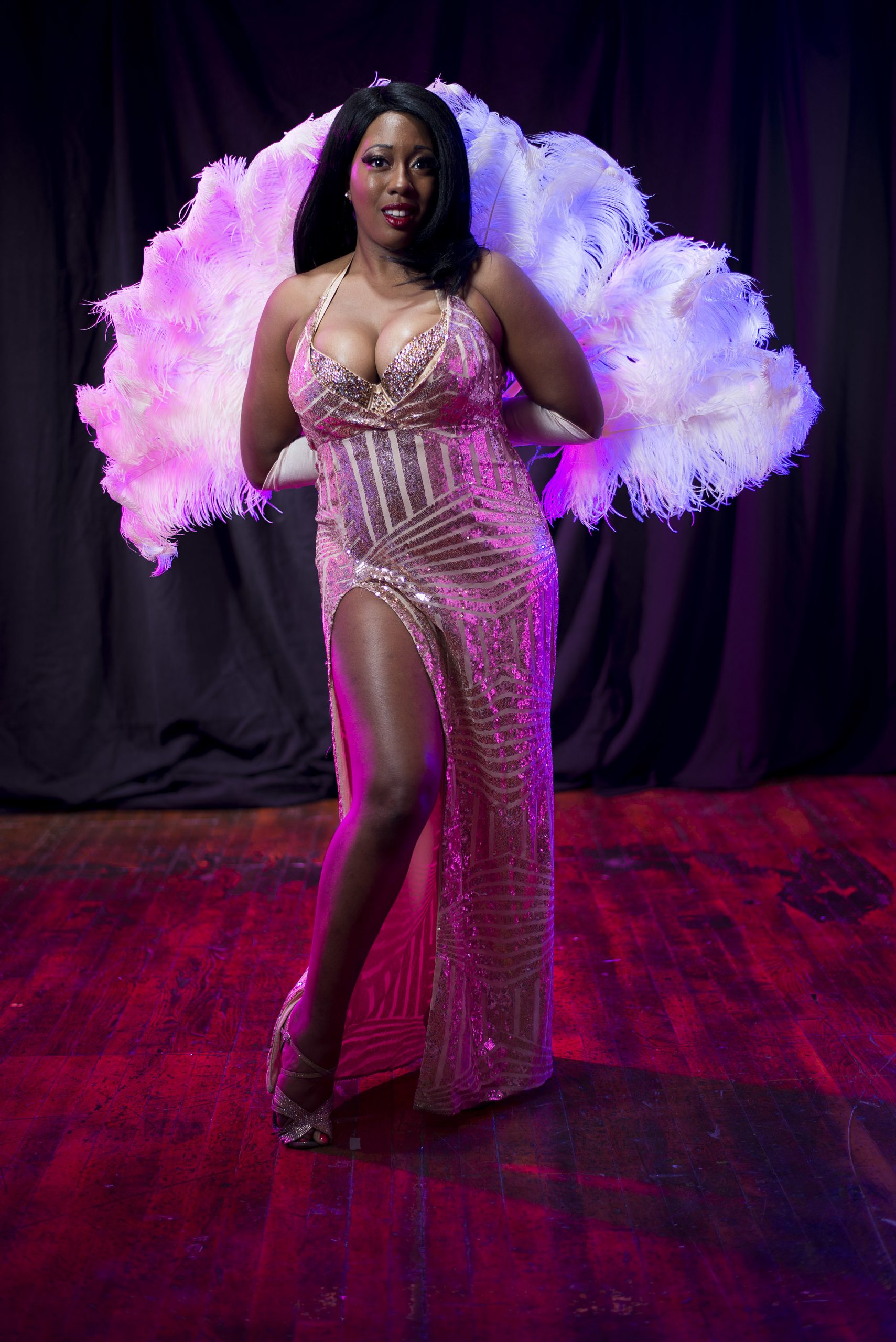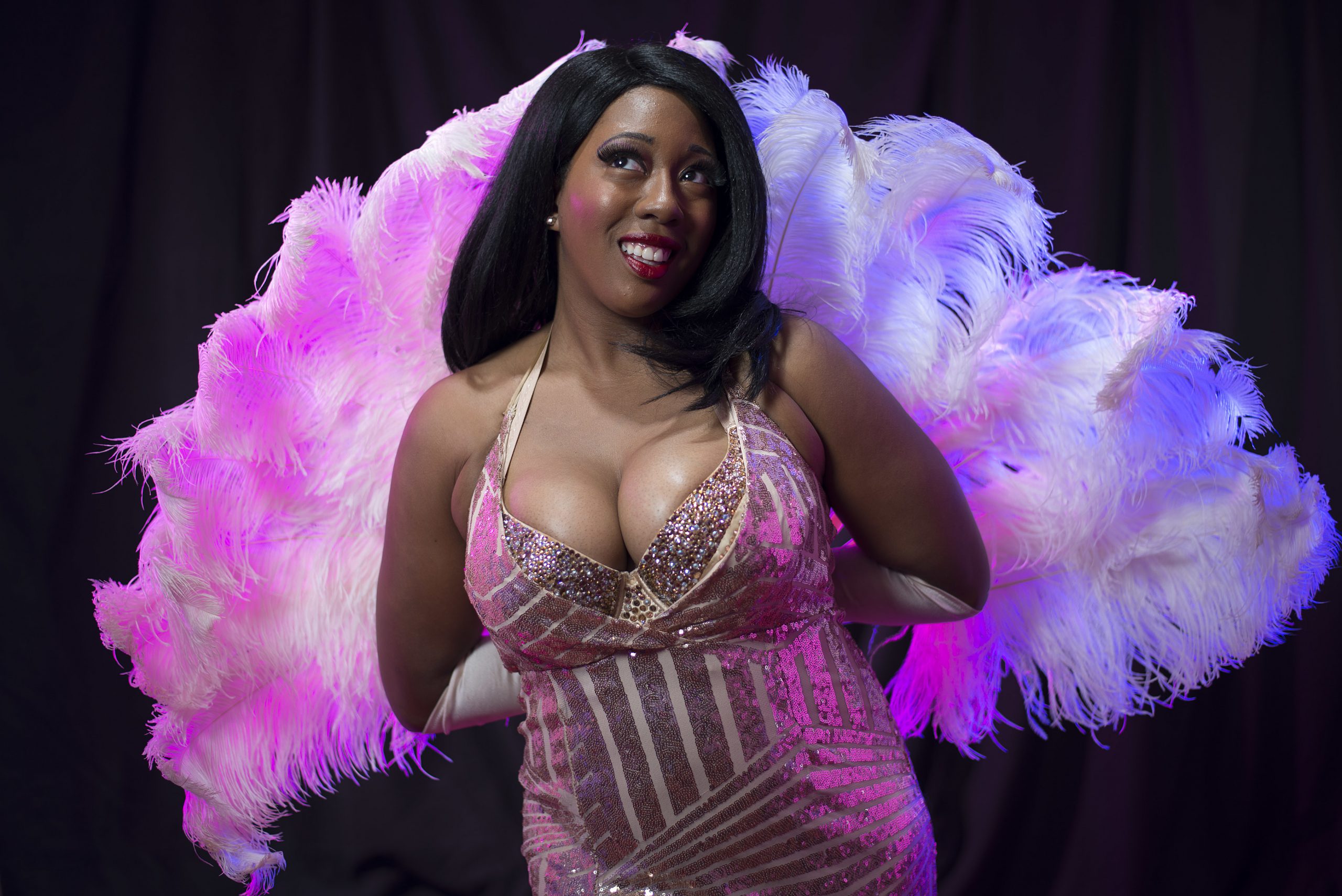 Gilded Lily's goal for inclusivity also feeds into its newfound mission for diversity in Baltimore burlesque, where performers of color suffer from a lack of visibility. The troupe sees its medium as a ripe platform for social discourse, as well as advocacy and activism.
Inspired by the Baltimore Uprising and 2016 election, the Creative Alliance show tackled topical issues through both playful and poignant acts, and a portion of the proceeds went to the criminal justice reform nonprofit the Innocence Project. After a powerful performance set to Michael Jackson's "They Don't Care About Us," during which GiGi, who is African American, wore a white bodysuit that read "Say Their Name," she ran backstage and cried into Maria's arms.
"Burlesque is my own protest," she says. "To see a woman like myself—brown, thick, from a drug-ridden part of D.C. where I was told by society from the moment I was born that I would never amount to anything, that I would be a statistic, a teen parent, that I would never go to college, and that if I took off my clothes, my body would be disgusting, that I'm disgusting. Every time I step on that stage, it's my chance to say, 'No, you're wrong.'"
Like many other creatives across the city and country, the women of Gilded Lily are starting to see the ways in which their art form can be used for a greater good. "We're changing because society is changing," says Maria. "We want to make a difference and be a bigger part of the community," be it by fundraising, volunteering, or teaching classes.
In the next few years, she hopes to launch the city's first-ever burlesque festival. They're happening in other places—New Orleans, Toronto, London, New York—and it's high time that Baltimore, so steeped in both eras of burlesque culture, has its own. "We need to," says Maria, "and it's going to be all-embracing to showcase all of the talents of our city. It's going to show that we're here. And we're not going anywhere."