Johns Hopkins Psychologist Bill Richards Studies the Magical Power of Music
As part of his groundbreaking work, Richards curates playlists that help support participants through their existential experiences, aka clinical "trips."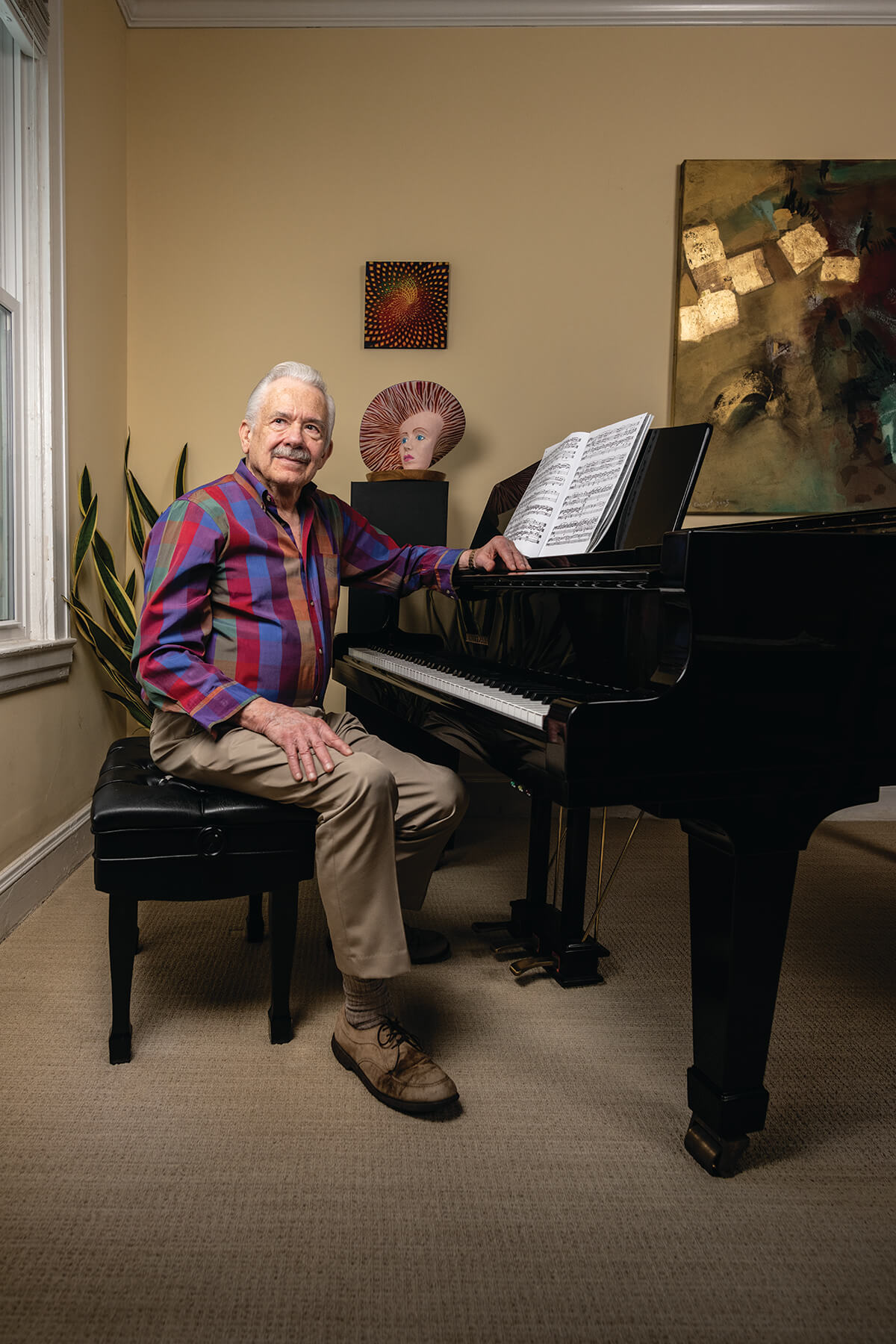 Bill Richards' involvement in the study of psychedelic drugs dates to his graduate school days in Germany in 1963. But the psychologist and Johns Hopkins School of Medicine researcher's connection to classical music dates back even further: He studied piano for 15 years before earning a music minor and pursuing his Ph.D. Richards never imagined, however, these twin interests would merge in such a critical fashion.
As part of his groundbreaking work at the Center for Psychedelic and Consciousness Research at Johns Hopkins, Richards now serves as lead curator of the seven-hour playlists that help support participants through their existential experiences, aka clinical "trips."
Per requests, and in the interest of science, Richards began sharing these playlists, which he first published in his 2015 book Sacred Knowledge: Psychedelics and Religious Experiences. They are now available via Spotify, Apple Music, and YouTube, where they've received more than 23,000 listens. "I often say, when I grow up, I'm going to be a musician," says the 80-year-old Richards, noting that he occasionally sits in as the backup organ player at his West Baltimore church.
From 1967 to 1977, Richards was among those in the research department at Spring Grove State Hospital in Catonsville exploring the early promise of lysergic acid diethylamide, or LSD, in the treatment of alcoholism, heroin addiction, depression, and anxiety in terminally ill cancer patients. A casualty of the War on Drugs, those efforts remained dormant for two-plus decades until Richards and Roland Griffiths, a psychiatry and neuroscience professor at Hopkins, won federal approval for new psychedelic studies.
The more recent rounds of research have utilized psilocybin, aka magic mushrooms, and focused on smoking cessation, alcohol-use disorder, and mental-health distress in cancer patients, as well as anorexia and Alzheimer's Disease. This past November, a study published in the journal JAMA Psychiatry found psilocybin to be four times as effective as traditional anti-depressant medications.
"I OFTEN SAY, WHEN I GROW UP, I'M GOING TO BE A MUSICIAN."
During clinical sessions, participants lay on a couch while wearing eye shades and headphones. The music—not the late 1960s soundtrack some might imagine—is chosen for its ability to guide the participant's experience, divided into sections that coincide with different parts of a moderate-to-high dose psychedelic experience: ascent, peak, post-peak, and descent back to everyday reality.
Typically, the soundtrack begins with Vivaldi, moves into Brahms and Bach, and at its peak, Mozart and the more contemporary Polish composer Henryk Górecki. It often concludes with recognizable songs such as The Beatles' "Here Comes the Sun" and Louis Armstrong's "What a Wonderful World."
"My impression, supported now for 50-plus years, is it's the structure of the music that matters," says Richards, who has received input from fellow researchers and his own son, Brian, a clinical psychologist at Sheppard Pratt and researcher with the Aquilino Cancer Center in Rockville. "It's music that's unfolding, supporting, opening, leading. It's got energy to it, like the current of a river. You're a piece of driftwood, and the current is taking you somewhere, carrying you."
At the same time, Richards continues, "if you get so deeply into a session you may not even be aware of it," highlighting Górecki's Symphony of Sorrowful Songs. "It starts with this one soft cello and builds and builds and then this soprano breaks through and builds higher and higher," he says. "It's glorious."
What wins the approval of patients, he says, is independent of their backgrounds. Often it's music they least expect.
"The task in making a playlist is separating the excellent from the good," Richards says. "Because you only have about seven hours, and there's lots of good music out there."