How Local Artists are Preserving Lexington Market's Past in its Renovated Digs
Interior pieces by artists including SHAN Wallace, Ernest Shaw, and mother-son duo Oletha DeVane and Christopher Kojzar have one mission: to bridge the gap between the old Lexington and the new.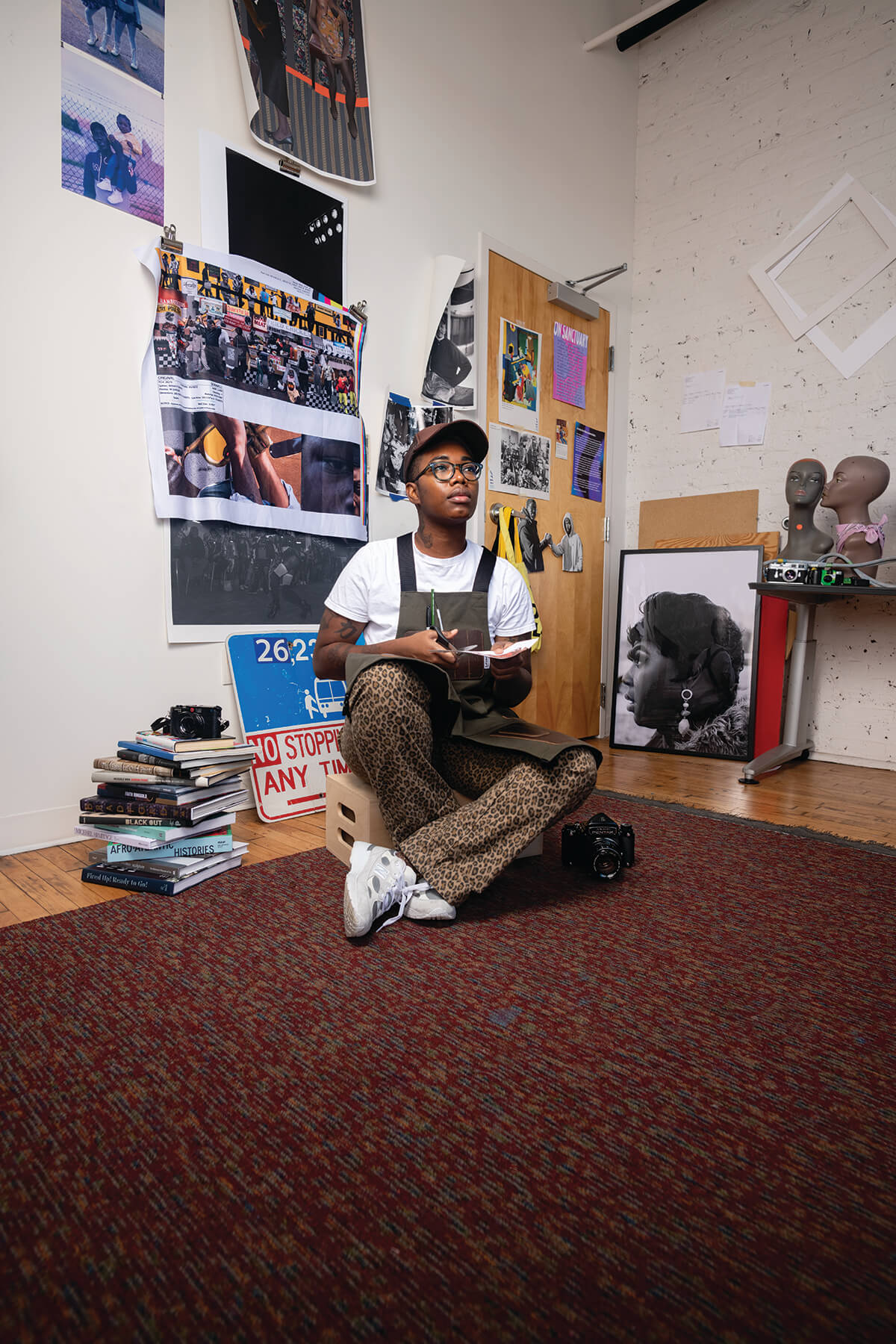 SHAN Wallace's latest collage is full of life—people young and old, sitting, standing, eating, dancing, all amidst a colorful array of signs hawking everything from crab meat and oysters to lake trout and snowballs. And through it all, there is one main character, which serves as both the backdrop of many of these photographs and the artwork's ultimate destination: Lexington Market.
"I've been going to Lexington Market for most of my life," says Wallace, 31, an East Baltimore native who grew up visiting the historic downtown landmark, circa 1782, with family and friends. "As a photographer, I felt called to document its history."
Last year, in partnership with market developer Seawall Development, the Baltimore Office of Promotion & the Arts, and the Municipal Art Society of Baltimore City, Lexington Market chose four teams of local artists to decorate its new digs, which, after two years of construction, are slated to open this month between Paca and Eutaw streets near Fayette.
Created with the help of food historian and High on the Hog author Jessica B. Harris, Wallace's collage, pictured behind the artist above, will serve as a sort of centerpiece for the new space. At 31 by 14 feet, it will be printed on fabric and installed above a sprawling central staircase, featuring images from both her Golden Time of the Hour and The Avenue series, both of which depict Black life in Baltimore with spirit and care.
"This is my offering to Lexington Market and to the people of Baltimore," says Wallace of her work, which has yet to be named, noting that its creation required many visits to the market. "Because this is a piece that will be hanging for a really long time, and because of the pressure I put on myself, I didn't want to [omit any aspects] of the market."
"I'm hoping that this art helps us remember the old market of our lifetime."
Other art will include murals envisioned by Ernest Shaw, sculptures by both of the mother-son duo Oletha DeVane and Christopher Kojzar, and metal artists Reed Bmore and Nick Ireys. For each, the mission was clear: to bridge the gap between the old Lexington and the new.
A painter and educator, Shaw was commissioned to curate four 16-foot murals on the market exterior, which, like Wallace's installation, celebrate the Black Baltimoreans who frequented the market and the Black culture that proliferated there. He enlisted the help of his mentor, Morgan State University art professor Guy Jones, and fellow painter Christopher Batten.
"Sometimes, new facilities and new things change the ethos of a treasure—I hope that doesn't happen here," says Shaw. "Lexington Market is a full, complete, authentic depiction of Baltimore City. I want people to look at my work and feel that they're a part of this shiny new building."
At 53 years old, the West Baltimore native remembers childhood visits with his father and brother to Lexington Market, where they would purchase pound cake, Utz potato chips, and Polish sausages.
"When I was only three or four years old, I would walk with my dad from our apartment on Division Street to Lexington, downtown," says Shaw, noting that it was also an afternoon hangout after high school with classmates. "As young adults, some of those same friends became jazz musicians and they would perform there."
As for Wallace, she hopes her installation will help preserve the magic of that market of so many Baltimoreans' memories.
"I'm hoping that this art helps us remember the old market of our lifetime—remember the people who made this market good, remember the old days, and celebrate them," she says.