The Spirit of Maryland's Former Poet Laureate Lucille Clifton Lives On in Windsor Hills
To honor their mother and father, the Clifton siblings are transforming their childhood home into a cultural center for emerging and underserved artists.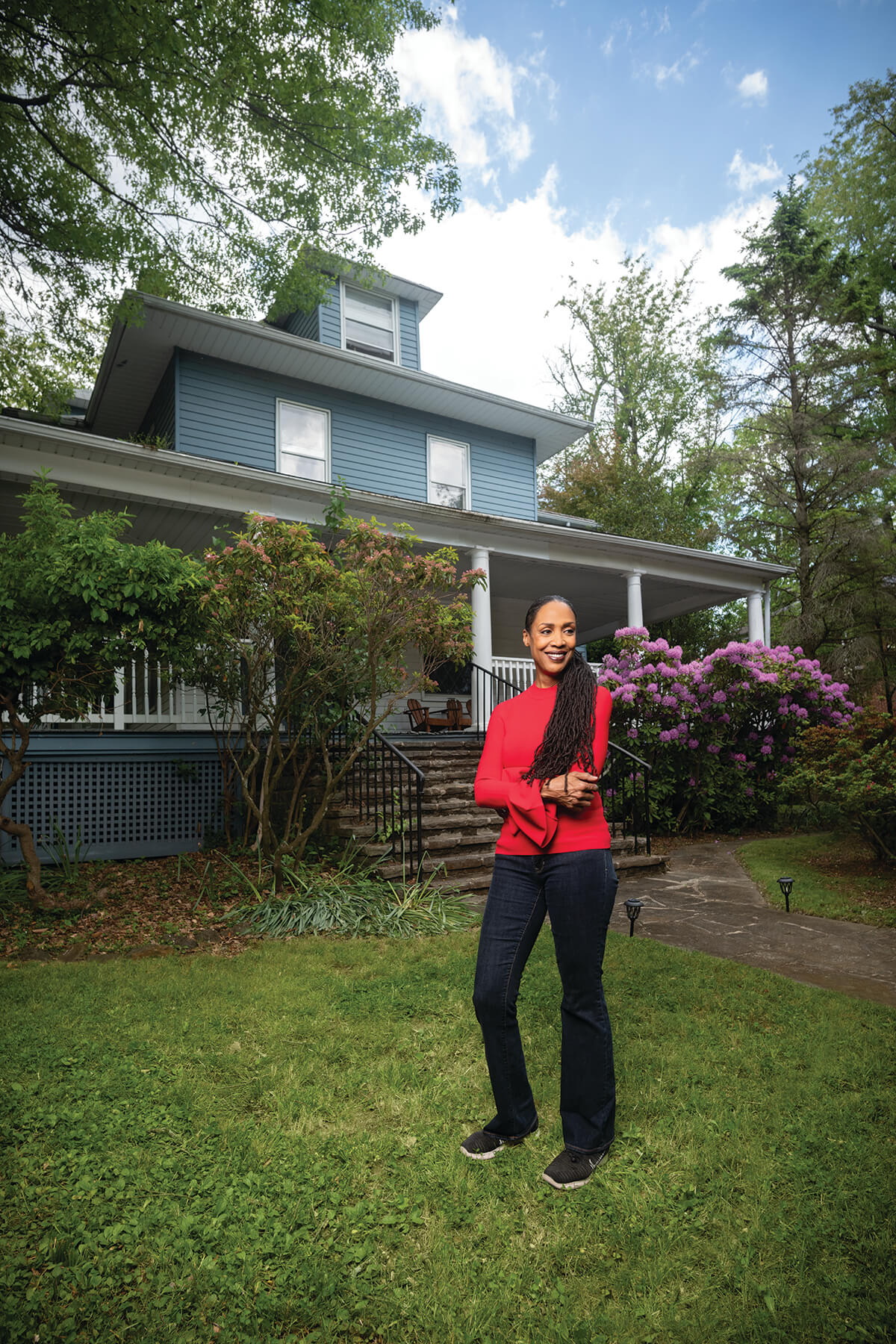 If the walls of this stately Victorian home in Windsor Hills could talk, they would recall the days when Maryland's former poet laureate, Lucille Clifton, and her husband, Fred, an educator and community leader, raised six children and gathered a coterie of artists and civil rights leaders for spirited discussions and camaraderie.
"It's where I learned to be nurtured by the community," says Sidney Clifton, the couple's eldest daughter, pictured, who is now a senior vice president at The Jim Henson Co. in Los Angeles. "My parents encouraged and attracted people who were like-spirited in the activist community and younger people who they would mentor. They would come and sit in the living room, and there would be these amazing conversations with the kids."
She's referring to visitors like Vincent Harding, who worked with Martin Luther King Jr., poet Haki R. Madhubuti, and jazz musician Ishmael Reed. But the happy days at 2605 Talbot Road came to an end in 1980, when the Cliftons lost the house to foreclosure.
"It was traumatic," says Clifton. "We found other places to live, but there was never another house like that one."
Until 2019, that is. On February 13, the ninth anniversary of her mother's death, Clifton reached out to the West Baltimore house's new owner out of curiosity. As if by fate, the four-bedroom, three-bath home with the wrap-around porch where she played "Mother May I" and freeze tag was for sale.
"I had zero reason to believe I could pull it off, but through sundry things and lots of support from family and friends, I bought the house," says Clifton. "It still gives me chills."
Then she had an idea—a way to honor her mother and father. She would create a cultural center for emerging and underserved artists, calling it The Clifton House.
"I had this thought about the miracle of the place and what it was when we were growing up," says Clifton. "It had to be that place again."
"There was never another house like that one."
The remaining three siblings were on board. (Another sister and brother died in 2000 and 2004, respectively; their father died in 1984.)
"It puts a smile on my face, thinking of my parents," says Gillian Clifton-Monell, the family's middle daughter. "It's such a testament to my mom and dad. I know how tickled they would be."
Repairs are still underway, while an official summer opening is being planned. An array of programs are in the works, including poetry workshops, art and writing classes, after-school tutoring, and computer literacy training.
Another sister, Alexia, was two-and-a-half years old when the Cliftons moved to the wooded community along the Gwynn Falls from New York. She was pleasantly surprised that the house's interior looked more or less the same.
"A lot of things hadn't been changed," she says, adding, "Talbot [Street] was all I knew as a child. It's a reclaiming of it, no doubt."
The family's mission has been bolstered by grants from the National Trust for Historic Preservation and the Andrew W. Mellon Foundation.
"It's easy to say it's the result of me and my team," says Sidney, "but it's absolutely because of Lucille Clifton."
Lucille Clifton was the poet laureate of Maryland from 1979 through 1985 and a two-time finalist for the Pulitzer Prize in poetry. Her first book of poems, Good Times, was rated one of the best books of 1969 by The New York Times. She also won the National Book Award for Blessing the Boats and wrote many children's books.
Jennifer Douglass, president of Windsor Hills Neighbors Inc., grew up in the historic-district community and remembers Lucille Clifton reading to students at her elementary school. She is looking forward to the house's revival.
"It will be a cultural hub that will benefit local people and local kids," says Douglass. "It's a reflection of Lucille Clifton's international renown."