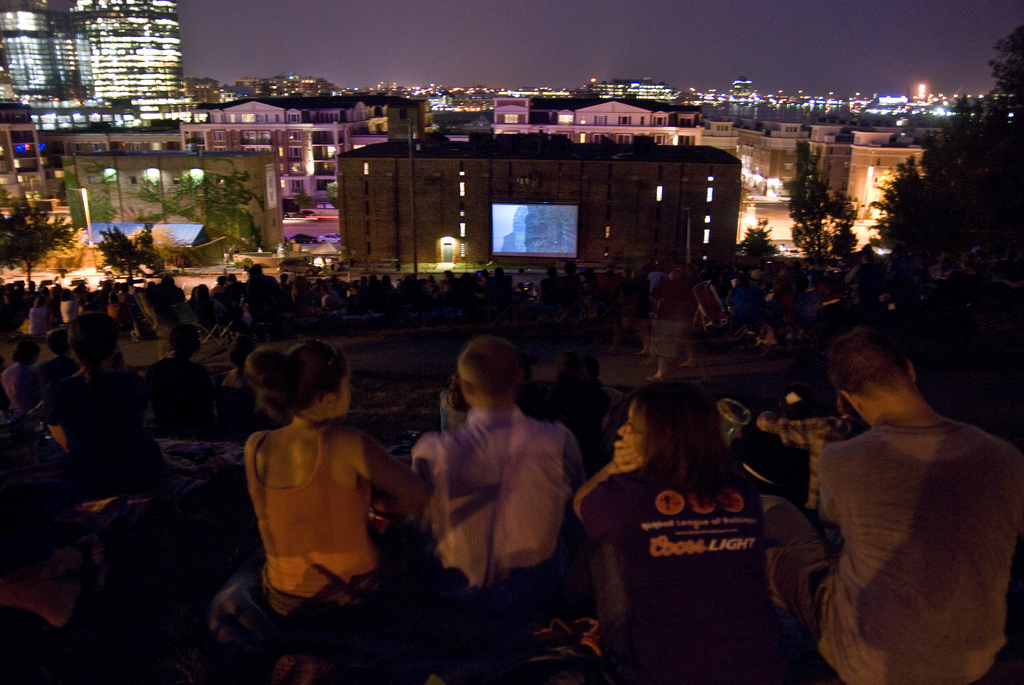 -Photo by ramsey beyer via Flickr
It's finally summer. Outdoor movie screenings have become a tradition in places across Maryland. It's the perfect opportunity to have fun with friends and family, enjoy good food, and watch a flick under a beautiful summer night sky. Here are some great places to enjoy free outdoor movies.
American Visionary Art Museum Flicks from the Hill: Free films will be screened on Thursday nights from July 10 to Aug. 28. The movie begins at 9 p.m at the Hughes Family Outdoor Theater, but the museum is open for free from 5-9 p.m. on flicks nights. Here is a full schedule:
July 10: Back to the Future
July 17: Hugo
July 24: King of Hearts

July 31: WarGames

August 7: Time Bandits

August 14: The Time Machine

August 21: Star Trek: The Motion Picture
August 28 – Jurassic Park
BROS- An Outdoor Movie Series: Union Craft Brewing is celebrating buddy flicks this summer. Grab some of your best buds and some brews from the tap room and enjoy classic "bro" movies projected on a 20-foot screen in the parking lot. The event is free and so is the popcorn. The tap room opens at 5 p.m. and the movie begins at around 9:15 p.m. Don't miss out.
June 27: Top Gun
July 11: The Lost Boys
July 18: Wayne's World
Fells Point Films on the Pier: This free film series takes place on the Broadway Pier in the heart of Fells Point. Critically acclaimed movies will be shown every Wednesday from July 9 to Aug. 20 at 8:45 p.m.
July 16: Fast & Furious 6
July 23: Lone Survivor
July 30: American Hustle
August 6: Noah
August 13: Silver Linings Playbook
August 20: This is the End
Little Italy Open Air Film Festival: This popular event has existed since 1999. The event is free and will take place every Friday from July 11 to Sept. 5 at the corner of High & Stiles Streets. Bring a lawn chair and enjoy free popcorn, live music at 7 p.m., and a movie, which begins at 9 p.m.
July 11: Hairspray
July 18: Gladiator
July 25: Big Night
August 1: King Kong
August 8: Moonstruck
August 15: Rocky
August 22: Silver Linings Playbook
August 29: Used People
September 5: Cinema Paradiso
Summer Moonlight Movie Series: Bring your own picnic dinner and enjoy five great movie nights throughout the summer at The Shops at Kenilworth. The events will be held in the lower level parking lot of the shopping center. The movies start at 8:45 p.m, but you can come early for prizes and games. Admission is free.
June 27: Frozen
July 11: Mamma Mia

July 25: Captain Phillips

August 1: Despicable Me 2

August 15: The Hunger Games: Catching Fire