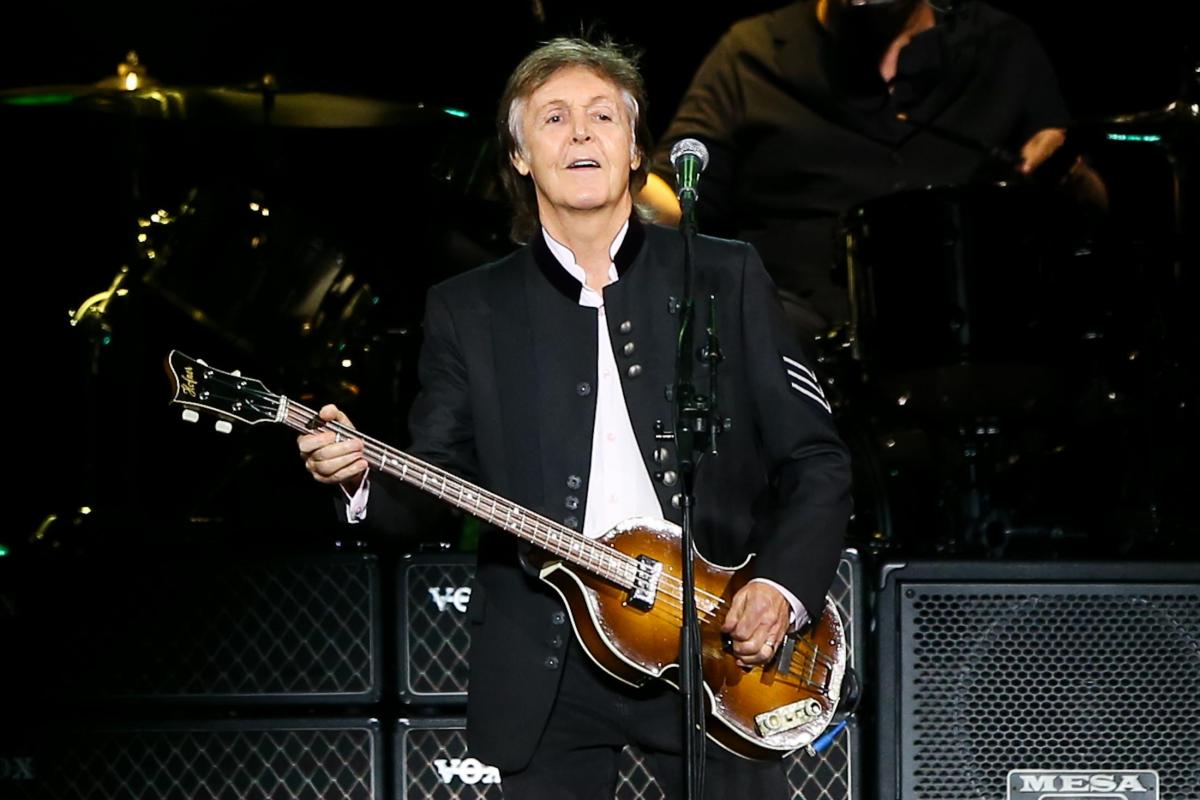 —Shutterstock
On the morning of September 13, 1964, hundreds of teenage girls gathered outside the downtown Holiday Inn on the corner of Baltimore and Lombard streets to hopefully catch a glimpse of Paul McCartney, John Lennon, George Harrison, and Ringo Starr.
But to the dismay of the giddy throng standing beneath overcast skies in a light rain, the British stud-muffins known as The Beatles—nearing the end of a 25-city landmark U.S. tour that exploded their worldwide popularity and fame forever—evaded their admirers. They bolted from the hotel in a limousine for a short dash to the Baltimore Civic Center, where they hid out in a dressing room, goofed off, tuned their guitars, and rehearsed in a communal bathroom shower.
When the quartet finally walked on stage and started playing the tune to "Twist and Shout"—like they famously did that February for 73 million television viewers in their U.S. debut on CBS' The Ed Sullivan Show—you couldn't even hear the lyrics amid the shrieks from roughly 13,000 hysterical fans at what is now the site of Royal Farms Arena.
"Everyone, including me, screamed for the next two hours," says Cheri Milrad of Pikesville, a longtime teacher who was 14 when she attended one of two shows the Beatles played that day. She echoed the primary memory of roughly a dozen people I heard from who had tickets, which cost as little as $3. "It was my first concert, and it was the biggest thrill of life."
This was Beatlemania in Baltimore, nearly 60 years ago, a cultural event etched in the memories of those who were there.
"It took hours for our hearing to return," says Patricia Piraino of Towson, who went with her mother. "Yes, my mother. We could hardly hear any music from the screaming, but I'll never forget the experience."
By the grace of YouTube, here's a mixture of grainy and pixelated footage from the start of one of the shows:
It was a circus as much as anything.
According to an account from the Maryland Center for History and Culture (which features images from former Baltimore magazine photographer Morton Tadder), two girls unsuccessfully tried to have themselves delivered into the Civic Center in a box marked "Beatles Fan Mail." Another young woman convinced a Civic Center employee to show her the band's dressing room, where she left a note with her phone number and the message "I love you Ringo" affixed to a coat hanger.
Following the shows, the Beatles went back to their hotel—where they allegedly partied all night at La Ronde, the revolving restaurant atop the Holiday Inn. The next morning, they got in their limo again—amid more hysteria on the streets—to leave. They were bound for Pittsburgh, never to be seen performing as a group within the Baltimore city limits again.
Of course, since then, Lennon was assassinated outside of his New York City apartment in 1980. Harrison died in 2001. Ringo is still, well, Ringo today. But 58 years later, the other remaining Beatle—perhaps your favorite?—is finally getting back to Baltimore.
This Sunday, Sir Paul McCartney, a living legend who turns 80 later this month, will drape a lefty guitar over his shoulder and take to a grand stage in Oriole Park at Camden Yards—a place that wasn't even built until 28 years after he and the Beatles first played here.
This visit will be a little different.
First, we doubt hundreds of women will stand outside Sir Paul's hotel trying to catch a glimpse of him before the show. We know at least a few people who were at the Civic Center in 1964, like Milrad, plan to be at Camden Yards, but everyone's a little older now. So it's unlikely anyone will try to be self-delivered into his dressing room—though you never know.
Second, this stop on McCartney's "Got Back" tour—the second-to-last performance of a 16-show, two-month North American jaunt that ends next week at MetLife Stadium in New Jersey—will be bigger in scale than the first time around.
When tickets to the Camden Yards show went on sale in February, they sold out in just a few days. If the stadium's first-ever standalone concert in 2019, when Billy Joel came to town, is any indication, we can expect to see approximately 40,000 people in attendance, with a stage in centerfield, speaker towers on the infield, and singalongs of "Let it be, let it be" breaking out in the stands—rather than the familiar "Let's go O's" chants. Plus, given the outdoor setting and advancements in technology since 1964, you might actually be able to hear McCartney this time.
And you'll have plenty of chances. During this tour, McCartney has played mammoth set lists, opening with 36 songs in a two-hour, 42-minute show in Spokane, Washington back in April and continuing the trend during each stop. We're talking hit after hit, like "Maybe I'm Amazed," "Love Me Do," "Blackbird," "Band on the Run," and "Hey Jude." Compare that to 12 songs in 1964.
Another feature to watch for: a "duet" from McCartney and the late Lennon of the Beatles' classic "I've Got a Feeling." Peter Jackson, who directed the well-received The Beatles: Get Back documentary on Disney+ this year, extracted Lennon's voice and video from an old live performance, and McCartney has played along with it on this tour, with Lennon on screen behind him.
We feel excitement just thinking about that potential scene on a baseball field where prized prospect, catcher Adley Rutschman, recently made his Baltimore debut. Which brings us to an important point. A Paul McCartney concert, which has been in the works since early 2020 (then delayed because of the pandemic), is all part of the Orioles' efforts to host more non-baseball events, concerts included.
They're off to not that bad of a start with the Piano Man and Sir Paul. After this one, the organization is eyeing more national and world-famous acts, according to Orioles vice president of administration and experience Greg Bader. That could mean another big concert in 2023, he says.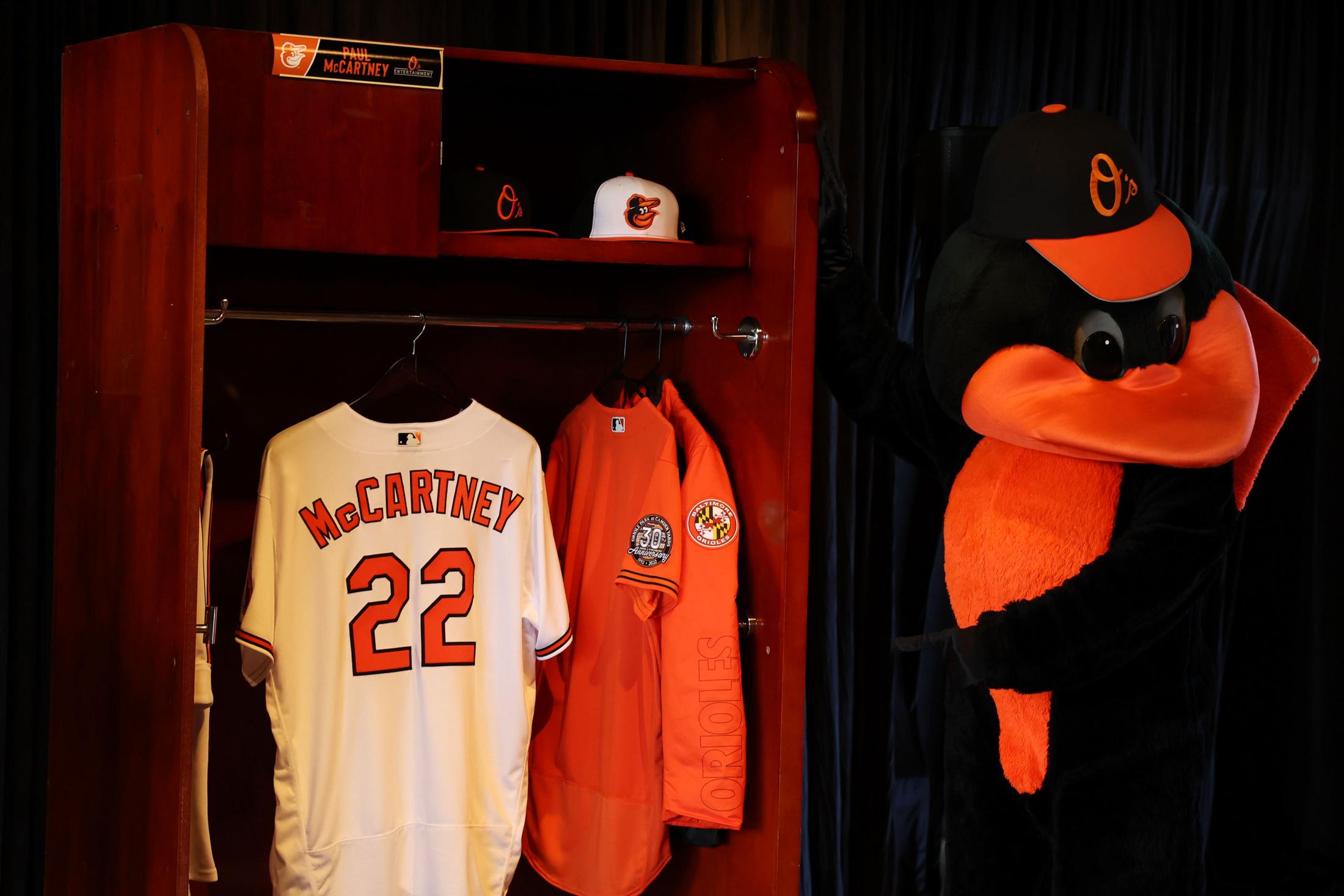 For years, the ballpark—which is celebrating its 30th anniversary this year—was considered "baseball only." Rumors were even common that ownership or coaches didn't want to ruin the grass, for example, so nothing else but baseball games were had—even as other stadiums across the country hosted giant concerts and other revenue-generating events.
But the tone has changed the last several years. The team has started to put on smaller concerts in the stadium after select games. Last September, folk rock group The Avett Brothers performed. Later this month it'll be rapper Flo Rida, and Baltimore's own Dru Hill with '90s legend Sisqó in August. For concerts like Joel and McCartney, the O's hand the stadium off to a production company a few days before the show, and they're gone within a day or two afterward.
"We believe very strongly that one of our primary objectives is to be that economic driver for the city and state, and to drive people to downtown Baltimore whenever possible," Bader says. "We try to do that 81 times a year [with home games], but there are other dates where we think we can do the same.
"When you think of the first 30 years of Camden Yards, it's drawn over 70 million fans to Baltimore. And that's been pretty much just Orioles baseball that has done that. So now we're adding in concerts and other potential events or festivals…The first 30 years was over $10 billion of economic impact delivered to the state, and we believe there's no reason why these next 30 years we can't deliver at least that again."
Since Opening Day back in April, McCartney concert signage has hung above Eutaw Street. And anyone who has driven near the iconic Camden Yards' brick warehouse in the months since couldn't have missed the giant likeness of McCartney staring at passersby, reminding everyone he's coming on June 12.
Back in 1964, long before the days of social-media marketing, a good old fashioned printed poster promoting the Beatles' shows in Baltimore read as if a man in a candy-striped shirt or a fedora were shouting through the corner of his mouth on the street hawking a gadget or newspaper:
BALTIMORE IS ONE OF THE FEW FORTUNATE CITIES THAT WILL HAVE THE OPPORTUNITY OF SEEING THE BEATLES IN PERSON. This may be your only chance to see these World Famous Artists BEFORE YOUR VERY EYES.
For the most part, and for 58 years, that was true. Until now, when one of them is getting back to where he once belonged.