Meet the Happiest House in Roland Park
From the outside, the 1896 fixer-upper appears like an unopened geode—large, imposing, and traditional. But split it open and inside is a space filled with wonderful light, colors, and patterns.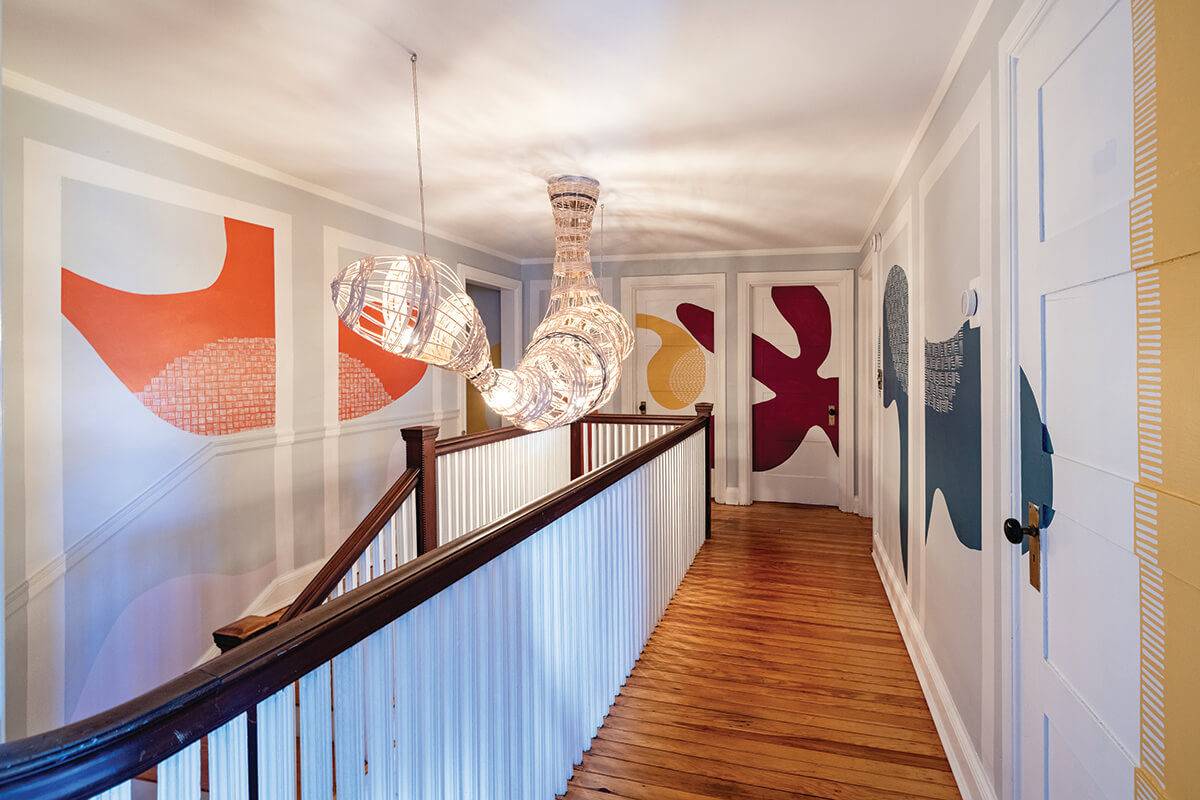 It was after the walls had been restored, the floors refinished, the plumbing mended, and the heat replaced at their Roland Park fixer-upper that the fun began.
The house, on Woodlawn, had been abandoned for years when Sarah Sachs and Christopher Davis saw it. The two had met in March 2018 and quickly found themselves planning a life together.
"We did what any couple does after dating for a mere six months," jokes Sachs, who lived in a tiny Hampden home at the time. "We bought a 125-year-old house with no plumbing, no working heat, 18 cracked radiators, and a basement that would fill up with two feet of water at the slightest rain shower."
Davis, senior director of tax compliance at Johns Hopkins Health System, came into the relationship with three children and building a home for his kids was a top priority.
And while the 3,600-square-foot home had potential, it was more of a "thunderstorm situation than a real estate fairytale," says Sachs, who teaches digital and darkroom photography, sculpture, and woodworking at Gilman School.
"Letitia VanSant's 'Gut It to the Studs' comes to mind—and that was definitely part of our 'Transform this Foreclosure into a Home' renovation playlist."
She also references the 1986 movie The Money Pit. "Every day a new pipe would burst, and water would shoot through the walls—it was fun."
It took about six months for the Roland Park house to be livable and clean. "I burned a lot of sage when we moved in," she says.
Once the place was empty, Sachs was suddenly overwhelmed by just how many walls there were, so she went safe and painted everything greige—a color somewhere between beige and gray.
But the artist in her knew that this was just the foundation. When she was growing up in Roanoke, Virginia, "I remember my dad was never thrilled about my desire to add art to my bedroom walls. It was a point of contention. No paint, no nails," she laughs. "I don't want to be too hard on him. He's going to read this—but he knows."
Instead, she would constantly rearrange her room. "Since I was six, I've been moving all the furniture around. I've always been hardcore weird nesting."
She also spent time in her basement, carving stones, so it was no surprise no surprise that she studied sculpture in undergrad. After that, she moved to Baltimore, where she got both a digital art and photography master's at the Maryland Institute College of Art.
The house presented Sachs with a chance to do everything she'd always dreamed of doing as a kid. She could paint and put nails in the walls, create pieces including cutting boards and candlesticks, and nest to her heart's content. It's her biggest canvas to date.
The first thing Sachs did was replicate a mural she had painted in her Hampden home—depicting the front yard of a cabin her dad built in West Virginia. It's a place that represents peace and happiness to her. The mural, in muted blues and grays, spans the entire dining room and is all horizons and trees and birds. "It really helped me bond with the house," she says.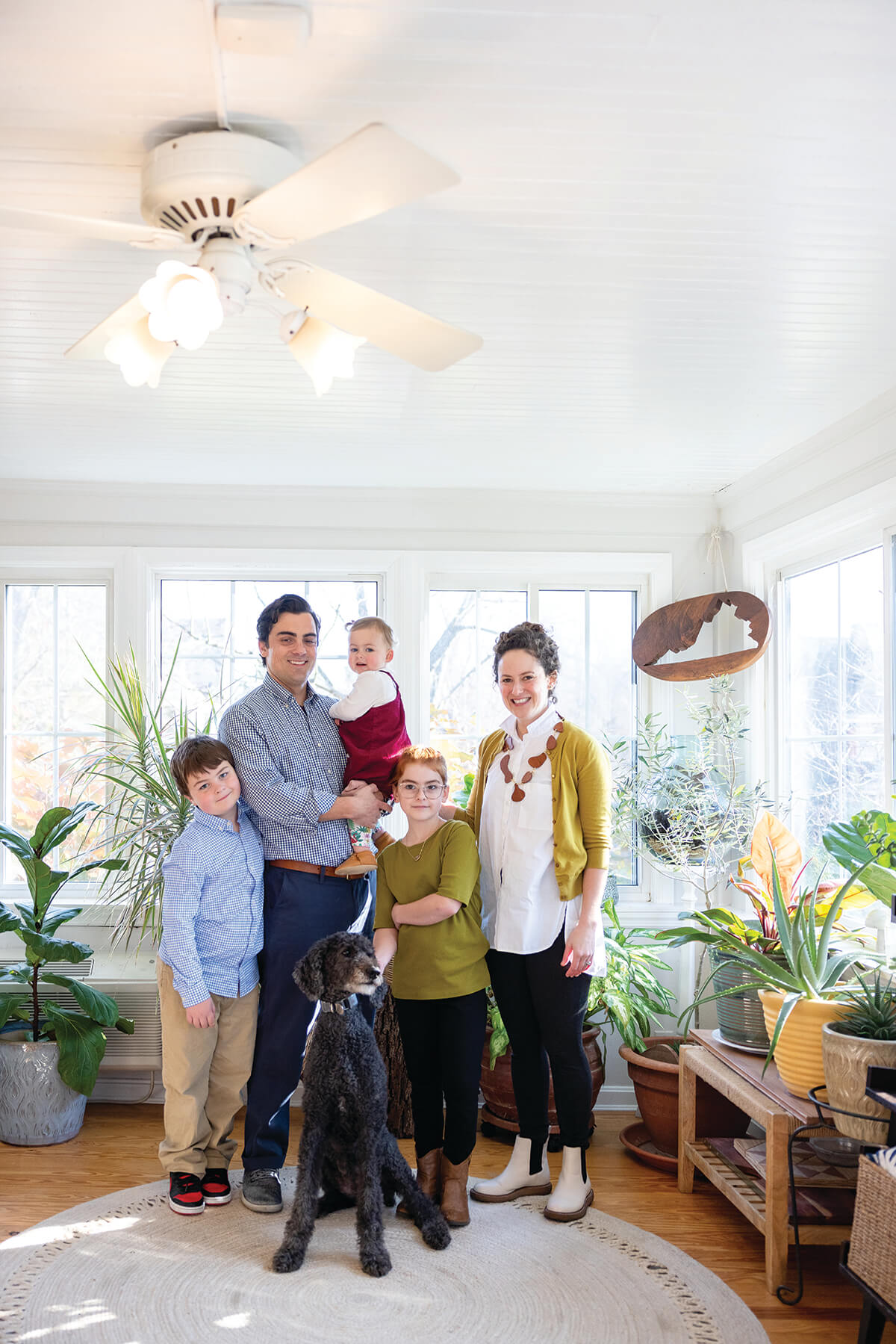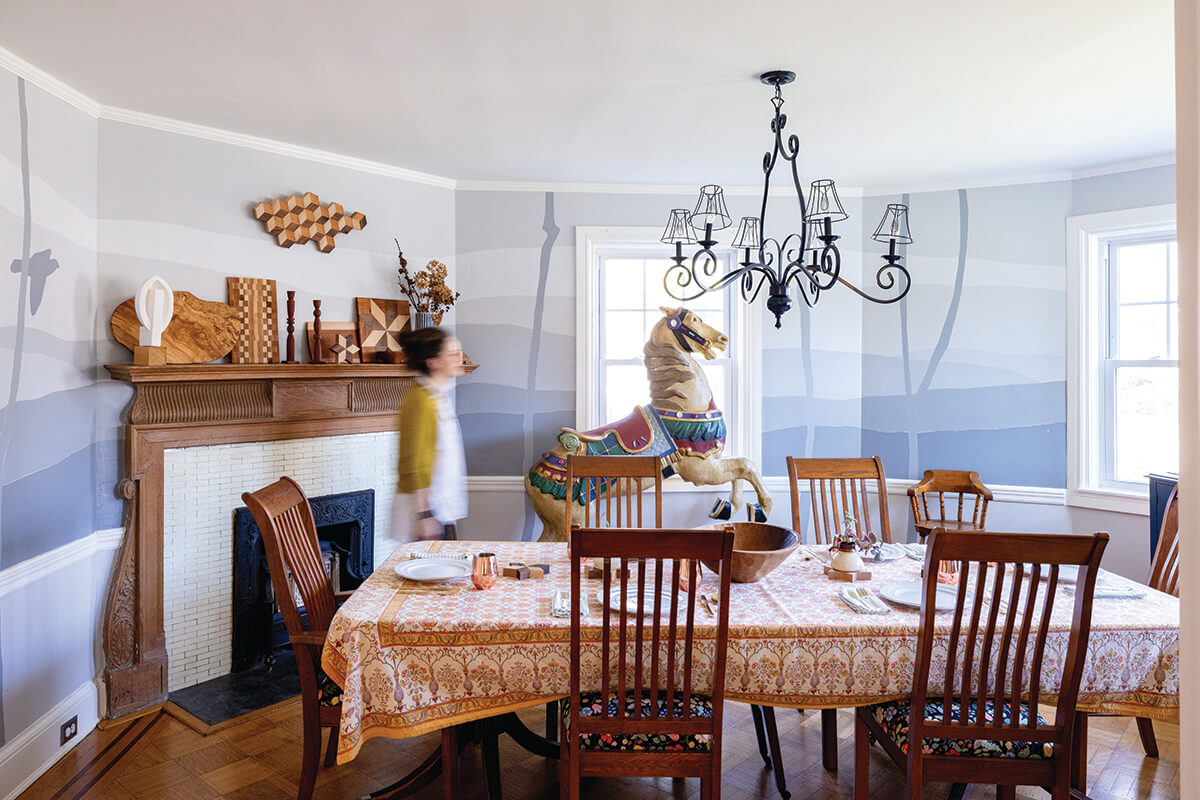 The kitchen—which includes two separate but connecting kitchens built for a previous owner who kept kosher—was dark and somber. There was a huge empty wall, and Sachs decided the opposite of gloom was sunflowers, so she painted the floor-to-ceiling flowers in yellows and grays.
"I did the sunflowers in the kitchen, but I hate them," she admits with a laugh. But for Sachs it's no big deal. To her, it's part of a bigger lesson of homeowners being afraid to try things. As an art teacher, she often sees that with he students—a hesitation. "They are scared to fail. Or try something and not be great at it. I'm like, if the sunflowers are lame, it's okay, I'll just paint over them. And I think that's important for my own kids to see."
This past summer, Sachs and Davis wanted to investigate what was in the thick wall between the stairwell and the kitchen—so they took a hammer to it. Turns out, there was nothing there (other than the hole they had now created). "So, we just covered it up with a painting," she recounts.
She wanted to take the entire wall down, but it was load-bearing, so instead they built a wall niche that allows for more natural light in the stairway and creates a focal point that is functional and artistic. The vertical rectangular nook has a curvy wood frame around it—made by Sachs—and is next to a tiny mural that teases what's to come upstairs. "I love it," she says.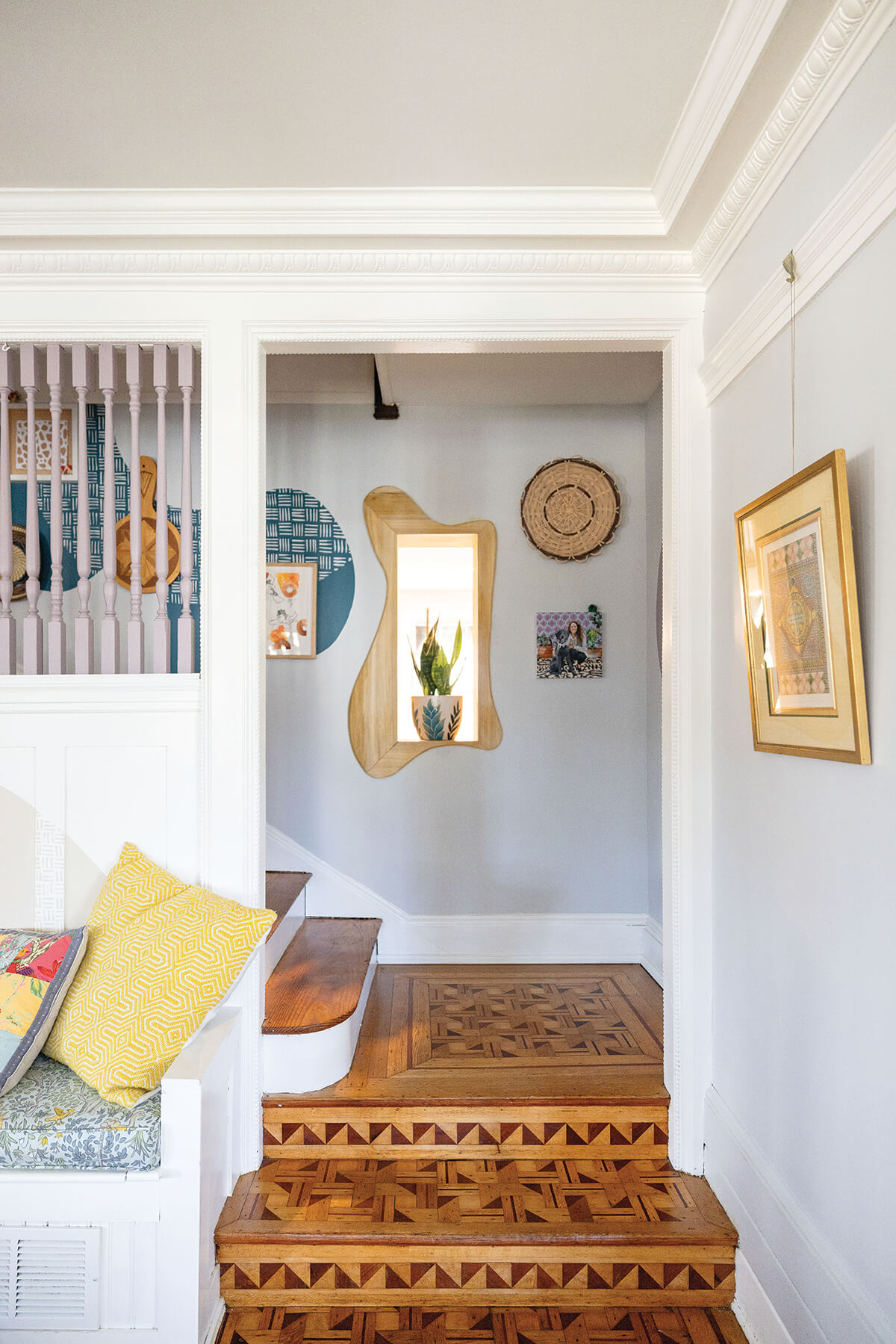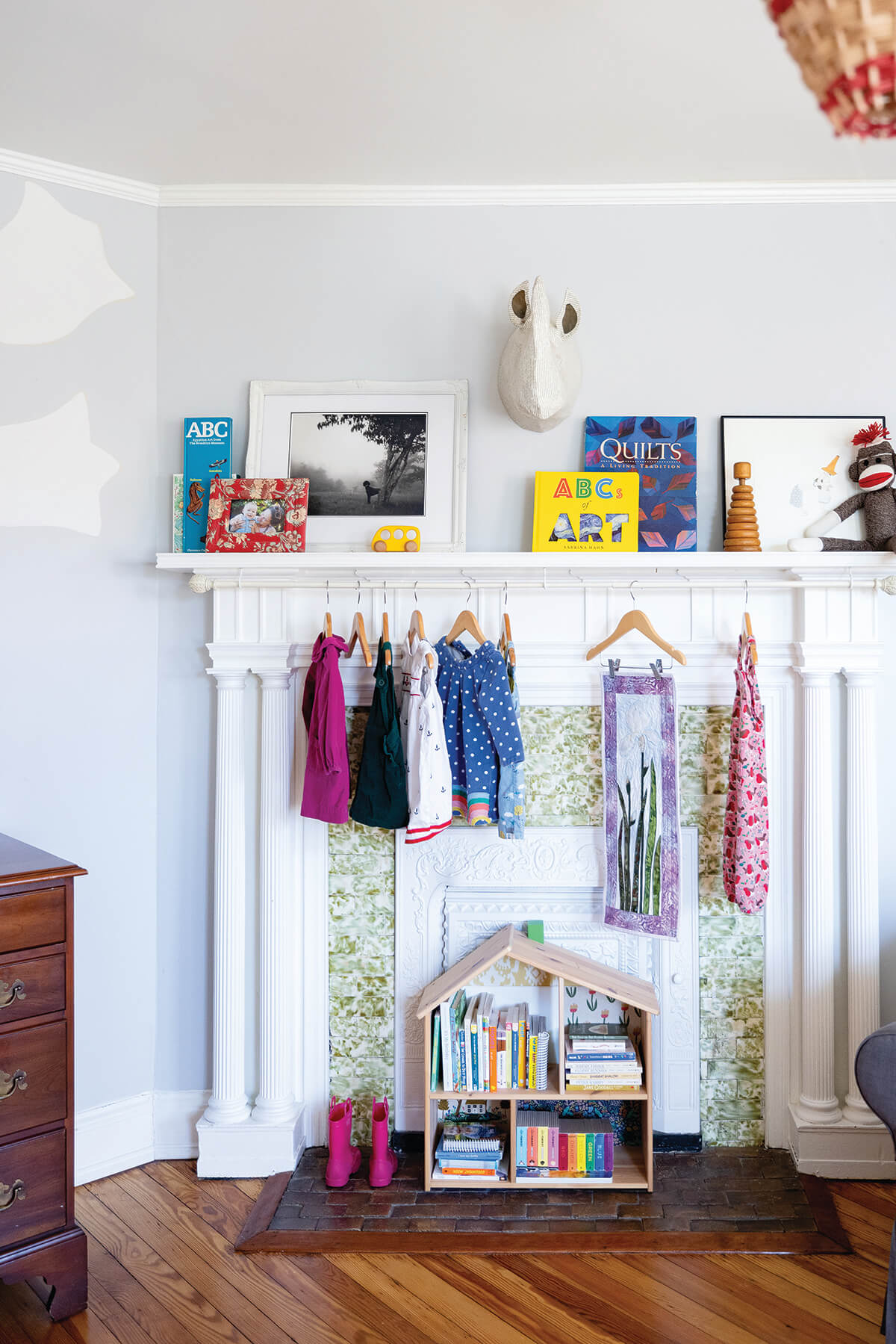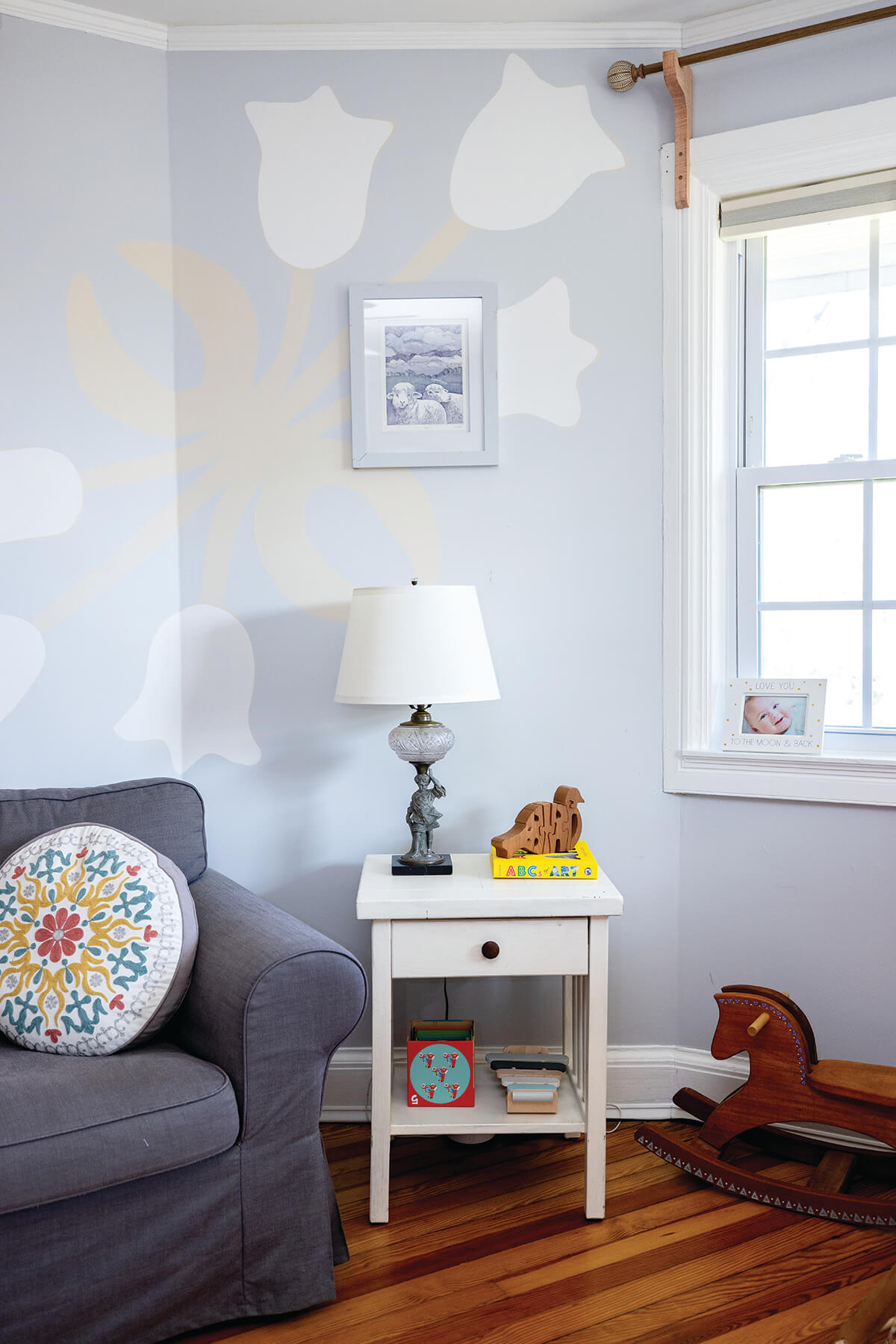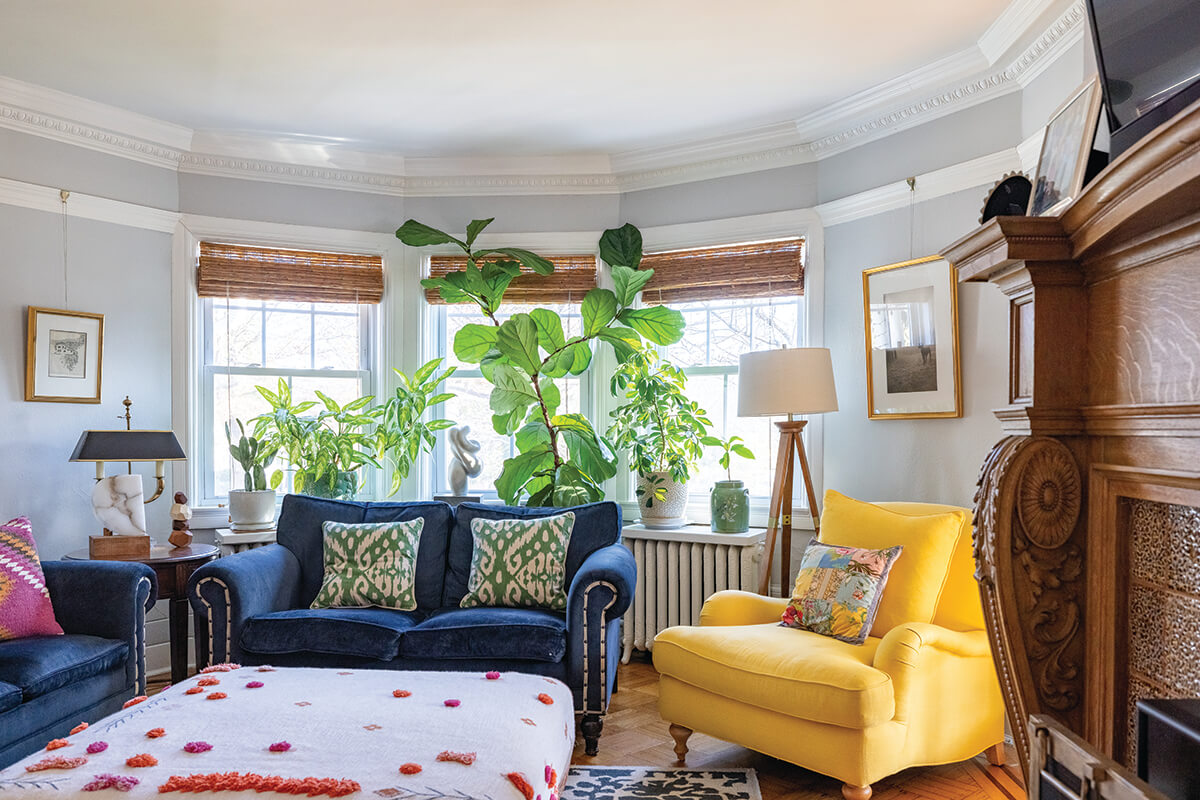 But she's also aware that her creativity can sometimes present in utter contrast to the look and historical context of the house, built in 1896.
"We both wanted an old house with history," she says, noting that Roland Park's history included a binding legal covenant that barred Black and Jewish families, which was particularly meaningful to her as a Jewish woman. Now, "I want my house to feel like it's my house."
To that end, a plaque outside greets guests: SHALOM, Y'ALL. And while they've preserved a lot of the original details—the original hardwood floors are spectacular, as is the fish-scaled glass that flanks the front door—the house feels like it belongs to a modern-day family. From the outside, it appears like unopened geode—large and imposing and traditional. But split it open and inside is a space that is lived-in and well-loved, filled with wonderful light and colors and patterns.
Some might call the interior eccentric. "We joke that we took the resale of the house—because house value up and now we're bringing it back down," she says. "The things we're doing…my realtor always comments on my IG posts, 'That's really fun—but are you crazy?'" She looks around, as the family's new puppy, Goose, pulls at a thread on a rug, and laughs, "We are making it a forever home because no one will ever buy it."
The pièce de résistance is on the second level of the six-bedroom house. Shortly after they bought the house, Davis was standing upstairs when the entire ceiling fell on him. Luckily, they were just big Styrofoam tiles. The whole thing was replaced, leaving them with a big empty "greige space," remembers Sachs. When all eight doors were shut it just felt quiet. Too quiet.
So, Sachs took it upon herself to build a massive hand-woven chandelier, a skill she had picked up at a workshop at Arrowmont School of Arts and Crafts in Gatlinburg, Tennessee. It's now just a part of the house.
"You can get used to greige and you can get used to huge baskets that are bigger than you," says Sachs.
The fixture has a few nicknames—her mom calls it a "dino submarine," Sachs and her family refer to it as Flo, after the "creative flow state" one can immerse oneself in while working on a project, and others are reminded of the blue whale suspended from the ceiling at the American Museum of Natural History in New York.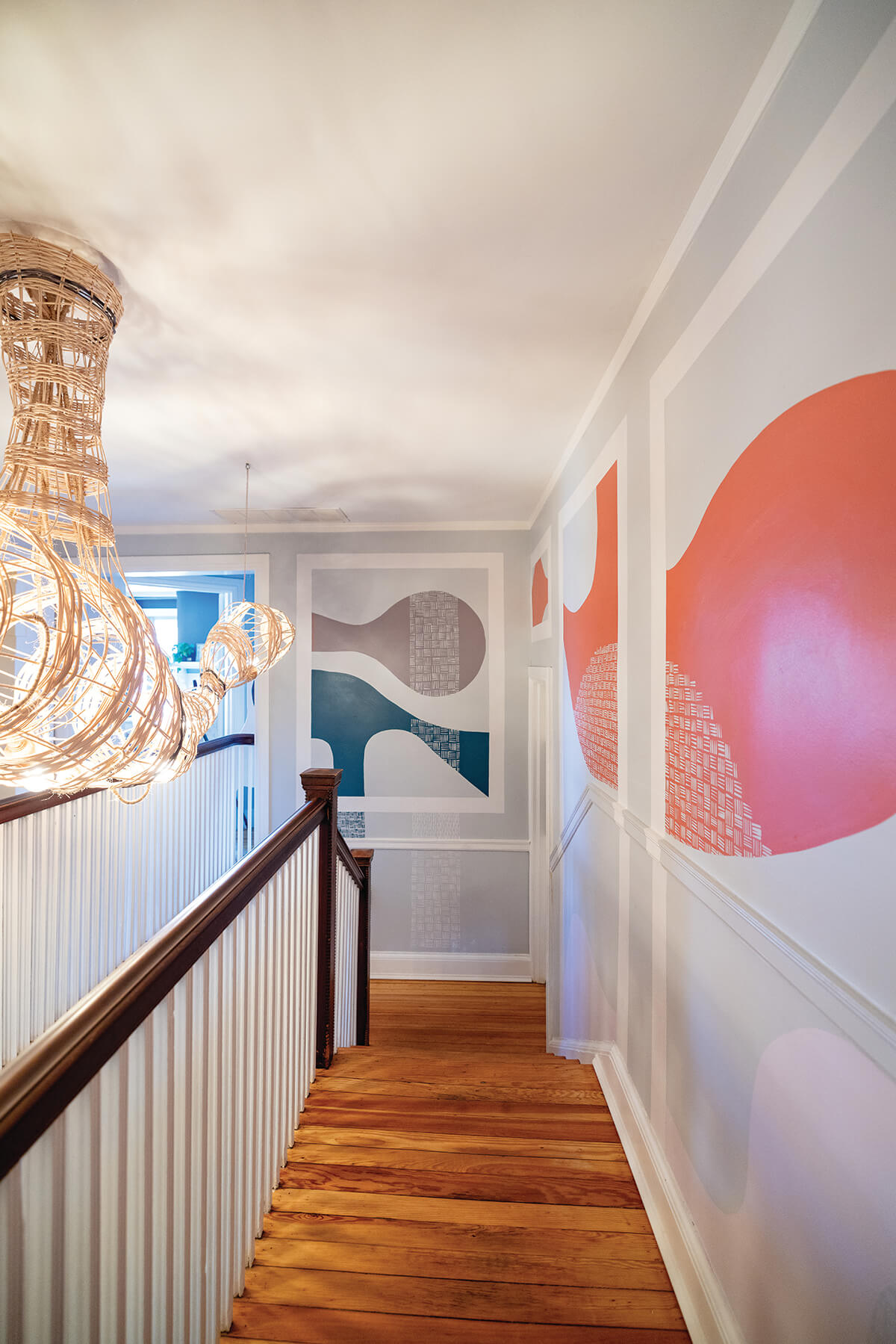 Then Sachs decided Flo needed a buddy and created a mural that mimicked her shape across all those doors. "I wanted to give her a friend, she was so lonely," she says. Sachs was off that summer from school, and while brand-new baby Iris napped, she would pick up her paintbrush. The shapes—in beautiful, not oversaturated jewel tones—were interesting but felt flat. "How can I make it look like a weaving?" she wondered, and came up with a texture. "And I just kept going." In two months, the space felt complete. "It was colorful, but calming," she says.
There is a joy, not sadness, that comes with completing a project. For Sachs, it opens an opportunity to move on to the next thing. So far, she's also gotten married in the backyard and muraled the baby's room with Dutch tulips and a pattern of a quilt she had as a child.
Says Sachs, "I haven't made a lot of my own art since buying this house—because this house is my art."