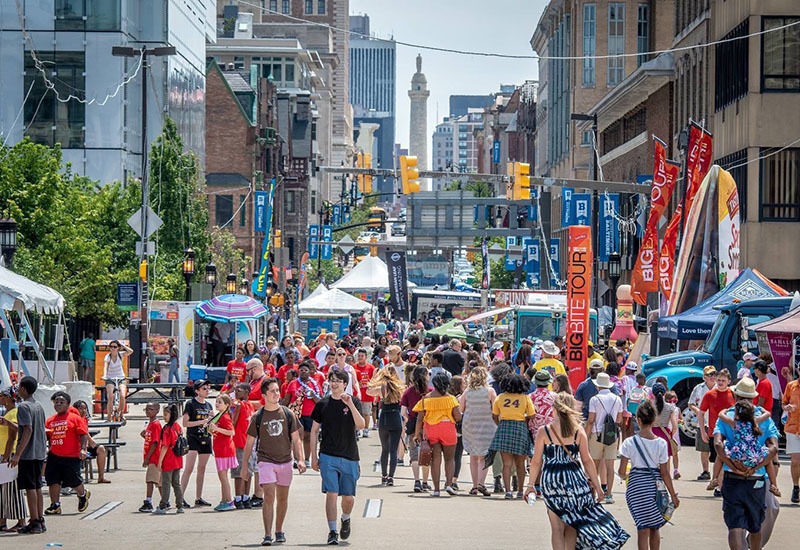 Artscape/Facebook
Each year, Artscape, America's largest free arts festival, is a reflection of Baltimore—where work from Charm City's most imaginative artists is on hand to showcase to the masses. In 2019, Artscape—returning July 19-21—is doing things a little bit differently, placing an emphasis on ensuring that the featured work is seen in as far a radius as possible.
There is plenty of excitement around what is a slightly revamped Artscape this year. Here's what you need to know before taking it all in.
A Changing Footprint
For starters, there are some changes pertaining to exactly where exhibits will be. This year, there is an increased focus on Charles Street and the Station North Arts and Entertainment District. The popular Artists' Market, which features over 100 makers (organizers call it the "heart and soul of the festival"), will move from its previous location along Mount Royal Avenue over to Charles Street.
"Artscape is in the middle of Midtown," says Kathy Hornig, director of festivals at the Baltimore Office of Promotion & the Arts. "So inevitably, every year there's construction or changes that challenge us to think creatively about the footprint of the festival. More is jumping off in Station North. That's really where we see the future of Artscape headed as a city-wide arts celebration."
Also of note: there will not be physical traces of the festival above the light rail tracks on Mount Royal Avenue, which Hornig notes is another way to place focus on Charles Street and the Station North district. This also opens up car traffic along Mount Royal—something very different from previous years.
In addition, due to ongoing renovations at MICA, the annual Sondheim Artscape Prize Exhibition, a festival favorite, will be moved r to One Charles Center. "We're bringing arts to an audience that might not otherwise think to pop into a gallery," Hornig says.
Expanding and changing the location of the festival gives attendees a different look, and the ability to explore areas they might not have as much familiarity with. There are restaurants and businesses surrounding the installations that can benefit from new exposure, too.
"We're hoping that [the new footprint] exposes a lot more people to all the really cool stuff that's happening on Charles Street and Station North," Hornig says. "We hope it pushes festival goers to patronize the restaurants, shops, bars, and clubs that are thriving in that neighborhood."
An Out of This World Theme
The theme for Artscape this year is "Discover"—a play off of the 50th anniversary of the Apollo 11 moon landing mission that happens to occur on the Saturday of the festival.
"We're always thinking of new ideas and coming together on how a theme will help us do a better job of curating the festival overall," Hornig says.
With this in mind, the Artscape braintrust got to work to find exhibits that would match the motif. And with Sydmonauts from artists Amigo & Amigo, they've done just that. Getting its inspiration from "low poly art, a popular style of 3-D digital art," the nine astronaut pieces originally appeared at the Sydney Festival in Australia, and they'll be spread out at locations throughout the event this weekend. "They're just so visually appealing,' says Hornig, who encourages patrons to snap a selfie with the unique pieces.
On the non-space front, renowned performers Squonk Opera will premiere their new show, Hand to Hand, an Artscape exclusive on North Charles Street. The show features the largest puppet hands in the world and is supported by original music, design, and staging.
Flavors of Artscape
Artscape also provides local food vendors with a canvas to showcase their offerings. This year's festival will feature merchants from the Baltimore Farmers' Market & Bazaar. Expect to see favorites like Ekiben, Otterbein's Cookies, Vagrant Coffee, Vegan Soul Bakery, and Black Dirt Farm.
There will also be new offerings like matcha and ube soft serve and brick oven pizza from an old-fashioned trolley. Perhaps the star of the show, though, is fried watermelon—an inventive summer treat from vendor That Sounds Fake. You'll need something to wash it down, and Maryland's Open Gate Guinness Brewery, will be slinging beers to sip as you walk the grounds.
"I'm excited for our festival goers to see what we have in store for them," Hornig says. "There's so much going on."