45 Going On 13
Why I decided to get bat mitzvahed in my mid-40s.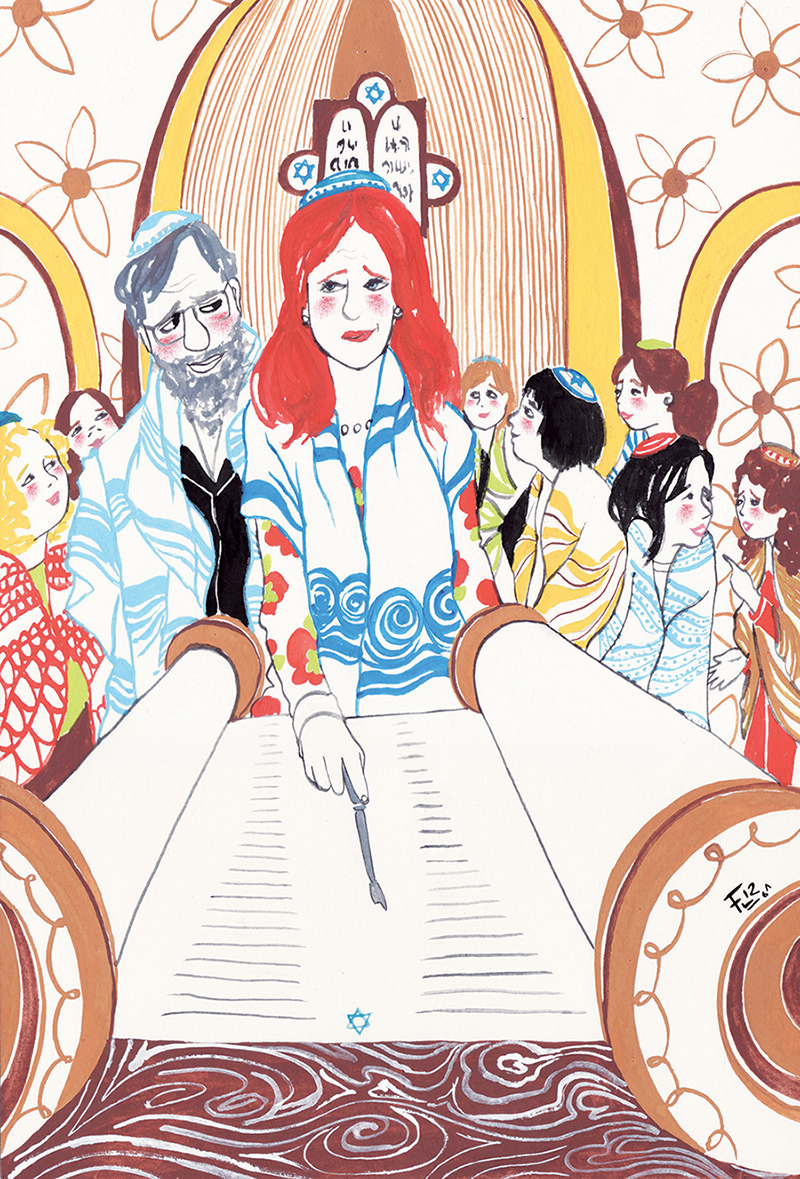 What if I open my mouth and no words come out? What if I've forgotten everything I've studied for the past two years? What if I sneeze on the sacred scroll?
These were my thoughts as I stood in front of my family and friends for this milestone event. After two years of preparation, my big day, March 29, 2008—22 Adar II 5768 according to the Jewish calendar—had finally arrived. I was becoming a bat mitzvah, a rite of passage that involves reading from the Torah and symbolizes a commitment to the laws and customs of Judaism. Did it really matter that this blessed event traditionally occurs at the age of 13, and, at 45, I was 32 years past puberty? To put it another way: Was it too late for me to experience a coming of age in middle age?
On this sunny March Saturday with 200 congregants—plus my sons, Zachary and Alex; my daughter, Sophia; my husband, Michael; and my mother, Millie—to bear witness, I sat in the front row of Pikesville's Baltimore Hebrew Congregation, waiting my turn to chant Torah. Two years ago, this spiritual hegira would have been unfathomable. With my inability to follow even the most basic synagogue services, skepticism of organized religion, doubt of the existence of God, and poor aptitude for learning languages, I was far from an ideal student of theology.
For most of my life, my Judaism had been a deep source of embarrassment for me, not because I wasn't proud of my heritage, but because I knew so little about it. While my maternal grandmother, Beile Kotler, came to Ellis Island from the Russian village of Kopojgorod, on April 13, 1913, with little more than a pair of silver Shabbat candlesticks and a love for her Judaism, she did not provide a more formal religious education for her daughter—my mother—and, as a result, those traditions and testaments were not passed down to me or my three sisters. We were Jews, but my parents were not like other Jewish parents I knew. Growing up, it's safe to say, I had the only Jewish father on the block who (fledgling painter that he was) in his spare time once painted a near life-sized oil portrait of Titian's Madonna and Baby Jesus and the only Jewish mother who, thinking it a masterpiece, hung it front and center in our family room. I mean, most Jews like Chagall.
I grew up eating the special Eastern European noodle kugels from my grandmother's Philadelphia kitchen and loved listening to the Yiddish that rolled off my grandmother's tongue. ("Bubele, take off that schmata," she would say whenever I wore frayed jeans.) I grew up unable to identify the symbols on a Passover plate, broke fasts we never kept, and spun dreidels with Hebrew letters I couldn't discern, but we came together as a family, and this was our version of Judaism. For many years, that was enough for me.
And then, it wasn't.
The first seeds of my discontent were sown on a trip to Israel two decades ago. I was called shiksa (Yiddish slang for gentile) by native Israelis, who laughed at my ignorance of the most basic customs and rituals. The irony was not lost on me. Fellow Jews were "accusing" me of not being Jewish.
Still, on other occasions, I was seen only as a Jew. In casual conversation with the mother of one of my son's former classmates, I used the word "minutiae." "Is that a Yiddish word?" she asked looking perplexed. "No," I replied curtly. "It's a Webster's word." I remember feeling a rush of mixed emotions: a surge of anger at what seemed a subtle form of anti-Semitism, a sense of shame that my Judaism was so on the surface for her, and a sense of guilt that it bothered me to be "outed" as Jewish. I found it ironic, too: With my red hair, green eyes, and flagrant visits to Starbucks on Yom Kippur (the Jewish high holiday of fasting), no one had ever mistaken me as a poster child of Judaism.
For years, I had contemplated the idea of becoming an adult bat mitzvah, but every time I attended a bar or bat mitzvah of an extended family member or one of my children's friends, there were parties with mechanical bull rides, caricature artists, and a commercialization of what was supposed to be a deeply sacred experience. Two recent extreme cases that I read about: American Idol's Sanjaya performed at a Huntington, N.Y., bat mitzvah and a Bronx "bark mitzvah," complete with chopped liver and wishes of "muzzle tov." This was not something I wanted to be a part of.
Then came middle age, which coincided with an interest in yoga, a thorough reading of Elizabeth Gilbert's juggernaut Eat, Pray, Love, and the realization that quiet contemplation was essential to my well-being. I had a sudden desire to "grow" into my own body as a spiritual being infused with equal parts wisdom, compassion, and decency. And maybe Judaism, I reasoned, could help me follow that path.
That and the fact that my son, Alex, also convinced me during his bar mitzvah process that if he had to do this, so did I, and no one likes a hypocrite.
My midlife crisis took the form of an inexplicable urge to demystify my own religion. I wanted to be able to sit comfortably in synagogue and follow a Friday night Shabbat service, to be able to explain the symbolism behind the tallit or prayer shawl, to read the Hebrew prayers in the siddur and, possibly, to contemplate the existence of a God I last seriously considered in fourth grade during my Are You There God? It's Me, Margaret Judy Blume phase.
Attending Baltimore Hebrew Congregation, where Zachary and Alex were bar mitzvahed (and where Sophia would be bat mitzvahed in 2010), was particularly meaningful to me. I studied with the same clergy, stood on the same bema, and read from the same Torah as my children. And while I felt silly initially, I felt better on the first day of class, realizing I was not the only one on a Jewish journey. There were nine other participants in my adult b'nai mitzvah class. Among us: 81-year-old Sylvia Besser, whose husband Jacob was the radar specialist aboard the Enola Gay at Hiroshima and was never bat mitzvahed because, in her day, that milestone was usually reserved for boys; Lee Smothers, an African-American Baltimore City parole officer and recent convert to Judaism; and Michelle Short, who converted, in part, for her life partner, Betsy, and because, as she once joked to me and my fellow classmates, "No other world religion would have me."
We couldn't have been a more diverse bunch. Our ages spanned the decades—we were mothers, fathers, grandmothers, spouses, and significant others. We were quiet, smart, comedic, and, as a group, delusional that decoding the Hebrew alphabet, with its befuddling vowels, would be as easy as learning to read in first grade. Over two years, in addition to learning to read Hebrew, we chanted from the Torah, and covered a few thousand years of Jewish history and liturgy.
We learned our Torah portions by chanting to our dogs (classmate Claudia's dog, Boola, even crooned back) and taping copies of our portions to the strangest of places including my favorite spot: the sun visor of my Volvo. (Red lights were no longer the enemy, but a useful learning tool.) Alex supported me as well, downloading his silver iPod with a recording of the cantor singing my Torah portion and, 14-year-old wiseacre that he is, creating some Semitic music of his own by a make-believe group he dubbed "Moses and the Circumcisions."
Who knew that Sunday mornings between 9:30 and noon would become holy? In those two-and-half hours, in a windowless, cinder block room, time seemed to stand still. And what began as nothing more than an adult education course transformed us not only as individuals but also as a group. Through our shared study and sitting together in synagogue services, we were pulled closer to each other and our identity as Jews.
What if I open my mouth and no words come out? What if I've forgotten everything I've studied for the past two years? What if the fire alarm goes off?
As Rabbi Elissa Sachs-Kohen and cantor Judy Rowland called me to the Torah, I stood tall and prayed that my new Manolo Blahniks would bring me to the bema. (Finally, I was grasping the usefulness of prayer!) As is traditional before the reading from the Torah, an aliyah, or blessing, is read by a family member, who also comes to the bema. Smiling, Alex blessed me. The ner tamid (eternal light) burned overhead, and a sudden surge of warmth came over me that I am willing to believe (drumroll, please) was the presence of God. (How else to explain what a nice, middle-aged, reluctantly Jewish girl like me was doing in a place like this?)
I took a deep breath, leaned into the microphone, and, using a yad (pointer) because the hand-scribed scroll cannot be touched, I started to chant, acutely aware that for thousands of years Jews in synagogues all over the world have been reading the same portion on the same day and will do so until the end of time. Standing on the bema, I felt myself become a part of something much bigger than myself. For the first time, I felt a sense of community and belonging that overwhelmed me, and years of humiliation were replaced by pride. "That was awesome," whispered the cantor when I was done. (Hey, it's a reform temple.)
Becoming a bat mitzvah has not made me any more Jewish than I was at the start. What I learned is that my spirituality did not come from this single moment in a poof of smoke—it has been here day by day throughout my lifetime, and I can see that now. All of my values and belief systems about myself and the world—my questioning, my curiosity, my idealism, my quest for knowledge, even my angst—are all inherently Jewish traits. Who I am fundamentally is a byproduct of my Judaism, and that hasn't changed, but having taken that journey, I am now part of a continuum that will go on forever. Like the millions of Jews who came before me, I am now a torchbearer.
Today, I wear my Judaism more openly and more comfortably. I am more willing and able to expound and elucidate. Years ago, while in Boston one summer, a Catholic friend discovered I was Jewish. "I have so many questions," he said. "And I have absolutely no answers," I fired back. My formal study has helped me with some of those answers, not all of which have been revealed. If my long-lost friend were to ask that question today, I would have to say, "Let's talk. I have some answers." Me, the shiksa of all people.