Boutique Blues
Five local retail shops share their COVID-19 woes.
Rob Reese was ready for a career change. After spending most of his professional life in digital marketing, he wanted to use his skills to breathe new life into a business he could call his own. It turned out Alternate Worlds, the Baltimore County comic book store where he'd been shopping for the past 10 years, was listed for sale. When Reese saw the posting, he thought, "This is perfect, this is the kind of stuff I love!"
In October of 2019, Reese closed the deal on the store. He was excited to make changes to the shop—developing a logo and branding, expanding its offerings of toys, reconfiguring displays, and building up the store's website and social media presence—and slowly saw his business progressing. He knew there was still a lot of work left to be done in order to grow. But there was one thing he couldn't have predicted.
"I didn't know a pandemic was coming," he says with a chuckle. "I wish I would have put that into the equation."
Much like restaurants, retail stores have had to adapt on the fly since March, after local governments ordered non-essential businesses to close their doors in order to slow the spread of COVID-19 and later allowed them to reopen with capacity restrictions.
Nationwide, only 45 percent of small retailers reported that their businesses were in good health, compared with 65 percent of small manufacturers and 67 percent of professional service businesses, such as law offices or accounting firms, according to a July survey conducted by the U.S. Chamber of Commerce and insurer MetLife.
While that number improved slightly in a survey taken by those companies during the winter holidays, 64 percent of retailers said they thought the worst of the pandemic was still to come.
The landscape is dotted with local institutions that, faced with sharp declines in sales, decided to close for good.
Unsurprisingly, the five area retailers we spoke with saw business decrease significantly during the time they were limited to curbside pickup or online orders. But with creative ideas, a renewed push online, some new merchandise, and strong community support, several have recovered and are staying afloat as the pandemic drags on. Others are still behind. Here are their stories.
When Reese bought the business, the number of customers who would stop in every week to pick up their regular orders of comics was about 300. That fell by roughly 100 once the pandemic hit, he says, with so many people losing their jobs or some form of income.
A decision by some major publishers in the spring to pause new releases until struggling shops could reopen ended up being a lifeline. Under ordinary circumstances, orders for new titles are placed with a distributor months in advance and stores must pay for the number of issues they requested, whether they sell them or not. At least now, Reese wouldn't have to pay for merchandise he didn't move. (Disclosure: Baltimore magazine publisher Stephen A. Geppi owns Diamond Comic Distributors, the largest distributor in the industry. His company halted shipments of new comics in March.)
Meanwhile, Reese turned to social media to try to drum up business, hosting livestreams to talk about new lines or to unbox items and posting giveaways and raffles. He also offered shipping deals and put together mystery boxes filled with an assortment of comics, toys, and other products.
"People still want entertainment, whether it's something to read or a game to play or some kind of toy that goes with The Mandalorian," he says.
While those tools have been effective, foot traffic is down about 20 to 40 percent and sales during the final months of 2020 were down 30 to 40 percent compared to the same period last year, Reese notes.
The lack of customers has been particularly felt in the upper level of the store—now a ghost town—where there are tables and chairs set up for patrons to play games.
"That was a huge source of stress for me," Reese says. "I know I'm paying rent for all this square footage I'm not even using."
Reese's landlord has been flexible on the timing of rent payments, but he knows the money will be due at some point. In the event of another shutdown, Reese says he will have to seriously think about reconfiguring his business and finding a place with less square footage. "I think I could survive in a smaller location focused on online sales and with less staff, unfortunately—that would be a possibility," he says. "I still don't think it would be easy."
He laments, "If you had talked to me in October, November, December of [2019], I would've told you about all these amazing plans I had. Now I'm just happy if I can pay my rent each month."
Esther Armstrong had big plans for 2020. After years spent planning, fundraising, and finding an ideal space, she relocated her beloved 26-year-old boutique, Sankofa African & World Bazaar, from Old Goucher to Park Heights and opened an adjoining nonprofit museum to teach children about African culture.
The museum launched on February 3, months after Armstrong reopened her shop, which sells clothing, jewelry, fabric, and art from the African continent, at its new location on Pimlico Road. By March, both were temporarily closed.
"I had no idea it was going to affect everything the way it has," Armstrong says. "When we had our grand opening, we had a nice-sized crowd, nobody was thinking COVID."
The store returned in July, but the museum remains closed. Customers have been slow to come back, Armstrong reports, with sales down by more than half. The store was briefly buoyed by the passage of the first federal relief package, the CARES Act, when people receiving unemployment benefits got an additional $600 per week, making it somewhat possible for them to splurge every now and then after taking care of basic needs. But once that added payment ended, Armstrong says, sales at Sankofa dropped again.
"Nobody is wearing the kind of clothes we carry because they are not going anywhere," Armstrong says. But she and her husband, Jim Clemmer, who run both the store and museum after retiring from other careers, remain even-keeled.
"We're going to keep putting one foot in front of the other and hope we survive and get to the other side in one piece," Armstrong says. "And keep a smile on our face."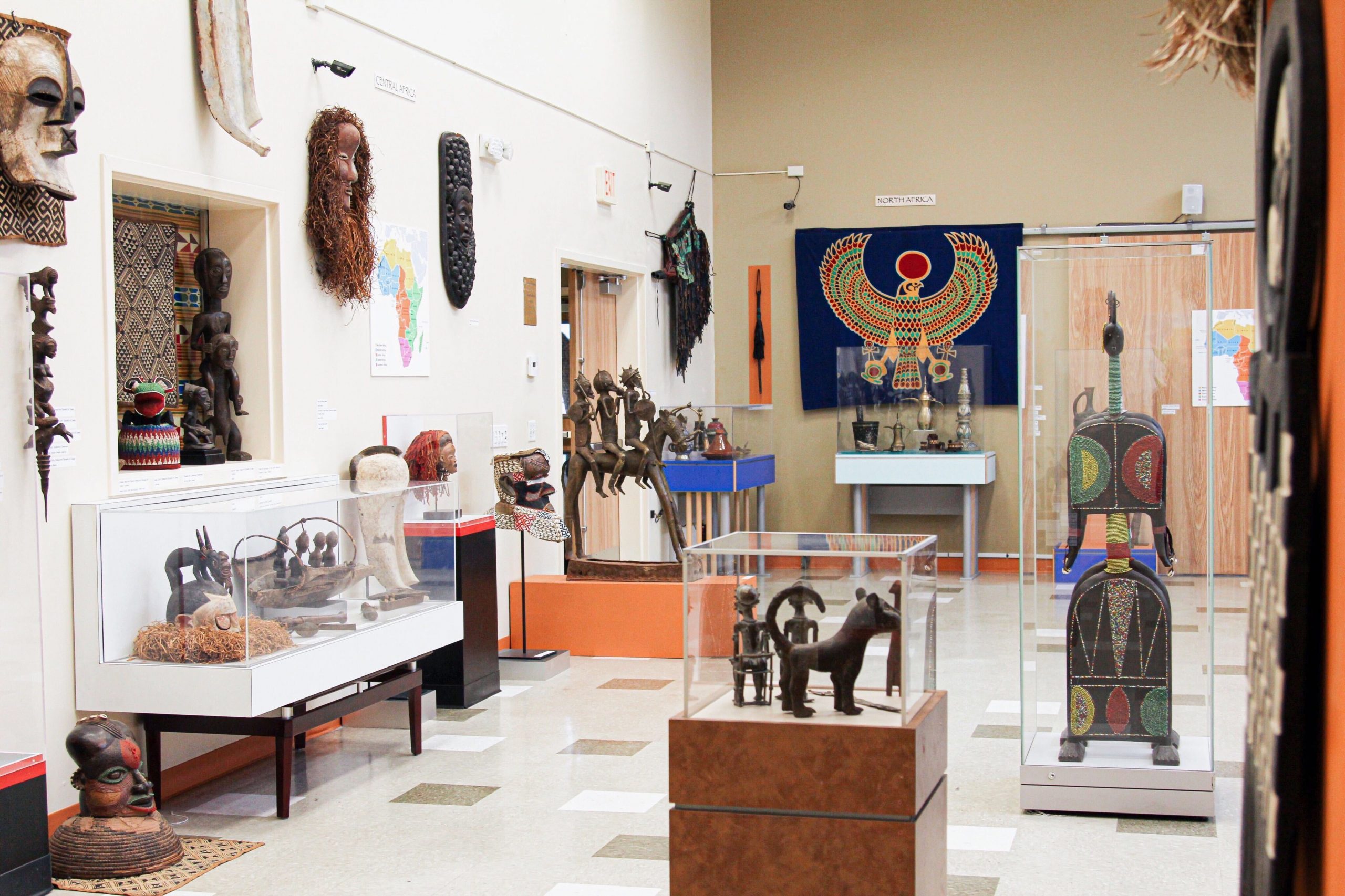 Teresa Blatchley has been in retail her entire adult life, starting with the Mount Airy jewelry store where she worked through high school and college. She opened her own store in Cockeysville, Teresa B. Gift & Home, but she sold that after three-and-a-half years. Still, retail was in her blood, so when an opportunity arrived in the form of a vacant storefront off Seminary Avenue in Lutherville, she couldn't resist.
Her idea was to combine gifts and accessories with a well-curated selection of high-end consignment clothing.
"The concept inside the store was to not make you feel like you were in a consignment shop," she says. "You would walk in and feel more like you were in an Anthropologie."
She opened Karma in 2017. Business was humming along, then COVID-19 changed everything, eventually causing Blatchley to scrap her original vision altogether.
Even before the coronavirus was on anyone's radar, she went into 2020 knowing Karma needed a working website, a task that was made more urgent as news of the outbreak spread. Blatchley decided to close the store in mid-March—days before Gov. Larry Hogan ordered non-essential businesses across the state to do the same—and launched the site.
Orders soon started flowing in for Easter, Mother's Day, and school graduations, with customers now able to have their items shipped to their homes or available for curbside pickup. Staffers also put together bundles of gifts and personal care products, including care packages specially designed for front-line workers, that sold quickly.
High-end consignment, however, was hardly moving. "Nobody was going anywhere," Blatchley says, echoing Armstrong's remarks. "Nobody wanted to buy used clothing."
As she moved to reopen the store with capacity limits in June, Blatchley looked at the amount of floor space taken up by consignment clothes and decided to pivot.
She reached out to dozens of vendors and quickly secured orders for the attire of the work-from-home era: joggers, hoodie sets—anything comfortable.
"I don't have anything dressy at all right now. It's just comfy casual loungewear," she says with a laugh.
The change has been successful, Blatchley says. And with the recent closings of longtime favorites Stebbins Anderson, Watson's, and Greetings and Readings, people looking to buy gifts for friends and loved ones have found their way to Karma, she notes.
Foot traffic and sales have actually picked up in 2020 compared to the previous year. Some people have told her they didn't bother visiting Karma before this year because they thought it was just a consignment shop.
Of course, nothing about this has been easy or stress-free, particularly when you pile on the task of helping two of her three sons navigate virtual school.
"I am constantly worried," Blatchley admits. "Every time I hear Hogan is going to speak, I think I've got to shut my doors again, or it's just a matter of time.
"I'm always stressing that we have an extra person in the store, there's too many people, or we didn't sanitize a basket. And my mind is constantly thinking, when does this end?"
Since opening in 2012, Brightside Boutique has been one of the more notable success stories in local retail. Brightside has expanded from its original Federal Hill store to Fells Point, Hampden, and Annapolis. Earlier this year, owner Christie Vazquez was at the opening of Brightside's fifth location, in the Shaw neighborhood of Washington, D.C., when she heard about Italy's shutdown due to the coronavirus.
Vazquez founded her business to introduce the work of up-and-coming designers from New York and L.A. to Baltimore shoppers and to create an in-store experience worth the visit. Even before state officials shut things down in March, Vazquez noticed fewer customers were coming in as they braced for the spread of the virus in the U.S.
Once the shutdown was ordered, Vazquez recalls telling her employees, "Moving forward, we are an online store now, we're no longer a brick-and-mortar."
Vazquez and her staff found creative ways to market and sell the cold-weather items still in stock. Then they had to figure out what their customers would want to buy online during the lockdown. Out with the dresses and rompers they would normally order for spring and summer, in with athleisure and loungewear.
Compared to 2019, sales will be down overall, but Vazquez says business has rebounded since all five locations have been able to reopen, despite caps on the number of people inside.
She now has more employees than she did before COVID in order to keep the web operation humming along.
"I haven't woken up in a relaxed mood since [last] March," says Vazquez. "I wake up every day scared, and I don't know what's going on and I don't know what we're doing. But if you continue to show up, and you continue to work extremely hard, and you don't give up, your customers see that, and they show up."
In the event of another wave of government-ordered closures, Vazquez feels confident that she has found a strategy that works.
"I'm not going to say it wasn't challenging—this has been an emotional ride for everybody," she says. "But we kept that positive attitude, and I think that's how we made it through this year."
Just before lockdown, Normal's co-owner Rupert Wondolowski drove to New Jersey to check out a record collection owned by a longtime customer who didn't want to have to sell each album on Discogs or some other site.
"I knew how good his taste was, so I said, 'I will happily drive to you and work out a really good deal,'" he recalls.
After local governments issued lockdown orders, the timing proved fortuitous. Wondolowski was able to sort through the records and sell titles through social media during the end of March and April.
"That record buy definitely saved our March," he says.
The staff at Normal's, a mecca for independent art and literature, was set to celebrate its 30th birthday this year with music and other festivities. Instead, they'll have to wait for the 31st. But a T-shirt marking the big 3-0, designed by local musician Owen Gardner, allowed people to celebrate the milestone and support the Waverly mainstay. The shutdown from March to June is the longest period of time that Normal's has been closed since its opening in 1990.
During that time, Wondolowski also curated "mystery boxes," an idea suggested by a friend in Albuquerque and inspired by another friend who PayPal-ed $100 to Wondolowski, sent a list of artists and genres she likes, and simply said, "Surprise me."
The mystery boxes were a hit. Normal's sold a couple hundred and, as part of a website overhaul, is adding a button for people to order one of their own.
Even with those successes, revenue was significantly down in March and April, and there was concern about falling behind on rent and utilities. Business has picked back up since Normal's reopened in June, first by appointment only and then gradually five days a week with a cap on the number of customers in the store.
Luckily, buying trends have helped Normal's survive. Vinyl records have been surging in popularity for a long time, and Wondolowski says he's seen a similar spike in interest for physical copies of books, years after e-readers were supposed to make them irrelevant.
And with people no longer able spend money on nights out, Baltimoreans are sheltering at home with a good book or album. The customers who have shopped at Normal's throughout its three-decade run have made sure to show support, too.
"I've felt very loved and appreciated through COVID," Wondolowski says. "It really felt like people stepped up and made sure we knew that they cared."
Wondolowski, an author and musician himself, currently performing with Liz Downing and Greg Hatem in the avant-garde folk group Mole Suit Choir, used to describe his writing style as "absurdo-miserablism." Not exactly optimistic, in other words.
But he recalls a recent conversation with musician and Normal's co-owner John Berndt, who pointed out that Wondolowski's response to the pandemic has been uncharacteristically upbeat.
"I have to say, it kind of has," Wondolowski acknowledges. "I feel like I'm definitely stronger than I thought I was."