Power
Who has it. Who's lost it. And how to get it.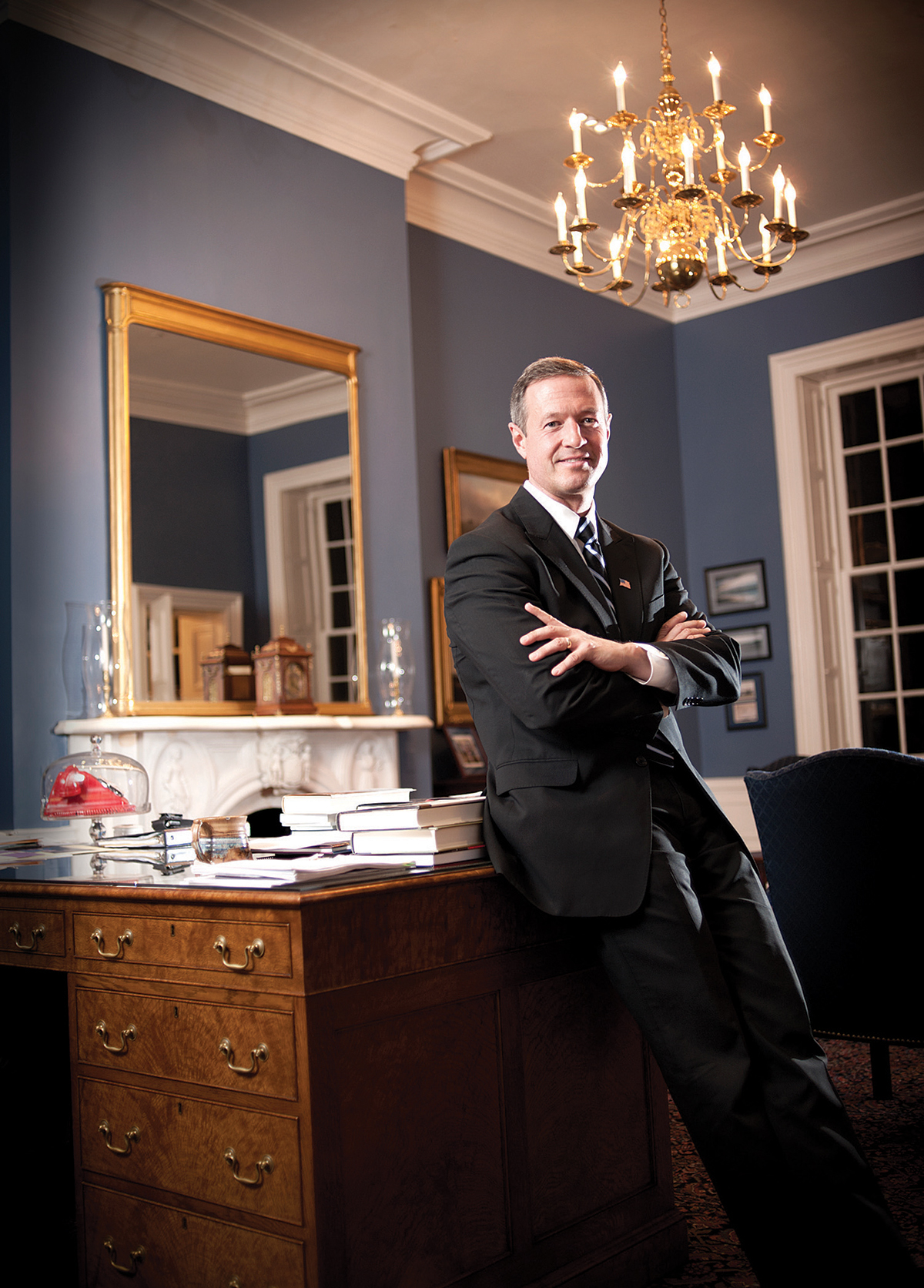 Edited by Max Weiss. Written by Jess Blumberg, Ken Iglehart, Suzanne Loudermilk, John Lewis, Amy Mulvihill, Evan Serpick, and Max Weiss
Delegate Keiffer Mitchell Jr. is at a cafe, being interviewed for this story, when his cell phone rings. "Hang on a sec, I've got to take this," he says. He leans away and answers the phone. He's discussing the Baltimore Grand Prix —the upcoming Indy car race that Mitchell was a key player in bringing to Baltimore. All of downtown will be affected by the race, and whomever Mitchell is talking to is clearly concerned about logistics.
The delegate's omelet arrives and sits untouched as Mitchell continues to talk in a cheerful and reassuring manner. More than 10 minutes later, he's off the phone. He looks up sheepishly. "Sorry, that was Brian Rogers," he says, referring to the chairman of T. Rowe Price, who is on our list (under Finance Power). "Speaking of power. . . ."
Mitchell digs into his (now cold) omelet and resumes the interview.
The moment was not staged for the benefit of this story, but it very well could've been. Rogers has access (he was calling Mitchell's cell) and influence (Mitchell was bending over backwards to accommodate him) and probably could've interrupted the breakfast (or lunch or family dinner) of just about any politician in town.
This story is our attempt to explore Baltimore power and the various ways it manifests itself in the region. Political power and financial power are perhaps the most obvious kinds, but there are other, less conspicuous types of power at play in such arenas as culture, health care, sports, and technology. What follows is our examination of power in all of its incarnations—from the boardrooms to the chatrooms and beyond.
Politics
The position comes with power. But it's how you wield it that really counts.
Governor Martin O'Malley
He spends a lot of time in Annapolis, but Governor O'Malley is still a Baltimore guy, and he wields an enormous amount of power here. For one thing, the former Baltimore mayor was a mentor to Stephanie Rawlings-Blake, and the two frequently acknowledge their close working relationship. Further, the road-tested, iron-tough Democratic political machine that O'Malley built (or rebuilt) endures. And every time he has an important moment, whether launching a reelection campaign or declaring victory, O'Malley is in Baltimore, flanked by the city's political elite, including Rawlings-Blake and Rep. Elijah Cummings. O'Malley is still captain of Baltimore's Democratic ship.
Stephanie Rawlings-Blake
When fiery Sheila Dixon resigned last year, Rawlings-Blake's low-key technocratic style was a welcome change. Now, the quiet machinations of her power are bearing fruit. After capably managing the biggest back-to-back blizzards in local history, she balanced an out-of-control budget, overhauling the police and fire department pension systems, making huge spending cuts, and passing a bottle tax—all without raising public ire too broadly. She announced ambitious new projects, like the 2011 Grand Prix race, and moved to renovate vast swaths of vacant housing. With all due to respect to Dixon, Rawlings-Blake demonstrates that one doesn't have to wave a shoe to demonstrate power.
Rep. Elijah Cummings
Like all of Maryland's U.S. Senators and Representatives, Cummings spends a lot of time in D.C. But more than any of the others, Cummings is a fixture in Baltimore. He fights for local interests, defending the fishing industry (maritimeprofessional.com calls him "the domestic maritime industry's biggest advocate in Congress") and proposing $2.25 billion in federal funds to clean up the bay. He sits on the board of trustees for the Maryland Zoo in Baltimore and the National Aquarium, and generally weighs in thoughtfully and impactfully on every issue of consequence, from slots to education funding.
And don't count out:
New Baltimore State's Attorney Gregg Bernstein upset incumbent Pat Jessamy with support from police commissioner Frederick Bealefeld and a tough-on-crime approach that resonated with voters and could elevate him to higher office.
Otis Rolley, Frank Conaway Sr., Councilman Carl Stokes, and Council President Jack Young have all been mentioned as potential 2011 mayoral candidates, but for our money, former Congressman and NAACP President Kweisi Mfume seems ripe for a return to prominence.
As deputy mayor for Economic and Neighborhood Development, Kaliope Parthemos oversees the Baltimore Development Corporation, Board of Estimates, and Board of Municipal and Zoning Appeals. More importantly, she's the Mayor's most trusted consigliere.
Religion
For the faithful of all stripes, these men of the cloth carry the most clout.
Frank M. Reid III
Rev. Frank Reid, 59, is senior pastor and CEO of northwest Baltimore's Bethel AME Church, the largest congregation in the city at over 10,000 worshippers and the choice for a number of politicians and other movers and shakers in the African-American community like Sheila Dixon.
Archbishop Edwin Frederick O'Brien
As if being the spiritual leader of half a million Catholics in central Maryland wasn't enough, the O'Brien-led Archdiocese of Baltimore oversees five hospitals, 70 schools, two seminaries, a food kitchen that serves 250,000 meals a year, plus countless other social service programs. O'Brien's military background—he was an army chaplain with the rank of captain who served in Vietnam—has undoubtedly served him well in dealing with the challenges of leading his flock in what have been difficult times for the Catholic Church.
Rabbi Mitchell Wohlberg
For 32 years, Rabbi Wohlberg has been the guiding light of 1,400-member Beth Tfiloh, the largest modern orthodox synagogue in the United States, serving both as rabbi of the congregation and as dean of Beth Tfiloh's 1,000-student, K-12 school. Dubbed "the master of the sermon" by the Baltimore Jewish Times, he is an author and regular panelist on WMAR-TV's Square Off.
And don't count out:
Bishop Walter S. Thomas Sr., 60, is longtime pastor of the 7,000-strong New Psalmist Baptist Church in northwest Baltimore. Like Bethel AME, New Psalmist claims its own VIP members (like Rep. Elijah Cummings), and Rev. Thomas's live Internet broadcasts and regular radio services are followed by thousands.
Rabbi Daniel Cotzin Burg, 34, the charismatic new rabbi at Beth Am synagogue, is packing the pews.
"He is already the talk of the town," says one member of the congregation.
Development
They've built this town, and, very often, they call the shots (and slots).
John Paterakis Sr.
Paterakis, 81, made his money as president of the family-owned H&S Bakery, the largest privately owned bakery in the U.S. H&S and its sister companies supply McDonald's, as well as house brands for Giant Foods, SuperFresh, and others. But he's as well known now for his H&S Properties, which has developed the $600 million waterfront Harbor East district, which includes high-end condos, office towers, restaurants, hotels, and retail space. Financing, schminancing: In the early years, his Harbor East vision was largely kept alive by Paterakis's own checkbook, which also has bankrolled numerous political campaigns. And now he's developing Harbor Point, a former industrial site just to the east that will be an $800 million complex of homes, offices, hotels and shops.
David S. Cordish
The 70-year-old president of The Cordish Companies is from a family that's been doing urban redevelopment for more than a century (his sons are now VPs). He's been behind Harborplace-esque urban renewal projects all over the U.S. that include entertainment venues, retailing, restaurants, gaming, residences, and hotels. His big new roll of the dice? The gaming casino at Arundel Mills shopping mall that voters signed off on in a November referendum. Cordish went door to door to make his case. Was there ever any doubt that he'd hit the jackpot?
Edward Miller
What's the top guy at arguably the best hospital in the world doing under "developers"? Because Johns Hopkins Medicine Dean and CEO Edward Miller is the man behind the curtain for entire medical mini-cities, including the massive renovation projects that have transformed East Baltimore. The two new state-of-the-art hospitals for adult and pediatric patients represent one of the largest hospital construction projects in the nation. In his 13-year tenure as dean, he's been the driving force for dozens of other Hopkins projects, too, and was a key mover in the Baltimore City-initiated biotech park north of the campus on a once-blighted 80-acre tract. We're guessing Miller isn't anywhere near done with his ceremonial hardhat and gold shovel.
And don't count out:
Michael S. Beatty, president of H&S Properties Development, is the guy who's made John Paterakis's ambitious and complex projects look like a cake walk.
Edward St. John's company, St. John Properties, has built more than 13 million square feet of apartments, offices, retail, and warehouses worth over $1 billion. But St. John, 72, is also known for his generosity—he's given more than $43 million to various causes through personal, corporate, and foundation donations.
Finance
Money is power and these financiers manage it, spend it, and control it.
Mark R. Fetting
Fetting, 56, the president and CEO of Legg Mason, was the board's choice three years ago to fill the shoes of retiring founder Raymond A. "Chip" Mason, who in 40 years grew the global firm to nearly $700 billion in assets under management. Fetting was an executive senior VP at Legg for seven years prior to his appointment. He serves on several community boards, including Mercy Hospital and Gilman School.
James A. C. Kennedy and Brian Rogers
T. Rowe Price Group CEO/president Kennedy and chairman Rogers oversee a global investment firm that manages $440 billion in assets. Besides employing 5,000 people, the most noticeable impact that the duo has on the region is the culture they promote of community involvement by T. Rowe staffers, who contribute heavily to local education, arts, and social causes.
Charles Newhall
Got a great business idea? Wouldn't you love to bend the ear of venture-capital giant Charles "Chuck" Newhall, cofounder (with Dick Kramlich and the storied Frank Bonsal Jr.) of New Enterprise Associates (NEA)? In the past 30 years, NEA has committed more than $11 billion to bankroll some 650 new information-technology, health care, and energy-technology companies here and abroad, of which more than 165 have gone public and more than 265 have been acquired.
And don't count out:
Since relocating to Baltimore from New York in 2002 to oversee the takeover of the former Allfirst Financial, Atwood "Woody" Collins III, the M&T Bank Mid-Atlantic Region president, has gotten involved in everything from mayoral task forces and the Greater Baltimore Committee to the city's economic development board and the Babe Ruth Museum.
Media
Traditional media may not be as omnipotent as it once was, but it still has plenty of juice in this town.
Mary Corey
Corey has been at The Baltimore Sun for more than 23 years, starting as an intern. Over that time, she's risen up the paper's masthead, earning allies and kudos. In May, she took over as director of content, the first woman in the paper's 173-year history to lead the newsroom, replacing Monty Cook, an out-of-towner brought in by the paper's owners at The Tribune Company who oversaw massive layoffs and downsizing. Under Corey's leadership, the paper has stepped up coverage of breaking news—evident in its coverage of the September shooting at The Johns Hopkins Hospital—and added new sections, including The Sun Magazine.
Jayne Miller
There is one journalist in Baltimore that virtually every public figure is afraid of: WBAL-TV reporter Jayne Miller. Her investigative reports have exposed corruption in public officials and failures of the criminal justice system. Her 2003 coverage of irregularities at mortgage servicing company Fairbanks Capital was picked up nationally, as one of the first stories to expose problems in the subprime lending industry. These days, whenever there is an important story in Baltimore—from Sheila Dixon's trial in January to the November elections—everyone looks to Miller for the most decisive analysis, which impacts how everyone else reports the story.
Bob Philips
Philips, the market manager for all CBS radio stations in Baltimore, including The Fan, WLIF, and WWMX, plays a subtle but powerful role in determining the stories, events, and topics that become major in the area. By directing the news departments that Marylanders listen to in drive time, even on a non-news station like WLIF (which is often the number-one rated station), Philips helps to set the agenda for other outlets in town and directs the conversations at water coolers throughout the region.
Mark Miller
Miller has long led the WBAL-AM's comprehensive news operation, and when longtime program director Jeff Beauchamp left the station last year, the unassuming Miller took on that role, too, playing a quiet but powerful role in the way Baltimore gets news. Over the last year, Miller has made WBAL more news-oriented—launching anchored news programs during morning and afternoon drive times—while still leaving it opinionated, installing right-leaning talk-show host Shari Elliker as anchor for the afternoon program and keeping former First Lady of Maryland Kendall Ehrlich on the air through the elections. It's the kind of formula that has worked on national outlets like Fox News, and time will tell if it works locally and affects the way other stations in town operate.
And don't count out:
Larry Young's talk show on WOLB (1010-AM) is a powerful voice on national and local affairs, particularly in the African-American community.
Local NPR affiliate WYPR, led by president and general manager Tony Brandon, has probably the second biggest radio news operation in town, after WBAL (with more in-depth features), and an audience of affluent movers and shakers.
Dogged Sun reporter Justin Fenton has been behind some of the biggest stories in town, scrambling to get to the bottom of the Hopkins shooting and breaking the news that Ehrlich operative Julius Henson was behind election-day robocalls.
Culture
The ever-strengthening arts community has some of its most high-profile leadership ever.
Fred Lazarus
Lazarus, the president of Maryland Institute College of Art, could vie for the top spot in the education category—MICA is, after all, one of the best art schools in the country—but that designation is too narrow for such a visionary leader. Lazarus has fostered strong ties with the business and nonprofit communities and gracefully shepherded an expansion of the school's footprint that's utterly transformed the Station North Arts District and enhanced the city's cultural riches.
Marin Alsop
Alsop, the music director of the Baltimore Symphony Orchestra, has set the bar high for leaders of the city's major arts organizations. Not content with being a programming genius and a captivating presence on the podium, Alsop isn't shy about flexing some marketing muscle—putting the BSO in front of new audiences, whenever possible—partnering with non-classical artists, and reaching out to the community at large.
David Simon
Simon's work (The Corner, Homicide, The Wire, and Treme) has resonated far beyond Baltimore to shape an ongoing dialogue about urban America. Its been the subject of college courses and even won him a MacArthur grant last year. As if that weren't enough, he's also married to author Laura Lippman, no minor powerhouse herself.  
John Waters
Baltimore's bonafide cultural icon continues to evolve beyond film, with art exhibits at A-list venues like the Gagosian Gallery in L.A., a witty memoir (Role Models), and speaking gigs around the world. Whether trading quips with Letterman or hobnobbing at an Oscars party, Waters is our most enduring and effective ambassador.
Doreen Bolger
Under Bolger's leadership, The Baltimore Museum of Art has shed its old image as an insular organization and forged stronger relationships with other arts institutions and community groups. While spearheading ambitious capitol campaigns and renovation projects, The BMA director is just as liable to turn up at a warehouse gallery opening as she is a corporate boardroom.
And don't count out:
Bill Gilmore, executive director of Baltimore Office of Promotion and the Arts, oversees a $6.4 million budget and local events such as Artscape, the Baltimore Book Festival, and the Preakness Parade.
Carla Hayden, executive director, Enoch Pratt Free Library, has reinvigorated the Pratt as a vital cultural center and been named by President Obama to the National Museum and Library Services Board and the National Foundation on the Arts and Humanities.
Jed Dietz, director of the Maryland Film Festival, also serves on the board of Centerstage, where he's heading the search for Irene Lewis's replacement.
Education
They're the toughest——and most important——jobs in Baltimore. These leaders are making a difference.
Andrés Alonso
Since coming to the Baltimore as CEO of public schools in 2007, Alonso has turned the system upside down, decentralizing power from North Avenue, closing failing schools, and opening more than a dozen new ones, with the intention of giving parents more choices. In the process, test scores and graduation rates have gone up, drop-out rates have declined, and many families who had previously fled public schools are taking a second look. With this year's new contract between the city and the Baltimore Teachers Union, Alonso took on an even more prominent role as a reformer on the national stage.
Nancy Grasmick
As Maryland's Superintendent of Schools, Grasmick led the charge to win some of the $4.3 billion in federal "Race to the Top" funds. With 19 years in the position, Grasmick was able to quickly mobilize the legislature and education officials across the state to overhaul tenure and evaluation systems, set new curriculum standards, and design a new way to collect student data. As a result, Maryland was one of nine states (along with D.C.) to win funding, earning $250 million that will go toward implementing reforms and creating new schools.
Ron Goldblatt
Tough economic times have meant that many private schools have struggled to maintain enrollment, but the Association of Independent Maryland Schools (AIMS) and executive director Goldblatt have provided a steely backbone for its 115 members. This year, the organization flexed its muscle to help shoot down new legislation that would have required greater state regulation of independent schools and held a steady stream of workshops to help increase enrollment.
Marietta English
The Baltimore Teachers Union took a bold step this year, approving a new contract that includes pay increases, but also ties salary to student performance, making it one of the most reform-minded contracts in the country. After the membership initially voted down the deal, union president English worked with schools administrators to nail down more specifics and held information sessions in every school in the city, which resulted in an overwhelming 1,902-1,045 vote.
And don't count out:
Alonso's hand-picked Baltimore City Public Schools' new chief academic officer Sonja Brookins Santelises is already getting attention for talk of increasing standards in city schools and raising elite schools to the level of the top public schools in the country.
Cheryl Bost, president of the Teachers Association of Baltimore County (TABCO), led the fight against a cumbersome new student evaluation tool, the Articulated Instruction Module (AIM), delaying its implementation and putting county superintendent Joe Hairston on the hot seat for granting the program's copyright to an employee.
Legal
These are the 800-pound gorillas of Baltimore's law scene, and their firms have the revenue to prove it.
Peter G. Angelos
A honcho among honchos, Angelos, 81, could obviously fit into a number of our categories, including sports (as CEO and chairman of the board of the Orioles) and philanthropy. He's made his millions representing the victims of faulty products, medical malpractice, and personal injury, but is best known for class-action suits against manufacturers of asbestos and tobacco.
Francis B. Burch Jr.
Frank Burch helped turn the regional law firm Piper & Marbury, with its 250 lawyers, into DLA Piper, an international practice with more than 3,500 lawyers and revenue of $2 billion. And he's a trustee of The Johns Hopkins University, Johns Hopkins Medicine, and the Carey Business School of Johns Hopkins University, as well as past board chairman of the Greater Baltimore Committee and the University of Maryland School of Law.
James L. Shea
Shea, 58, is chairman of the board of law firm Venable LLP, with 600 lawyers based mostly in Baltimore, Washington, D.C., and New York. He's also on the boards of the Greater Baltimore Committee and the Downtown Partnership of Baltimore.
And don't count out:
Senior Venable partner Benjamin Richard Civiletti, probably the best-known name in American law, was U.S. Attorney General during the Carter administration, and recently became the first U.S. lawyer to charge $1,000 an hour.
Underground
Baltimore has become a national center for underground culture. Below, the leaders of the artists, hipsters, and tastemakers who make the scene.
Dan Deacon
In 2004, musician Deacon moved to Baltimore with a mantra: "The future surrounds us. Let us begin." Setting up camp in the Copycat building on Guilford Ave., he and some friends founded Wham City, an arts collective bursting with creativity. Wham City threw massive dance parties in industrial spaces, drawing artists, musicians, and patrons from local colleges, especially MICA, and beyond. In 2006, they founded Whartscape—a more D.I.Y. answer to Artscape—giving a platform to local bands like Beach House and Ponytail, who would go on to gain national followings. They staged theatrical programs like Shoot Her! Jurassic Park: The Play. The excitement around the scene helped spur an arts renaissance in Station North. After a successful Whartscape in July, he announced that it would be no more. "Part of the fun was making it grow," he said. "But we'd like to move on and try something new." At the photo shoot for the cover of this magazine, Deacon huddled with BSO maestra Marin Alsop about a potential collaboration. Later that day, a BSO rep called the office looking for Deacon's contact number. We can only imagine what he has in store for Baltimore next.
Matt Porterfield
Porterfield has a legit shot at being mentioned in the same breath as Levinson and Waters as one of the city's finest filmmakers. Porterfield's latest movie, Putty Hill, has been a hit on the festival circuit—screening in Berlin, Lisbon, Copenhagen, and Austin's SXSW—and elicited raves from The New Yorker's Richard Brody, who opined that "if there's an independent cinema, [Putty Hill] is it, and if there's a new director, here he is." Porterfield gets extra credit for crafting music videos for local bands such as Double Dagger and teaching film at Hopkins.
Scott Berzofsky, Dane Nester, and Nicholas Wisniewski
These three MICA grads formed the arts collective Baltimore Development Cooperative (BDC), which addresses urban issues with a powerful mix of creative moxie and grassroots organizing. Their recent The Food Network exhibit at the Creative Alliance included installations by community groups such as Hamilton Crop Circle and info-sharing forays into city neighborhoods. The BDC also cosponsors STEW, a dinner (held three or four times a year) that raises money for various social justice projects.
And don't count out:
The folks at Red Emma's present talks and performances at their Mt. Vernon bookstore/coffeehouse and at 2640 in Charles Village, and they operate The Baltimore Free School.
Program director Megan Hamilton books a wide range of events at the Creative Alliance—a recent run of shows included Ethel Ennis, the Baltimore Men's Chorus, Mink Stole, Maria Broom, a klezmer band, and a burlesque performance—and is a tireless advocate for the local arts scene.
Business
These impresarios of commerce provide the tax base that is the lifeblood the city.
Jack B. Dunn
The man behind the success of the $1 billion-a-year FTI Consulting has been CEO and president Dunn, a lawyer and former officer at Legg Mason (and current Orioles partner). Besides its corporate consulting services, FTI has some unusual skill areas, especially "forensic accounting," or the science of finding out where the money went. (Investors hire FTI when a company fails——so that part of the business had been booming.) He's also a board member at several major corporations.
Fred Festa
Yes, Festa, the chairman, president, and CEO of W.R. Grace, heads a company that went Chapter 11 after facing millions of dollars worth of awards in asbestos suits filed by the likes of Peter Angelos. But the Columbia-based Grace is back, selling close to $3 billion in specialty chemicals, catalysts, sealants, and construction materials worldwide. Better yet, both the company and its thousands of employees donate significantly every year to education, health, and human services causes.
Kevin A. Plank
Under Armour President and CEO Kevin Plank's big idea (to create a synthetic, moisture-wicking fabric) sells close to $1 billion a year and has gone public. Now Plank is going after the industry giant Nike, with a foray into athletic footwear. (Don't be too surprised if Nike tries to buy them.) Plank sits on the UM's board of trustees, as well as serving on the board of directors for the Baltimore City Fire Foundation, the Greater Baltimore Committee, and Living Classrooms Foundation.
And don't count out:
Allegis, founded 27 years ago (as Aerotek) by Steve Bisciotti and James Davis, and now controlled by Davis, is a mammoth staffing company with more than $4 billion in revenues in 2005.
Willard Hackerman, president and CEO of construction giant Whiting-Turner, may be 92 now, but he shows up at the office every day and still wields considerable influence in commerce, philanthropy, and politics.
Mayo Shattuck, president and CEO of Constellation Energy, took his shareholders for a queasy ride after the market collapse in late 2008, but he's stayed on the job because he's making money again and even growing the $16 billion energy giant.
Green
Meet the eco-warriors who are fighting the good fight——and winning.
Malcolm Woolf
Anyone who doesn't think finding sustainable ways to meet our society's energy needs is the challenge of the 21st century hasn't been paying attention. In Maryland, the man with the plan is Malcolm Woolf, head of the Maryland Energy Administration. He's been instrumental in toughening up the state's Renewable Energy Portfolio Standard, which requires reducing statewide energy consumption by 15 percent by the year 2015 and generating 20 percent of energy from renewable sources (including two percent from solar) by 2022. "He knows how and when to push and when to 'play ball' in crafting legislation," praises Jim Pierobon, the communications director with the Maryland Clean Energy Center.
Michael D. Smith
Giving a Constellation Energy executive props for green power seems counterintuitive, to put it mildly. But who's better poised to transform the energy industry than someone on the inside? Enter Michael D. Smith who, two years ago, became the chief sustainability officer for retail energy at Constellation NewEnergy, a subsidiary of the Fortune 500 company/utility that handles development and installation of sustainable product offerings, including its burgeoning solar business. If you want to go green, save money, or both in the future, chances are you'll be buying what he's selling.
William C. Baker
William C. Baker is the president of the 200,000-member-strong nonprofit Chesapeake Bay Foundation, which boasts a $22 million annual operating budget, 160 full-time employees, and offices in three states plus D.C. Because of these resources, the CBF is a player on both the state and federal level. They deal with "the big picture," acknowledges Jana Davis, associate director of The Chesapeake Bay Trust, which contributes funding to some of CBF's programs. Baker is "organizing their priorities the right way, and he's getting a lot of big wins for the bay," she adds, citing CBF's role in strengthening storm water runoff regulations and Maryland's new environmental literacy high school graduation requirement.
Beth Strommen
As manager of the Baltimore City Office of Sustainability, Beth Strommen is the city's green guru, heavily involved in drafting and editing many of our metro's most important environmental and land use regulations, including the Forest Conservation Program, the Baltimore Bicycle Master Plan, and the Maritime Master Plan. Says Prescott Gaylord, the owner of Baltimore Green Construction, "Beth is highly effective and may be the most well-known face of green in the city."
And don't count out:
David Borinsky, CEO of nonprofit One Green Home at A Time, oversees green rehabs in some of Baltimore's most blighted neighborhoods.
Thanks to president and CEO Chickie Grayson's leadership, Enterprise Homes has already built 1,275 green, affordable homes in the area and is committed to creating or preserving 5,000 more by 2013.
As chair of the House of Delegates' Environmental Matters Committee, Del. Maggie McIntosh (D-Baltimore City), holds sway over a matrix of issues ranging from agriculture to motor vehicles.
Technology
These tech titans heard the 21st-century bell——and answered it.
Dave Troy
Even those not too involved in tech circles know about Bmore Fiber, last year's initiative to bring Google's ultra-high-speed broadband network to Baltimore. Troy was one of the leaders of the movement, not to mention he has 25 years of experience in technology and design. "Dave is hugely influential in the startup scene," says programmer Mike Subelsky. "He is definitely the man for our times."
Sid Meier
Sid Meier has been called "the godfather of computer gaming"—and rightfully so. He's had 26 years of experience and has helped create the popular simulation game genre. As current director of creative development for Firaxis Games, Meier established Hunt Valley as the gaming capital of Maryland when he started in the early 1980s.
Heather Sarkissian
Heather Sarkissian is somewhat of a tech renaissance woman. She was the CEO of mp3car.com, a local company that builds sophisticated mobile computers for corporate and government clients. She helped found Betascape, which is the tech version of Artscape. She also heads BmoreSmart, a group of social entrepreneurs in Baltimore aiming to make the city a better place. "Heather really knows how to get things done," says programmer Mike Subelsky.
Jay Steinmetz
Steinmetz is CEO of Barcoding, a company that sells and programs inventory-tracking systems and has been included on several of Inc. magazine's coveted top business lists. As chair of the Maryland Technology Development Corporation, which provides funding for local programs, Steinmetz is also helping the next generation of techies.
And don't count out:
Mike Subelsky is cofounder of Ignite Baltimore and web startup OtherInbox.com.
Brian Reynolds was mentored by Sid Meier, and is now chief designer at Zynga East (creator of the infamous Farmville).
Jennifer Gunner, the interim executive director of the Greater Baltimore Tech Council, is known for bridging "old" and "new" tech circles.
Philanthropy
Where government and the corporate world fall short, these captains of charity fill the gap.
William J. McCarthy Jr.
There are foundations and charitable organizations with more money and equally worthy causes, but few are more visible to average Baltimoreans than Catholic Charities, headed by executive director McCarthy. With 2,000 employees and 15,000 volunteers, Maryland's largest private provider of human services, with an annual budget of $127 million, answered more than 600,000 requests for food and emergency services last year and served 350,000 meals to the hungry, as well as operating 80 other programs.
Marc B. Terrill
Since 2003, Marc B. Terrill has been the face of THE ASSOCIATED: Jewish Community Federation of Baltimore, a 90-year-old foundation whose charitable reach extends far beyond the Jewish community through partnered initiatives in the region with Catholic Charities of Baltimore, the Harry and Jeannette Weinberg Foundation, and other groups.
As president, Terrill, who is also on the Baltimore Community Foundation board, oversees 20 agencies that meet educational, religious, humanitarian, health, and social service needs locally, nationally, in Israel, and throughout the world. And The Associated has financial clout: It raised $31 million last year and has a $500 million trust. (Among other Jewish Federations across North America, Baltimore's boasts the highest per-capita giving.)
Deborah Flateman
Deborah Flateman oversees 80 employees, two warehouses, and $32 million a year at the Maryland Food Bank, all resources that are focused on gathering food donations from manufacturers, growers, retailers, and individuals and getting it to the needy through 600 soup kitchens, shelters, and other providers in central Maryland and the Eastern Shore. Economic times have increased the need for food assistance by more than a third.
Donn Weinberg
With total assets of $2 billion, the Weinberg Foundation is one of the largest private charitable foundations in the United States, funding nonprofits that provide services to economically disadvantaged people, primarily in the U.S. and Israel. Under the chairmanship of former trial lawyer Donn Weinberg, the foundation's roughly $100 million annual grantmaking goes to programs to help seniors, the disabled, education, children, and basic human needs and health. And he can sing and dance, too: As a hobby, Weinberg is a volunteer singer-entertainer at older-adult facilities in the Baltimore area and for nonprofit fundraisers.
And don't count out:
James Piper Bond is president of the $16 million-a-year, 300-employee Living Classrooms Foundation, which uses boats and the bay to educate inner-city youth, and also provides job training, neighborhood rehab, and management of once-failing charter schools.
Tim Kelly is director of Fells Point's Esperanza Center, funded by Catholic Charities of Baltimore, which provides legal and social services to the city's growing Hispanic population.
Terry M. Rubenstein is executive vice president of the Joseph and Harvey Meyerhoff Family Charitable Funds, a $100 million group of family funds that doles out roughly $5 million a year to cultural causes here and in Israel, as well as meeting middle-class needs with library and school computers, city parks improvements, and scholarships for families with average incomes.
He didn't want to be on this list because he's fairly new at the job, but we can't totally ignore Annie E. Casey Foundation president and CEO Patrick McCarthy, whose Baltimore-based foundation, with its roughly $2.6 billion in assets, gives away close to $150 million nationally every year.
Sports
It's not just our favorite pastime (and obsession), it's one of the driving forces of the local economy.
Steve Bisciotti
There's really no disputing it anymore: Baltimore is a football town. Last year, Forbes magazine estimated the Ravens' worth as $1.1 billion (as compared to the Orioles' $376 million). And owner Bisciotti has a low-key, hands-off leadership style that appeals to the local fan base. Pressbox's Stan "The Fan" Charles praises Bisciotti for "being smart enough to know what he doesn't know." Says WNST's Nasty Nestor Aparicio: "The Ravens have become the most important binding element in our local society—across race, color, creed, gender, age. When they do well, the city feels good. That's a lot of power."
Ozzie Newsome
Ravens' GM Newsome's ability to "gauge talent" is unsurpassed, says Pressbox's Stan "The Fan" Charles, but he also knows when to give up draft picks and pull the trigger on a great trade. "He's the prime [force] in making the Ravens great," says WNST's Nasty Aparicio. And since much of the Ravens' enormous value stems from its on-field success, it's no surprise that Steve Bisciotti told The Baltimore Sun last year: "We want Oz to be here as long as Ozzie wants to be here." Looks like the owner can evaluate talent almost as well as his GM.
Andy MacPhail/Buck Showalter
Both these men represent a sea change in the Orioles organization: President Andy MacPhail was the first person under Peter Angelos to be given some measure of control. "Though he'll always answer to Peter, there's no question that Andy has been given total leeway to do his job as he sees fit," says WJZ sports director Mark Viviano. As for Showalter? "Buck brought credibility to the position that it hadn't had in 10 years," Viviano says. "And it was immediately reflected in how the players responded."
Cal Ripken Jr.
From introducing baseball in China to building little league stadiums, Cal Ripken Jr. is using his power as an ex-Oriole for good. "One of the greatest reflections of Cal's power is that the mere mention of his involvement in something uplifts its potential," WJZ's Marc Viviano says. "He's one of those personalities you just trust and believe."
And don't count out:
Linebacker Ray Lewis "ultimately has the most power to change our city over the next 20 years," says WNST's Aparicio, "with his brand, star, and transcendence."
Jay Davidson, the president of Baltimore Racing Development, leads the team that took the exciting gamble of bringing Grand Prix racing to Baltimore.
Terrance Hasseltine, the director of the Maryland Office of Sports Marketing, was responsible for bringing the 2009 World Football Challenge to M&T Bank Stadium.
The Sun's Mike Preston is the most influential sports columnist in Baltimore. Many believe that Preston's relentless criticism led to the firing of Ravens coach Brian Billick.
Health
If there is a single dominant field in the Greater Metropolitan area, it's health care. These are the scions of the industry.
Robert Chrencik
Chrencik served as the financial officer at the University of Maryland Medical System for more than 20 years before being named UMMS president and CEO in 2008. He serves on the board of each of the 12 UMMS hospitals (which have 15,000 employees), and gets out of the office, too: He's on the board of the Greater Baltimore Committee, The Center Club, and is a past president of the Maryland Chapter of the Health Care Financial Management Association.
Ronald R. Peterson
As president of The Johns Hopkins Hospital and Health System, Peterson oversees Johns Hopkins Bayview Medical Center, Howard County General Hospital, Suburban Hospital, and Sibley Memorial Hospital, as well as The Johns Hopkins Hospital. How big a job is that? Hopkins hospital, consistently ranked America's best, includes more than 2,200 beds, employs 22,000 people, treats more than 800,000 patients from all over the world, and brings in $1.3 billion in revenue (plus the value of $161 million in uncompensated care).
Robert Murray
Every spring, hospital administrators, doctors, and insurance companies around the state wait with bated breath to hear what Murray will say. As executive director of the Health Services Cost Review Commission, Murray leads a process that determines how much health care providers can charge for services. The Commission's decisions directly affect virtually every doctor and patient in the state, and, in a state where health care is the largest industry, that makes Murray our local equivalent of Fed chairman Ben Bernanke.
And don't count out:
As president and CEO of Sinai Hospital and, after the 1998 merger with Northwest Hospital, of Lifebridge Health, Warren Green has been a leader in the world of community hospitals for 19 years, providing a perspective to balance the big university institutions downtown.
Chester "Chet" Burrell is president and CEO of CareFirst BlueCross BlueShield, the top medical insurer in the state. The company's decisions—such as recent ones to include nurse practitioners in its network as primary care providers or to maintain child-only plans—have a huge impact.
Nightlife
Here are the forces behind everything that goes bump (and grind) in the night.
Heidi Klotzman
Klotzman owns special event firm HeidnSeek Entertainment, which specializes in event coordination, marketing, and runs an online entertainment guide with more than 30,000 subscribers. Beyond promoting parties at Red Maple and Milan, Klotzman advertises charity events and hosts networking functions. "She's a promoter with a conscience," says Sam Sessa, The Sun's entertainment editor.
Cullen Stalin
Long before Baltimore's nightlife scene was on the map, Cullen Stalin was drawing a crowd. He and Simon Phoenix are resident DJs of TaxLo, the city's biggest dance party for nearly a decade (attracting such famous acts as M.I.A). Last year, he helped start "No Rule"—a hugely popular dance party at the Metro Gallery—that bridges the hipster and hip-hop scenes. Cullen has helped developed TaxLo into "one of the most powerful nightlife brands in the city," says City Paper's music editor Michael Byrne.
Bill Muehlhauser
As the owner of the Rams Head Group, Muehlhauser owns five spaces in Stevensville, Annapolis, and Baltimore—including Rams Head Live! and Pier Six. He was smart enough to partner with promoter Seth Hurwitz of I.M.P. to bring big-time national acts to Rams Head Live! (like the Beastie Boys and Smashing Pumpkins), and is currently working with David Cordish to plan a new live music venue in the Arundel Mills slots parlor.
And don't count out:
Casey Hard, beer manager at Max's Taphouse, helps organize beer festivals and built the bar into what it is today.
Marc McFaul is growing a little bar empire with two Ropewalk Taverns (in Federal Hill and Bel Air), The Stalking Horse, and McFaul's.
Frank Remesch, general manager of 1st Mariner Arena, has brought huge names to Baltimore, like Bruce Springsteen and Jay-Z.
Dining
These restaurant royals are at the top of the Charm City food chain.
Tony Foreman and Cindy Wolf
The formidable restaurant team—Foreman's a restaurant visionary; Wolf's a world-class chef—came to the forefront of the city's dining scene in 1995 and haven't stopped since. The business partners have since formed the Foreman Wolf group to oversee their four restaurants: Charleston, Cinghiale, Petite Louis, and Pazo (they also have two wine stores). It's no surprise that this duo is planning another business venture this year. Their empire grows.
Eddie Dopkin
Dopkin is probably best known for transforming a stretch of W. Cold Spring Lane into a mini restaurant row with Miss Shirley's Cafe, S'ghetti Eddie's, and Roland Park Bagel Co. (He also owned Loco Hombre and Alonso's until selling them about a year ago.) His Crazy Man Restaurant Group now has another Miss Shirley's at the Inner Harbor, and Dopkin is grooming his son David in the business. Dopkin is also exploring locations for one, possibly two, Miss Shirley's in the next year.
Vasilios Keramidas
Keramidas, who heads up Kali's Restaurant Group, has carved out a dining stronghold in Fells Point. The elegant Kali's Court started the buzz, followed by Mezze, Meli American Bistro, and Tapas Adela. Now, he and his partners—Karen Patten, Eric Losin, and Theodore Losin—are gutting and renovating the old Admiral's Cup Cafe.
Qayum and Pat Karzai
The Karzais, along with son Helmand, didn't stop with their success at The Helmand, Baltimore's go-to place for delicious, authentic Afghan food. The couple added Tapas Teatro and b bistro to their restaurant roster and are planning to open a tapas place at the reinvigorated Senator Theatre. They're also eyeing the long-shuttered and once esteemed Chesapeake Restaurant on North Charles Street as a location for a seafood venue.
Patrick Russell
When Russell opened Kooper¹s Tavern in Fells Point, naming it after his yellow Lab, he had no idea he was embarking on a mini restaurant conglomerate. Now, he and his wife, Katie, operate Sláinte Irish Pub and Restaurant, Woody¹s Rum Bar and Island Grill, and Kooper¹s Chowhound Burger Wagon. Patrick Russell has also joined forces with Bill Irvin, the restaurants¹ director of operations, to form the Fells Point Hospitality Management group. So far, they have acquired Celie¹s Waterfront Inn in Fells Point and plan to open a wine bar in Fells Point and another restaurant in Baltimore County in the future. They also brought in a top-notch chef, Bill Crouse, to deliver the best possible cuisine at the current restaurants.
And don't count out:
Although the Food Network has announced that this will be Ace of Cake's final season, they're already looking to develop new shows for Duff Goldman, who has brought national attention to our fair city.
Spike Gjerde's three-year-old Woodberry Kitchen has raised the bar for everyone else in the field.
The Vitales—Aldo and Regina and sons Sergio and Alessandro—exert their influence at Aldo's Ristorante Italiano in Little Italy by entertaining local bigwigs and hosting political fundraisers. The younger Vitales plan to open an upscale pizzeria in Harbor East.
Society
Two couples rule the gala scene with their philanthropy——and their rolodexes.
Eddie C. and C. Sylvia Brown
The generous Browns could neatly fit into several of the power categories on this list, but they most conspicuously wield their power in the social arena. They were feted at galas at MICA and The Reginald F. Lewis Museum and have been coveted guests and honorees at nearly every big society event in town, including the Arthritis Foundation and the Living Classrooms Foundation.
"They're the most influential African American couple in the state of Maryland," says talk show host Anthony McCarthy. "Everyone is knocking on their door. White, black, and in between."
And when the Browns chair a party—or, even more often, are honored guests at one—the A-list of Baltimore is at their beck and call.
"They go to the right parties, they chair the right galas, they show up at the right dinner parties," says McCarthy.
"They are the quintessential power couple," agrees Del. Keiffer Mitchell Jr.
Says McCarthy: "Their legend continues to grow."
Art and Pat Modell
The Modells are the 3 Rs: Rich, retired, and revered. In a relatively short period of time (by Baltimore standards at least), they have become significant patrons of both the arts and local charities.
"They have given so many wonderful philanthropic gifts to so many institutions around town," says Sandy Richmond, the executive director of the newly renamed The Patricia and Arthur Modell Performing Arts Center at The Lyric. "There's no way to say thanks."
And when the Modells chair a party, "people show up," says one high-ranking society observer.
"Art and Pat Modell do not take their commitments lightly," says Lori D. Mulligan, director of development and marketing for Gilchrist Hospice Care. (The Modells recently chaired its
Holly Ball.) "Their name alone is associated with good judgment and impeccable taste."
And don't count out:
Look out for David and Michel Modell. After chairing parties for Pam Shriver and MAP, the couple are clearly following in Art and Pat's (gilded) footsteps.
Rising stars Jennifer and George Reynolds recently chaired the Walters Gala and are big contributors to St. Joseph Medical Center. She's also the next National Aquarium board chair. "They cut a wide swath among all sectors," says one insider.
Aris Melissaratos, the former DBED secretary (now at Hopkins), has become a serious player on the social scene, chairing galas for Cystic Fibrosis and the American Heart Association.
---
The Power Vacuum
How Baltimore's power has shifted—and why that may not be such a bad thing.
By Max Weiss

Once was, it was easy to identify the powerful people. They were the CEOs of local firms like Alex. Brown, the Maryland Jockey Club, and Mercantile Safe Deposit. They were the political apparatchiks of William Donald Schaefer and later, Kurt Schmoke. They were graduates of the big urban public schools—like City or Poly—or the big private ones, like Gilman, Boys' Latin, and Calvert School.
But now, as more local headquarters are closing (or being bought out), and as the old guard is retiring (or dead), there's a bit of confusion in this town.
Who's running Baltimore?
John Willis, the former Secretary of State of Maryland under Parris Glendening, now the director of the government and public policy program at the University of Baltimore, puts it like this: "No one knows who to call anymore."
The Irv Kovens of this world—he was famously the kingmaker behind Schaefer—are gone, as are likes of H. Furlong Baldwin (the former Mercantile chief), Joe DeFrancis (from the Maryland Jockey Club), and Buzzy Krongard (of Alex. Brown). And while H&S's John Paterakis and Orioles owner/superlawyer Peter Angelos are still enormously powerful, they have become less hands-on with time.
"We've run out of the kind of people who used to sit on the board of the GBC [Greater Baltimore Committee]," says Aris Melissaratos, the former head of the Department of Business and Economic Development (DBED) and now an adviser to the president of Hopkins.
And while Larry Gibson, the political adviser who helped put Kurt Schmoke in office, still has some measure of power, he wasn't able to mobilize the vote behind the candidate he most recently supported, Pat Jessamy. (She lost her city State's Attorney seat to newcomer Gregg Bernstein, largely because voter turnout was historically low.)
"Large groups of people just aren't being controlled like they used to," says WEAA talk show host Anthony McCarthy, the former spokesperson for Mayor Sheila Dixon. "It used to be easier to turn out voters."
And that's at least partly because of the waning influence of The Baltimore Sun.
"The media market is fractured," notes Willis. "Makes it that much more difficult to reach large numbers of people."
Of course, there are people who have power—the mayor, the governor, the county executives—just by virtue of their postions. But elected power isn't the same as personal power. And everyone agrees that the personal power in this town has become splintered. But here's the rub: Most feel that's not necessarily a bad thing.
"There's been a generational shift," says Del. Keiffer Mitchell Jr., who himself hails from a long-serving political family. "Power these days can be influenced by the number of friends you have on Facebook."
Adds Kathy Sher, the deputy director for external affairs at the National Aquarium, "It feels like the thirtysomething and fortysomethings have as much cachet as the old guard. And that seems like a very healthy and positive dynamic."
As for the notion that you had to have been born and raised in this town to rise to power? Not necessarily true, our observers say, but Baltimoreans are still wary of outsiders.
"You can't just fly in and have a Tea Party member [as CEO] and expect it to work," chuckles Willis. "There has to be a certain amount of awareness."
"You have to get involved with your community," adds Mitchell. He points to Atwood "Woody" Collins, the high-ranking M&T Bank exec, who has become a local leader. "He doesn't drive around in a limo. He walks to M&T. People like that."
Worshipping at the right churches is still a factor, as is knowing the right opinion makers, what Mitchell calls the "chattering class." But Melissaratos points out that even those folks are less easy to identify. "Who's calling the shots right now?" he muses.
All agree that the best part of this power shortage is that it gives an opportunity for new leadership to emerge in rising populations, like the Latino community, the green community, and both the new technology and health care sectors. And power is also materializing from increasingly diverse pockets (which is why we broke up our larger feature into categories).
"Now it seems like there are different segments of power and they're all very unique," says Kathy Sher. "And they reflect the business and social complexities that are going on in Baltimore."
For now, we have shifted from what Willis calls an "elite" power structure to a "pluralistic" one. But he's not sure it's going to last.
"Politics abhors a vacuum," he says. "The question is, who's going to emerge?"