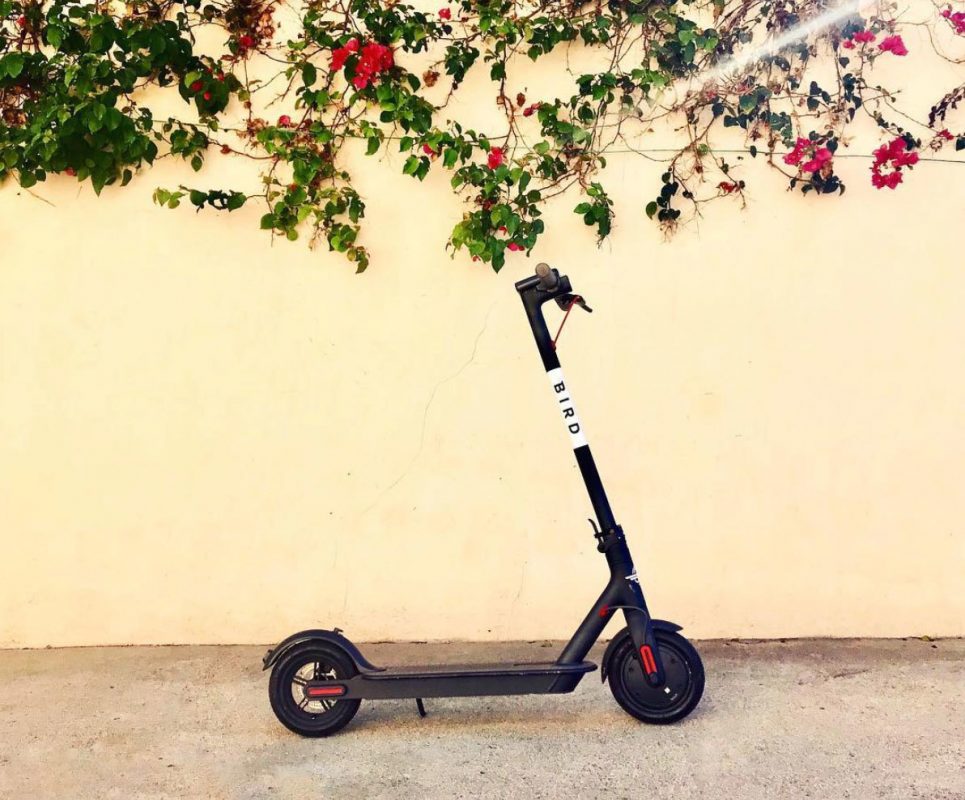 Bird
We've all been there—our destination is too far to walk, but not far enough to drive. In times like those, using a ride sharing service like Lyft and Uber may come in handy, but you're still dealing with Lombard Street traffic.
Bird, a California-based company, is hoping that Baltimore residents will see its electric scooters as the next best option.
"It's clear there's an urgent need for additional transit options in Baltimore, and Birds are a great solution for short 'last mile' trips," said company spokesperson Rebecca Hahn. "As summer heats up, Bird offers a convenient alternative to sitting in traffic or sweating through a walk or bike ride."
What is Bird?
The pilot launched in Baltimore last week with more than 60 electronic scooters placed throughout the Inner Harbor, Harbor East, and Fells Point. Unlike the city's current Bike Share services, these scooters are completely dockless. Riders can just leave them anywhere when they're done, and someone will collect it. They can be rented for just $1 to start, plus an additional 15-cent per minute using the mobile app.
Each scooter is calibrated to go a maximum of 15 mph and can travel up to 15 miles on a single charge. After facing regulatory issues in San Francisco with scooters popping up everywhere and littering the streets, Bird decided to remedy this problem in other cities moving forward by only allowing rides during the day. The cut-off every night is sunset, when scooters are collected and charged overnight and are redelivered the next morning at 7 a.m. to various "nests" around the city.
Who collects them?
Bird has a similar model to Uber and Lyft when it comes to employing local residents to become "chargers." A charger is a person who collects the scooters each day and charges them overnight. A charger can make anywhere between $3 to $20 per scooter, and it typically will only cost them 8 to 15 cents to charge. If hired, Bird will mail all equipment needed to charge the scooters.
"Becoming a charger is a great way for someone to make extra money while they sleep," Hahn said. "People can pick up as many Birds they want on any given day—or none at all."
How do the scooters work?
While the scooters are pretty simple to operate—just a few pushes and it's good to go—there are some rules and restrictions that come along with them. For example, the rider must by 18 years or older, have a valid driver's license, and wear a helmet while riding (Bird offers them for free on their website).
Residents in other cities have also been concerned with reckless driving of the Birds, but the company has added safety regulations. Riders must obey traffic signs and laws and restrict the use of the scooter to designated bike lanes—never the sidewalk. The same consequences (traffic tickets and fines) apply.
"Right now, more than a third of cars trips in the U.S. are less than two miles long," Hahn said. "Since launching here, we've been inspired by how people throughout the community have adopted our environmentally friendly transportation solution to get where they need to go, which is reducing traffic and cutting carbon emissions."
What does Bird mean for Baltimore?
Bird launched in September 2017 and is led by a former Uber and Lyft executive Travis VanderZanden. According to Bloomberg, the startup is raising $150 million in financing that will value the company at $1 billion. So far, fleets of scooters have popped up in several cities including San Francisco, Washington, D.C., Dallas, and Atlanta.
Although the Baltimore City Department of Transportation (DOT) was not involved in the rollout of the program, it is supportive of alternative means of transport in the city.
"[We] support multimodal alternatives and believe that this technology can expand transportation options to the residents, businesses, and visitors of Baltimore," said DOT communications officer German Vigil in an email. "We also see the potential of a new mobility pilot project and are in the process of investigating the effectiveness of a program such as this."