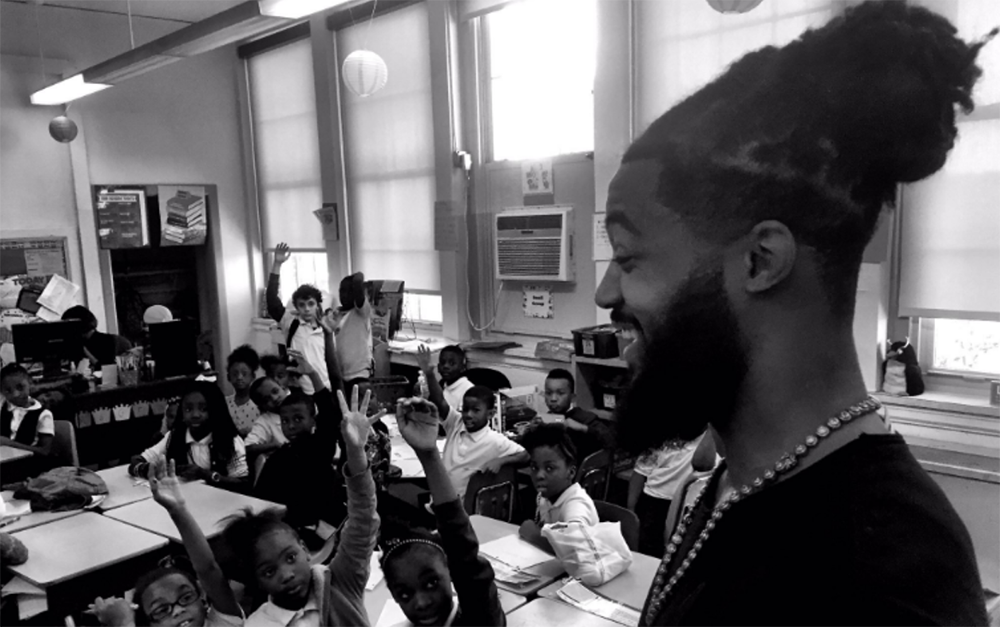 Aaron Maybin / Twitter
"What's the day been like for you guys today?" Aaron Maybin asked the kids in his class at Henson Elementary School in West Baltimore.
"Cold!" more than a few replied with uninhibited childhood screams.
"Very, very, very, very cold," said one in particular.
Maybin, a former defensive lineman for the Buffalo Bills and New York Jets and the No. 11 overall NFL draft pick out of Penn State in 2009, is now a teacher in his hometown of Baltimore. Since his four-year professional football career ended, he's lived and worked here, pursuing art and activism.
He has a pseudo-celebrity platform with more than 24,000 Twitter and 22,000 Instagram followers, for example, and a new book out. So when Maybin posted a series of social media messages and a video from his classroom on Wednesday, himself wearing a jacket and his kindergarten and pre-K students proclaiming their frigid feelings, it shined a powerful (and eventually viral) spotlight on the hot-button issue of widespread decrepit city school infrastructure that's come to the fore as fast as the arrival of the cold temperatures that have drafted through windows, filled decades-old buildings and busted outdated boilers and pipes over the last two weeks.
As many as 60 schools, just on Wednesday, reported problems related to facilities being unable to handle the weather, according to school system CEO Sonja Santelises (whom Baltimore profiled last year). The city teachers union urged her to shut down all schools until the problem is fixed.
Several closed because of lack of heat on Tuesday – the first day back from winter break – and Wednesday, and others dismissed kids early. All schools were closed Thursday as it snowed and again on Friday, as workers addressed some of the problems but expected more to come "particularly broken pipes and water mains," amid more frigid temperatures, the district said.
Maybin, who attended Mount Hebron High in Howard County and whose father was a Baltimore City fire inspector, taught his lesson, heard well beyond the city, in 40-degree temperatures.   
Outlets like CNN, USA Today, Sports Illustrated, Yahoo, SB Nation and New York Daily News published stories on the issue on Thursday.
"I got two classes in one room, kids are freezing, lights are off," Maybin said. "No computers. We're doing our best but our kids don't deserve this."
On social media, Maybin promoted a GoFundMe fundraiser started by Coppin State senior Samierra Jones that, as of Friday morning, had generated more than $40,000, well over the $20,000 she estimated that would be needed to buy roughly 600 space heaters for city schools and jackets for kids to keep them warm.
That, of course, is a temporary solution. Maybin's overarching message is, "We are failing our kids," as city and state officials debate responsibility for the root cause.