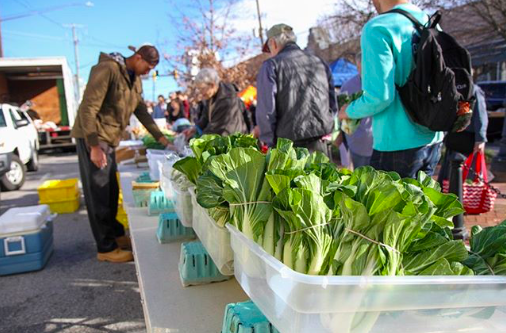 Just weeks after Governor Hogan deemed farmers markets as essential businesses, allowing them to remain open throughout the coronavirus pandemic, a blow to the local food system landed with the announcement that the Maryland Farmers Market Association (MDFMA) would be closing its doors, effective this past Friday.
Citing financial challenges, the nonprofit organization lost one of its primary grants through the U.S. Department of Agriculture, which was confounded by shifting funding availability following the outbreak of COVID-19, such as a hold on local agricultural dollars following Maryland's mandated state spending freeze.
"For a small group that runs on a shoestring budget and is driven by passion, those grants can take you far," says Juliet Glass, external relations director for the MDFMA, who is one half of the recent two-woman staff with market programs director Heather Hulsey. "We were working hard to find a sustainable path forward, but with the pandemic, it just became increasingly difficult. And we are not unique, there are small food system nonprofits across the country that are just a breath away from not being able to operate."
Since its founding in 2012, the MDFMA has played a vital role for farmers, farmers markets, and the communities they feed across the state, acting as a sort of unofficial governing body. Over the last seven years, they've worked to improve fresh food access, such as increasing the number of markets that accept the federal Supplemental Nutrition Assistance Program (SNAP) for low-income citizens to nearly 50 percent, and support the livelihoods for farmers, through the likes of promotion, advocacy, and financial assistance.
"From the beginning, they were a unifying entity," says Beau Johnson, board of directors' vice president for the 32nd Street Farmers Market in Waverly. "They really connected all of these little independent islands and brought us together as an extended farmers market family with a larger common goal."
Farmers markets will continue to operate without the MDFMA, but over the last month, its value has become increasingly apparent in the face of a global health crisis. With empty grocery store shelves and growing support of local food, the organization has stepped up to educate farmers on how to navigate the coronavirus pandemic, with efforts including sharing COVID-related safety guidelines, creating a marketing toolkit for their newfound demand, and continuing to inform the public about how to participate in the local food system. Their Google Map directory of regional producers has been viewed more than 60,000 times since its launch in early March.
"The MDFMA was really the force multiplier for farmers markets," says Mariya Strauss, executive director of the Farm Alliance of Baltimore, a network of urban farming producers and advocates. "They were the group that coordinated efforts and convened local food producers across the state, and they had the perspective to see what would benefit everyone. I'm worried about who is going to play that role going forward."
Other local, state, and nonprofit organizations will work to fill in certain gaps, with support networks for regional farmers already in place at the likes of the Maryland Department of Agriculture, University of Maryland Extension offices, and Future Harvest, a regional nonprofit focused on sustainable agriculture.
"Our doors might be closed, but we're still open for business," notes Ginger Myers, Extension's agricultural marketing specialist. "We don't have a central clearing house anymore, if you will, and markets themselves are going to have to pick up the ball more to get the word out to their customers."
"This is a symptom of a much larger issue," says Dena Leibman, executive director of Future Harvest. "It's just so ironic that at this particular time in our history an organization like the MDFMA can't raise the funds it needs to keep going. It's not their fault, the resources are really scarce, and our government just continues to underestimate the importance of a strong local and regional food system. It put all its eggs in a large global supply chain, and now we're seeing the effects of that."
Perhaps the MDFMA's most important contribution, though, has been its Maryland Market Money program, an initiative that monetarily matches purchases made with federal nutrition benefits at participating farmers markets throughout the state. With just two markets when the program launched in 2013, there are now 36 involved across 11 jurisdictions, including the likes of the 32nd Street, JFX, and Druid Hill Park farmers markets in Baltimore City, with food insecure Marylanders spending $455,000 in federal benefits last year across some 461 farms.
"Losing a statewide incentive program is really hard and the people who are going to suffer the most are those on the lowest socioeconomic ladder," says Glass. "For folks on a very limited food budget, a five-dollar match can be the difference of an extra meal. This helps people eat healthier food, and for farmers, those five-dollar purchases add up."
The news came on the heels of the Trump administration's attempts to cut federal food stamp funding that would have resulted in the loss of benefits by some 700,000 SNAP recipients nationwide, though in the wake of heavy criticism, the USDA has since backed off.
But with some city and county funding already secured for Maryland for 2020, the hope is that another local organization can incorporate Maryland Market Money into their work, and some groups have already expressed interest. Meanwhile, market managers like Johnson are scrambling to match the funding on their own.
"Not everyone understands the economies of scale of farmers markets, that prices might seem higher than at grocery stores, but the cost of production on a half-acre farm in Baltimore City or a five-acre farm in Baltimore County is very different than a 100-acre farm in California that sells wholesale," say Neith Little, urban agriculture educator at the University of Maryland Extension in Baltimore City. "Maryland Market Money helped bridge the gap for customers with limited resources. It made it more possible for those on SNAP and WIC (Special Supplemental Nutrition Program for Women, Infants, and Children) to participate in the local food system."
Strauss sees this as a loss for the farmers themselves, too, noting that the MDFMA has been a steady source of resources, information, and technical assistance for Farm Alliance members. She recalls the way in which its staff would readily hop on the phone and walk their farmers through lengthy federal application processes for the likes of SNAP certification.
Even throughout this weekend after the association's doors were officially closed, they continued to use social media to share updated coronavirus information and availability news, like the arrival of asparagus and strawberries.
"They were one of the few statewide groups that was really looking out for the smallest of the small farms and businesses," says Strauss. "We are going to continue to grow food and bring it to market and hope that all of the good people around the state who are interested in having a sustainable local food system can come together and figure out how to fill this void. But losing the Maryland Farmers Market Association is going to be hard on all of us."