Joe Knows
The Ravens quarterback thrives off a cool confidence, thick skin, and love for his growing family.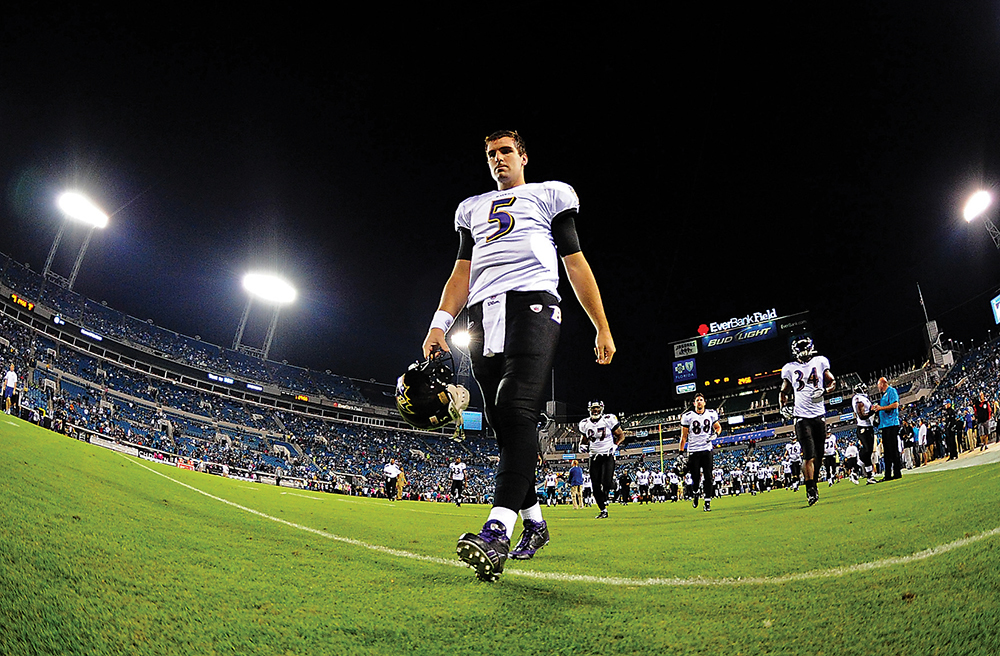 The drive of Joe Flacco's life didn't begin in hostile Heinz Field or even in a stadium. It
originated in the predawn hours of June 13 at his home in Owings Mills
following a phone call from his wife, Dana, and concluded 135 minutes
later in a hospital room in Voorhees, NJ.
"At a quarter to five in
the morning she called me and was like, 'I haven't gotten any sleep all
night, I've been debating calling you for two hours. I think it's
time,'" he says six weeks later, at ease on a couch in an office at the
Ravens' Under Armour Performance Center. "So I was like, 'Call your mom
up, call your doctor, see what they say.' They told her, 'Take your time
but come in.' She got in around 6:30 and they told her, 'It's time,
you're staying.'"
Flacco was excused from practice, jumped into
his Ford F-150 and raced up I-95. "I left here at like 6:45 in the
morning and got up there around 9."
The NFL's most-successful-yet-still-curiously-maligned quarterback was determined to witness the birth of his first child.
"Everybody
was [asking] me, 'Are you gonna look? You don't want to do that,'" he
says. "I was like, 'I'm definitely looking.' I was right there on the
side of the bed, I watched the whole entire thing, from the time when
you could barely see his head to the time he was out. It was pretty cool
to see him come out."
A slight smile creeps onto Flacco's face as
he recounts the day, his most momentous one in a year filled with them.
Throughout a season that included a scintillating comeback in
Pittsburgh and a heartbreaking playoff loss in New England, criticism
from within the organization and a media-driven "controversy" fueled by
his candor—not to mention, contract negotiations that seemingly devolved
from complicated to contentious—Flacco's public demeanor remained
unchanged.
It's all white noise to the impossibly even-keeled QB,
who thrives on the steadiness that so maddens fans who mistake it for
stoicism.
"We taught him never let anybody see you sweat," says
his father, Steve, for whom Joe and his high-school sweetheart Dana
named their son Stephen. It's a lesson Flacco, 27, has leaned on
throughout his unlikely career, one that's won him an unprecedented
number of football games but no popularity contests.
"My dad's my
best friend," he says. "The biggest thing he preached was being tough. I
think a tough guy doesn't really show many emotions. Not to say that I
don't have emotion, because that's not true. But when things are going
bad, as a leader, you can't act like anything is wrong. You go out there
and take each snap like it's the same, no matter what the score is, no
matter what happened on the last play. It's just the way I was brought
up, it's the way my parents are. You definitely end up more like them
than you admit."
"Until I got here, they hadn't won a playoff game since the Super Bowl year. Every year we've won a playoff game. It's not what we want to do overall, but we've had very good seasons."
If that's true—and most of us eventually concede
that it is—then, throughout his life, little Stephen Flacco, like his
daddy, will cherish two things above all others: family and football.
Of
the NFL's 32 starting quarterbacks, Joe Flacco may be the only one
who's been ribbed his entire life for having a big head—literally.
"His head was always humungous for his body," says his brother, Mike, a baseball player in the Orioles minor-league system.
"They
call him the Kingdome, the Superdome," his father says. "When he was a
sophomore in high school he was six-four, 165 pounds with a size 7 ½
head."
The oldest of five boys and a girl, Joe seldom got into
trouble throughout his childhood in Audubon, NJ, a suburb of
Philadelphia.
"He was very responsible," his mother, Karen, says. "He was known as Father Joe."
Baseball
was Flacco's sport of choice until seventh grade when Steve, a former
running back at the University of Pennsylvania, allowed him to try
football.
"Because I started so late, by the time I got there,
they already had kids who had been playing quarterback, so I played
running back, tight end, receiver," Flacco says. "I always had a knack
for throwing the ball. I can't remember a time when we didn't go out and
mess around and play football as much as we could. I always had a
pretty good arm, so I knew I wanted to play quarterback."
In high
school, Flacco shot up to over six feet, the first in the family to
eclipse the mark. His father is 5-feet-11-inches, his mother 5-feet-6.
Despite putting up gaudy numbers—he once threw for more than 450 yards
and three touchdowns and ran for two more in a 67-35 loss—Flacco
received only a smattering of scholarship offers. He accepted one to the
University of Pittsburgh.
After redshirting his freshman year and
serving as a backup his sophomore season, Flacco transferred to the
University of Delaware, much to Pitt's chagrin, where he figured he'd
have a better chance to play, even if it wasn't in the spotlight of
Division I-A. "Joe is a tremendously gifted athlete," Delaware coach
K.C. Keeler says. "He's just got a world of talent, and you could see
that very quickly when he got here."
Because Pitt was upset that
Flacco transferred, the school chose not to release him, forcing him to
sit out a season. When he got a chance on the field, Flacco led Delaware
to the Division I-AA national title game his senior year, smashing
school records in the process. NFL scouts started showing up in droves.
"I
remember Joe calling me during the whole draft process, and he was a
little upset because [Ravens general manager] Ozzie Newsome had called
two or three times and had asked why he wasn't a captain," Keeler says.
"It was one of those strange years where we had a consensus All-American
tailback, who was a four-year starter for us, and we had an
All-American offensive lineman. Those two guys were voted the offensive
captains.
"But the team was Joe's. He said, 'Can someone tell
those guys with the Ravens that this was my team?' The best thing I said
was this team took on Joe's personality; it never ever panicked. It
played with a steady belief in itself. It never got too high or too
low."
Apparently, Newsome was convinced.
Baltimore took Flacco
in the first round of the 2008 draft, making him only the second
Division I-AA quarterback in history drafted that high. When the season
started, Flacco was under center.
"Obviously I didn't know as
much as I know now, but I think the biggest thing for me as a young kid
was to calm my mind down and say, 'Hey, it's football, go out and
play,'" he says. "When I was a rookie, I didn't want to come in here and
step on people's toes and act like I was some big deal. I felt like I
had to prove myself."
Flacco and a fellow rookie, head coach John
Harbaugh, led the Ravens to the AFC Championship game, and both were
praised for exhibiting poise beyond their years. Yet, as the victories
kept coming—Flacco's 44 regular season wins are the most by a starting
quarterback in his first four years in the NFL—his reputation morphed
from a stable leader to a "game manager" incapable of using his arm to
lead the defensively-strong and run-oriented Ravens to victory.
"I don't think there's any other quarterback besides Aaron Rodgers that can throw the ball the way that he can."
"Sometimes
I think people perceive [the team] a certain way just because that's
what we've been over the last 10 years," he says. "Well, you know what?
Until I got here, until John Harbaugh got here, they hadn't won a
playoff game since the Super Bowl year. Every year we've been here we've
won a playoff game. It's not what we want to do overall, but we've had
very good seasons."
None better than last, when Baltimore swept
the Steelers, won the AFC North division and came within one late
dropped pass of making it to the Super Bowl. Yet Flacco's play still was
criticized. After a playoff win against Houston in which Flacco put up
pedestrian numbers, Ravens safety Ed Reed said it didn't appear his
quarterback "had a hold on the offense."
Flacco nonchalantly brushed aside the comment and proceeded to outplay Patriots legend Tom Brady the next week.
In April, Flacco appeared on local sports radio station WNST and was asked if he considered himself a top-five quarterback.
"Without
a doubt," he responded. "What do you expect me to say? I assume
everybody thinks they're a top-five quarterback. I mean, I think I'm the
best. I don't think I'm top five, I think I'm the best. I don't think
I'd be very successful at my job if I didn't feel that way. I mean, come
on."
Hardly a shocking answer, yet one that created a firestorm.
Anti-Flaccoites rolled their eyes, noting that his 2011 QB rating was
14th (out of 34 players). Of the more than 95,000 votes in a
SportsNation online poll, 61 percent indicated Flacco was not an "elite"
quarterback. Whatever that means.
"Joe doesn't play games, he's
going to tell you honestly how he feels," Delaware coach Keeler says.
"It's not like, 'Okay, what would sound best in a sound bite?' It's not
that he's not savvy—he is as smart as the day is long—but he's not going
to compromise his belief system. [His attitude is] I know you're going
to take the sound bite and use it however you want, but I'm not going to
change who I am. Like it or leave it, this is who I am."
Perhaps
Flacco's quiet disposition contributes to the way he is perceived. Fans
screaming at their TVs like to see similar outward emotion from their
heroes.
"Unless you are in the locker room or you know me, it's
tough to get a read from me because I'm not a very outgoing person," he
says. "I'm not really vocal in the way a rah-rah kind of guy is. I don't
think [leadership] is when things are going bad let's go yell at
somebody and get them fired up. I think we're a bunch of professionals.
If we're not fired up, something's wrong. A pep talk ain't gonna do
anything for anybody. Pregame speeches on Saturday night, I don't think
they do anything, so I'm not gonna do them. When it all comes down to
it, we all have to have a little bit of self-motivation, and when Sunday
comes, we have to be able to turn the switch on. If we can't do that,
we shouldn't be professional football players."
Matt Birk,
Flacco's center for three years, sees Joe's stoicism as an advantage.
"Joe's always been Joe," he says. "Joe might be a little bit quieter,
but, at the same time, when Joe does speak up, he's doing it because he
has something to say. It's kind of like the old E.F. Hutton ad: When Joe
talks, people listen."
Flacco's record speaks for itself. Since 2008, he has won more games than any quarterback in the league.
Phil
Simms knows a little something about winning. He earned two Super Bowl
rings quarterbacking the New York Giants, and is CBS Sports' lead NFL
color commentator.
"If you put Joe Flacco in a quarterback-driven
offense with a franchise and a head coach and an owner . . . who's
behind him, he would throw up numbers that are [impressive] just like
all these other guys," he told SiriusXM NFL Radio in July. "But he's not
on that type of team, he's not [with] that type of head coach. What he
does with that organization for that football team, I think, is as good
as anybody else in the league."
Rob Agnone played with Flacco at
both Pitt and Delaware. He spent a season with the Patriots, which makes
his analysis of Flacco that much more striking.
"He has more
natural God-given talent than any of the quarterbacks I've played with.
It's not even close," he says. "Tom Brady is by far the best quarterback
in the NFL, there's no doubt about it, but just going off God-given
talent, arm strength, accuracy, I feel Joe has more ability than him. He
hasn't proven it with [big] wins, and I think Joe would tell you the
same thing. He's got to win the Super Bowl to be in that level, but he
has the talent to do it."
Ravens wide receiver Anquan Boldin, who played with future Hall of Fame quarterback Kurt Warner in Arizona, agrees.
"I
don't think there's any other quarterback besides Aaron Rodgers that
can throw the ball the way that he can," he says. "He can make any throw
on the football field, from hash to sidelines, deep balls, you name it.
I definitely think he's a top five quarterback. But he don't care about
all that."
Flacco is uninterested in the debate. His confidence
is iron-clad, his skin thick. He claims not to watch ESPN, instead
preferring to keep up with the Kardashians or other reality shows with
Dana.
"I don't care how much respect I'm getting in the media, as
long as I feel like the people in this building respect me, then I'm
cool," he says. "If it ever came to a point where I didn't feel that
way, that's when I'd feel a little bit hurt."
"We all, at some point, started to play this game because it was fun. We lose track of that."
Maybe 2012 will be
Flacco's breakout year. The Ravens are using a more wide-open offense;
his first pass of the season was a beautiful 52-yard bomb to Torrey
Smith. Could that have been a harbinger of things to come, or is Flacco
destined to be remembered as Trent Dilfer is, a quarterback the Ravens
won in spite of?
"If that's what people say, that's what people
will say, it doesn't mean it's the truth," he says defiantly yet not
angrily. "I hope we throw for 5,000 yards and win the Super Bowl. I
don't want to be throwing for 150 yards a game and winning. I'll take
it, but I feel that I give us the best chance of winning, doing what I
do best."
Such is Flacco's complicated relationship with Baltimore
that when he cancelled his annual appearance at the Special Olympics'
Polar Bear Plunge just a few days after the New England loss to spend
time with his pregnant wife, some actually ripped him apart.
Adam
Hays was not among them. A 28-year-old Special Olympian from Frederick,
Hays has met Flacco several times at events, including a casino-night
fundraiser a few weeks before the Ravens hosted him at training camp
this summer.
"When Joe came by what was really exciting for me was
to hear him say, 'Nice to see you again.'" says Hays, who wears a
Flacco No. 5 jersey during Ravens games. "He's very cool, and it seems
like he's very relaxed. He seems like he's very kind to everyone that he
comes in contact with. When I look around at my fellow athletes seeing
that Joe and the Ravens take their time out to help show us the skills
in football and just to be with us, it shows that they think of people
with intellectual disabilities as athletes out on the field. It really
means a lot that they see past those barriers."
Flacco seems
unaware that his mere presence has such an impact on people's lives. He
politely deflects a question about his work with the Special Olympics,
saying it's something he enjoys immensely.
"It's cool to see the
athletes out there having fun," he says. "We all, at some point, started
to play this game because it was fun. We lose track of that."
Throughout
his career, he has never lost track of who he is. He's a father, a
husband, a son, a brother. He's extremely confident in his athletic
abilities. He's a winner.
What he's not is an actor. His work for Pizza Hut makes Ray Rice's commercial performances look downright De Niro-esque.
"I
feel completely awkward doing that stuff, but, sometimes, it's too good
to turn down," he says. "I turn off [my ads] as soon as I see them. If
I'm in the car and I hear my voice on the radio, I turn the station."
Flacco
recently bought a house in New Jersey a mile from both his parents' and
Dana's. His folks attend every home game, and, before Stephen arrived,
the family used to hit a diner afterwards, win or lose. He's so
comfortable in his own skin that he describes himself as a "pretty
boring person," who likes to "play a little golf and hang out with the
family." Not exactly Tom-and-Gisele tabloid fodder.
"He's always
here after hours in the building, up by himself watching film, making
sure he knows the defensive looks, making sure he's got a leg up on the
competition," says tight end and close friend Dennis Pitta. "Every time I
get here, his car's in the parking lot, and every time I leave, it's
still here."
When he climbs back into the driver's seat after
another long day, Flacco heads to an ever-growing household. His younger
brother, Brian, and nephew, David, are living with him, Dana, and
Stephen, and it's a safe bet that the family will expand soon.
"I
can't imagine not having a good amount of people in the house," he says,
his voice thick with a South Jersey drawl. "I'm not saying I need six
kids, but I wouldn't complain if we get to that point."
Is he a top-five quarterback? Let others waste their time with meaningless lists. Joe Flacco's got work to do, games to win.
And a family to get home to.