Maggie Beams (left) and Bailey Jones (right) are cyclists from Baltimore raising money for The Ulman Foundation.
Lately, a normal day for Maggie Beams and Bailey Jones starts at the crack of dawn. For the past two months, they've been waking up at 4:30 a.m. and hitting the road with their biking team by sunrise, sometimes traveling 100 miles or more to their next stopping point.
This Saturday, their team is expected to reach its final destination, San Francisco, California, after which, they will have traveled 4,500 miles through 11 states—all to raise money for The Ulman Foundation, a Baltimore nonprofit serving young adults and adolescents navigating cancer. 
Prior to their journey—which began in early June with their first ride from Baltimore, where they both live, to Pennsylvania—Jones had cycled on and off for several years, "But nothing serious," she says, "The longest ride I ever did was 70 miles."  
Beams, on the other hand, was never big on biking. "Leading up to this, I didn't really train," she says. "If everyone was like me, we wouldn't have gotten anywhere."
But this didn't deter the 21-year-old from backing an important, local cause. After learning through her friend Sophia of the annual 4K ride to raise money for The Ulman Foundation, the Loyola graduate was browsing Instagram when she received an ad for the adventure. 
"It said 'Do you want to do this?' So I talked to Sophia and she said, 'Oh my gosh! You can totally do it!'" It was then, Beams says, that she found her "reason why."
"You need to have a why when you're riding—something that will get you out of bed, or up a hill, or keep you on the team, really," she says. "It started with my family. My why was even Sophia at times. And then, along the way, you meet more people that become the reason why we're riding all the way to San Francisco."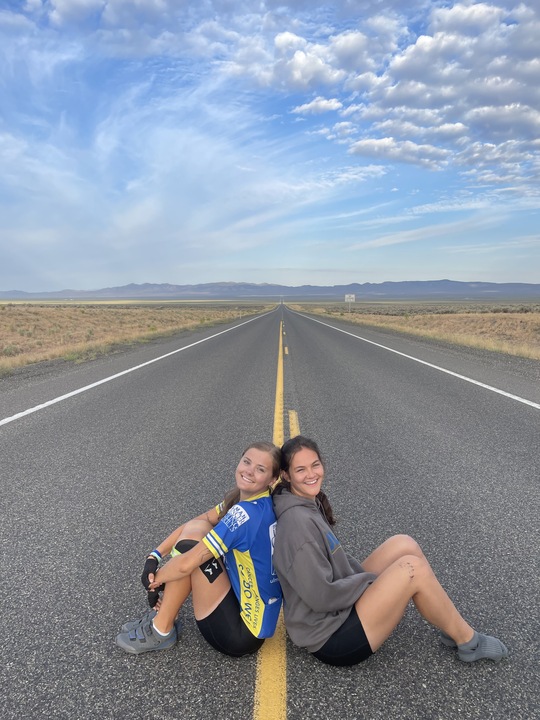 Through their journey, Beams became fast friends with Jones, a nursing student, whose own reason for the ride hits close to home. 
Ten years ago, her fiancé Bo Oliver was diagnosed with Ewing Sarcoma, a rare cancer that affects the bones and soft tissues, typically in young adults and children. The advocacy he received through The Ulman Foundation made a huge difference for Oliver—and soon enough, for Jones, when she was diagnosed with thyroid cancer at the age of 18. 
"Ulman really changed Bo's journey," Jones says. "The support they gave him, socially, was—I don't even have the words."
Now 26, her situation proved to be quite treatable. However, Bo, a multi-instrumentalist who mainly played the bass and attended Berklee College of Music, would succumb to his illness in June 2016, just after his 20th birthday. 
"Bo always said that music did much more for him than chemo ever did to heal his soul and get him through hard times," Jones says. "He always had his bass, and when he was at Hopkins for a really long time, he would go around to different rooms and play music for people. That was his thing."
In 2019, The Ulman House opened on Madison Street near Johns Hopkins Hospital as a "home away from home" for cancer patients and caregivers. And thanks to funds raised through the BoStrong Foundation, which provides holistic resources to young adults with cancer, the East Baltimore hospitality program built the "BoStrong Music Room," where residents and families can wind down after treatments, jam with pop-up entertainers, and receive music therapy.
"I think the main thing people need when they're going through something so hard is a connection that is not about cancer, because everything else is about cancer," Jones says, adding that she often thinks of Oliver while riding. "Having a place where you can just be yourself and feel supported is so necessary."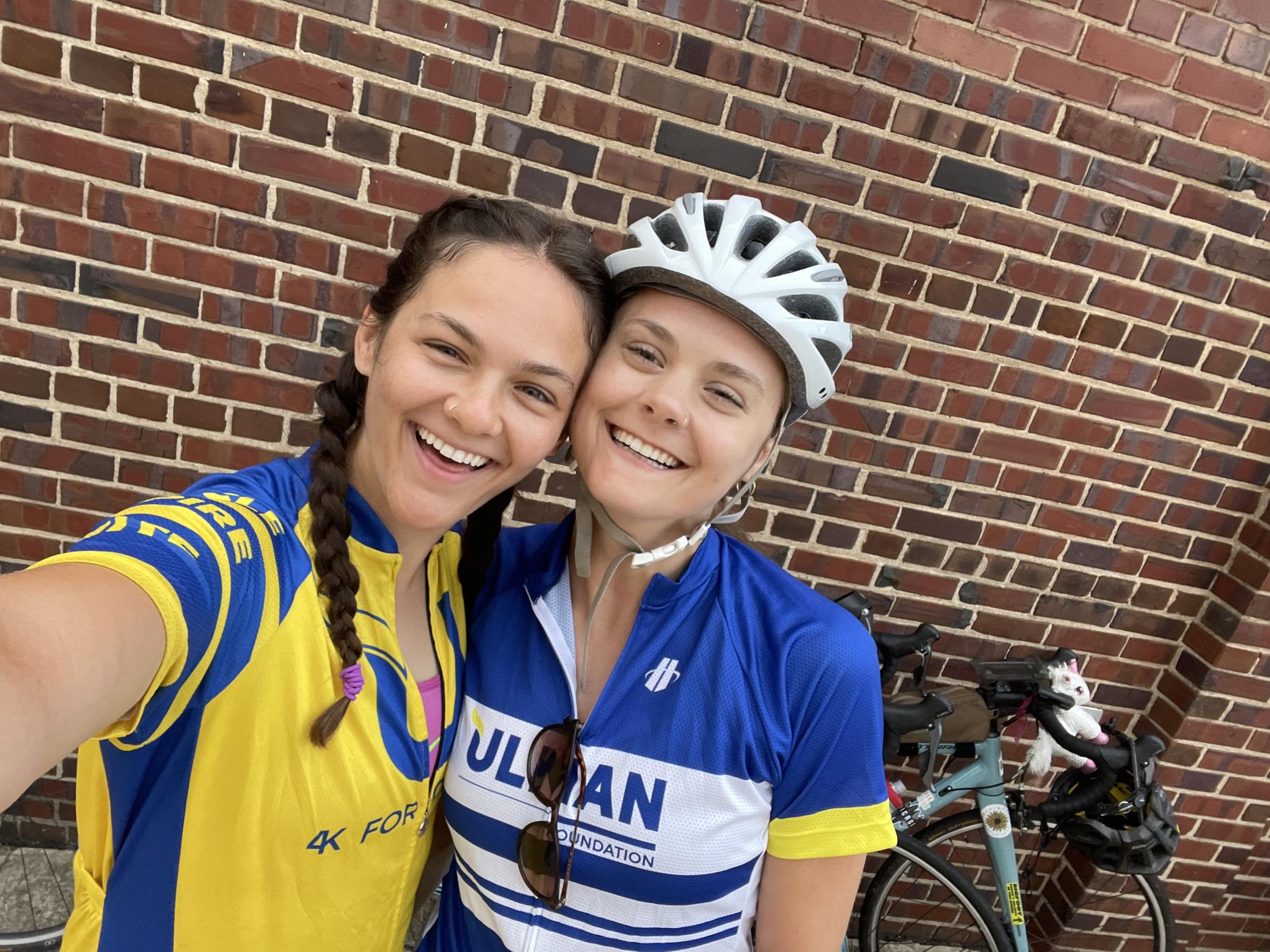 To date, the team has raised more than $200,000 for The Ulman Foundation. 
On their cross-country journey so far, they've passed landmarks such as "The World's Largest Basket" in Ohio, corn in Iowa, and canyons near the Colorado Rockies. They've slept in churches, gyms, a synagogue, at campsites, and with host families.
"Rest days have been the coolest," Beams says. "We went skydiving in Moab and rode UTVs through this insane mountain formation called Hell's Revenge. Today, we're going parasailing."
On August 13, once the team has dipped their front bike tires in the ocean to commemorate the trek, Jones has plans to finish nursing school in Baltimore. Beams will soon be headed to Atlanta, where she hopes to find employment in production. But their friendship—and a newfound love for biking—will remain.
"I'm in a group chat now with Bailey's mom and sisters," Beams says.