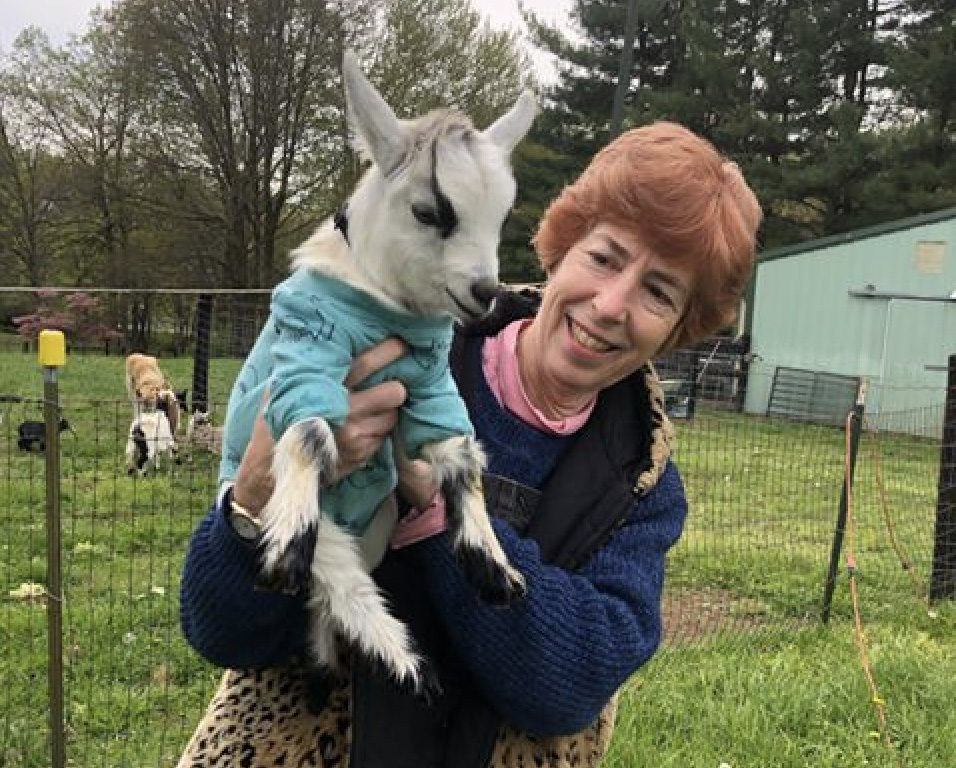 Owner Martha Clark with one of the goats at Clark's Elioak Farm. —Clark's Elioak Farm
After opening doors to guests last spring at 30 percent capacity—and implementing a series of safety measures including timed ticketing and mandatory masks for guests six and older—folks at Clark's Elioak Farm in Ellicott City are gearing up for their biggest month yet. We caught up with sixth-generation owner Martha Clark to talk about agritourism in the age of COVID and a fall season set to be one for the books.
Let's start with COVID-19. What were those early days like for the farm?
We open up on April 1, so in the middle of March we were doing what we always do—cleaning the place up and getting it ready to open. I had 2,200 goodie bags for Easter in my living room. When the weather was decent, we were painting because we have all the Enchanted Forest attractions [remnants of the old storybook park that opened in Ellicott City in August 1955] to keep up. We were just starting to bring the animals over. And then the middle of March came around and all of a sudden we knew that we weren't opening up on April 1. So all of those goodie bags are still in my living room, except for the ones that I donated to the Howard County Food Bank. When we didn't open up April 1, we also didn't have any of the school tours that were scheduled to come. But through all of April and May I made good use of that time by painting all of the Enchanted Forest things—the Cinderella Pumpkin Coach, Willy the Whale, and Mother Goose—and I refinished the floors. At the same time, we're a diversified farming operation, so we sell meat and vegetables year-round. The whole time the petting farm was closed, we were open for business doing drive-ups.
For Clark's Elioak, this season marks more than 200 years of farming in Howard County. Has there ever been a time quite like this?
Well, we've only been doing agritourism since 2002. I would say up until the point of the pandemic, the thing that has impacted us most as an agritourism business—which has affected us for the last 200 years—has been the weather. Our big season is fall. We do the majority of our business in the month of October. In 2009, it rained every weekend, which just wiped out our entire fall season. 
What are some exciting things that guests can look forward to this season?
Obviously the animals are the main attraction here at the farm. It's what people love coming to see. We've got the farm full of all kinds of different animals—goats, sheep, pigs, cows, chickens, ducks, turkeys, rabbits, emu, horses, ponies—and we've been able to social distance and use the opportunity to clean between rides, so we are running some of our rides. And it's just fun to see people come and pick up their pumpkin and enjoy just being outside.
We've actually been staying open an hour later on the weekdays because we thought that with the kids all cooped up all day in front of the computer, when they finally are able to free themselves around 3:00 or 3:30 in the afternoon, the 5:00 closing time didn't give them enough time to hop in the car and come over and run around a little bit before dinner time. So we're now staying open until 6 p.m. If you get here between 4 and 4:30, you can get those legs movin', get those lungs filled with oxygen, get some fresh air, pat a goat, pick a pumpkin, and hopefully get some exercise after sitting in front of the computer all day. That's fun, and we're hoping people take advantage of coming in the afternoons now.  
That must be a lifesaver for parents—having that little bit of extra time.
Yeah. And the one thing, of course, that makes us sad is that because of limited capacity on the weekends, we won't be able to accommodate everybody who's used to coming to the farm. We're a tradition where people come and get their pumpkin every year at the farm, and not everybody's going to be able to come because we're at 30 percent capacity. So we're hoping some people can come during the week. I always say there's a silver lining to everything. 
In terms of this fall season, is there anything that excites you most?
We're so pleased to be a place where people feel like they can come and enjoy being outside. The way we've got it set up with the timed ticketing, it's been very nice because people come consistently throughout the day. We have a lot less people than would normally come in on a fall weekend, but we really enjoy seeing our visitors and we're just so happy when they come in.