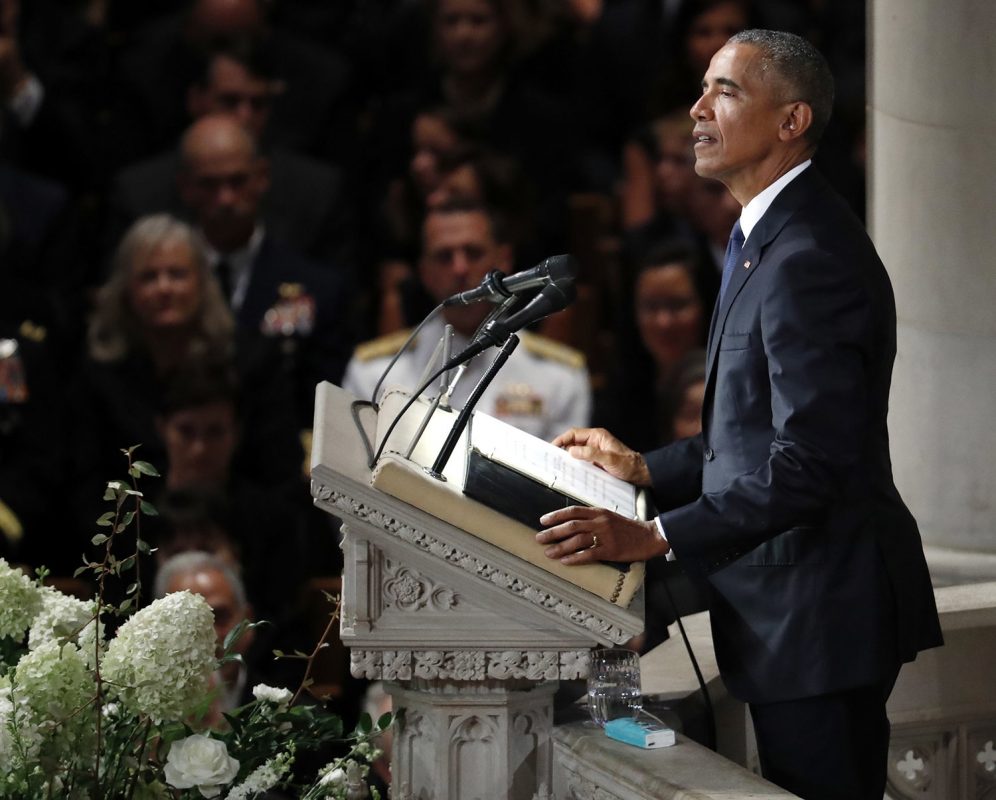 AP Photo/Pablo Martinez Monsivais
Former presidents Barack Obama and Bill Clinton will attend and speak at the funeral of Congressman Elijah Cummings in Baltimore on Friday, Cummings' office has announced.
Cummings, the passionate advocate for civil rights and Baltimore, died a week ago at the age of 68 from complications due to longstanding health challenges.
Other speakers at the Friday service, according to the release from Cummings' congressional office, include Baltimore native and Speaker of the House Nancy Pelosi, former U.S. Senator and First Lady Hillary Clinton, former NAACP leader and Baltimore congressman Kweisi Mfume, University of Maryland School of Law professor Larry Gibson, former City Health Department commissioner and former head of Planned Parenthood Leana Wen, and several of Cummings' immediate family members, including his widow Maya Rockeymoore Cummings.
Rockeymoore Cummings, chairwoman of the Maryland Democratic Party, is expected to be among those to run for her late husband's seat.
An overflowing crowd is expected Friday morning for the 10 a.m. services at New Psalmist Baptist Church in Northwest Baltimore. Bishop Walter S. Thomas Jr., pastor at New Psalmist, where Cummings regularly attended services, will deliver the eulogy.
Thursday, the late Democratic chairman of the House Oversight Committee will lie in state for public viewing at the U.S. Capitol. Born and raised in Baltimore, the son of former South Carolina sharecroppers is the first African American elected official to be so honored.
It is a special recognition that since 1852 has been bestowed less than three dozen times previously for former presidents, statesman, and military leaders in the history of United States. "Of the many things I learned from my father—and neither he nor my mother completed elementary school because they went to work in the fields—was to treat everyone with equal respect and not to speak or act out of anger," Cummings told us in a 2014 Baltimore profile.
The service at the Capitol will include an arrival ceremony, a scripture reading from Baltimore native and Maryland U.S. Senator Ben Cardin, wreath-laying presentations from leaders of the House and Senate, and music from the Morgan State Gospel Choir. The event will be live streamed and recorded by C-Span.
Yesterday, Morgan State University, where Cummings had sat on the board of directors, hosted a viewing and services for the former legislator that included remarks from two-dozen city and state leaders, including Baltimore native and former Maryland U.S. Senator Barbara Mikulski. Earlier this year, Cummings gave the commencement address to Morgan's 143rd spring graduating class.
Cummings' career in public service began in the Maryland House of Delegates, where he served for 14 years and became the first African American in state history to be named speaker pro tem.
Among the mourners at Morgan was 59-year-old Noreen Wright, a nurse, who brought her 9 and 12-year-old grandsons, telling The Washington Post that she wanted them to witness history. "He's an icon," Wright said of Cummings. "He's someone that the next generation can look at to see how it's supposed to be done." With tears in her eyes, according to The Post, Wright described Cummings as a modern-day civil rights leader. "He's like Dr. Martin Luther King Jr. to me," she said. "He stood for the rights of people."